As Crypto Crash Continues, John McAfee Doubles-Down On $1 Million 2020 Bitcoin Price Prediction
Bitcoin prices rapidly approached $9,000 overnight (down almost 35% from the mid-June highs) as the Libra hearing sparked concerns of more regulatory crackdown from a clueless (or frightened) Congress desperate to cling to its power.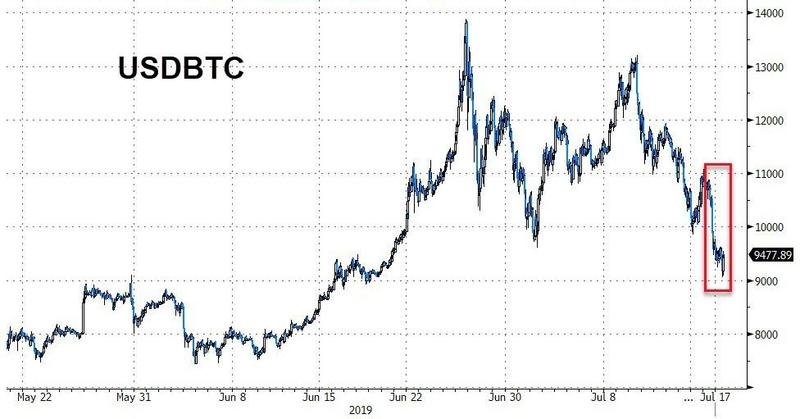 Ethereum has plunged back to $200 - testing the flash-crash lows from the weekend...
Since Facebook released its Libra 'white paper, Bitcoin is now unchanged and the larger alt-coins are down dramatically...
But, despite this most recent decline, CoinTelegraph reports that American entrepreneur and vocal crypto advocate John McAfee has doubled down on his $1 million by 2020 prediction for Bitcoin.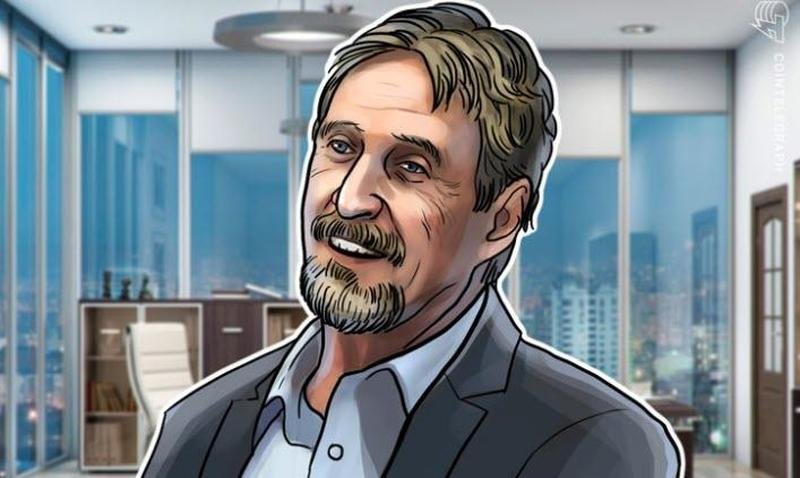 image courtesy of CoinTelegraph
Taking stock of community sentiment in light of Bitcoin's recent price fluctuations, McAfee wroteon July 15 that he was "laughing his f------ ass off" at the seemingly overblown negativity:
"Bitcoin is at the mid 10's and people worry. LMFAO!! Why do you pay attention to weekly fluctuations? Look at the past few months FFS! It's rising drastically. I'm still positive about my $1 mil BTC price by the end of 2020. Alt coins like MTC and Apollo will rise ten times more."
Year-to-date, Litecoin and Bitcoin remain the biggest winners but Ripple is now down 10% in 2019...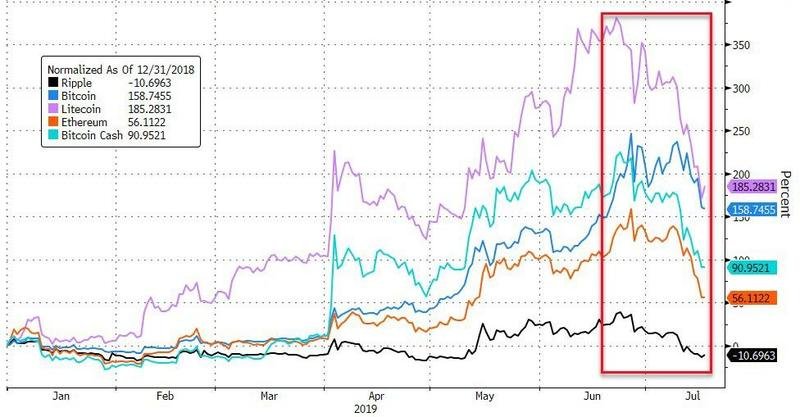 This summer, a Wall Street Journal report had revealed that the dizzying returns from Grayscale Investments' Bitcoin Trust - which is up almost 300% on the year - had secured its spot as the best-performing fund in the market.
In a recent interview with Cointelegraph, McAfee predicted than 10 years from now, "there'll be no fiat anywhere in the world [...] everything will be cryptocurrency."
A passionate, anti-government crusader whose charisma has secured him a presumably welcome degree of notoriety, McAfee is currently in exile in Cuba., due to alleged U.S. income tax evasion charges - and is running his second campaign for the American presidency.
Fellow Bitcoin bull Anthony Pompliano - co-founder of Morgan Creek Digital Assets - recently predicted the coin would hit $100,000 by the end of 2021.
In contrast to McAfee's bullish view of alts like Marinecoin (MTC) and Apollo (APL), American broadcaster Max Keiser has predicted that the altcoin phenomenon is over and all value will flow into bitcoin in the latest crypto bull market.
The stakes of McAfee's forecast could not be higher: two years ago, he pledged to eat his dick on national television if Bitcoin didn't hit $500,000 by 2020. Follow the countdown here.
https://www.zerohedge.com/news/2019-07-17/crypto-crash-continues-john-mcafee-doubles-down-1-million-2020-bitcoin-price