Peoplephotography by worldcapture Week #38 - Buddhist monks in Sarnath, Varanasi, India
This is my entry for Week #38 of the People Photography Contest by @worldcapture.
The photo is original and was taken by me, @zanetaviz, in Sarnath, Varanasi, India.
Buddhist monks looked so relaxed taking selfies and sitting on the grass here and there... :) This place is really magnificent and definitely worth a visit.
Sarnath is a place located 10 kilometres north-east of Varanasi near the confluence of the Ganges and the Varuna rivers in Uttar Pradesh, India. It's a very small town, but it has a significant meaning for Buddhists around the world as the place where Buddhism was born. Sarnath is to Buddhists what Mecca is to Muslims: the most significant of all holy places.
After his enlightment in Bodh Gaya (528 BCE), Buddha traveled to Sarnath to meet his five disciples.
The deer park in Sarnath is where Gautama Buddha first taught the Dharma, and where the Buddhist Sangha came into existence through the enlightenment of Kondanna.
Sarnath is an important pilgrimage site and has been since the first teachings of Buddha. Many tourists, monks and pilgrims come to Sarnath to sit near the ruins and meditate or worship.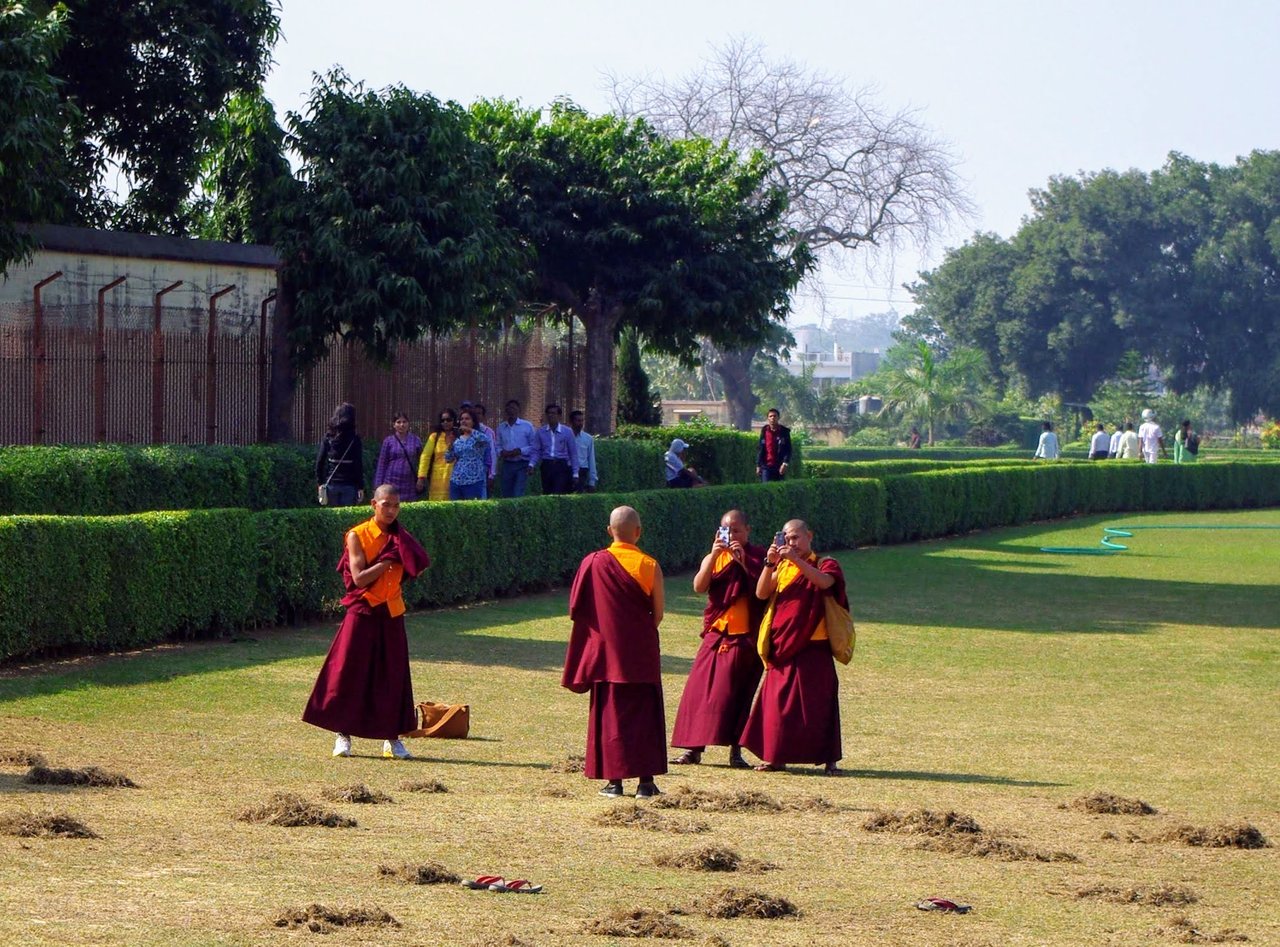 The Dhamek Stupa is an impressive and the most remarkable structure in Sarnath. It's a massive cylindrical structure measuring 28m in diameter and 43,6m in height. It marks the place where Buddha taught the Four Noble Truths and it's been enlarged on six occasions since its origin in 500 CE. The front stone bears floral designs of Gupta period and the wall of the stupa is covered with beautiful figures, geometric design and swastika signs. The word Dhamek is a distorted form of Dharma Chakra that means "turning the wheel of the Dharma". Buddha's first sermon was on the "Wheel of Law", which might be the reason for the name.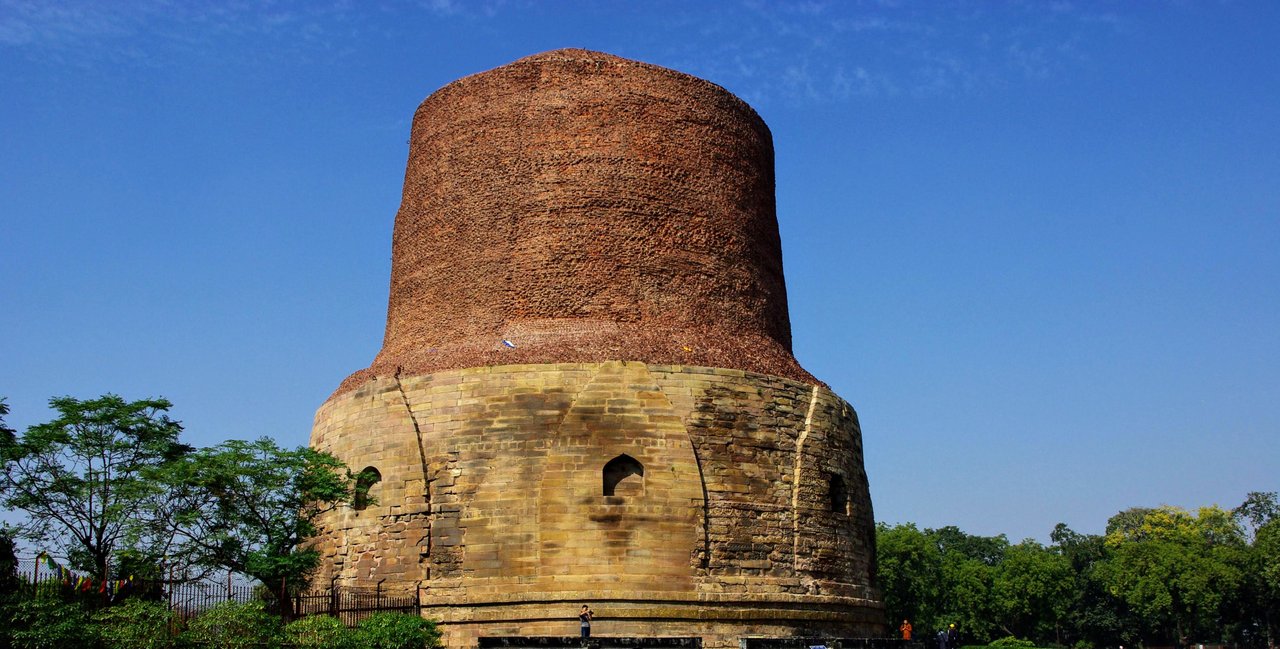 Mulagandhakuti Vihara, Sri Lankan Buddhist temple at Sarnath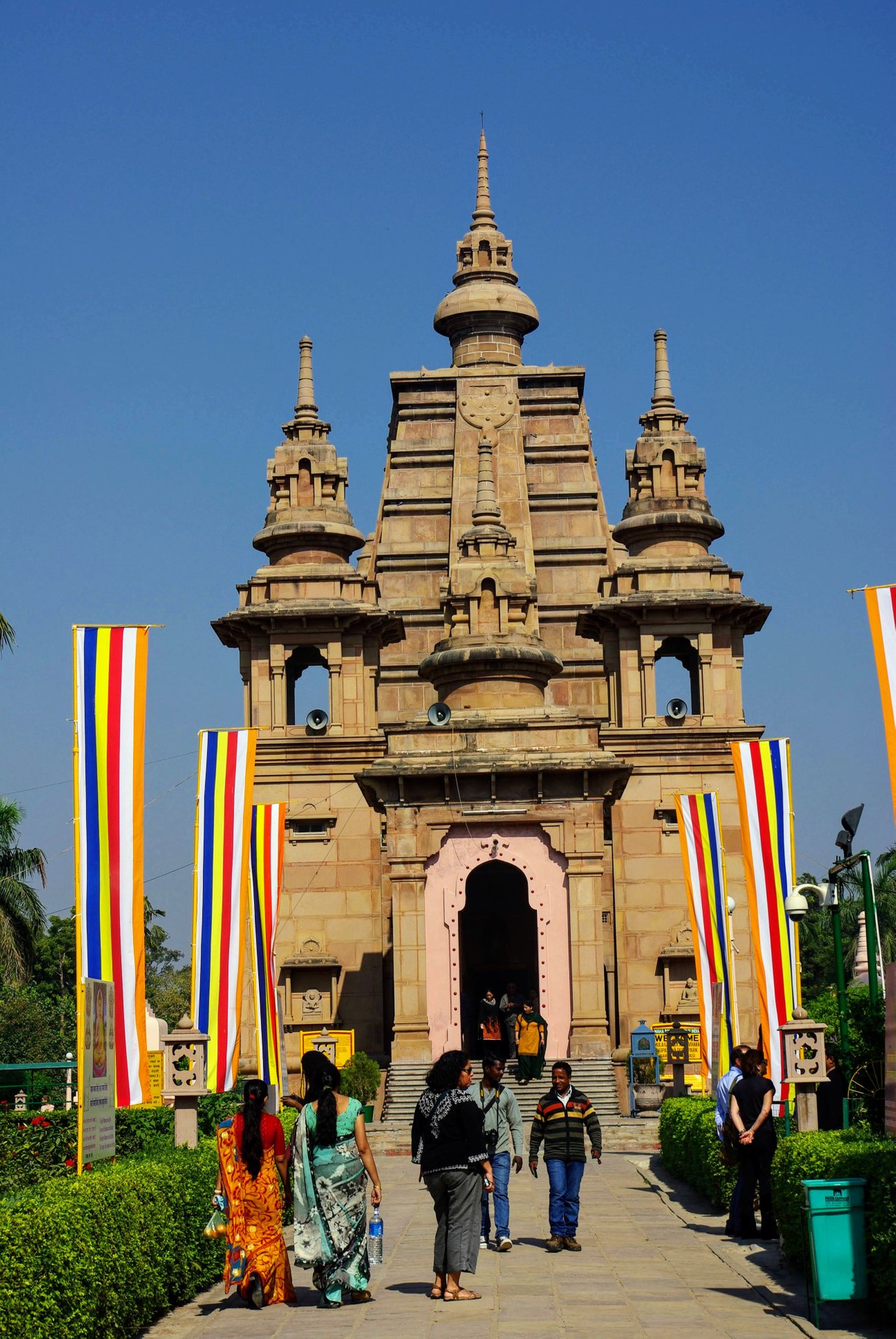 There are many Buddhist monuments and edifices, monasteries and temples of different schools of Buddhism from Japan, China, Thailand, Burma and others. The Indian Buddhist society called Mahabodhi Society maintains a park around the Buddha temple. The Mahabodhi Temple within the park has a tooth relic of the Buddha.
There is also a vast expanse of ancient ruins at Sarnath. Several Buddhist structures were raised at Sarnath between the 3rd century BC and the 11th century AD, and today it presents the most expansive ruins amongst places on the Buddhist trail. The Ashoka pillar of Sarnath is the National emblem of India.
GEAR: PENTAX PENTAX K-m
ƒ/5.6
1/500
55 mm
ISO100
I hope you like it :)
Thank you for checking out my page. Click the "follow" on my page to subscribe for more great content.
Show love and support with an upvote and/or resteem. I'll sincerely appreciate it. :)
Best regards!