Starting To Buy Watches... Stepping My Style Game Up
To be honest, I'm not the most stylish person in the world. If I could be more like Steve Jobs and wear the same outfit each day, I would, but I'm not him. lol At least not yet.
In the meantime, I amy trying to step up my game a little. I've updated my wardrobe, shoe game and now I am capping it all of with my watch game.
I have not bought a watch since a Swatch watch in middle school, and that was a long time ago. As you can guess, I didn't have any real knowledge of watches, but I wanted to get a few because I like watches despite my lack of wearing them for decades. 
Not knowing where to start, I found Watch Gang and thought it would be cool . Since I really didn't know a lot, I thought it would be a fun way to learn.
Watch Gang is a subscription service that sends you a watch each month, and they are good watches. They are not cheap gas station pieces of crap. I signed up in time for the June shipment and I recently got my first watch.
The first watch I got was an Out Of Order that I like a lot. It isn't something that I would have picked out, but I really like it with some new brown shoes I really like. See my style game is improving a bit.
On Watch Gang, you have the opportunity to accumulate points by being a member, and then you can use those points to spin "The Wheel". The Wheel is where you pick the designs you want and then you have a chance to win any of the watches you picked. Granted you have less of a chance to win a Rolex than the Croton that I won, but you still have that chance and get a solid watch for less than you could buy at any retailer.
I also took another spin, I bought it for $72 bucks and I got the third watch below that hasn't been mailed. I really liked it and wasn't ashamed to throw down a few dollars to get it... and still have a chance at a Rolex that I didn't win.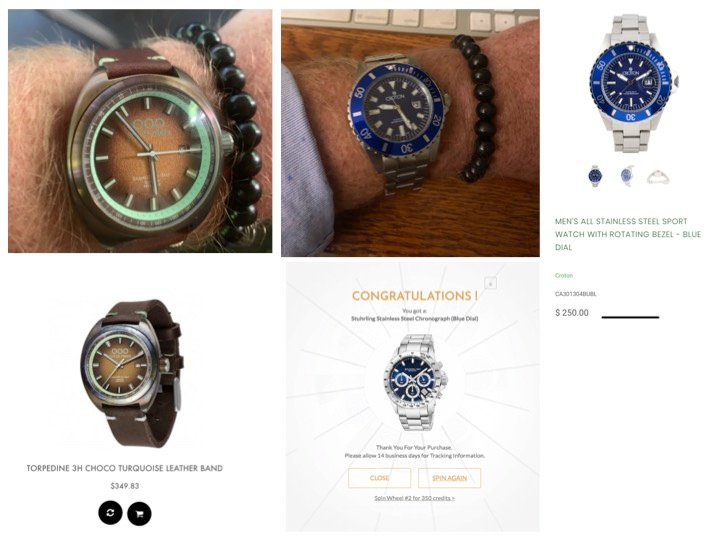 The community at Watch Gang is cool too.  There is a very active community on Facebook through groups for exchanges and some just to share your favorite watches. I'm learning a lot through other members. 
They give out watches... Tag Tuesdays, Rolex Fridays and tons of random giveaways. If you're a member, you could win.
I don't know how long I'll keep doing Watch Gang, but I'm going to go ahead and do the July mailing to. I'll see how things go.
From someone who always liked watches, but never wore them, I'm a big fan of Watch Gang. If you're a watch pro, you might not, then again you might love it. All I can say is, if you like watches or starting your collection... Give it a try.
If you use my link, we'll both get some extra points we can use towards spinning "The Wheel" and possibly get a Rolex or Tag.
Also use this code... buyfity
It should save you 50% when you register. I used it an only paid $65 (that includes shipping) for a watch that retails for over $349.
To me it is worth it. I know my neglected style appreciates it.
Thanks for reading.
If you love watches, post a pic of yours. I'd love to see them.