🗞 Daily Crypto News, November, 8th 💰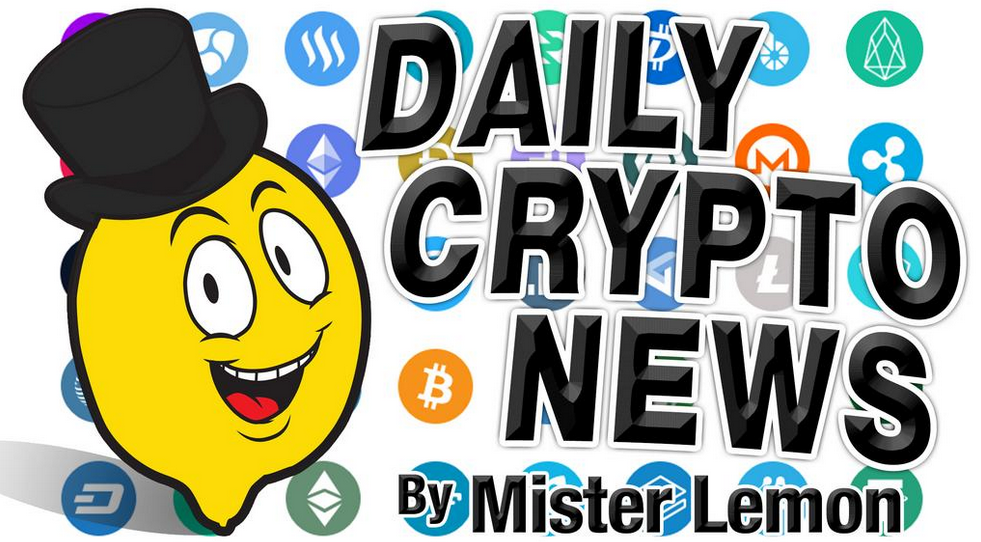 The SEC Has Rejected Every Bitcoin ETF. This Firm Thinks It Has a Solution ;
Bitcoin Rallies Hardest in November — So Why Are the Charts Bearish? ;
Crypto Job Market Trends Might Mean Higher Salaries ;
DBS Bank Partners with Singapore Government to Launch Blockchain Trade Platform ;
FBI: Crypto Is A 'Significant Problem That Will Get Bigger And Bigger' ;
🗞 Daily Crypto News, November, 8th💰
STEEM Trading Update
Welcome to the Daily Crypto News: A complete Press Review, Coin Calendar and Trading Analysis. Enjoy!
One company thinks it knows how to get a bitcoin exchange-traded fund (ETF) approved by U.S. regulators.
Wilshire Phoenix, a relatively young financial firm in New York, filed to launch the United States Bitcoin & Treasury Investment Trust ETF in May with NYSE Arca. At that point, a dozen bitcoin ETF proposals had already been swatted down by the U.S. Securities and Exchange Commission (SEC) – including nine in one day. But unlike other ETF applications, Wilshire Phoenix's ETF will invest in both bitcoin and U.S. Treasury securities, commonly referred to as T-bills.
The SEC is currently reviewing the application.
"Our proposed bitcoin-related ETF is quite different from those that have previously been submitted to the Commission for approval," Wilshire Phoenix founder and managing partner William Herrmann said in a phone interview. "To name just a few distinctions, the composition of the Trust is very different. Our Trust is a multi-asset trust (bitcoin and T-Bills), as opposed to just bitcoin."
So far November has started off as a relatively uneventful month for Bitcoin's (BTC) price action but all of this could change before the weekend is over. Let's take a quick view of the charts to see what is in store.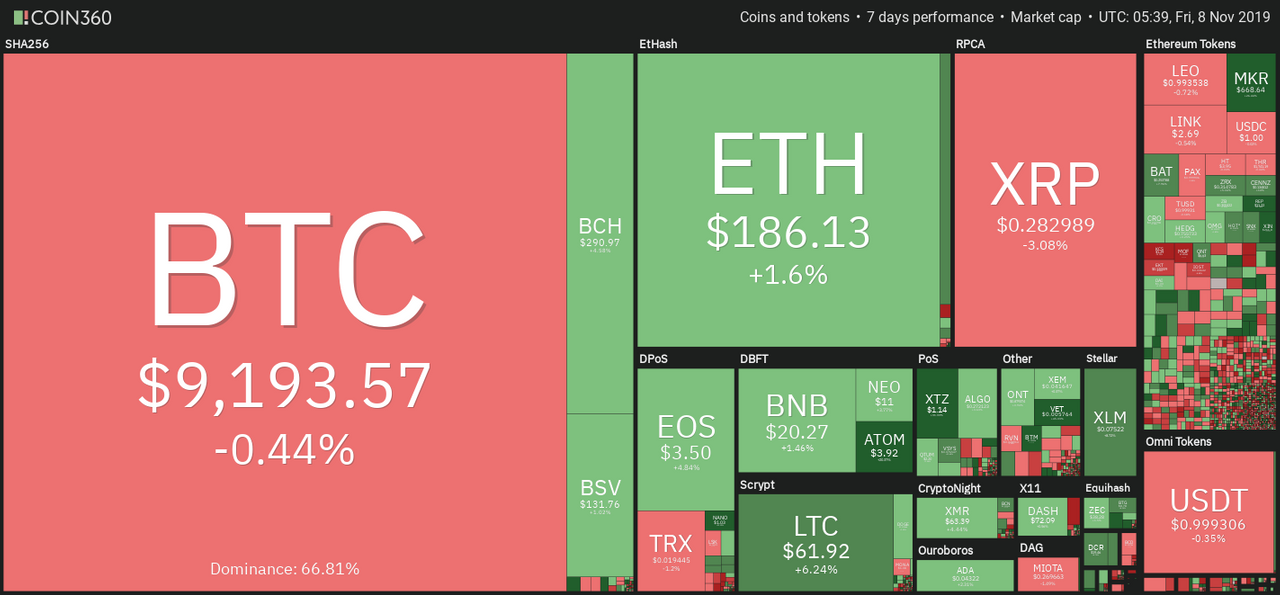 Outside of setting a weekly high at $9,616, the price continues to trade in a tightening range, capped beneath the weekly resistance at $9,616 and supported at $9,100. The past 5 days have set a pattern of daily lower highs as trading volume is nearly grounding to a halt.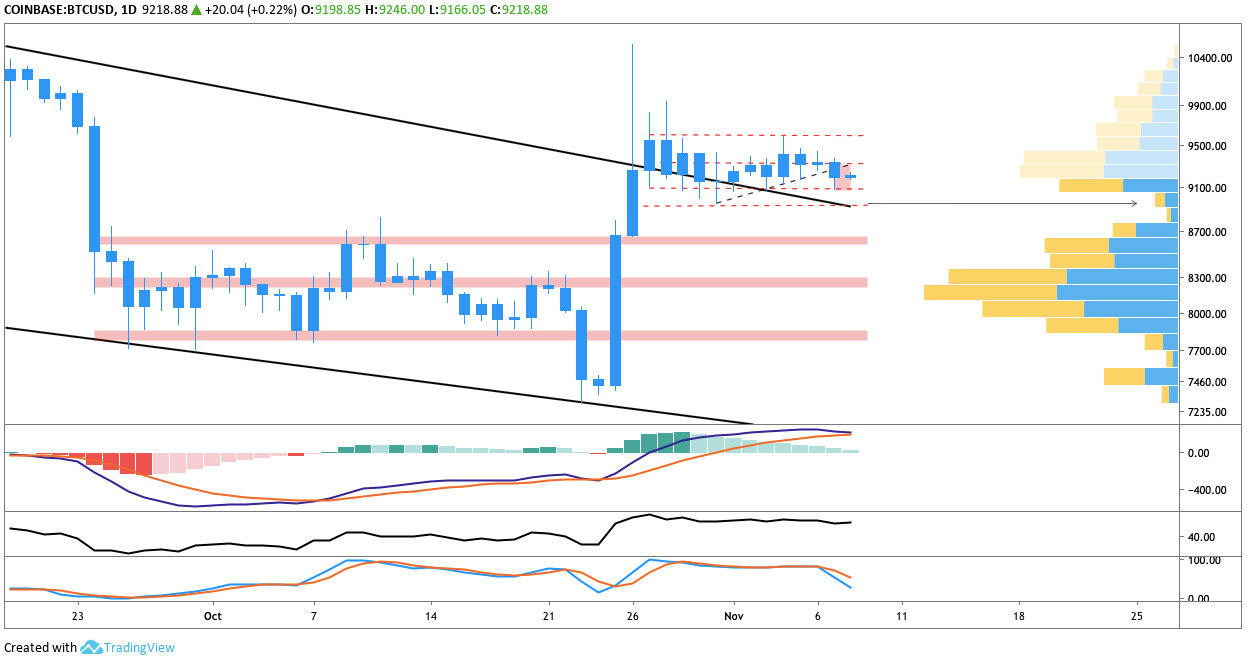 It looks like salaries in the blockchain and cryptocurrency industry are set to grow as demand is outstripping supply.
More companies than ever before are looking to fill "Bitcoin, blockchain and cryptocurrency roles," with employer demand "skyrocketing," per a new report.
A study released by job search platform Indeed claims that postings for jobs that require blockchain and cryptocurrency skills have gone up by 26% in the period January-September 2019.
However, it appears there may be an unexpected catch – as there has been a marked drop of 53% in the number of candidates looking for jobs where they can use their blockchain and cryptocurrency skills.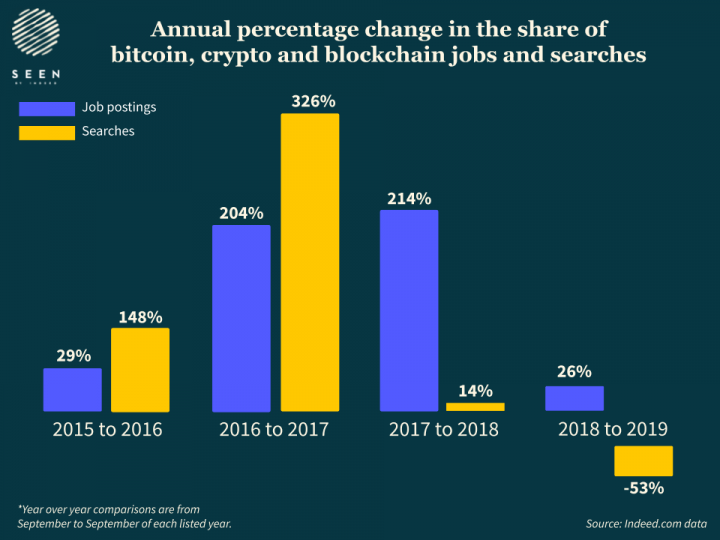 Asian banking giant DBS and multinational commodity trading firm Trafigura Group are tapping blockchain to facilitate global trade.
Alongside the Singapore government and the International Chamber of Commerce, these firms are looking to reduce the number of paper-based processes involved in global trade. Distributed ledger technology firm Perlin is providing the blockchain background to build the open-source platform, dubbed ICC TradeFlow.
DBS claims the new platform will connect partners from different countries, reducing end-to-end document transit time from 45 days to just 20. A $20 million trade in iron ore from Africa to China is expected to be the first transaction processed, according to a press release.
Director for the Federal Bureau of Investigation (FBI) Christopher Wray testified before the Senate Homeland Security Committee at a hearing on security threats facing the United States.
On Nov. 5, during the hearing before the U.S. Senate Committee On Homeland Security And Governmental Affairs, senators asked leaders from the FBI, Department of Homeland Security and the National Counterterrorism Center questions on topics including counterterrorism efforts, foreign influence in elections, cybersecurity measures, border security, and of course, cryptocurrencies.
FBI might find itself walled off by new technology
Former Presidential Candidate and Republican Senator from Utah, Mitt Romney, asked the intelligence officers whether the U.S. should not take some kind of effort in dealing with cryptocurrencies and its challenges they present to law enforcement's anti-terrorist activities. He said:
🗞 Daily Crypto News, November, 8th💰
Tether ERC-20 Listing
"Friday, November 8, 2019 at 9 PM – 11 PM UTC+04."
"#TRON blockchain will be integrated to MacfeeDex on November, 8th."
"So excited to announce that on November 8th, TOP Network will officially launch the mainnet..."
"Distribution of the fund takes place every Friday until Pillars Lock-in Phase is completed."
STEEM Trading Update by my friend @cryptopassion
Here is the chart of my last analysis :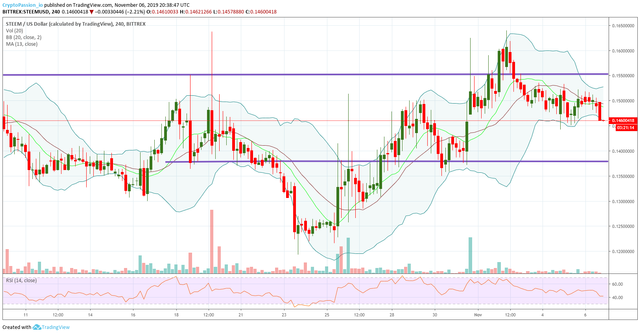 Here is the current chart :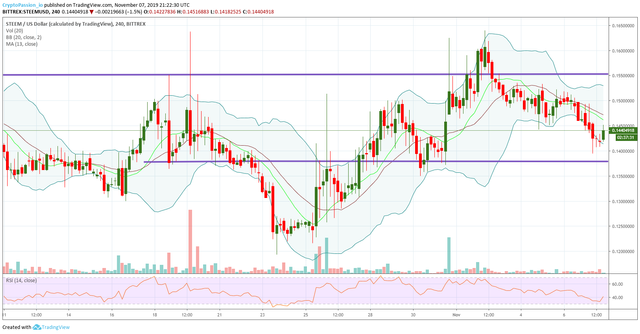 As expected, we almost touched the support line 0.1375$ and we are currently having a technical bounce. Not a very good pattern for the STEEM but we saw worst in the past. It would be nice now if we could continue the bounce till the resistance line at 0.155$. In all the case, a break of the support line would be a bad news for the STEEM but let's stay positive and look for the moment how that bounce progresses.
Last Updates

Join this new Free To Play on the STEEM Platform !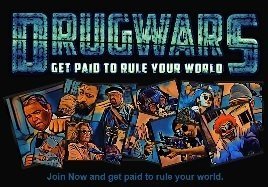 You don't want to miss a Crypto news?
Join SteemFollower and get Upvotes back !