TELOS Trading Card #7 - Telos and EOS differences by Telos Venezuela
Trading Card #7 - Telos and EOS differences by Telos Venezuela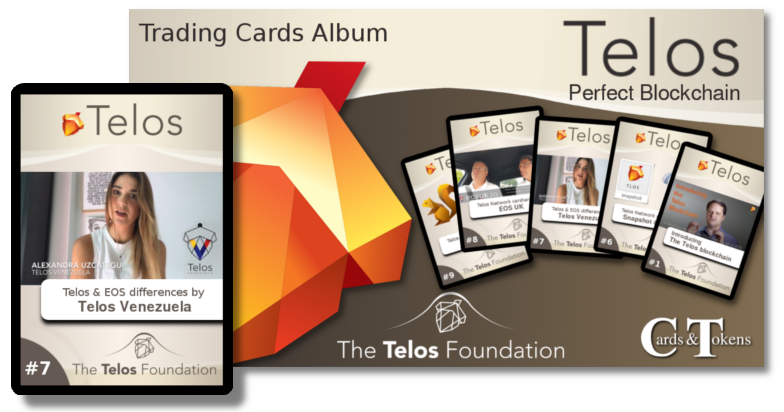 Telos Trading Cards
Cards & Tokens is going to be deployed over TELOS blockchain and to celebrate it we decided to create a brand new album dedicated to promote this new blockchain the best way we can do it, with trading cards !!
Venezuela
Venezuela is suffering one of the most serious hyperinflations of financial history and because of that its inhabitants are living in situations of poverty and misery. Making business is almost impossible since they can't rely on the local currency.
That is why more and more venezuelan entrepreneurs have entered in the crypto space and Telos Venezuela is one of them.
Telos Venezuela
Our team is a network of System administrators, miners, traders, Advisors and social communicators; all of us knowledgeable entrepreneurs who are leaders in this rapidly moving industry.
We got involved in this industry on 2014 and since then it has become our life. We first fell in love with EOS since march 2017 when we saw Dan Larimer's presentation and have been investing on it since the ICO began till today.
We see a future where EOS and Telos can coexist together, competing in a healthy way in order to be better and host different kind of Dapps on each chain.
(source https://www.telosvenezuela.com/)
Telos vs EOS analisys by Telos Venezuela
For EOS Token holders:
The total supply of Telos is tree times less than EOS total supply.
The anual inflation rate in Telos (2.5%) is half of EOS (5%) inflation rate.
There's (There was) a Community Rewards Program to earn TLOS Tokens.
The blockchain can adapt, making able to adopt new features not having to fork
For eosio developpers:
Telos allow proprietary apps while in EOS being open source is mandatory.
Telos provides developers the acquisition of RAM at a fair low price.
Early Dapps can apply for goodgrants on CPU, Net and RAM resources.
The blockchain can adapt, making able to adopt new features not having to fork
Find out more about this new aewsome blockchain at
https://telosfoundation.io/