Trump has 'Unmatched Wisdom'! All Hail The Twitter God of Creation!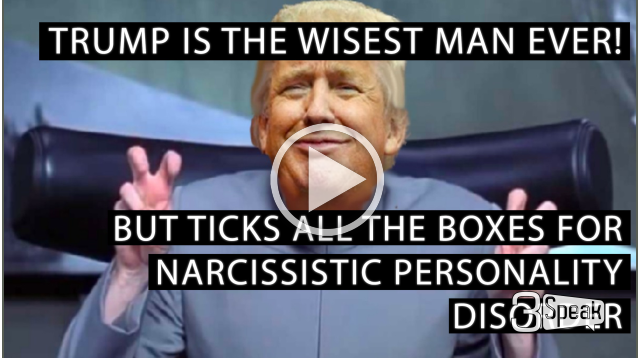 ---
At this point It is clear that there are two kinds of people – those who pay attention with an open mind, aiming to not be biased… and those who don't. The evidence regarding Donald Trump shows me every day that the second group mostly make up his fan club.
His latest tweets state that he has 'unmatched wisdom'! Think about that – he is literally saying that he is the wisest being to have ever existed. Can he really be 'Christain' and make such claims? Absolutely not – he is claiming to be wiser than Jesus and God.
Religion aside – he demonstrates the TEXTBOOK example of a narcissistic personality and his followers often show the textbook signs of being stuck in a cult. The more insane claims he makes, the more his followers excuse his delusions of grandeur as being 'intelligent jokes' or even as actually being true. Free thinkers understandably watch on with a mixture of amusement and horror.
Check out my video here as I go through the checklist for the various mental disorders he demonstrates regularly.
Wishing you well,
Ura soul
LINKS
27 Psychiatrists Make Emergency Announcement: Donald Trump Is Psychologically Unfit For the Role Of President
https://steempeak.com/dtube/@ura-soul/1iyioghx
Trump's Latest Tweets: "I'm, like, really (bigly?) smart.. A genius!" Trump's Biographers: Trump Has Attention of a Goldfish & Constantly Lies About His Achievements
https://steempeak.com/news/@ura-soul/trump-s-latest-tweets-i-m-like-really-bigly-smart-a-genius-trump-s-biographers-trump-has-attention-of-a-goldfish-and-constantly
The Whistleblowers (Series): #20 - Donald Trump's Biographer Comes Clean On Lying About Trump's Character For Money: "Trump Is A Habitual Liar, Has A Memory Of A Goldfish & Is Only Interested In His Own Image, In 'Winning' & Self Aggrandizement".
https://steempeak.com/politics/@ura-soul/the-whistleblowers-series-19-donald-trump-s-biographer-comes-clean-on-lying-about-trump-s-character-for-money-trump-is-a
In Loving Memory Loss - Trump & A Dead Soldier.
https://steempeak.com/news/@ura-soul/in-loving-memory-loss-trump-and-a-dead-soldier
Soldiers Killed By ISIS DO NOT 'Know What They Signed Up For' Unless They've Listened To US Gov/Military Whistleblowers.
https://steempeak.com/news/@ura-soul/soldiers-killed-by-isis-do-not-know-what-they-signed-up-for-unless-they-ve-listened-to-us-gov-military-whistleblowers
[Article] Kim Jong Un Mirrors Donald Trump And We Need To Learn Quickly Here As We Evolve To Stop War Permanently. Denied History Of The Korean War Influences Our Problems Today.
https://steempeak.com/politics/@ura-soul/article-kim-il-sung-mirrors-donald-trump-and-we-need-to-learn-quickly-here-as-we-evolve-to-stop-war-permanently-denied-history
Textbook psychopath Donald Trump Signs deal to sell hundreds of BILLIONS of dollars worth of WEAPONS to SAUDI ARABIA
https://steempeak.com/news/@ura-soul/textbook-psychopath-donald-trump-signs-deal-to-sell-hundreds-of-billions-of-dollars-worth-of-weapons-to-saudi-arabia
---
▶️ 3Speak