Make Money Irrelevant! 26 Billionaires Have The Same Wealth as 3.8 Billion Other People!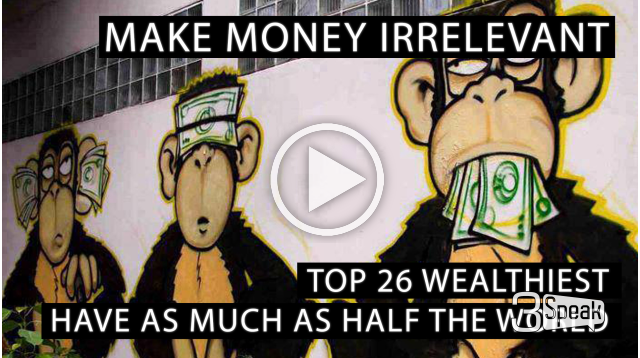 ---
My video titled 'Why Money is Evil – in under 10 Minutes' gained great traction on the Steem blockchain – yet received 55 views on Youtube! In it I exposed concisely, using empirical scientific evidence, that money is causally involved in the creation of evil on a grand scale.
This new video is a follow up that covers the reality that 26 people have the same financial wealth as pretty much half the planet's population and that we need to create ways to make money irrelevant. @dan, one of the inventors of Steem and EOS has a great phrase and aim 'Make government irrelevant' - I am saying to move on to applying this logic to money too.
How can food freedom lead us to deep economic freedom? Can small changes made by each of us build up to massive changes that replace the old broken paradigm? Find out!
Wishing you well,
Ura Soul
LINKS
https://www.ureka.org/videos/watch/110852/%E2%80%98why-mainstream-forms-of-money-are-evil%E2%80%99-in-under-10-minutes
https://edition.cnn.com/2019/01/20/business/oxfam-billionaires-davos/index.html
m,u,s,i,c, ,b,y, ,A,B,I,S,:,:,
---
▶️ 3Speak