Can You Feel The #TribeVibes?
BIG ANNOUNCEMENT!
New Members, New Delegation, and a New Curation Trail With Maximum Rewards For You!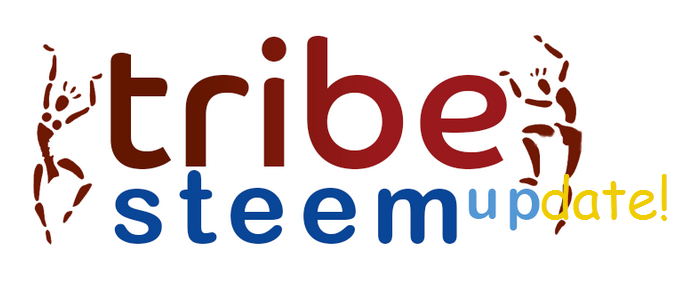 Table of Contents
1. We're a Whale Again!
2. Bringing Together The TRIBE (Member List)
3. The Curation Trail
4. Current Voting Practices
5. Learn More

We're a Whale Again!
As you know if you've been following @TribeSteemUp's journey, this project was started with just a couple hundred SteemPower 23 months ago, and along the way it grew and grew. The majority of that growth (in terms of SP) came from an extremely generous delegation by @JamesC. Back towards the end of last year, he had to remove his delegations (from us and a few other accounts) for personal reasons, and we sent him so much gratitude & love for all the abundance he shared with us, and looked towards ways of adapting.
In the time since then, a lot of members stopped using STEEM, but @TribeSteemUp kept chugging along quietly. Recently, Jimmy's circumstances have shifted, and he made the choice to delegate to us again, for which I can scarce express the gratitude that I (and I know others) feel. We are back to having the voting power to really effect things, and change people's lives... and that's what we're doing!

Bringing Together The TRIBE
Back when STEEM was over a dollar and TSU was in the top 10 voters on the blockchain (by rewards given each week), There were over 200 members. At the time, @ELAmental actually had to start another project, @EarthTribe, to accommodate folks that aligned with the community's principles and focus, but for whom there simply wasn't room at the time.
Since we've had such a massive turnover in members, we've integrated the active folks from @EarthTribe & @EcoTrain into @TribeSteemUp, and are working on doing the same for the folks from @NaturalMedicine, @FreedomTribe, and other communities who align with our principles and quality standards.
| @alchemage | @alexaventuria |
| @andrewmarkmusic | @artemislives |
| @artisticscreech | @bewithbreath |
| @bobaphet | @brightstar |
| @brutledge | @bryandivisions |
| @burntmd | @canadianrenegade |
| @careywedler | @celestialcow |
| @chickencaam | @consciousangel7 |
| @crescendoofpeace | @cryptonomics1 |
| @dbroze | @doitvoluntarily |
| @eaglespirit | @earthcustodians |
| @eco-alex | @eftnow |
| @elamental | @emancipatedhuman |
| @enchantedspirit | @enjoyinglife |
| @erikaharris | @ernesthancock |
| @evernoticethat | @flauwy |
| @freebornangel | @gardeningchannel |
| @goldendawne | @hempress |
| @homestead-guru | @hopehuggs |
| @in2itiveart | @indigoocean |
| @innerverse | @johnvibes |
| @jonyoudyer | @kennyskitchen |
| @krishool | @krnel |
| @lovenfreedom | @lukestokes |
| @makinstuff | @maxigan |
| @mckeever | @metama |
| @metametheus | @mikeonfire |
| @minismallholding | @misslasvegas |
| @mountainjewel | @myindigoinsight |
| @nainaztengra | @naturalmedicine |
| @nomad-magus | @ofsedgeandsalt |
| @papa-pepper | @paradigmprospect |
| @paradise-paradox | @philosofusion |
| @porters | @rawutah |
| @riverflows | @sagescrub |
| @sashadaygame | @scottermonkey |
| @senorcoconut | @solarsupermama |
| @stateofanarchy | @steelborne |
| @steeminganarchy | @sterlinluxan |
| @stortebeker | @taskmaster4450 |
| @tawasi | @terrybrock |
| @thegreens | @thistle-rock |
| @tibra | @tonysayers33 |
| @trucklife-family | @truthabides |
| @tryskele | @ura-soul |
| @vincentnijman | @walkerland |
| @whatamidoing | @wombloom |
| @wwf | @zen-art |

The Curation Trail
We've created a new curation trail: TribeVibes, following everyone on the list above, and upvoting one post from them each day. Just a few minutes after the @TribeVibes account votes, the @TribeSteemUp account (which has over 800,000 SP) will upvote each of those same posts. What this means is that if you follow the TribeVibes curation trail with your account, your vote will go in just before the whale vote from TSU, and you'll get GREAT curation rewards!
Briefly, for those of you who aren't familiar with a curation trail, basically it is a means for people to set their accounts to up-vote everything that another account upvotes (with your choice of voting power). This is a great tool for building community support, maximizing curation rewards, and spreading the love. It may be hard to use all your "mana" each week voting on great content, but following a curation trail makes it much easier. For more info, check out Kenny's 2 Minute STEEM Tip on the topic
If you'd like to follow the curation trail, all you have to do is use SteemConnect to login to SteemAuto, go to the TribeVibes curation trail, click follow, and then adjust your voting settings as you see fit. (I suggest changing the settings to "fixed weight", 0 minute delay, and a voting weight of between 5-25%)

Current Voting Practices
Because we've just added about 50% more people to our voting list, the votes for everyone have been turned down from 33% to 25% (still 1 vote per day). Over the next two weeks or so, we'll see how our VP holds up with that, and adjust as we can.
Here's what the Tribe looks like based on the last month's activity... Let's see what it looks like this time next month!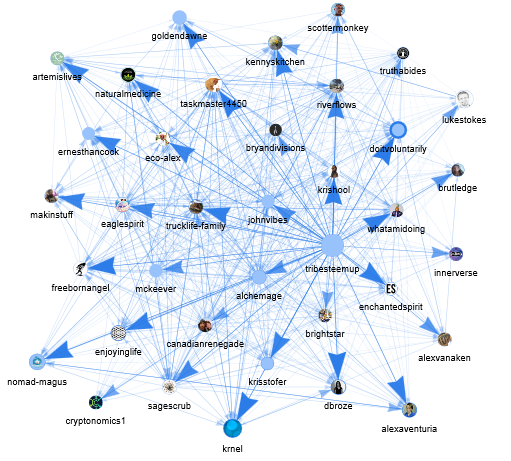 @TruckLife-Family and @Eco-Alex have also volunteered to do a monthly audit of members, and moving forward we will be creating two tiers of voting, based on overall quality & length of content being released by each member. More on that to come.

Learn More
Follow @TribeSteemUp
Read: The 8 Pillars of TribeSteemUp
Read: Our Most Recent TSU Bi-Weekly Question
Discord Server: https://discord.gg/TK6t7Aa