Basic Steemit Guide. Getting Started.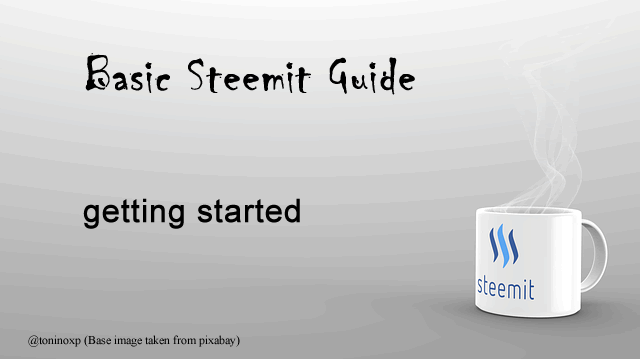 Steemit is a social network that works with the Steem platform, where everyone gets paid for creating and vote for a publications.
It also has the common activities of any social network, such as content sharing, meeting new people, finding friends, follow other users with tastes and activities that you like and they can also follow you back and vote for your content.
Understanding Basic Concepts
What is the Steem platform?
It is a technological system, based on their own blockchain, created by Ned Scott and Dan Larimer in 2016. ( you can check their accounts here: "@ned" "@dan" , you can see your "WhitePaper " for more information.
Currently this platform is composed of this:
Steemit:
(
https://steemit.com
): is the social network we will work with. You can create your own content, like articles in a magazine or newspaper, publish them and let others read and review, all online. Users can also vote your work, which increases your notoriety.
Steemitwallet:
(
https://steemitwallet.com
): is a digital wallet, where you receive and check your earned digital currency, make transfers from / to other users and friends inside and outside Steemit, power up / down STEEM Power and more.
STEEM:
It is the cryptocurrency generated as countervalue of the work done on the platform. It is used as a means of payment and exchange inside and outside the platform for all the work and content you publish. You can see its current value and get more information in
"CoinMarketCap"
.
Steem Dollars (SBD):
It is a cryptocurrency that maintains parity with the US Dollar, with very small fluctuations to its value in regard to the dollar. It is also used as a means of payment and exchange inside and outside the Steemit platform, but it is designed to save the value of the investment for the users.
They can see their current value and obtain more information in
"CoinMarketCap"
.
STEEM Power (SP):
is a currency for internal use only. It's more of a cryptoactive that represents the influence and value of the usage of the platform. Represents how much influence a user has in the media with his readers. In practice this affects our voting value and the reward or payment you receive when you vote for your publication. Although,you can switch to STEEM, in a long-term transaction, you can also buy SP through STEEM immediately through a process called "Power UP".
Smart Media Token (SMT):
is a native cryptoactive to the Steem blockchain that a third party can use to configure their own custom token, more information on
"steem.com"
.
Other applications based on Steem's blockchain are: eSteem, DTube, Utopian and Steem Monsters.
My Steemit account
The Steemit user account manages several passwords:
The Main One (Master Password / Owner): there is no way to recover it if you lose it. When lost,you lose the account, so it is very important to keep it in several safe places. Also, you should not give it or use it in third-party applications. For that better use other passwords.


PUBLISHING (posting): The posting password is used to log in, post and vote articles and publications. If you join a curation team, this is the password you must give to vote for yourself, not the Master Password.


ACTIVE (active): The active password is used to make transfers of currency and place purchase or sale orders in the internal market. For example, when making transactions with "SteemConnect", this is the password you must give


MEMO: The memo password is used to create and read memos.


Another important topic is to keep an updated profile picture; it is no good to use objects or icons as your avatar. To update your profile picture go to "Settings" at the top right and there you can upload the appropriate image.
Publishing content
Steemit is open to any type of content. There are users who write about everything and those that write about a certain topic. For cartoonist, painter and plastic artist, Steemit is a great help to show your talent to the whole world, publish your illustrations, drawings or paintings with a brief explanation of its content or what inspired you to make that work.
For musicians, show your work or your cover through a video, you can use YouTube or another, but I highly recommend that you use DTube (https://d.tube/), for the ease and monetization of your videos using your same Steemit account.
For all educators, place the knowledge on your blog to teach others
If you use content from others, make sure you have the appropriate permissions and do not violate copyright, this includes the images that you publish, if you use photos and / or images in the public domain indicates the source, a good option is "pixabay"
Another important aspect is the labels, the labels are used as in the other social networks to sort and filter the content, in Steemit you can use up to 5 labels for each publication, the first is the main one and can not be changed later. if the publication is related to photos, images, illustrations, drawing or painting; always use the "photography" tag and if your publication includes a video, always use the "dtube" tag
With this link you can check the available labels (https://steemit.com/tags)
Promoting your publications
Outside Steemit the best way to promote our publications is through social networks, telling your friends about Steemit and inviting them to join and follow you.
Into Steemit, one option is by voting and commenting on the publications of the same topics as yours, and following these people. Another option is to publish the link of your post in the chat of the discord of the curation teams and others to make promotions, These are the ones that I use:
on discordapp
@Peace, Abundance,Liberty #postpromotion
@MinnowsUnite #originalcontent
on steem.chat, channels:
"#photography" (only for photographs and related)
Important: remember that you must create your user in "discord", if you no longer have one, this only once, with the same user then join each server of the different channel. In the "steem chat" must also create an account.
Theory of operation
Steemit has a complex mode of operation, as far as voting and earning money is concerned, as we use it, we gain votes, curation and reputation.
How do we use it ?
Read and comment every day, the relevant content for you.


Vote the post that you consider to be good


Comment and vote the comments left in your post


You can participate in Steemit contests to win STEEM and SBD, see the "contest" tag here https://steemit.com/trending/contest


You can buy STEEM and SBD from BlockTrades https://blocktrades.us to then make a "Power up" and convert STEEM or SBD to STEEM Power, see the wallet options in "wallet menu".


Upvote
Is the process of voting, giving or receiving a vote, indicate that I like, both the post and the comments can be voted. The votes or upvote have a value, this value for both cases (give or receive), depends on the following variables:
Vote when the post has at least 20 minutes published, better after 30 minutes.


if you are one of the first 30 to vote, will receive greater reward


The higher the STEEM Power, the greater the reward, this is your Vote Weight


The voting power decreases as you vote, also the resource credits, both recover over time. To see the "Voting Power" and "resource credits" go to "steemd.com/@user" change user by the name of your account, example: https://steemd.com/@toninoxp.


Curation and reputation
Curation in general mode, is the main process by which your account is earned reputation, your reputation is shown on the right side of your name.
This happens when other accounts vote your post, depending on the voting power and the reputation of the voting account, you will get lower or higher value. Other variables that increase your reputation are:
total votes received


total votes given


total comments made


Finally I want to highlight, that the post of the accounts with greater reputation are more visible in steemit network.
How to get support
You can use the chat support channel of the platform, here https://steem.chat/channel/help, read the instructions before
You can consult the questions and answers made by other users with the help tag https://steemit.com/trending/help, If they do not find the answer, ask the question in a new steemit post with the label "help" only.
Another option is to search in Google, like as usual.
Helpful Links
https://steemit.com/tags Tag Trending Topics, order by number of votes Post, Comments or Payouts
https://d.tube/ is a platform based on steem blockchain, to share videos with the similary reward system that Steemit.
https://busy.org/ another web client for Steemit.
https://blocktrades.us is a fast and easy to use web service to exchange steem and Steem Dollars with other cryptocurrencies.
https://steemit.com/market official Steemit market ( STEEM exchange )
https://steem.chat/home official steem chat.
https://steemd.com Steem blockchain explorer, recommended to see your Vote Weight, Voting Power, STEEM Power, resource credits, transfers and other blockchain records.
https://steemdb.com/ another Steem blockchain explorer
https://steemstats.com Steemit account statistics
https://steemnow.com/upvotecalc.html Steemit upvote calculator
https://steemitboard.com view your achievements on the Steem blockchain (medals obtained)
https://steemviz.com/pendingpayouts view your pending payouts.
https://www.peerhub.com STEEM marketplace and store
Thank you for reading. Original creation content
Own images and others taken from pixabay
Follow me and receive free support through Twitter on computing topics