The Lounger – Week #12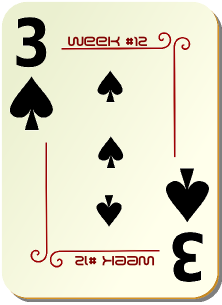 This series is for helping me to do more this year. My experience shows that publicity incentivize achievements through encouragement and guilt. I make a post every week about what I've done in the last calendar week.
---
Steem
You can follow the things I do for the Steem blockchain here live.
Maintained @pipes; voted, promoted, commented contents
Asked help and got code from @furion for accurate promotion data
Corrected all data in past articles about promotion
Answered questions about Steem
Life
More
You may have noticed that I'm not that active here and in Steem projects nowadays. I'm a little sad about it, but it had to happen. I searched ways how to live out of the box many times, but I've failed. I know I could reach that point with Steem (sustaining a basic life), but I'm out of time this time.
I have applied a job that hasn't required anything that I don't have, but the lack of specialized profession (logistics) didn't help in the competition. However, the same factory has offered me a mimimum wage job, and I've accepted it. I've reached the point when I had to accept it, no matter what. It seems my skills are worth ~$1.69/h after tax here and now... There is an old saying, you know, it's better than nothing. Furthermore, it helps me holding STEEM instead of selling that. It's a bit odd that I earn money by my body instead of mind, 'cause I trained my mind but not my body.
It's Steem related a bit.
Accepting and starting a job cost money, and I really didn't have a dime (if I would have any, I would continue my fight against the 'normal life'.) Here come Steem. I've sold my STEEM. In this viewpoint, Steem has helped me to start working.
So, from now, you know why am I unavailable most of the times and why am I disappeared from projects. You know, I start something hard, but also quit hard, therefore you can count on that this will be a longer period. Various experiences don't hurt anyway. It's just a new opportunity to show that I'm good in something.
---
Image Credits
Week #12 – Three of Spades by @tibonova is hereby released under CC0 1.0 Universal License and Do What The Fuck You Want To Public License.
---
≋ Follow, like, comment, reblog, share or PM me – the power is yours from now! ≋
You could Send Me STEEM/SBD, or Buy Me a Coffee by fiat if you wish, however, any level and type of support is optional and fully voluntary. ♥
---
Tibo Nova's blogs
@tibonova
-
Main blog for voting, commenting and posting things that don't fit any of my niche blogs.
@tibonova.irogat
-
Magyar nyelvű írásaim és verseim.