Introducing Lolli - Earn Free Bitcoin When You Shop Online
The invention of internet has brought about a new era where almost everything is done online. From shopping for home electronics to the ordering of our daily delicacies, there is almost nothing that cannot be done or gotten through the internet these days. Shopping online is pretty fast and easy. With a click, you have ordered goods and services which get to your doorstep in a matter of minutes.
---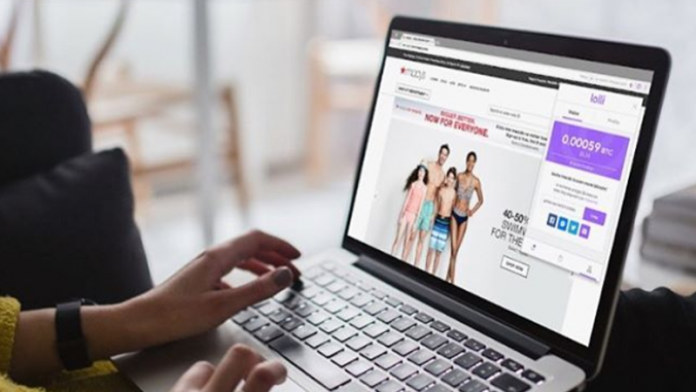 Source
---
Online stores make great fortunes from delivering their goods and services to us but we hardly get rewarded for using their services. Imagine how much we could be making if we are given just 10% of the amount we spend making purchases online. Now there is a designated system that rewards us with Bitcoin; the leading digital currency as we shop online. Behold, Lolli is the platform rewarding online shoppers with Bitcoin which can be traded for fiat and withdrawn or used to make purchases online.
---
Lolli is a Chrome browser extension that gives you the ability to earn Bitcoin as you shop online. With this system, you can expand your cryptocurrency portfolio by doing shopping through their partner stores. Unlike many other platforms or enterprises offering bonuses to their customers by inflating the price of goods services, using Lolli extension to earn Bitcoin does not come with price. You can confirm this by visiting any of the Lolli partner stores from any browser that does not have this extension installed on it. Check the item prices here and visit this same store with Lolli extension-installed Chrome browser. You would be stunned to see that the prices are all the same. This tells us that Lolli is just here to reward us purely for shopping online without holding anything back.
Getting started with Lolli
Using Lolli extension is pretty easy. You can actually install this extension from Chrome Webstore or through Lolli website.
---
Installation
Let us say you are installing the extension from Lolli website. Firstly you need to sign up with Lolli. After that, the Add to Chrome button could be seen at the top right corner. Clicking on this button should redirect you to the installation page and from there you can install the extension on your Chrome browser.
The Lolli Chrome extension only works on Windows operation system. Mac OS users can as well get this installed on their computers but only on Safari browser.
---
Lolli notification
The Lolli extension notifies you whenever you are on any of their partner stores. This notification works with the extension icon color which changes from purple to red. As soon as you see this, then you will earn Bitcoin based on the percentage indicated by the store in the Lolli program as you shop with the store.
---
Shopping with Lolli extension
There are ranges of stores that are in partnership with Lolli and offer shoppers certain percentage of their shopping amount as rewards in Bitcoin. To shop through them, click on Stores from Lolli homepage and you will be redirected to a page showing the list of Lolli partner stores. Just click on the one you want to shop with and a memo showing the percentage of Bitcoin that you can receive by shopping them should appear.
---
Earn Bitcoin
Now that you have everything place, the next thing is to start earning Bitcoin as you shop from these partner stores. The percentage of the Bitcoin you can earn from each store solely depends on what the store programmed to be paying Lolli extension users and it is different from one store to another. As you shop, you will receive the Bitcoin in your wallet.
---
Additional earnings through referral
Apart from the percentage of Bitcoin that you earn while shopping from Lolli partner stores, you can earn additional Bitcoin by referring online shoppers to use this extension. It is pretty simple. Refer a friend who earns free Bitcoin by using Lolli extension and you on the other side earn $5 worth of Bitcoin for your effort. As I have highlighted above, shopping online is something that we are all used to. Hence, getting referrals only require little effort from you.
---
Lolli partners
Lolli has partnered with over 500 highly-trafficked online stores. These stores are from the major categories of goods and services such as home appliances, wears, transportation services, communication gadgets, website hosting and domain, etc. Below are some of these partners with respect to their Bitcoin offer percentages.
| Store | BTC Percentage |
| --- | --- |
| Hayneedle | 9.5% |
| Harry's | 27% |
| Groupon | 9% |
| Hilton | 7% |
| Hotwire | 3.5% |
| Jet.com | 3.5% |
| Marriott | 4.5% |
| Macy's | 4.5% |
Get the full list of the partner stores with respect to their Bitcoin reward percentages here.
---
Lolli has given us a new way to earn free cryptocurrency by doing what we have been doing for years online. This is an initiative that will benefit us a great deal. Whatever you earn here could be used to trade online or converted to fiat and withdrawn to your account. Enjoy using this great extension!
---
For more readings, check the links below:
---
Disclaimer
The information contained here shall not be used as a guide in your next crypto trade. The writer is not a financial advisor but a crypto trader just like you. Information presented in this blog is for educational use only.