Steem Supporter introduction post
Today the Steem Supporter account was born. And in this post we want to tell you more about our vision and ideas and how you can profit from our project. So keep reading and you'll get all the information you need.
What is Steem Supporter?
A justified question. Our Steem account @steemsupporter is a project to make Steem great again and support Steemians wherever we can. Our goal is to help people grow on the Steem blockchain and we want to reward high-quality content because we believe that everyone who puts a lot of effort into enriching the Steem community should benefit from it.
So we powered up 1,950 Steem which is a good start but we're not finished yet. We want to continuously increase our Steem Power over time to make a bigger impact on Steem. But we also need your help to achieve our goals, but we get to that later.
Steem Supporter is run by @btcsam. He is a Steem user since 2017, has more than 1,500 followers and always try to give back as much as possible.
How can you participate?
Steem has an awesome community because (most) people are here to help each other and built a strong, independent community who can defeat anything and anyone (e.g. stopping TRON from taking over the blockchain).
We aim to become an important part of this community as well but to do so we need your support. Help us help others (and yourself too).

So don't miss this opportunity and join our project. We would be truly grateful for your contribution. Participating is really easy. You can take part by:
Delegating SP
The best way to support us is to delegate some of your Steem Power to us. We will use our SP to support minnows by upvoting their content (more about that below). And Delegating is really simple as well: Just follow this link and fill out the form. That's all.


Interacting with our content
A simple upvote, comment or resteem means a lot to us because it helps us to gain a bigger impact. We'll use most of our rewards to strengthen the community and give back to Steemians.

Joining our Discord and helping each other
Our goal is to help as many people as possible but our resources are limited as well. So join us and support each other as well. Our Discord server is a great way to connect with other Steemians.

But what exactly do you guys do?
Our main focus is to boost minnows but we're here for every Steemian. So we plan to do several things and everyone can be a part of our efforts to make Steem a better place.
Upvoting minnows
Searching for great content from minnows and upvoting their work is an really important part of our project. We know how hard it can be to become successful on Steem because there are so many fish in the big "Steem ocean".
If you think your content should get more attention simply go to our Discord server and post the link to your post. We'll try to read every post and upvote as many as we can.
Delegation perks
With your delegation you help other Steem users who need some support but you'll also help yourself. Everyone who delegate will receives upvotes from us.
10 - 50 SP: One 25% upvote per day
51 - 100 SP: One 35% upvote per day
101 - 250 SP: One 50% upvote per day
251 - 500 SP: One 100% upvote per day
501 - 1,000 SP: Two 100% upvotes per day
[As of 13.03.2020, perks can change, please check out the rules post]
Important: We only upvote high-quality posts. People who spam or write poor content posts won't be upvoted.
Contests & Giveaways
The payouts of some of our post will be in SP only. Those funds won't be powered down but used to increase our vote value. Other posts will have a 50% SBD / 50% SP payout. All liquid Steem (or SBD) will be divided and used for the following purposes:
50% will go into the contest pot
25% will be powered up
15% will be used to promote our project
10% fees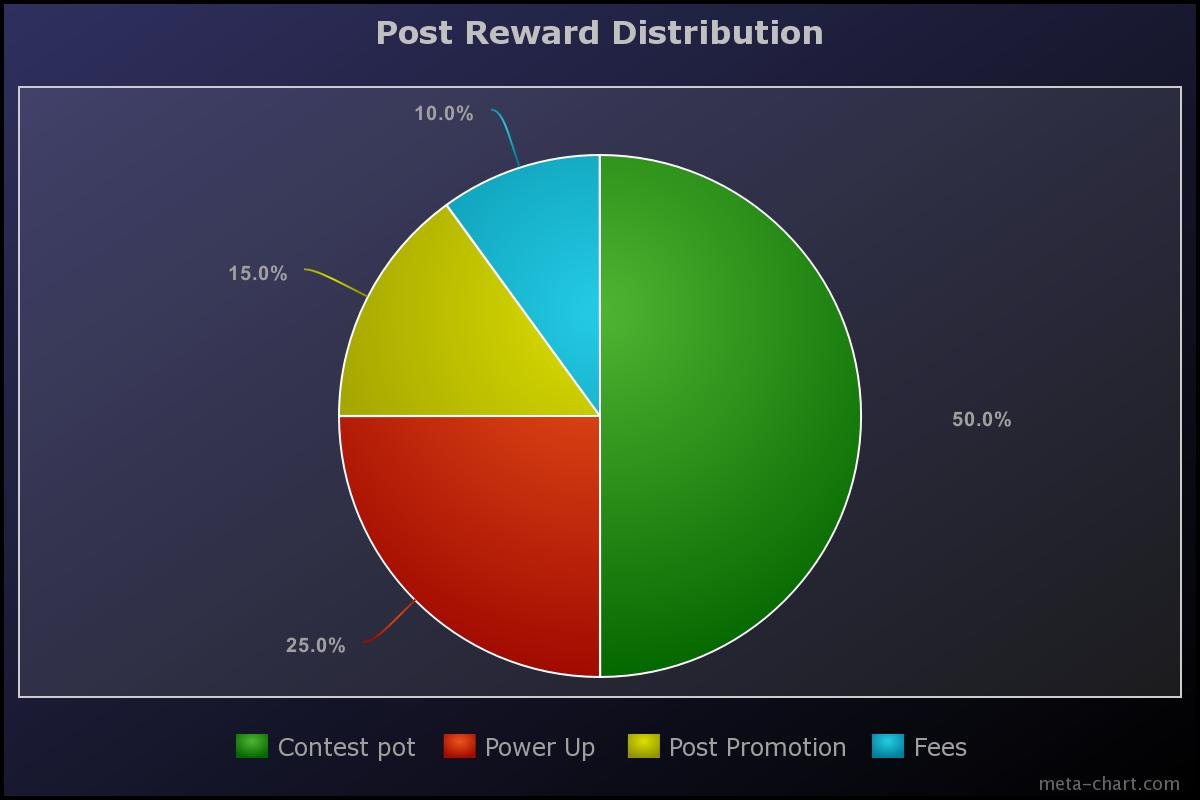 So we will use 50% of all our liquid Steem to offer contests and giveaways. Just make sure to follow us, so you'll never miss a contest. If you want to know more about how we use our rewards, head over to the rules post.

We will keep you up-to-date with several status posts per week. They will include a list of current delegators, some of our upvoted posts and a listing of post rewards and how they are used. Everything will be transparent and we will try to communicate with the community as much as possible.
We're really excited to start our journey today and to help so many great Steemians. We hope we can grow over time, so we can give back even more to the Steem community.
Thanks for your trust and help. You can write a comment if you have any questions or suggestions.
Cheers 😃