2017 Singapore Grand Prix Recap: Hamilton Wins, Ferrari Crashes!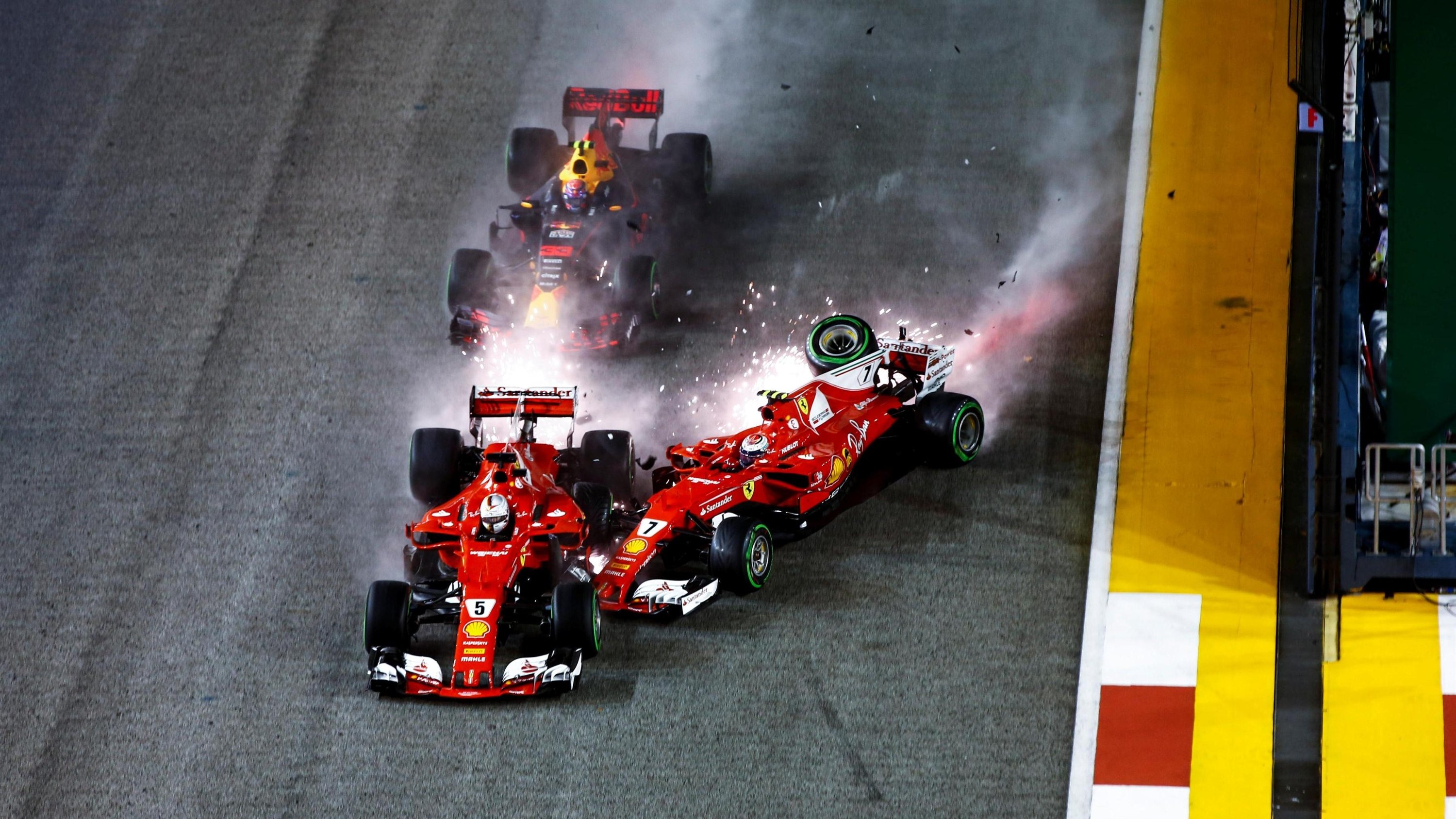 ---
---
---
Lewis Hamilton drove a masterful race to win the Singapore Grand Prix and take a stranglehold on the title as his rival Sebastian Vettel crashed out. Hamilton, who started fifth after struggling in qualifying, was leading by the first corner after Vettel collided with his teammate Kimi Raikkonen and Red Bull's pilot Max Verstappen at the start.
It could be a defining moment in the championship. Vettel was expected to re-take the lead at a track on which Ferrari had an advantage over Mercedes. Instead, Hamilton heads into the final six races of the season with a 28-point advantage.
---
First Practice
---
Red Bull gave Ferrari and Mercedes something to think about in Friday's opening session at Marina Bay as Daniel Ricciardo finished first with Vettel and Verstappen coming in second and third respectively, with just a tenth of a second covering all three cars. Early pacesetter Hamilton was not far behind as he set the fourth best time.
---
Second Practice
---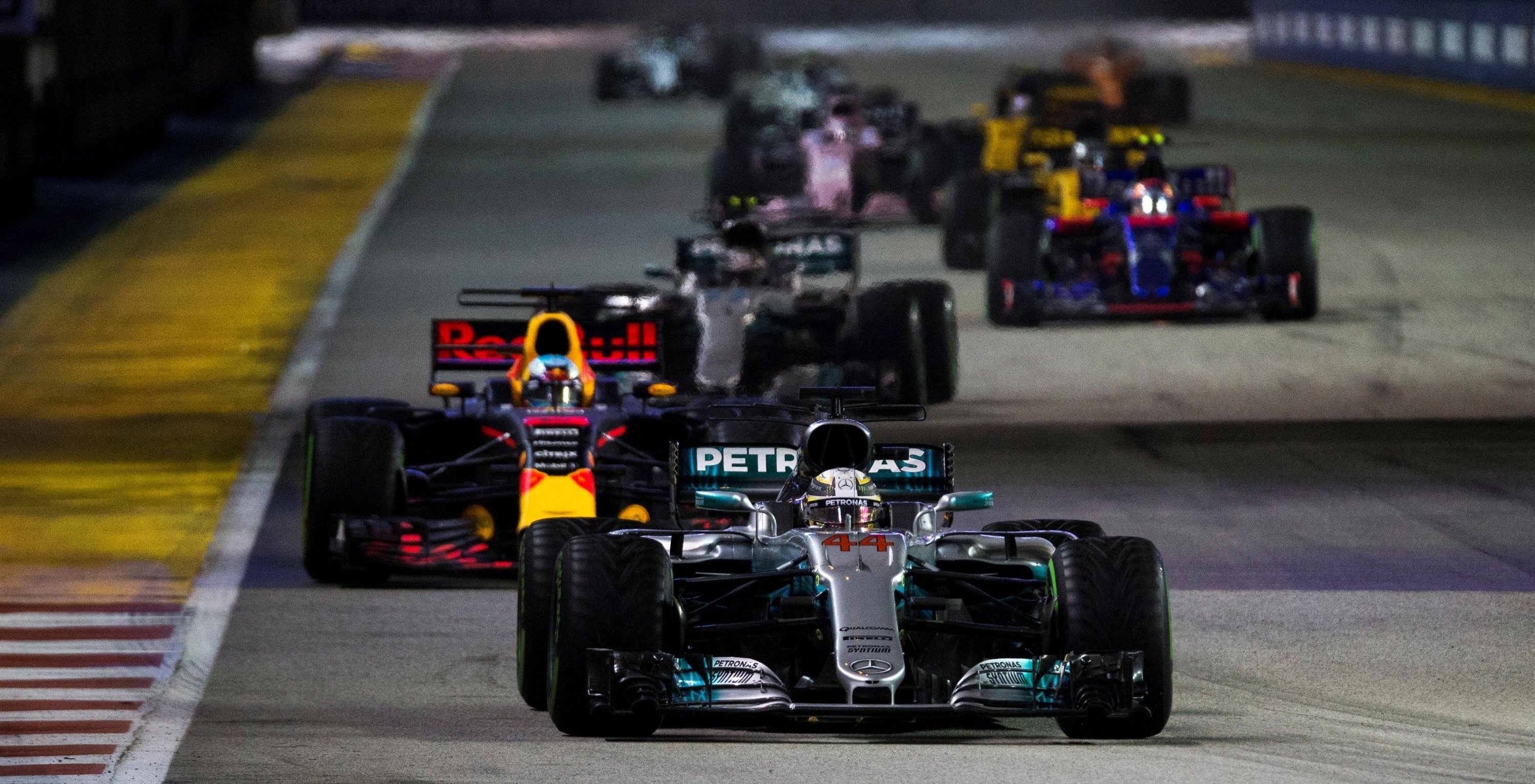 ---
Red Bull once again proved to be the strongest team in Friday's second practice in Singapore, with Daniel Ricciardo leading the way and his teammate Max Verstappen finishing second. This time it was Mercedes who was their closest challengers - Hamilton and Bottas finished third and fourth respectively.
Ricciardo and Verstappen had a lock on the session from the start. Vettel aborted his out-of-sequence run after hitting a wall.
---
Third Practice
---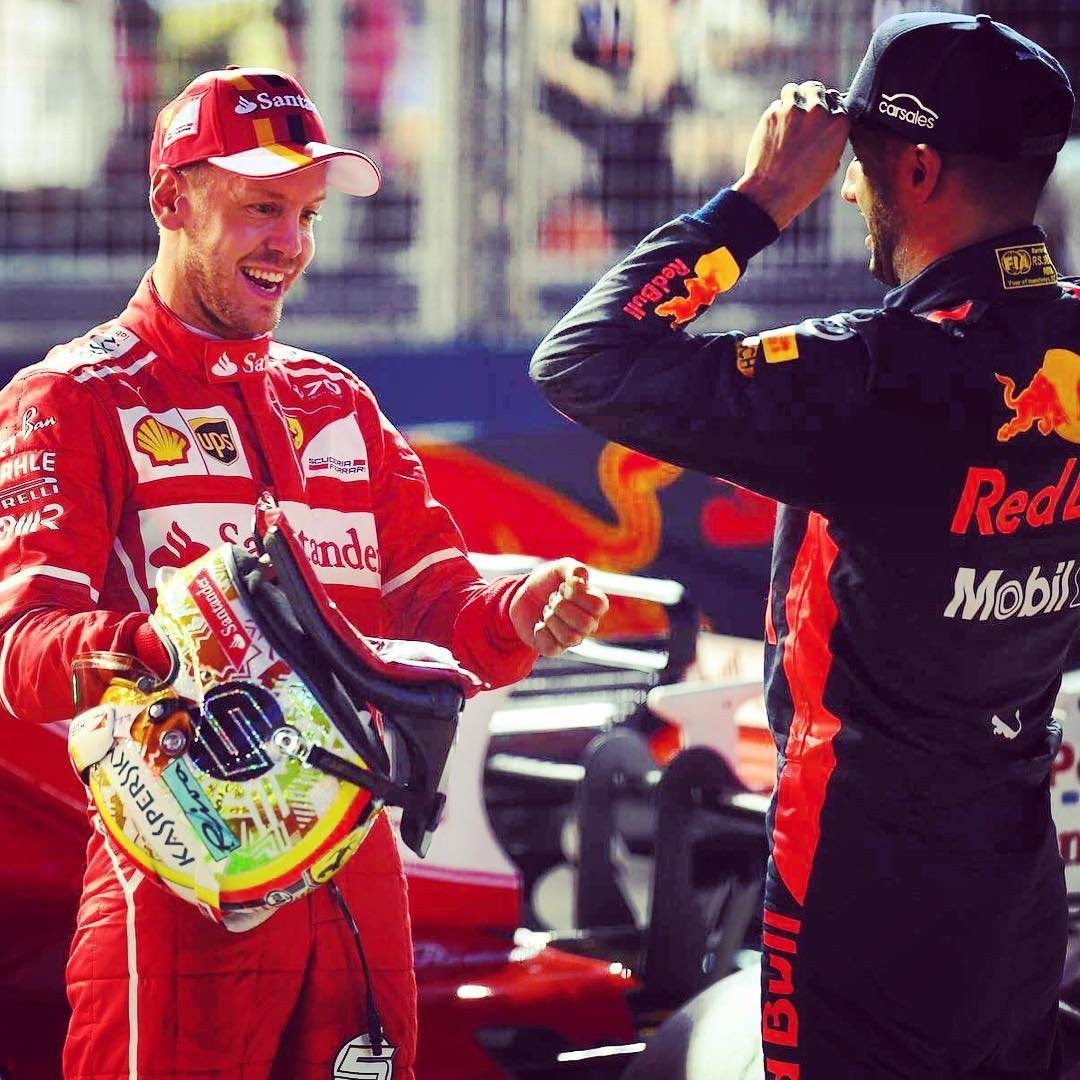 ---
Just 0.1s separated Red Bull, Ferrari, and Mercedes in Saturday evening's final practice in Singapore, as Max Verstappen topped the times of Sebastian Vettel and Lewis Hamilton. McLaren's Fernando Alonso at fourth surprised everyone and finished in the fourth position.
Verstappen got it all together to lap his RB13 and finished quicker than Vettel. Ricciardo's hope of having a dominant weekend took a hit when he clipped a wall on his last attempt, and yet still finished sixth.
---
Qualifying
---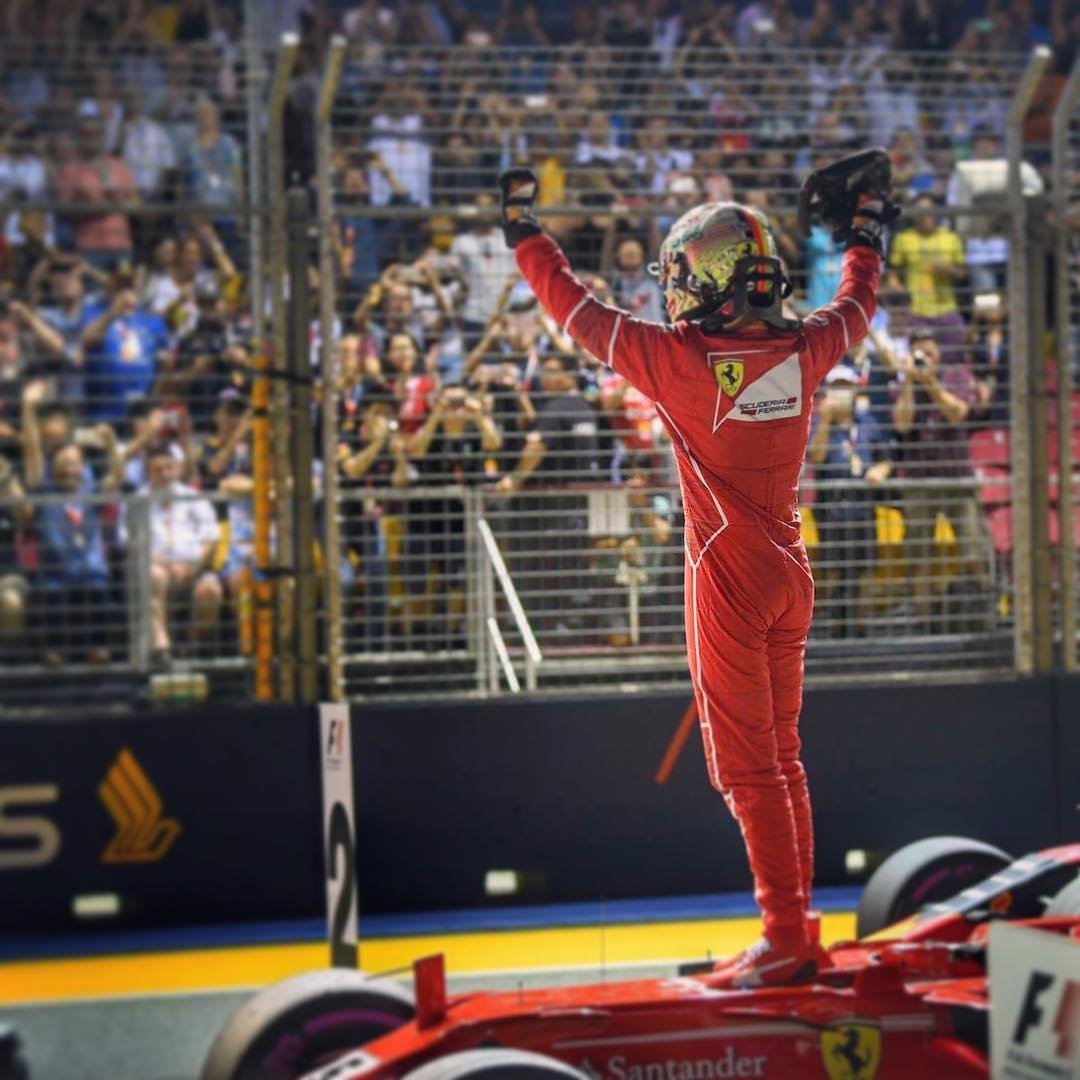 ---
it looked as though Max Verstappen was set to become F1's youngest ever pole sitter for a while, but that was until Sebastian Vettel stormed to his fourth P1 qualifying at the Marina Bay Street Circuit, beating the Dutchman by a clear three-tenths of a second. Verstappen settled for the second place, and Daniel Ricciardo came third. Lewis Hamilton and Valtteri Bottas showed some poor results and only managed to finish fifth and sixth respectively.
---
Main Race
---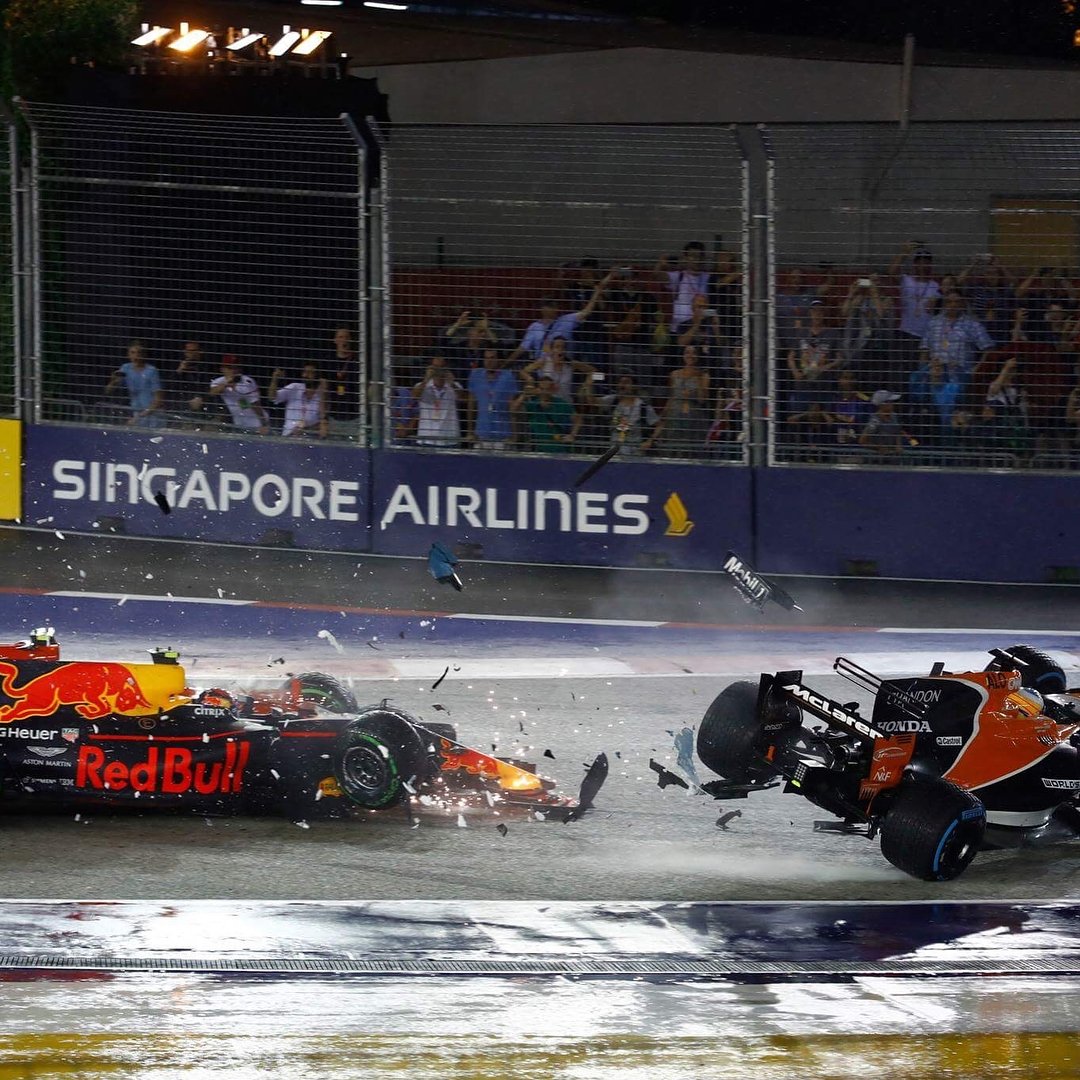 ---
It was action from the very first second of the first ever night race in F1 history under wet conditions. The rain started just before the start as Vettel led off the line from his pole position. Verstappen lagged alongside him and Ferrari teammate Kimi Raikkonen came creeping down the inside of the Red Bull. The three collided with Verstappen and Raikkonen immediately sliding off on the outside of the corner, taking out Fernando Alonso with them.
Vettel clung to the lead, but then his car broke and he had to retire. Hamilton then took over and continued with a series of fastest laps. There was no major challenger for Hamilton as he cruised to the win, with Ricciardo finishing second. It was a great evening for Mercedes, with Valtteri Bottas bringing his car in third, although a long way behind Ricciardo.
---
Standings
---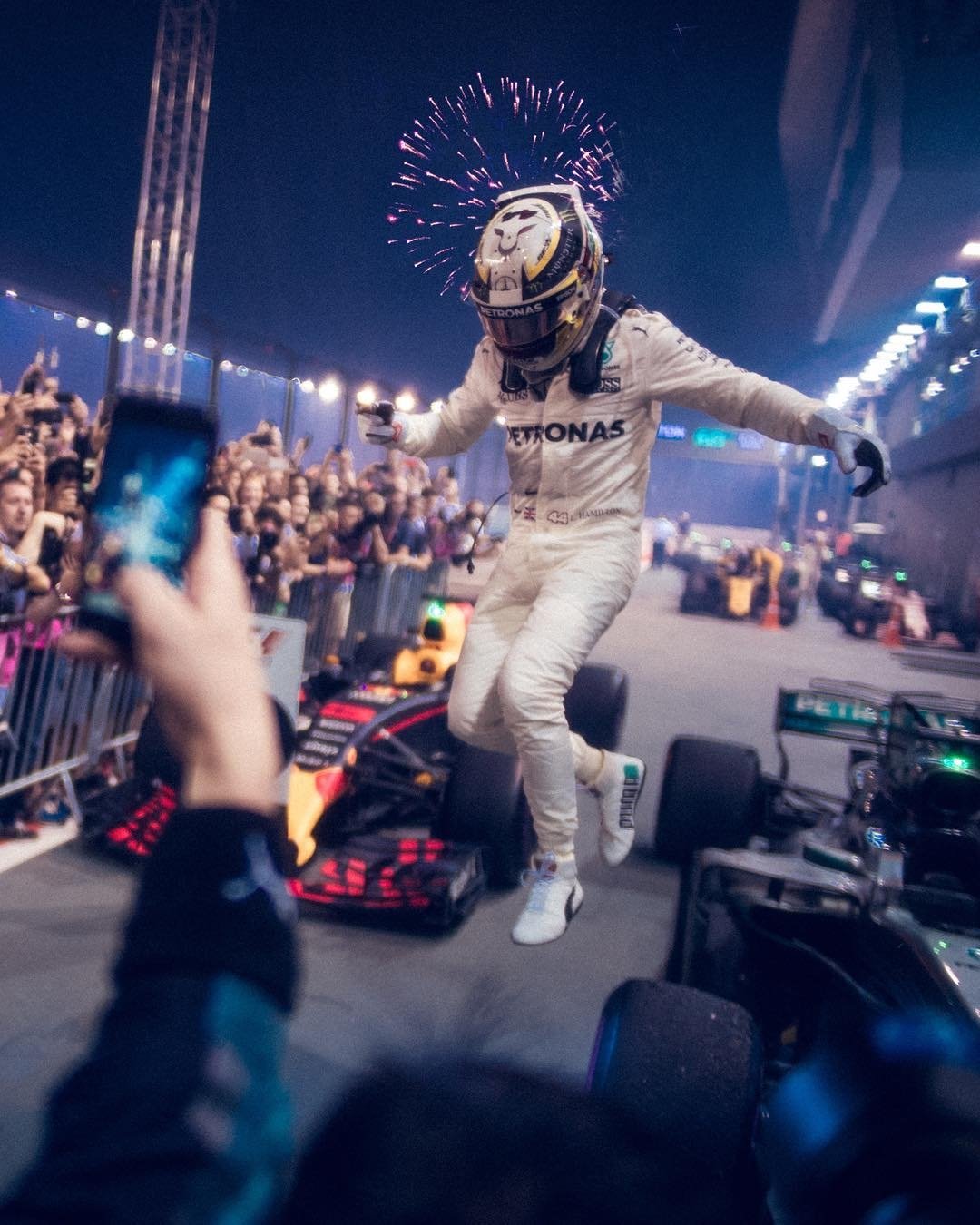 ---
With his 60th F1 victory, Lewis Hamilton has extended his championship lead over Sebastian Vettel from three points to 28 points, with just six races to go. Hamilton leads with 263 points after his splendid second half of the season. Vettel, after his forced retirement, remains with 235 points. He is now closely followed by Valtteri Bottas who has 212 points. Ricciardo and Raikkonen rank fourth and fifth with 162 and 138 points respectively.
In the constructor's standings, Mercedes are looking like the clear winner gapping Ferrari with over 100 points.
---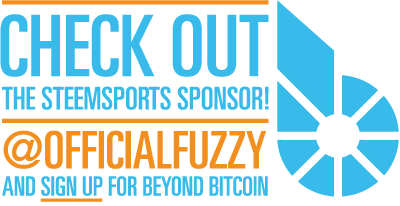 ---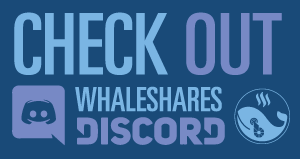 ---