Upgrades for Steem-Engine Tokens and Tribes (@steempeak Proposal #2)
Steem-Engine tokens and Tribes have quickly become a heavily used feature set for Steem and SteemPeak has already supported them with integrations into the wallet and pages set aside for Tribe communities (16 tribes and counting).
This proposal contains a list of features we'd like to add to steempeak.com to enhance the user experience and provide more details on both tokens and tribes.
PROPOSAL: 27 Upgrades to SteemPeak for SteemEngine tokens and Tribes
A quick recap of the main points that will be covered in detail in the remaining of this post:
More wallet operations for SteemEngine tokens
Transactions history for SteemEngine tokens
Vote value estimation when voting in a Tribe page
Show more information and details to make educated decisions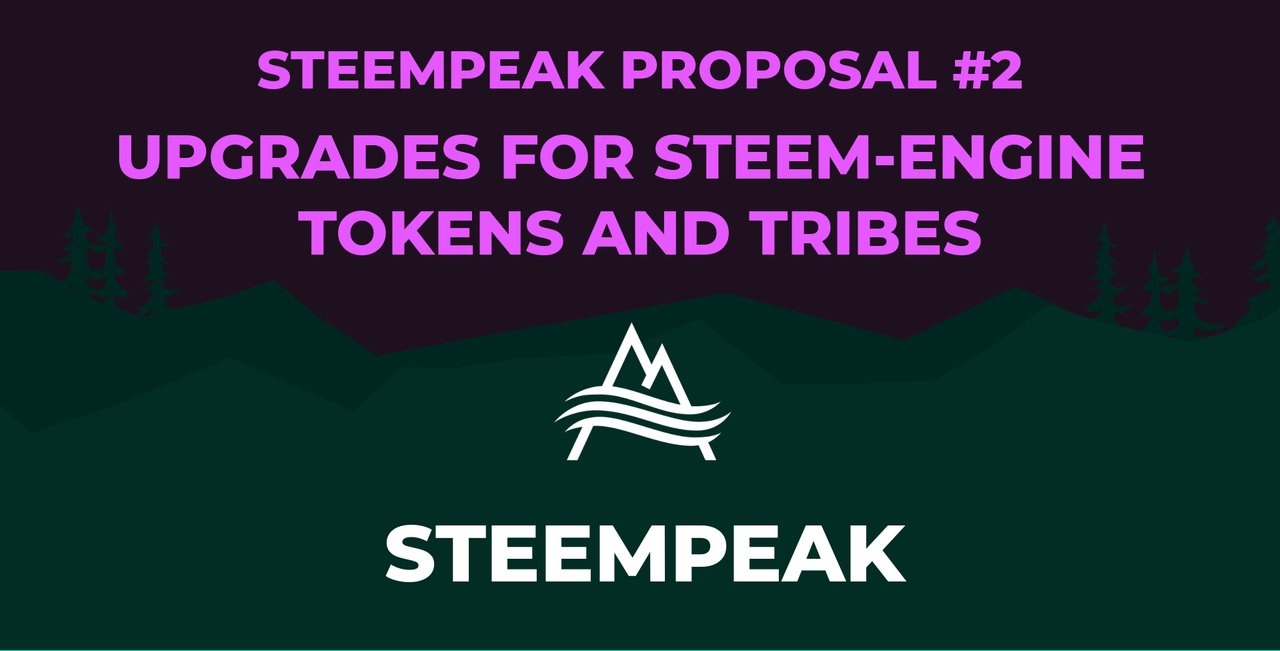 With that said we've divided our project/proposal into 4 different goals with 27 distinct items or features we can add to SteemPeak.com.
---
STRETCH GOALS
According the the amount of funds received by the @peak.proposals account during the proposals lifespan we'll unlock the goals listed below:
1: SteemEngine improvement to the Wallet page - 500 SBD
We will improve the Steem-engine tokens section in the Wallet page to be more useful and readable:
- (1) Wallet reorganization of tokens to make it easier to read the data
- (2) Wallet extra info for tokens (total owned, staked, delegated in, delegated out)

And add support to cast the following transactions (transfers are already allowed):
- (3) Claim all tokens
- (4) Delegate
- (5) Stake
- (6) Unstake

2. Display more information - 800 SBD total
There's a few more things we can do to provide users information about tokens.
- (7) Transaction history in our wallet explorer
- (8) Show vote values when in a tribe 
- (9) Select tribe tags in sidebar 

3: Tribe informational quick page - 1000 SBD total
Most of this information is stored in SCOT information for each token and we will add to a page to allow users to quickly and easily see information that helps them understand the tribe better. We hope to provided the information in an easy to understand format and maybe help users make comparative studies of tribes to help them understand the value of the token to the user.
- (10) Display creator/curator split
- (11) Display the main/optional tags of tribe
- (12) Display which account runs the token
- (13) Display market value of token
- (14) Display reward pool inflation rate
- (15) Display how much added to reward pool daily
- (16) Display other inflation mechanisms (mining)
- (17) Show if beneficiaries are allowed
- (18) Show if downvoting is counted
- (19) Show how many votes and downvotes per day (aka regeneration of voting power)

4: Offchain database with tribes description and rules - 1250 SBD total
It will be possible for tribe owners to add information about their tribe on SteemPeak. Presently there is no location to store these items in a decentralized system but seeing as steempeak.com is the only system that shows multiple Tribes in one location we think it's fine to store this information in our database.
- (20) CONTENT DESCRIPTION: Meaning a very short description of what type of content is allowed in this tribe.
- (21) ABOUT TRIBE: Allow tribes to write about their tribe in a longer description
- (22) WHITE PAPER LINK: A link to where users can find the white paper describing the model behind their tribe or token
- (23) ANNOUNCEMENT LINK: A link to the original announcement for the tribe
- (24) RULES LINK: A link to a post containing the rules for the tribe
- (25) CURATOR/MODERATOR LIST: Allow tribes to denote which accounts are officially curators/moderators for the token. 
- (26) RECOMMENDED CURATOR: We already have the ability for tribes to denote which account is the official curator that shows up under "recommended" tab for the tribe. 
- (27) OFFICIAL ACCOUNTS LIST: This is a section for tribes to denote official accounts for their tribe and what operations they do. For example many tribes have funding pools that are there to help with onboarding or paying for services etc. Having those listed can help users understand what portion of the circulating tokens may or may not actually be circulating and what tokens are set aside for other usages.

TIMEFRAME: 12 Sep 2019 - 26 Sep 2019
We are listing the proposal now (you can already give your support here) and we hope to get the required funds in 15 days. Some more days will be required for the final release as we'll probably merge the development of this proposal with other improvements we are already doing to steempeak.com.
FUNDS
It's difficult to predict how much funds a proposal will receive. This is why we created multiple 'Stretch Goals' that are unlocked as more funds are collected. For this first proposal we fixed the maximum daily pay to 100 SBD, but some goals will be developed also if we don't get the full payment.
Also keep in mind that we use a different account (@peak.proposals) to track the received funds. All user donations (SBD preferred, but STEEM will work too) sent to that account will be considered as payments for this proposal and will contribute to unlocking more goals.
This is a recap of the funds received and the corresponding stretch goal:
SteemEngine improvement to the Wallet page - 500 SBD
Display more information - 800 SBD
Tribe informational quick page - 1000 SBD
Offchain database with tribes description and rules - 1250 SBD
If the first goal is not unlocked we'll refund all the payments received with a donation to @steem.dao and the SPS.
SUPPORT THIS PROPOSAL
If you want to support (approve) this proposal you can do so by visiting our proposal page on SteemPeak (https://steempeak.com/proposals/steempeak) or using this link provided by SteemConnect to approve it directly.
TEAM
The team that will work on this proposal:
@asgarth will be doing the code
@jarvie has done much of the preparation for what is needed
The whole @steempeak team will help testing the new features before the final release.
---
Vote for the @steempeak witness
Now is probably a nice time to remind you that we run a witness server to help produce the blocks for the Steem Blockchain. You can vote for our witness so we are in a position to process more of them.
Vote on out profile page: @steempeak
Vote on the witness page: https://steempeak.com/witnesses


This works for all witnesses BTW
Using Keychain: You just have to click and approve the transaction
Using SteemConnect: You'll need access to confirm the transaction with your Active Key at least
---
The SteemPeak Team
About us: https://steempeak.com/about
Join us on Discord: https://discord.gg/6hCAcVp