SteemitBoard - Witness Update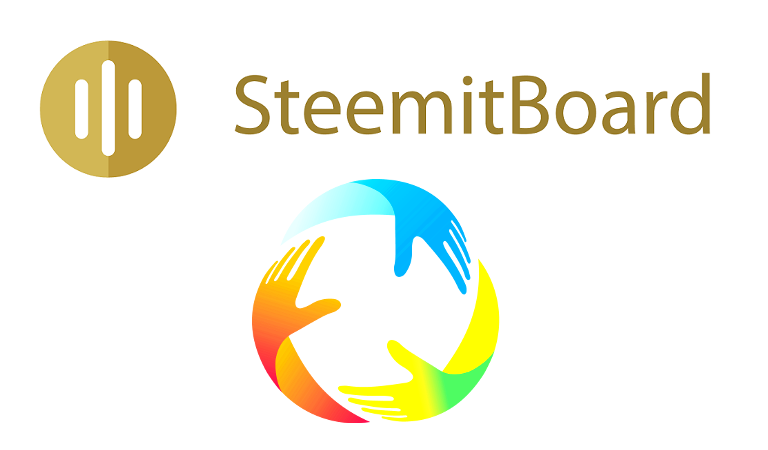 Welcome to SteemitBoard's witness report
Like all other witnesses, @steemitboard publish a regular report on its activity and how it helps the Steemit platform and its users to grow and to have fun.
For those who don't know why SteemitBoard is a witness, I highly recommend to read the introduction post. This one is full of information.
Work done
New personal badges created

SteemitBoard World Cup Contest.
The SteemitBoard World Cup Contest has been one of the funniest contest around the World Cup 2018 on Steemit. There were 1340 registered users. On top of the commemorative badge, 1766.197 SBD were distributed among 1095 successful participants thanks to its generous sponsors.



Veteran Community Badge
This badge is the first Steemit community badge created by SteemitBoard with the collaboration of @guiltyparties. More community badges to come soon.

SteemFest Travel Reimbursement Fund Donators .
SteemitBoard has decided to support the generous donors to the travel fund created by @roelandp. The Travel Reimbusement Fund will be open till the end of SteemFest and it's still time to make a donation and this dedicated badge.|


Witness infrastructure
All @steemitboard's witness nodes and other nodes it requires to do its daily work have been upgraded to the latest version v19.12.
This version will introduces the ability to edit posts that older than 7 days, which is a very long awaited feature for @steemitboard. Indeed, several explanation posts on how SteemitBoard works are now outdated and should be revamped. We can't wait for the feature to be activated on the blockchain.
Notifications
Since May 2017, SteemitBoard sends notifications to inform users of their progress on Steemit.
Up to now, SteemitBoard has sent 1132324 notifications. At the beginning of March, notifications had to be suspended for a short time due to network bandwidth issues. But since then, everything is functional again and the number of notifications sent everyday is steady around 3725 notifications per day.
Here a small chart to display this evolution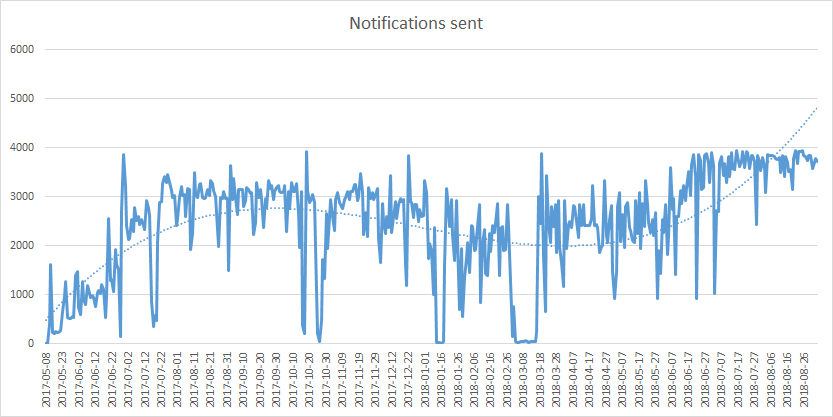 If SteemitBoard is able to send so many notifications per day, this is thanks to your support. Each time you vote on the notification, you increase SteemitBoard's power and bandwidth, allowing it to notify more users of their achievements.
Here an evolution of the support received on notifications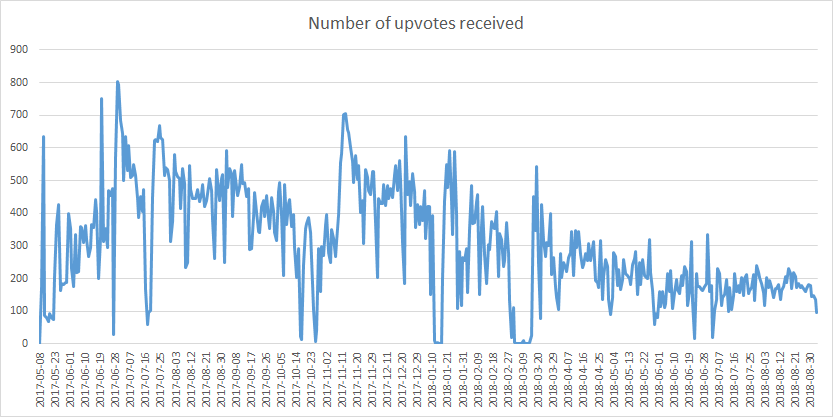 Notifications are really appreciated and users have sent a lot of positive feedback. Many of you love being informed about their progress on Steemit by @steemitboard and only 4% have asked not to receive notifications.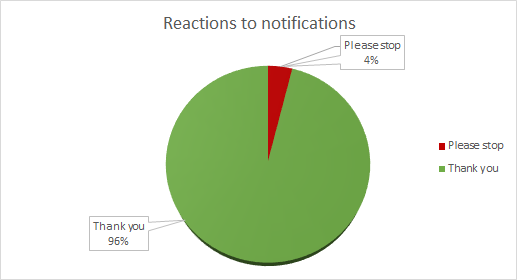 A big THANK YOU to all of you who keep upvoting notifications they receive.
Support from SteemitBoard to users
Remember @steemitboard also upvotes user's post when it send a notification.
At the very beginning, the upvote strength was 10% for every notification. But as there was more and more notifications sent, @steemitboard voting power was depleting too quickly and the vote strength had to be reduced to allow @steemitboard to continue upvoting a maximum number of user posts.
Here are the current voting rules used by @steemitboard:
| Action type | VP % | Description |
| --- | --- | --- |
| "first" award | 0 | Set to zero low to avoid giving too much on new users that come and go |
| generated by user | 0 | Set to zero to avoid abuse by accounts generating a lot of informations with low value |
| generated by other (upvotes and comments) | 1 | This is the reward when others users appreciate your work |
| Special awards (Top xxx, Daily Author, Weekly Author, ...) | 5 | Voting Power is high to reward committed users |
Here a graph showing how the voting power has been distributed to users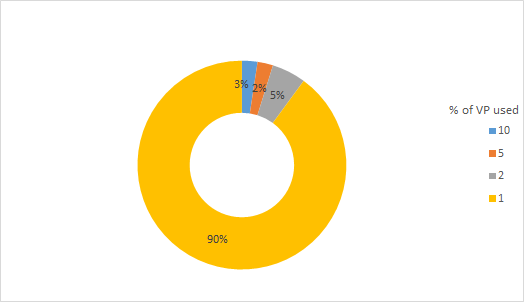 And here's a chart with the number of votes made every day. You will notice that SteemitBoard has upvoted 488844 posts, with up to 2668 posts per day and is now on a lower average of approximately 1000 posts upvoted per day.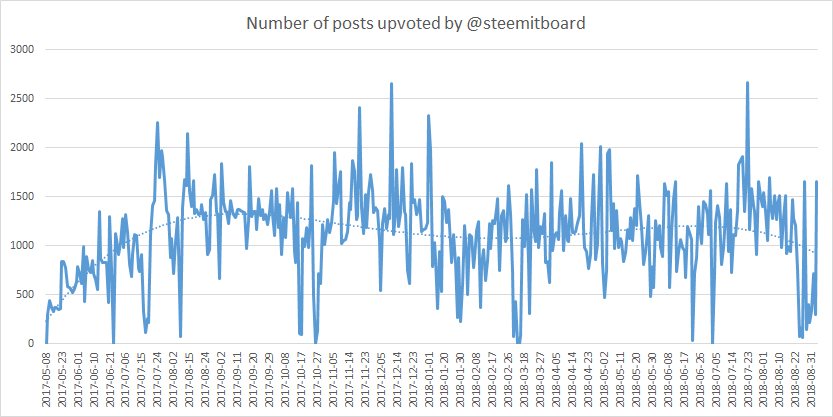 We have seen several users complain that @steemitboard's upvotes did not have a big effect on their payment. Yes, @steemitboard is not powerful enough yet.
Anyway, these upvotes are already helping to boost the reputation of the active user.
SteemitBoard is grateful when you support it
As you have read above, the impact of @steemitboard votes is still low. That's why we're asking you to support this project by voting the notifications you receive or voting for @steemitboard as a witness.
On top of its 37933 followers, 4940 users have voted for @steemitboard as a Witness.
A special thank you to all of you!
This support is highly appreciated and each user voting for @steemitboard as a witness is rewarded with a dedicated badge displayed on his/her personal page.

If you want to make this award yours, that's quite simple:
Vote for @SteemitBoard as a witness!


Thanks for reading.