Recent created and updated Steem.center wiki pages in English and Portuguese
Steem.center : About | STEEM Rewards | Rules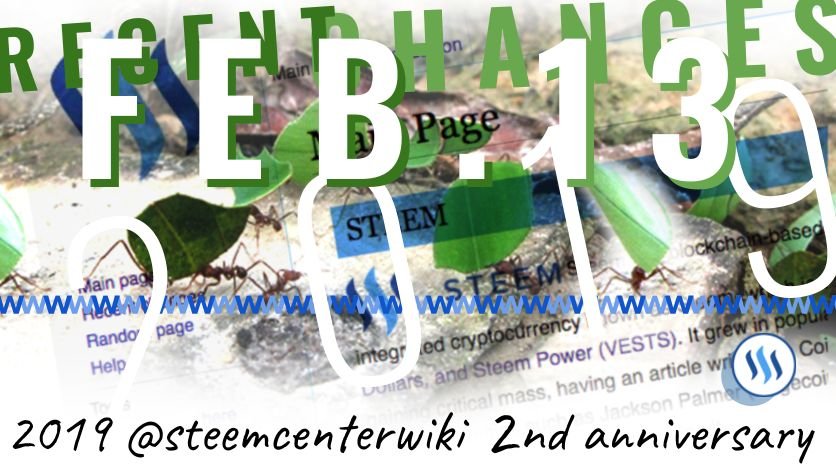 Hi steemians! In this second month of 2019 we'll continue what we've started last year, publishing posts with the Recent Changes in Steem.center wiki.
February 2
February 4
February 8
February 11
February 13
---
ARTICLES IN PORTUGUESE
February 4
February 6
February 9
February 12
February 13
---
Check the Recent Changes list page updated live in: https://www.steem.center/index.php?title=Special:RecentChanges&days=14&from=&limit=500
Welcome and thanks to all come back participants! You are entitled to be upvoted and receive a share of part of the STEEM collected by this account this month. (Check how in the rules. Help us also following, upvoting or resteeming our posts.
Welcome to the new registered users, thank you very much! Until now the group of February's collaborators are @aiyumi, @antigourmet, @leodelara, @leticiachiantia, @wagnertamanaha and @wiseagent. They all form the group of 6 participants entitled to receive a share of STEEM collected here in this month.
Project's Balance
Now we have 41.276 STEEM in our wallet, as we did all last year, 60% of all STEEM collected this month - 24.765 STEEM - would be shared among February's participants. Check our project's rules proposed two years ago and updated last year to join us if you like. Or just upvote and resteem this post to increase the rewards as an incentive to new participants.
Join the project!
In 2019 we celebrate Steem.center wiki second anniversary, proposed in 2017 and with rules updated last year. If you liked our proposal, join us to transform Steem.center in the wiki of all things Steem. You can check the actual Rules and gather to the project if you like. To be in the next distribution list and receive a share of the STEEM collected by this account, please follow us here in @steemcenterwiki, register in Steem.center with your Steemit username, then start making wiki collaborations!
You can find some suggestions to eventual new pages in Articles for Creation and test wiki editions for free using the sandbox page. We suggested some loosely guidelines and when you need just ask for a personal response in the Steem.chat #wiki channel.
You can also support the project with donations, just transfer any STEEM value or STEEM Power delegation (see in the rules our upvotes routine) to @steemcenterwiki. Or follow us, upvote, reply or resteem this post.
An idea to make the @steemcenterwiki rewards distribution automatic
Few days ago @wagnertamanaha proposed An idea of a Mediawiki extension to connect with Steem blockchain and its content reward system. It was his first attempt to participate in the @utopian-io project as a call to the open source developers. If are there any Steem or Mediawiki developers interested let's discuss and talk to make this idea a reality in the future.
Testing Dclick as one more way to improve our reward pool
We recently started publishing using @dclick website, an initiative sponsored by Steem Witness @clayop to work as an incentivized ad platform by Proof of Click. Aside the donations and upvotes received, anything that can help to increase our rewards pool is welcomed. We also are delegating 50 SP to the @steem-ua alternative Steem reputation project. If you also have new ideas to improve our economic model, please feel free to reply this post with your opinions or proposals or drop a message in our Steem.chat #wiki channel.
Thanks again to all collaborators, followers and donators! Let's continue in the chase to make Steem.center in the wiki about all things Steem!



Image credits: pictures under Creative Commons license on Flickr by lana.japan and Matt MacGillivray. Design by @wagnertamanaha.
Steem.center : About | STEEM Rewards | Rules
---
Sponsored ( Powered by dclick )