Interview with @ecoinstant
Steem Basic Income
Steem Basic Income is a social experiment to bring a basic income to as many Steemians as possible. Members join by sponsoring others into the program. Steem Basic Income is delivered through providing regular upvotes to member content.
Welcome to @steembasicincome's ninth member interview!
To provide more interaction within Steem Basic Income (SBI), we are continuing our interviews with prominent members of SBI! We hope to bring a greater sense of community, get to know our members, and gain a better understanding of why Steemians are choosing to be a part of SBI.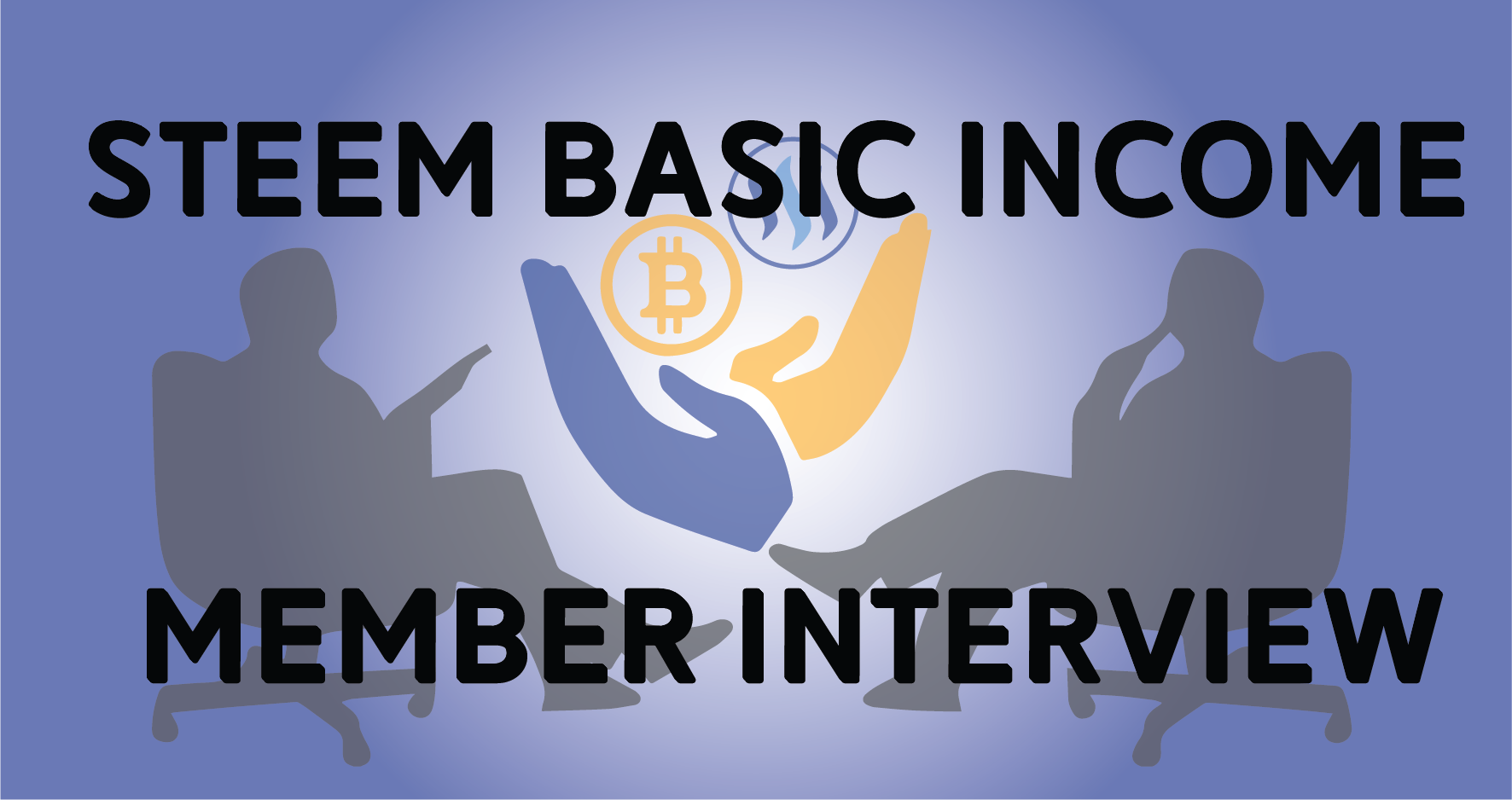 Graphic by @katysavage
Greetings, again fellow Steemians, I am
@wesphilbin
; This will be my second interview for the Steem Basic Income group. Last month I had the pleasure of interviewing
@eturnerx
; It was good to see the importance of community in his mindset, and I certainly learned a lot about all of the things possible here on the Steem'verse… both from his personal endeavors as well as daily involvement. This month,
@ecoinstant
and I had the opportunity to chat over several days via async chat (a term I learned from
@eturnerx
), and I hope you will enjoy my attempt to decipher the wonders that I was given to share with you all! Sit back, grab some tea, relax… and enjoy!
You may know him as @ecoinstant, or perhaps Alex… maybe Mr. Trapp. But one thing is certain, he is dedicated to the concept of decentralization. Just take a look at his description from his Steem profile, and you can immediately get a sense of what drives him…
Sustainable Development and Agriculture Practitioner, Yearning for Learning, Breaker and Fixer, Writer and Smiter(CG). On a mission of pioneering vision.
@josephsavage and @ecoinstant
Driven would certainly be one word to describe him; if you've ever watched his DTube videos, then you certainly already know what I am talking about. Spotlighting members that choose to be a part of the SBI community is one reason for these interviews, and the background behind @ecoinstant's passion helps to justify his involvement in the Steem'verse community. When he isn't writing for @steembasicincome, he also writes for @freedomex, a Smart Media exchange. He is involved with the #77seven movement created by @nathanmars... 7 pushups for 77 days; getting Steemians to work together and become visible on other platforms. Ecoinstant feels this to be very important and supports @nathanmars' vision.


Another program @ecoinstant supports is @c-squared. From their post... "C-Squared is a fully inclusive curation collective that is open to the public, a place where anyone can be a curator and everyone is welcome."Reference. They do a wonderful job along with their big sister @curie... He does not want to rely on just content curation for the lifeblood of the Steem'verse, but genuinely feels the above mentioned programs do a wonderful job. As if this wasn't enough, @ecoinstant is also a @helpie member and believes in communities that focus on training 'multipliers' that will facilitate reaching out to new Steemians.


As I watched the sentences, and sometimes paragraphs, appear from our text interactions, I could start to "see" the gears turning in @ecoinstant's mind; decentralization, community, sustainability... all of these are very important to him, and one only need read between the lines on his feelings of SBI:
SBI is a big one for me, I love how it is growing and focusing on sustainability for itself and its members - and supporting USERS and not so much specific... pieces of content
But... what is "sustainability" you might ask? There are many various 'definitions' of the term; looking through I found one that seemed to be perfect for this interview:
"Sustainability, the long-term viability of a community, set of social institutions, or societal practice. In general, sustainability is understood as a form of intergenerational ethics in which the environmental and economic actions taken by present persons do not diminish the opportunities of future persons to enjoy similar levels of wealth, utility, or welfare." Source
But to ecoinstant, it's much deeper than that...
We spoke of a book he loved... "Visioneering": by Andy Stanley. Mr. Stanley has quite a powerful quote, that I felt was relevant to my interview...
" Everybody ends up somewhere in life. You can end up somewhere on purpose!"Source.
Looking into the future of @steembasicincome
@ecoinstant and I chatted quite a bit on various topics... like the concept behind the Steem Basic Income program. He explained that sustainability was something much deeper to him; it is a spiritual concept, and he felt it was what he was here to do. That we have gone "all wrong" about the way we live our lives. We have forgotten how to be "stewards"... we have forgotten that we are indeed the caretakers of life. This in turn caused a great "unsustainability", and helped to drive home his desire to work with programs such as Steem Basic Income.
I actually spoke with my mom on the phone about @ecoinstant, Steem, and the concept of SBI as well as this interview. Some are not comfortable with discussing religion and spirituality... anything that may arrive with the word "God" in a sentence, and my mom expressed her opinion with a simple phrase after describing @ecoinstant; a "God" fearing man... Mom's have that ability you know.
But I can tell you this; just as I consider myself spiritual so too does @ecoinstant... and I believe this driving force will help to expand not only the Steem Basic Income program but also... all of the concepts here on the Steem'verse... whether discussed in this interview, or soon to come.
Interview Conclusion
I hope you have enjoyed this... my second interview for Steem Basic Income, and their "ninth", to help promote interaction with prominent users involved with SBI. @ecoinstant and I shared a lot of information with each other, as well as he with me... one only need to look at this interview to see his positive impact on both the Steem Basic Income program, but also the Steem'verse in general. Thank you again for reading my interview; should you care to learn more about @ecoinstant, or the impact he is making... do check out his blog.
---
---
Sustainability Coverage and VP Management
Sustainability Coverage is currently at 90.68% and rshares reward rate is 718,068,590 per SBI unit per day.
The rshares reward rate for bonus units (delegation reward) is not decreased. It actually is higher, to return curation rewards to our delegators. You can help increase the sustainability coverage (and thus the rshares reward rate on regular units) by delegating to
@steembasicincome
.
For more information, please read
Into the Heart of Sustainability
.
Upvoting Reward multipliers are currently at 1.10x until our Voting Power recovers to 80%.
Enrollment
If you want to get involved, or to increase the level of basic income that you receive, enrollment is pretty straightforward:
Just send 1 STEEM to @steembasicincome. Include the name of a Steemian to sponsor in the transaction memo (preceded by @). You and the person you sponsor will each receive 1 unit in the program. You can sponsor any active Steemian (except for yourself), it does not have to be a current member.
If you're unclear, please check out our full transaction memo guidelines and then let us know if you have any questions.
https://steemit.com/busy/@steembasicincome/transaction-memo-guidelines
The official currency for enrollment is STEEM. If we choose to accept SBD without refunding it, you do not receive extra value for it.
Enrollments are processed automatically every 144 minutes.
Questions?
Please read our
FAQ
. If you still have questions, ask in the comments section or join us in our
discord channel
.
You can look up your current membership levels by using !sbi status in a comment or post, or by using our newly modified member lookup tool.