2nd Bundesliga, week 23, Friday matches with Osnabrück vs. AUE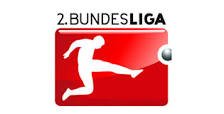 Heute beginnt der 23. Spieltag in der 2. Bundesliga mit 2 interessanten Spielen.
Today the 23rd matchday in the 2nd Bundesliga starts with 2 interesting games.

vs.

Osnabrück spielt zu hause gegen AUE. Beide Teams mit schwachen Leistungen im Jahr 2020 und deshalb ein 0:0 Unentschieden.
Osnabrück plays against AUE at home. Both teams with poor performances in 2020 and therefore a 0:0 draw.
---

vs.

Wiesbaden spielt zu hause gegen Fürth. Wiesbaden benötigt dringend Punkte gegen den Abstieg, aber meiner Meinung nach ist Fürth zu stark und deshalb ein 1:2 Auswärtssieg.
Wiesbaden plays against Fürth at home. Wiesbaden urgently needs points against relegation, but in my opinion Fürth is too strong and therefore a 1: 2 away win.
Funny matches @all
Best regards & Glück auf
sportfrei