Cheongryongsa Temple, in the center of Seoul Metropolitan
I gathered several posts on Cheongryongsa temple which was located in the downtown of Seoul.
At the entrance of the temple
The name Cheongryong means 'Blue dragon', actually in Korean traditional belief, Cheonryong means Water. In Yin Yang philosophy, blue means Yin.
This temple was managed by nuns.
There were no gates in this temple like in other temples. Instead the gates, Heaven Kings were drawn on the gate of One Pillar gate.
It seemed that this temple had suffered difficulties taken through long history.
It barely seemed to preserved its old shape.
The one pillar gate in the center of Seoul was very impressive. Originally, the one pillar gate means the boundary between the temple and the secular world. In this city the boundary between the temple and the secular world was so close.
As passing through the gate, the boards were hung on the wall, on which was written the teachings of Buddhism.
Dae Wung Jeon Hall was located at the other side of the ground. The lanterns were beautiful.
Buddha Statue in Daewung-Jeon Hall
Buddha state itself in this temple was not special, but the painting behind of the statue was so vivid. What catching my eyes was the color of background. Black color seemed to not common in other temples. This black background made Buddha painting more vivid.
Mountain God Hall
There was a mountain god hall behind of Dae Wung Jeon, the main hall of this temple. As usual, the mountain god hall was located in the highest place to protect the temple.
Views from the temple
My favorite thing in the Korean traditional architecture is the roof.
The line of the roof seemed to reflect the Korean culture.
It looked humble, but it looked to express well the warm feelings of Korean folks.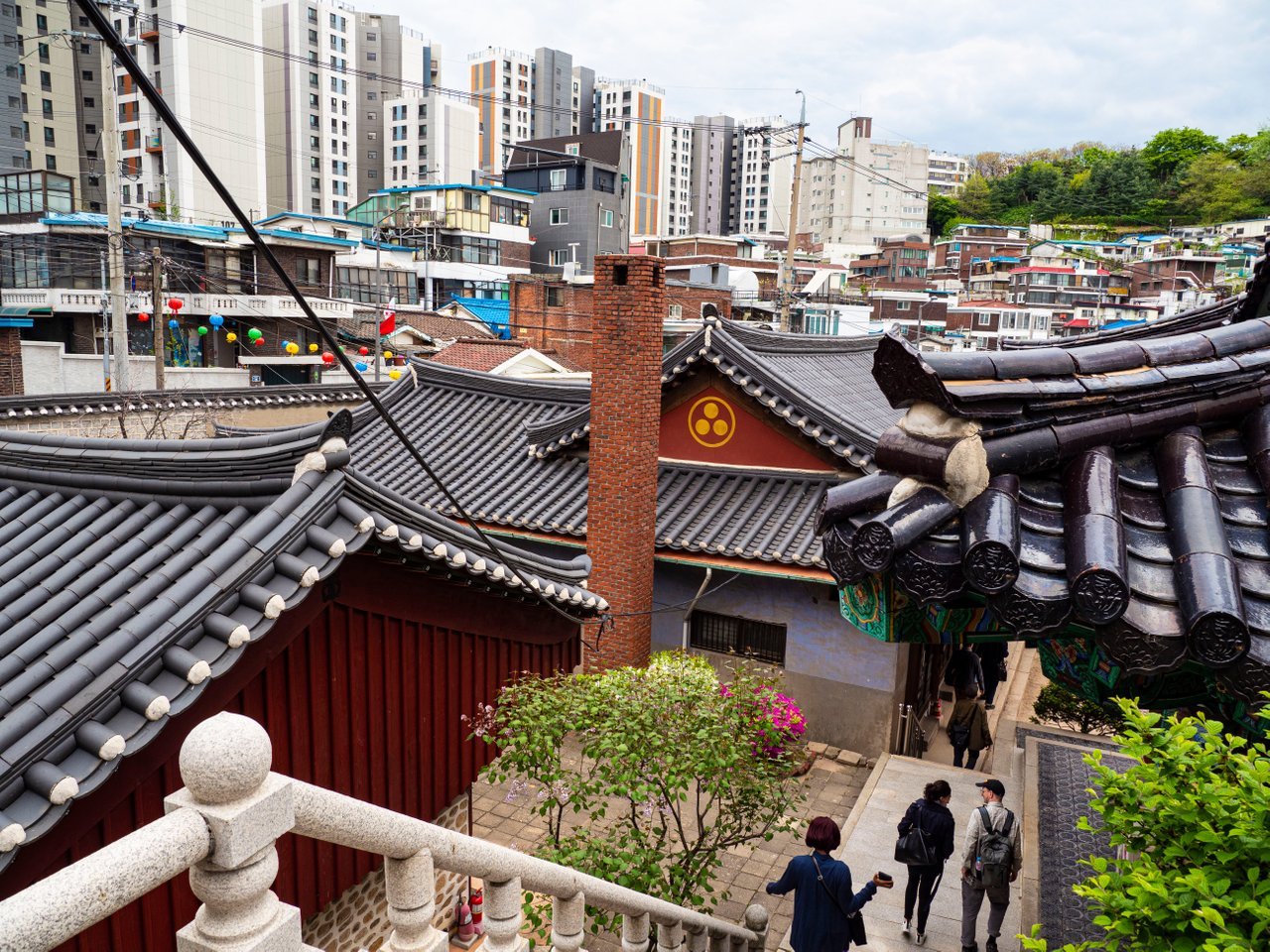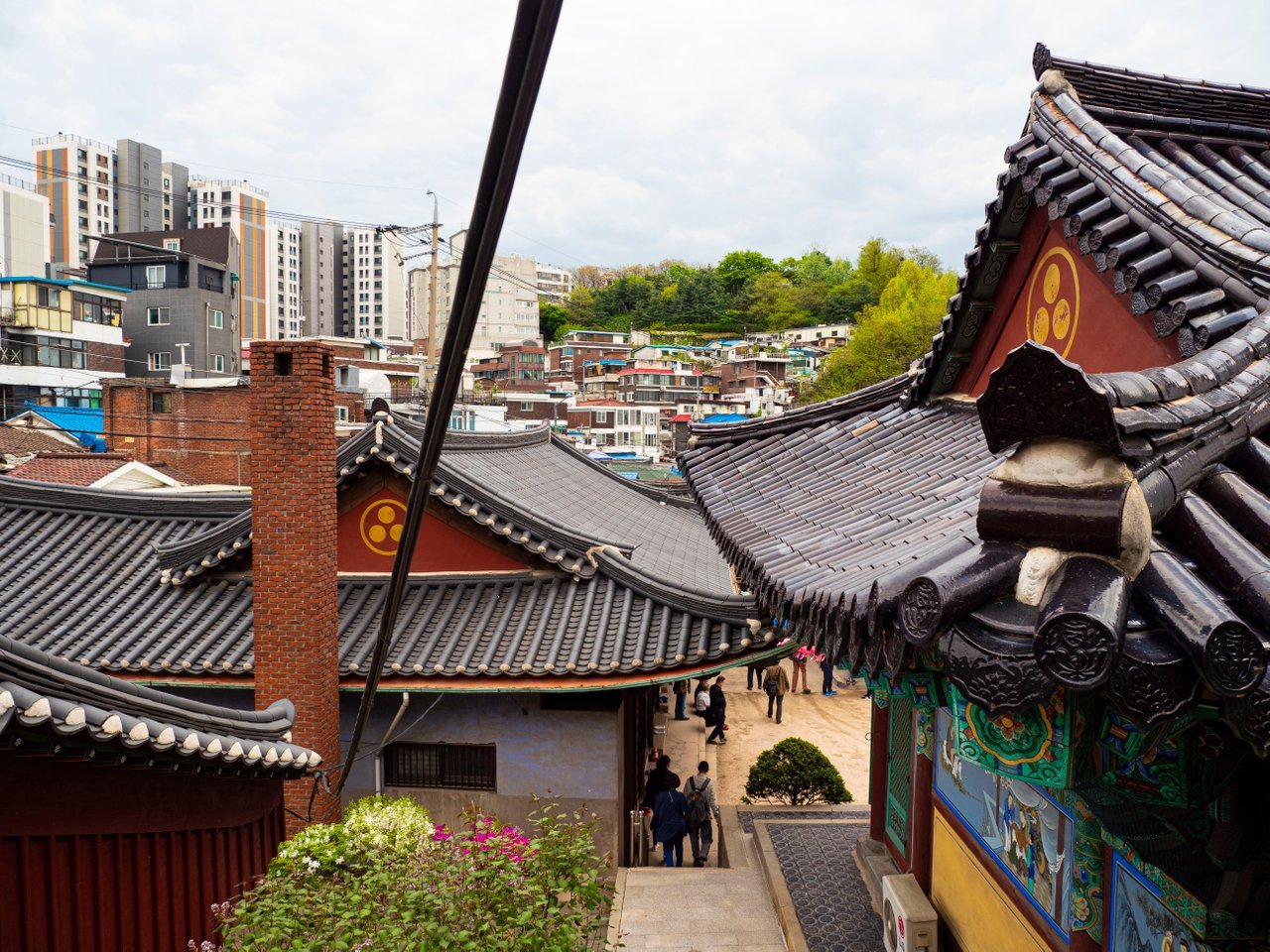 Miscellanies
The pine between the roofs was the traces that this place was far from the village at once.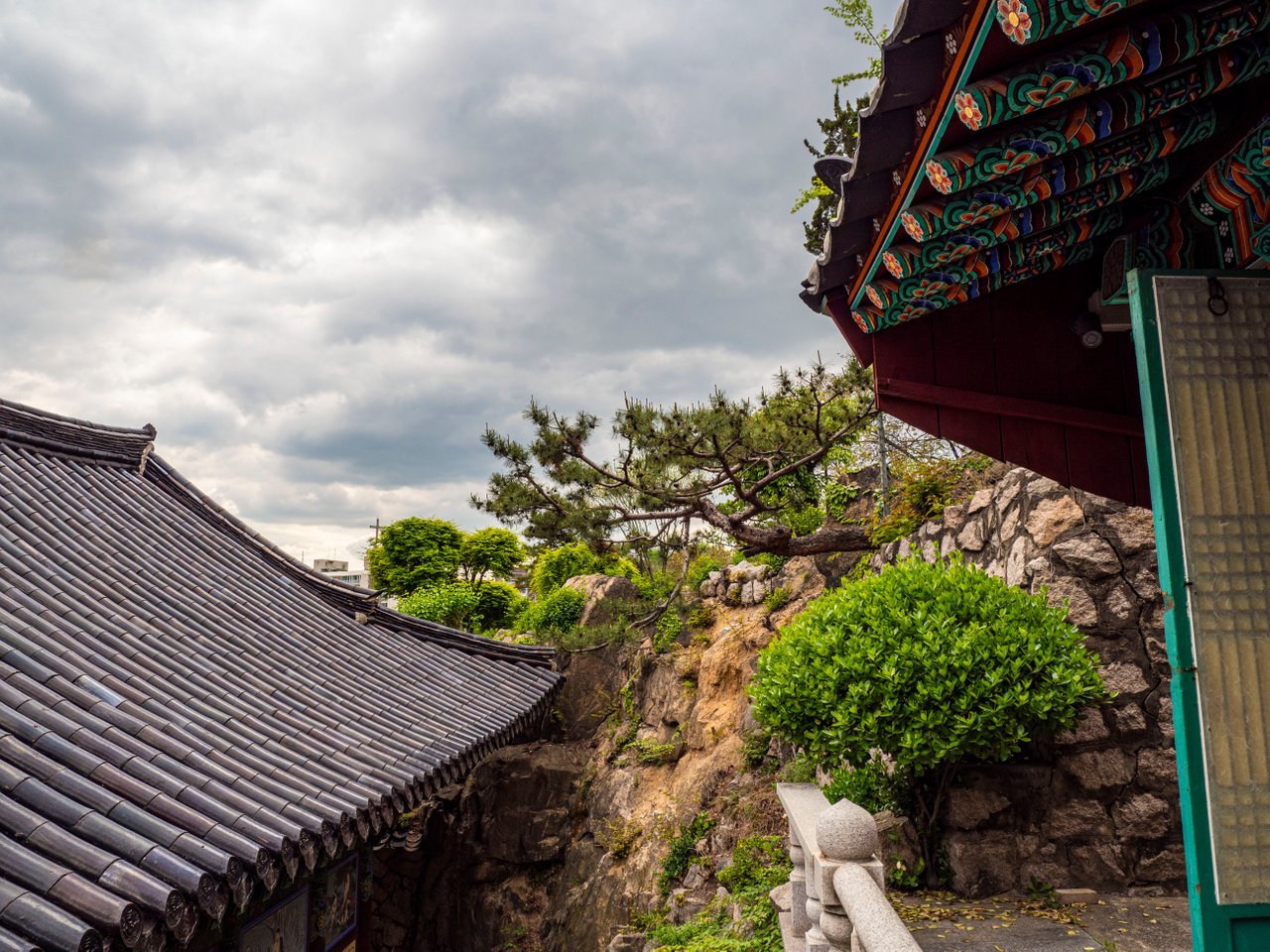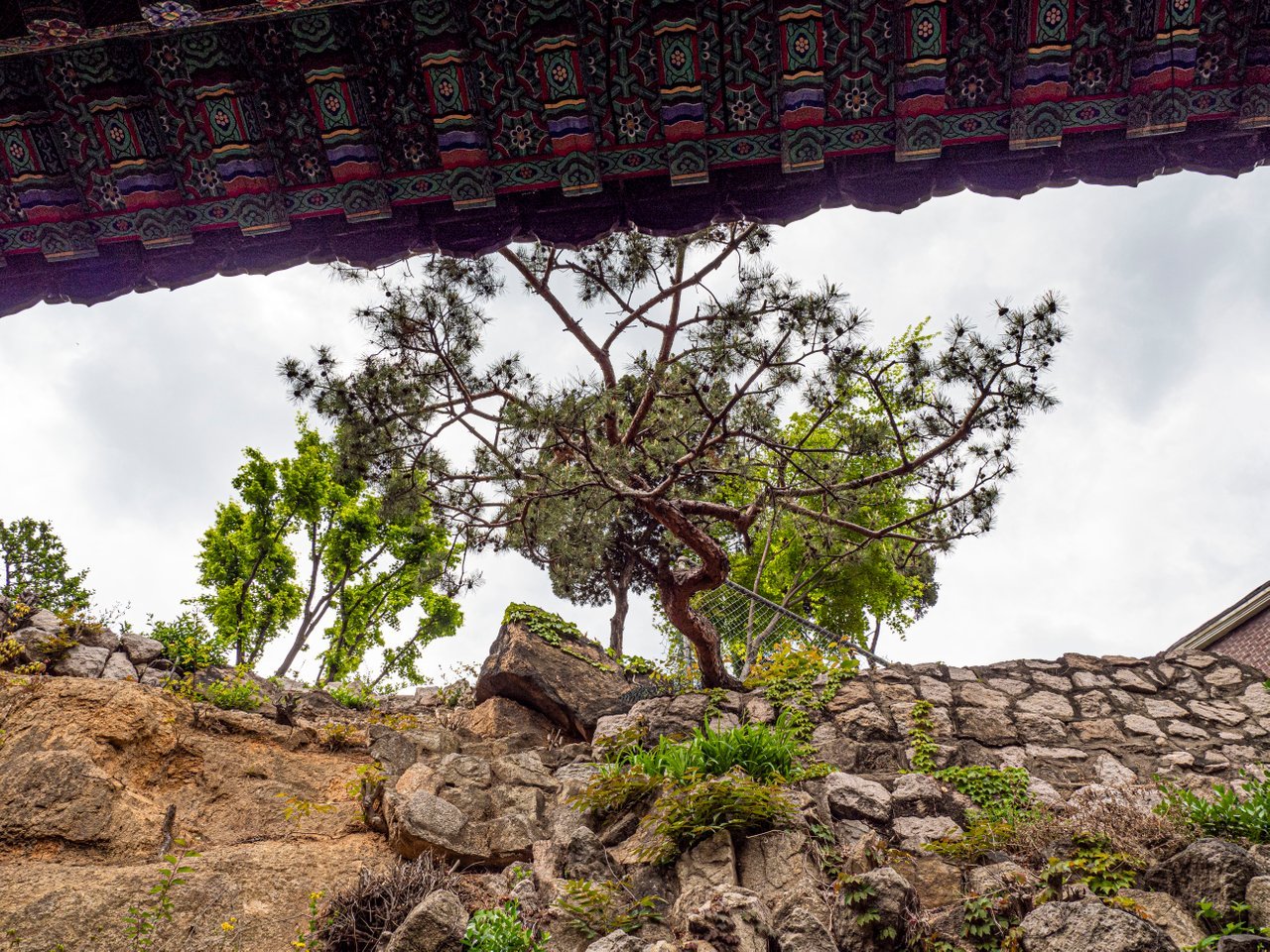 I photographed the wall of the temple, the roofing tiles and the bricks were piled along the wall.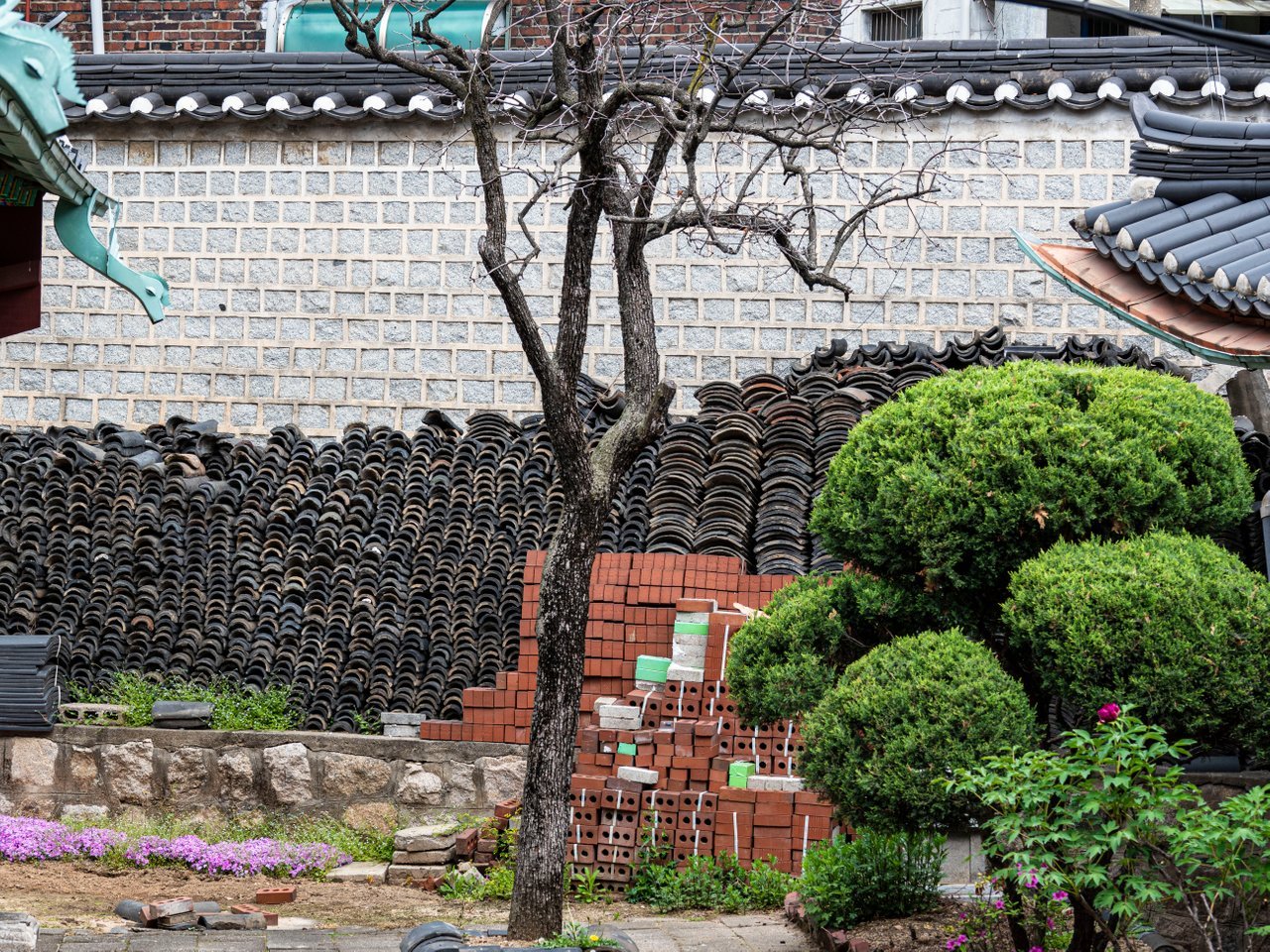 ---
It must be a nice to look around the traditional temples in the downtown of Seoul metropolitan
---
Posted from my blog with SteemPress : http://koreanculture.dothome.co.kr/cheongryongsa-temple-in-the-center-of-seoul-metropolitan/
---