San Diego Coin SAND Token White Paper v1.0 Local San Diego Cryptocurrency with DAC for locals and students, using Steem-Engine+Nitrous+SCOT+EOS-EX + cooperation with CHL PSO and TELOS TEACH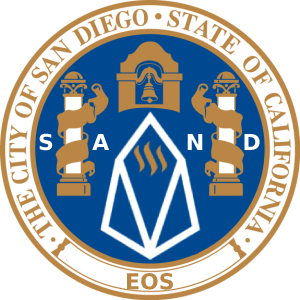 San Diego Coin
SAND is a project for San Diego and Southern California residents who can participate by either posting content about San Diego and Southern California on our Social media Platform
https://SteemSanDiego.com
to earn SAND or by buying and holding SAND token. An Educational DAC will help San Diego City School students earn Bitcoin for doing homework and wider city government outreach program will help to attempt Blockchain integration into every aspect of the local San Diego city and county government operations. We hope that future cooperation with local city government can one day allow San Diego residents to be, for example, paid tokens for attending jury duty, which they can then spend on parking meters, discounts on speeding tickets, Metro Transit Service MTS Bus/Trolley Passes or any other city based services. This would also one day allow the city or county to raise money for projects without using tax dollars and pay dividends off the successful ones back to the original investors by buying back their own token and this could be explained to people like a sort of blockchain bond. We hope to create local excitement for DPOS blockchains once we announce how Students from local highschools can get paid SAND token and Bitcoin to do their homework. A San Diego resident airdrop using social media to verify residency will give as many residents as possible 1 free token along with anyone else who signs up on the SAND discord
https://chat.steemsandiego.com
which can use
@banjo
to send SAND tokens to users even without EOS or steem accounts.
San Diego Coin or SAND token is a cryptocurrency powered by Steem and EOSIO blockchains with a token on each, and a gateway maintained by https://steem-engine.com and traded here at https://steem-engine.com/?p=market&t=SAND
2 Million SAND are reserved for the approx 1.4 million San Diego City residents with another 1 Million staked for upvoting proposals. @sandiegocoin can issue 2 more million tokens to reserve 1 for every one of the 3.4 million San Diego County residents, giving some of them their first cryptocurrency and SAND hopes to give San Diego residents a head start in the cryptocurrency world and a local resource they can go to and TRUST for help, something lacking in cryptocurrency which is built on its "trustless" nature. It only makes sense to create physical local cryptocurrency groups to speed up the learning process for all residents and leverage the many resources this city has to offer from its tech industry with billion dollar incubators like https://evonexus.org/ to the free beaches anyone can record amazing youtube videos from! San Diego is an online business guru's dream and it is time we start making it easy for people in our city and even the greater southern California region, to work together online in the crypto blockchain ecosystem and SAND token, San Diego Coin and the Sand DAC can help our city take the first steps to a comprehensive blockchain plan to benefit its residents and stay relevant for the increasingly technologically competitive 21st century.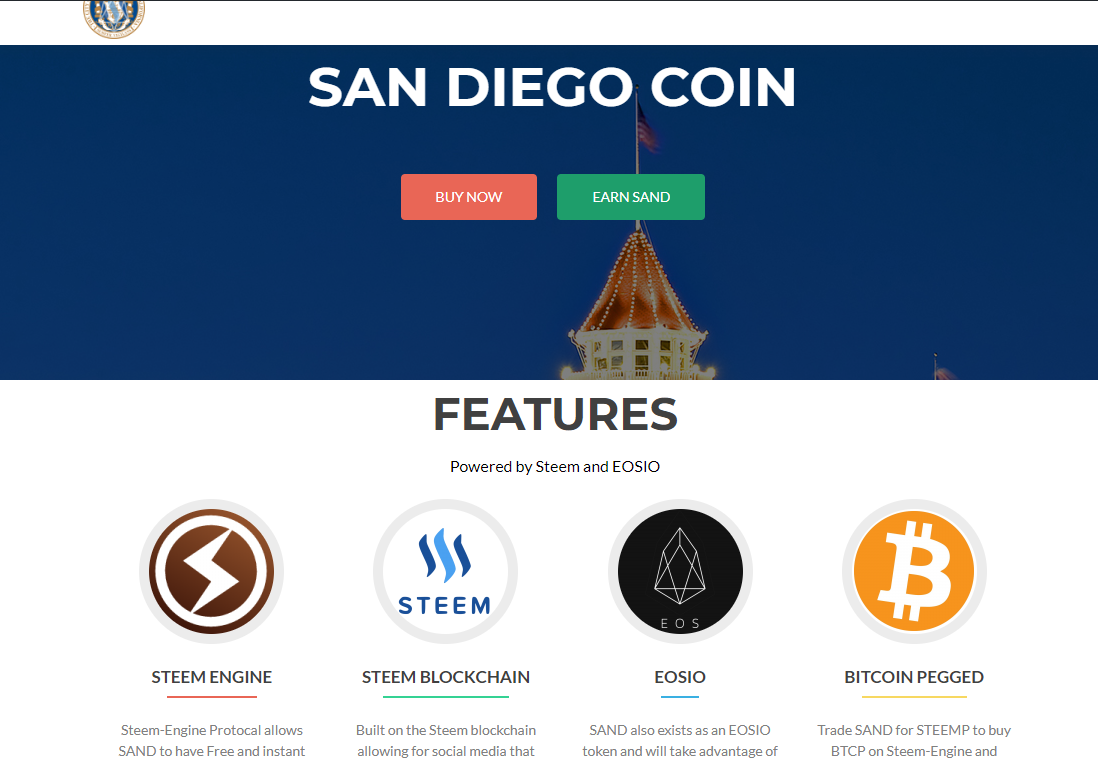 SAND or San Diego Coin rewards San Diego residents and anyone posting San Diego, California related content. The goal of SAND is to establish the protocols and standards for city based cryptocurrency tokens held and maintained by local city residents and developers. The end game is a global system of local currency powered DACs (Decentralized Autonomous Communities) all trading against steem, eos and bitcoin in steem-engine, newdex EOSIO DEX and at least 2 CoinMarketCap approved exchanges. By utilizing @eosdac and their dac factory product, combined with free TELOSDAC tools, a local highschool and university level DAC will be established in the city of San Diego allowing students to start posting homework to get paid SAND on https://SteemSanDiego.com
By allowing students to post homework and residents to upvote the best work, local residents become curators, even delegating or powering up their favorite students. SteemSanDiego.com will focus on all aspects of San Diego but will use schools as a way to create daily users who must use with updates then made to show the results of the human capital investment. Schools will hold a students Owner key and only give them posting keys to use, with active keys being held for special occasions to spend money earned from the school work, and when they graduate the owner keys to their SAND token account will be handed over with their diploma during Graduation. TEACH on TELOS an EOSIo Side chain has agreed to work with our project and I've contacted my fellow UC Santa Cruz Alumni at @caleos a California Block Producer which i am excited to work with. Universities in San Diego will become a prime target for Sand promotion, and over 1000 INV or steem account invites have been purchased to on-board at least 1000 steem users by the end of the year.
Example of Social media Component of SAND Coin, https://SteemSanDiego.com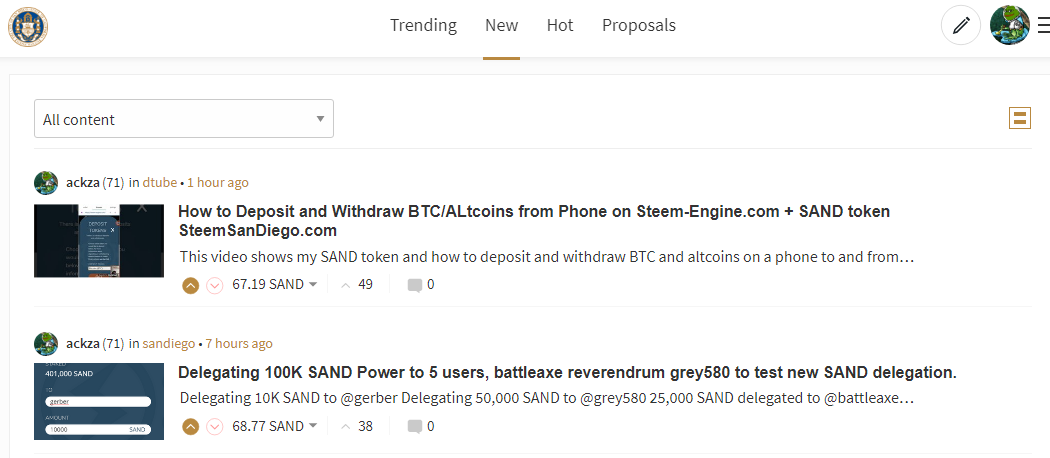 Posting from any Steem Front end with any steem account can activate SAND token earnings. Use the tag #sandiego to make your steem post show up on https://SteemSanDiego.com and get upvoted to earn SAND tokens, which can be staked to give and earn upvotes in SAND by other users with staked SAND. Also earn by upvoting with 75% curation rates to attract investors so 25% of the post rewards go to authors. Delegation has been added to SteemSanDiego.com so users who are in San Diego or Southern California who can verify with a simple post with a few images can win Delegation from @sandiegocoin or another SAND related account which will allow you to give SAND whenever you give an upvote. You can then withdraw the SAND you earn from upvotes, into EOS SAND on Steem-Engine.com. Future Staking abilities to earn passively and Votebot can be added with little effort thanks to steem-engine protocol.
---
EOS token for SAND allows for future DAPP development on top of the SAND token here:
https://bloks.io/tokens/SAND-eos-sandiegocoin
Blockchains Involved:
-Steem - Social Media and Trading
SCOT, Nitrous, and Steem-Engine Tribe features allow for the social media platform of SAND token, available here to post: https://SteemSanDiego.com @privex provided EOS-EX service creating a 1:1 gateway peg to allow users to deposit and withdraw SAND EOS to Steem Engine SAND and SE SAND to EOS SAND with a 1% fee for deposits or withdrawals.
-EOSIO - Smart Contracts and Trading
DAC Decentralized Autonomous Community from EOSDAC. Also Newdex listing is underway and SAND will be trading on Newdex.io and Steem-Engine.com. a planned SAND token sale of 1 Million tokens least 1 more exchange
-Telos - Governance
Telos, a Side Chain of EOSIO, gives us a second option for TELOSDAC tools powering San Diego DAC. Funded Worker proposal and an active community that has already offered me help can allow funding into a TELOSDAC powered SAND token for local city government related projects such as the ability to be paid a TELOS token for attending School or Jury Duty in San Diego School or Court system, and with this token you could then use it to pay Bus or trolley tickets, or even parking tickets. Protocols on telos can be established to allow city officers and administrators to feel comfortable using a Blockchain network to organize city wide affairs especially when it comes to money. These same systems can be experimented with first using Schools, and Universities with attendance being rewarded by a Telos Token teachers could easily pay to students accounts which could have keys that are then given to the students upon passing of the class with higher grades allowing for bonuses. SAND has reached out to teachnology.io or TEACH on telos which has already built a front end for homework and quizzes and we can easily use teachers to take attendance and submit a proposal to the school system to use our free telos based system to be allowed to reward students for actually attending class. The students own parents can be advertised to purchase these SAND and TEACH tokens using the Built in KYC in SQRL Wallet ( @greymass fork for Telos ) So the extra governance and more niche educational allowing EOS SAND to be used for more residential, educational and social media promotion of SAND. Lower Ram Costs on TELOS and wider range of governance tools
---
SAND currently has 5826 accounts on steem
5826 accounts on Steem 1,474,701.05460576 SAND staked by 96 accounts.

Distribution:
10 Million SAND Max Supply
4 Million SAND Circulating (5963 Total Accounts on Steem and EOS)
2 Million SAND allocated for San Diego Residents. Tokens will be distributed by a local social media based airdrop saturating San Diego based facebook groups and subreddits with messages with signup codes and vouchers or steem invite links.
1 Million SAND Staked as SAND POWER in this account @sandiegocoin to upvote proposals which can be seen here https://www.steemsandiego.com/promoted
1 Million for Developers, Marketing and Airdrops on STEEM and EOSIO (1000 SAND Airdropped successfully+ 16,000 SAND currently being airdroped)
6 Million for Reward Pool automatically set to distribute as a reward for getting upvoted with SAND Power which can be earned by powering up SAND token
Matching 10 Million token Max Supply on each Blockchain STEEM and EOSIO can be verified here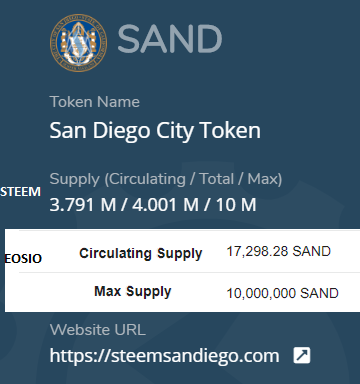 Steem-Engine protocol allows for 10 Million hard capped max supply. Legacy Social media groups of local San Diego reddit and facebook users accounts will be used to distribute the SAND token, via INV @steem.ninja invite links and discord @banjo tip bot which allows for fast easy second layer transactions over discord messages settled via @banjo steem-engine transactions verifiable over https://steem-engine.rocks/@banjo
EOS SAND contract and EOS SAND richlist: https://bloks.io/tokens/SAND-eos-sandiegocoin
---
The status of SAND Airdrops on STEEM or monitoring of the Richlist to determine the widespread or vertical distribution can be monitored here
https://steem-engine.rocks/tokens/SAND/richlist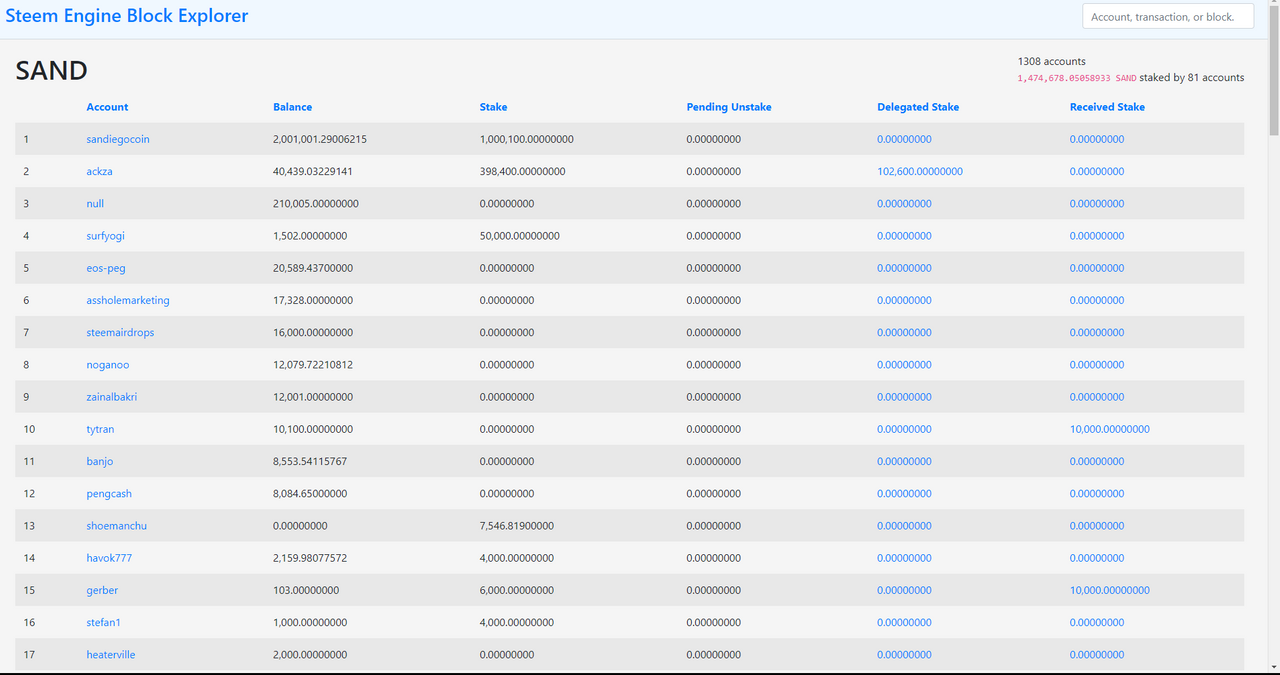 @eosdac with its Dac factory and @telosdac will provide the means for SAND to build the DAC component of this local project which, when completed will then be forked for use as a Highschool DAC for local San Diego City Schools, local Universities like SDSU and UCSD. And even one for the city government, and eventually @caleos and @eoscalifornia level DACs.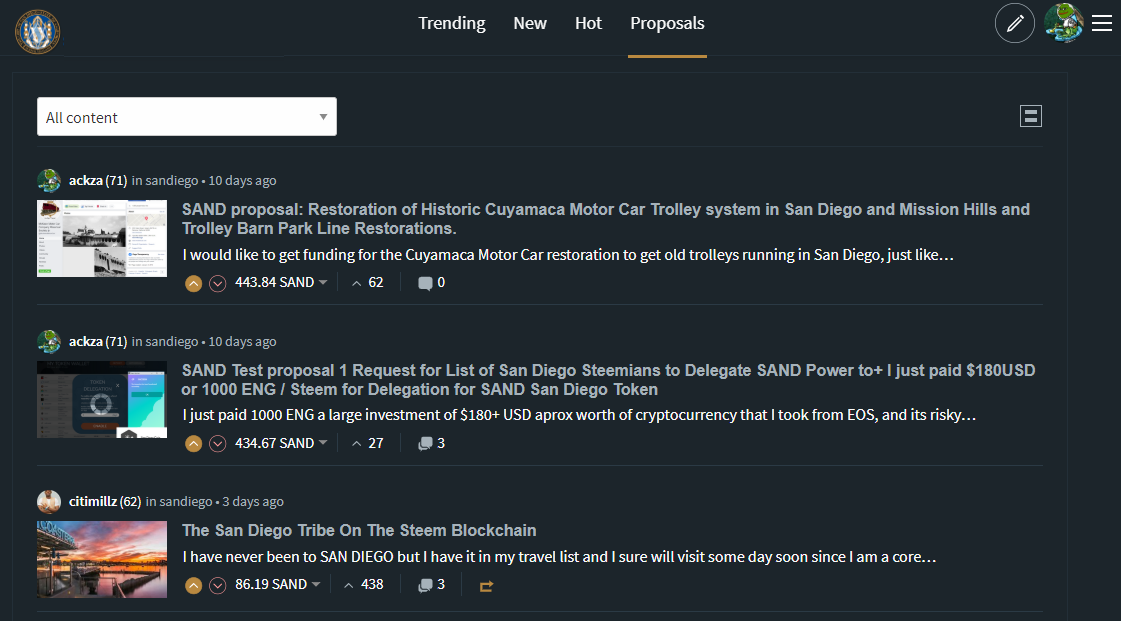 SAND's currently active STEEM based Proposal System can be seen here with posts made on https://SteemSanDiego.com being able to post on the Proposals page after users click the "propose" button on any post, which lets you burn any amount of SAND to list their proposal post on the SAND Proposals page which receives routine upvotes from this 1M SAND Power @sandiegocoin account . The more SAND you burn the higher you go on the list and so the higher the chances of getting a large SAND Upvote from @sandiegocoin which can then be redeemed and sold for STEEM or withdrawn for EOS SAND to be used on the future @eosdac Dac Factory built SAND DAC which we hope every city will have residents using one day to enable inter-DACs communication.
---
Extra SAND Development
SAND will even work to further the integration of STEEM with EOS and we have started an effort to add STEEM to Scatter so we can then petition newdex.io to add Steem Engine tokens and even one day SMTs. We can then use Scatter to login to steem dapps instead of keychain and gain a lot more attention once @steem @steemit @elipowell connects with newdex to make sure if we do the work on scatter github to enable STEEM, adding the necessary libraries etc, that scatter will push our pull request through. We can then use Scatter with Steem-Engine.com once @holger80 and @beggars learn the appropriate documentation. A Steem proposal System SPS proposal will also be made in the hopes of supporting SAND with a simple $100-$250 grants for local advertising and for purchasing INV tokens for on-boarding from @steem.ninja + We are also working with @challengedac who are also in San Diego so we can cross promote and we have even airdropped SAND to a few top CHL token holders and plan on continuing to airdrop at least 1 SAND each to the top 500 CHL holders on EOSIO. Also due to the large hispanic population in San Diego, we are also involving our contacts in PSO or @eosvenezuela @cryptopeso which recently has been airdropped to steem accounts. Crypto peso can be made popular in more than just Venezuela but also Mexico as San Diego Tijuana Border crossing is the largest on earth and if we integrated @peos or privacyon EOS, into Crypto Peso, as @telosprivatewallet is doing we could have a great tool for commerce.
We have also started a fork of @vessel by @jesta which works well with @anyx rpc node https://anyx.io and have the intention of making it a Steem-Engine wallet capable of handling SAND and every other steem-engine token perhaps even with built in Steem/SteemP conversions using @steemfinex which si already very possible. We are very close to having a desktop steem-engine wallet for not just Steem-Engine SAND but @palnet @neoxian city @sportstalksocial and all SE Tokens. https://github.com/ackza/firebox
The Steem Version of SAND will also soon be ready for native support on SteemWallet by @roelandp once it supports all steem engine tokens. The EOS SAND already works on Scatter and Greymass, logos have been paid for on tokenpocket and uploaded to bloks.io along with listing information submitted to Lynx Wallet App. We are applying or Newdex, and we are in communication with 1 of at least 2 Coinmarketcap approved exchanges we need to be listed on to show up on CMC and will be a long term goal we hope to reach by sometime in 2020. Addition of EOS SAND to the tipit.io EOS Tip Bot which uses twitter and telegram will allow us to be ready for their addition of reddit tip bot. This will allow us to tip every reddit.com/r/sandiego user with SAND tokens, and another 1000 INV or steem account invites are also ready to distribute to San Diego residents and students. SAND is currently trading and Sale of SAND on Steem-Engine and Newdex in the future, will go to paying for the creation of these protocols and procedures to airdrop to locals across legacy social media where they are already all signed up, and to pay for the creation of new tools to help streamline the bureaucracy of the city of San Diego.
---
Colleagues and Partners


Contact
Email: [email protected]
Phone: 619 500 3748
Web: https://SanDiegoCoin.org
Discord: https://chat.sandiegocoin.org
Telegram: https://t.me/sandiegotoken
Facebook: https://www.facebook.com/sandiegotoken/
WhitePaper Link:
https://docs.google.com/document/d/1NZOivuBUJuNga9cj4gZCGb8-vVMEdvv0JvvmMN1revM/edit?usp=sharing
Related Links
htps://steem-engine.com
https://eos.io
https://steem.com
https://neoxian.city/@sandiegocoin
https://teachology.io
https://challengedac.com
https://SteemSpeak.com
https://eosdac.io
https://telosfoundation.io
https://TelosNow.org
https://peos.me
https://eosvenezuela.io/cryptopeso.html
https://bloks.io/account/sandiegocoin
https://bloks.io/tokens/SAND-eos-sandiegocoin