Fridays for Hubraum vs Friday for future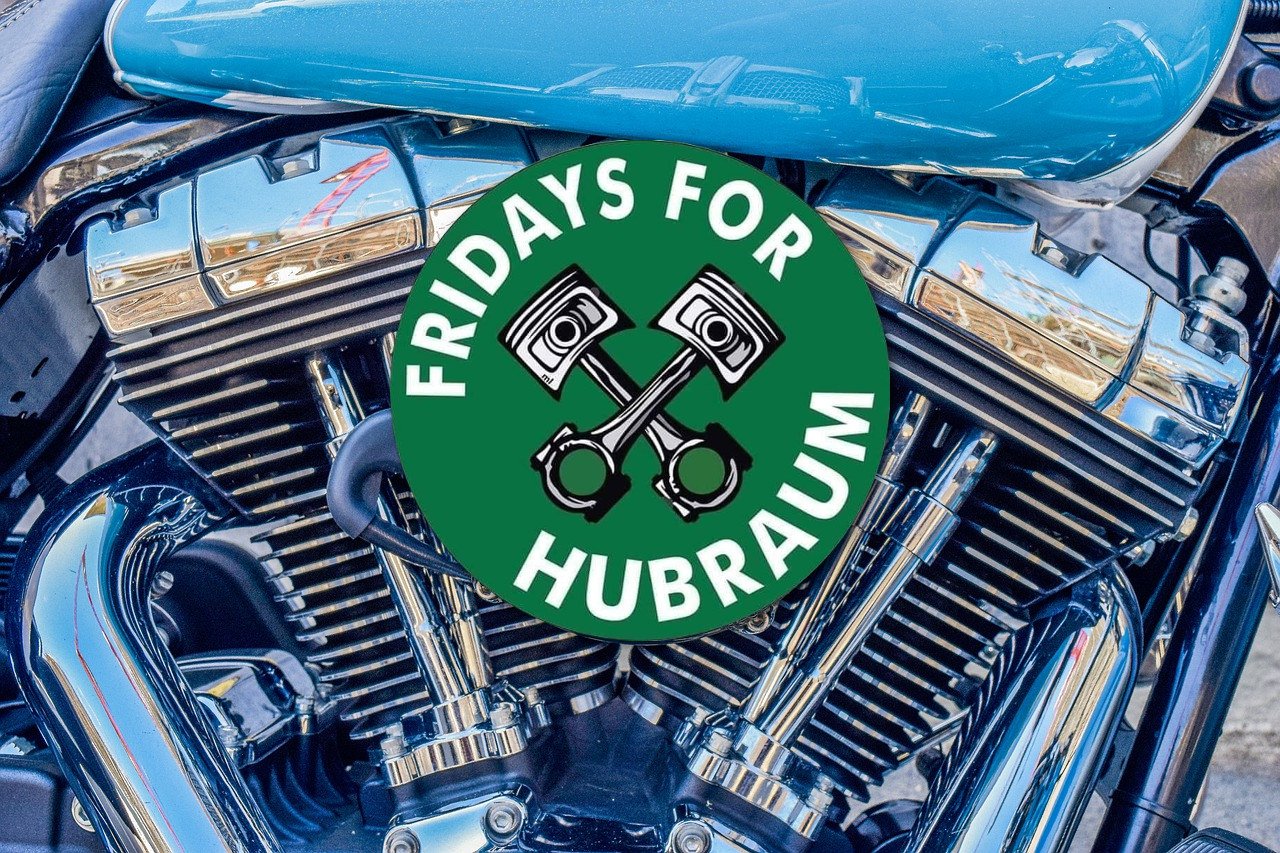 german version below
There is resistance against the Friday for future movement.
What began as a joke quickly became serious. Actually the initiators only wanted to exceed the 80.000 members of the Facebook group of FFF. These 80,000 members were reached in the twinkling of an eye.
When I joined the Friday for Hubraum group late yesterday evening, it already had 180,000 members. This morning it was already 250,000.
FFH provisionally archived
When I wanted to have a look at the current state of membership development I had to find out that the group was archived by an admin.
FFH is now three days old and currently has 395,000 members. Unfortunately, many trolls have gone to the group to do their mischief.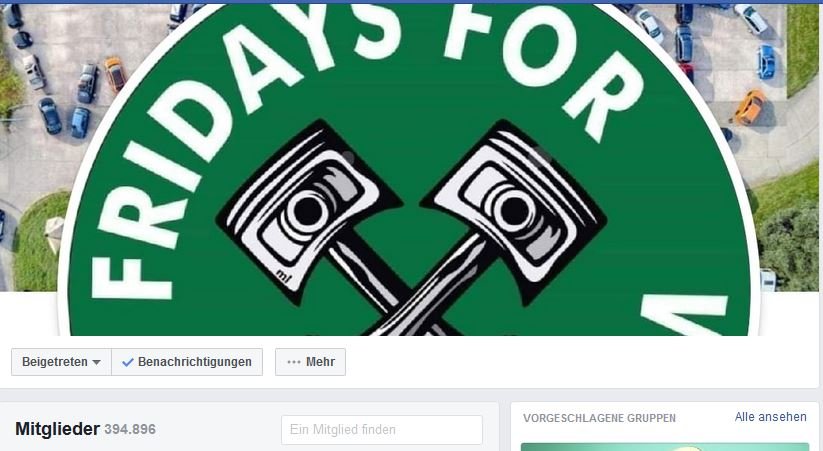 Threats of death in the group
Some of the mail is said to have been deep below the belt, including death threats and right-wing ideas.
The administrators of the group now want to remove the questionable articles as soon as possible in order to reactivate the group. I hope that really only contributions which offend against laws will be removed, so that the freedom of expression as well as possible remains guaranteed.
One already pointed out the FFH group in these three days, i.e. that the climatic movement is not carried by the majority of the population. Because FFF receives the greatest possible support from the established media, they like to present themselves as the majority.
Fridays for Hubraum has now shown that this image of the established media does not correspond to the truth, but in the shortest time almost 400,000 people have committed themselves to a counter-movement.
The near future will now show whether Friday for Hubraum can develop into a real counter-movement, or whether Trollen has already managed to disintegrate the group in a very short time.
Here are the links to Friday for Hubraum:
https://www.facebook.com/groups/1134216853441974/?ref=br_rs
https://www.facebook.com/FridaysforHubraum-Official-119641052766096/?tn=%2Cd%2CP-R&eid=ARCC9vOWf-aWd_C10oOInCx3q96J3JvB3SA-2cbZ1_U5_TsrtQI7rSBbBDgMptcE2WsoM_nMRGv0620u
---
German:
Es regt sich Widerstand gegen die Friday for future Bewegung.
Was als ein Spaß begann wurde schnell ernst. Eigentlich wollten die Initiatoren nur die ca. 80.000 Mitglieder starke Facebookgruppe von FFF an Mitgliedern übertreffen. Diese 80.000 Mitglieder waren im Handumdrehen erreicht.
Als ich gestern am späten Abend der Friday for Hubraum Gruppe beigetreten bin zählte sie bereits 180.000 Mitglieder. Heute Morgen waren es bereits 250.000.
FFH vorläufig archiviert
Als ich vorhin den aktuellen Stand der Mitgliederentwicklung betrachten wollte musste ich feststellen, dass die Gruppe von einem Admin archiviert wurde.
FFH ist nun drei Tage alt und hat aktuell 395.000 Mitglieder. Leider haben sich wohl zahlreiche Trolle in die Gruppe begeben, um dort ihr Unwesen zu treiben.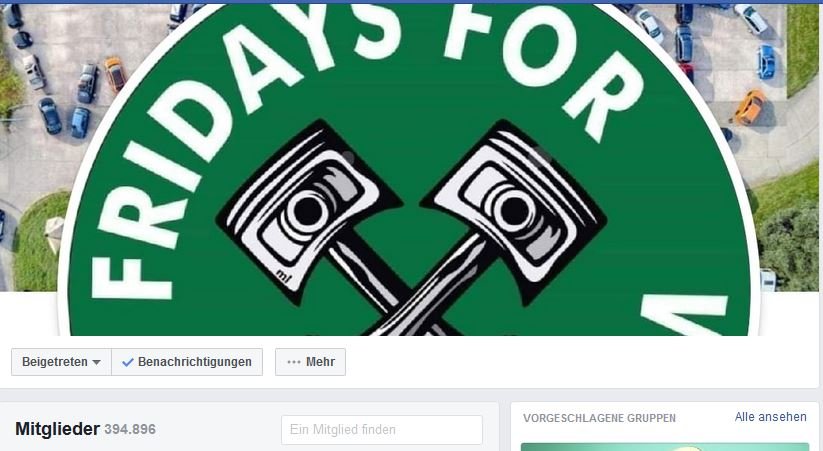 Morddrohungen in der Gruppe
Einige der Post sollen sich tief unter der Gürtellinie befunden haben, bis hin zu Morddrohungen und rechtem Gedankengut.
Die Administratoren der Gruppe wollen nun schnellstmöglich die bedenklichen Artikel entfernen, um die Gruppe wieder aktivieren zu können. Ich hoffe dass wirklich nur Beiträge die gegen Gesetze verstoßen entfernt werden, damit die Meinungsfreiheit so gut es geht gewährleistet bleibt.
Eines hat die FFH Gruppe in diesen drei Tagen bereits aufgezeigt, nämlich dass die Klimabewegung nicht von der Mehrheit der Bevölkerung getragen wird. Dadurch, dass FFF durch die etablierten Medien größtmögliche Unterstützung erfährt, stellen sie sich gerne als die Mehrheit da.
Fridays for Hubraum hat nun gezeigt, dass dieses Bild der etablierten Medien nicht der Wahrheit entspricht, sondern in kürzester Zeit fast 400.000 Menschen sich einer Gegenbewegung verschrieben haben.
Die nahe Zukunft wird nun zeigen, ob Friday for Hubraum sich zu einer wirklichen Gegenbewegung entwickeln kann, oder ob es Trollen bereits gelungen ist die Gruppe innerhalb von kürzester Zeit zu zersetzen.
Hier die Links zu Friday for Hubraum:
https://www.facebook.com/groups/1134216853441974/?ref=br_rs
https://www.facebook.com/FridaysforHubraum-Official-119641052766096/?tn=%2Cd%2CP-R&eid=ARCC9vOWf-aWd_C10oOInCx3q96J3JvB3SA-2cbZ1_U5_TsrtQI7rSBbBDgMptcE2WsoM_nMRGv0620u