Tips to take care of your Jewellery
Though you may already believe you know what you need to do to care for your jewellery, there are some tips and tricks that you have never before considered.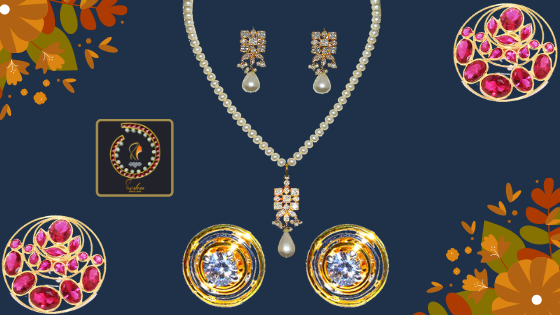 The jewellery of everyone needs to be carefully cleaned. It doesn't make sense to invest your money in fine jewels if after a while it stops looking glossy. Jewellery care is just as important as buying the right jewellery.
Occasionally, everyone's jewellery requires a good clean. You will probably notice your valuable jewellery becoming tarnished or simply grim. When you look into your own collection. So how can you clean your jewellery quickly, easily and safely? So, we're here to help you, if you don't know, with the best tips to take care of your jewellery.
Here are some tips on how to take care of your jewellery:
Store jewellery separately
It is also important to store your jewellery gently because, depending on how you do, it can either facilitate or harm your pieces. Store your jewellery in a box or jewellery case always and separate each piece from each other as hard stones can scratch more soft stones which you definitely won't want to happen.
Jewellery should be stored away from the direct sunlight, damp and heat or cold extremes. Try to keep the boxes and packaging it comes in, as it is the easiest and often the best way to protect it from dust and damage. Take extra care with pearls that are soft and vulnerable to scratches and other damage.
Wear with care
Wear your jewellery always last, so clothes don't catch it; first, apply make-up and hair spray so that your jewels don't get contaminated. Make it dry before you add finishing touches. While styling your hair, remove earrings so they are not caught in combs or brushes and steer clear of pearl earrings or necklaces. If the hair is being coloured as chemical substances can cause discolouration; remove the rings and bangles at the manicurist. Please take special care before doing any manual work–including housework, because knocks and household cleaners can damage the jewellery. In
particular, diamond rings can be chipped by a hard blow.
Gentle cleaning
Clean your jewellery carefully occasionally to remove any pollution, dust or oils. Follow the advice of your jewellers: if you are not sure how fragile a piece is, you should always take care of it and use simple, non-abrasive materials with a soft toothbrush, like water or soap. Be careful not to rub or overhandle your jewellery. Silver-dip type cleaners should only be used to clean silver jewellery, which must be rinsed and dried thoroughly afterwards. Gold, platinum and gemset can be cleaned by cleaning specialists, if necessary.
Use an ultrasonic cleaner with caution
An ultrasonic cleaner is an excellent option in the process of cleaning your jewellery. Under cleansing pressure, some "softer" gems or jewellery may crack or chip. Diamond rings, necklaces and hard metals can be used for the cleaner.
If dust and grime are not easily removed from complex parts, use an ultrasonic cleaner and follow the instructions carefully. It should be noted that an ultrasonic does not remove tarnish, but works with the complex components that contain many crevices where dirt can build up and cling.
If there are black areas in the design of your silver jewellery, or soft gemstones like lapis lazuli, turquoise or Pearl, then avoid ultrasonic cleaning. This procedure may damage certain finishes and soft gemstones, so use it carefully.
We hope that these tips help you to better care for your jewellery! We understand your collection's importance and value for you. Using these tips, your jewels will always be brilliant!