Then-Secretary of State Clinton: "We Very Much Want To Have A Strong Russia"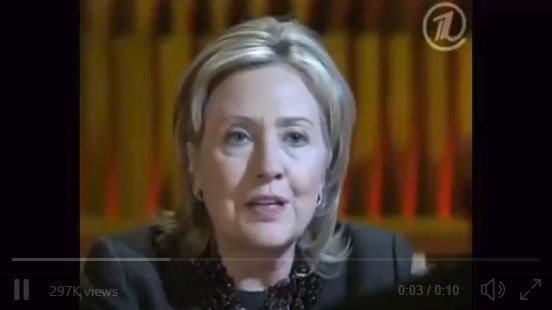 Whoa! Hold the phone! Actor James Woods

tweeted out an old video of then-Secretary of State Hillary Clinton in which she openly said she and the Obama administration wanted a "strong Russia."
Woods' response was, "Wait, what?" as I'm sure many people were thinking.
https://twitter.com/RealJamesWoods/status/1019658495560314880?ref_src=twsrc%5Etfw
"I mean we want very much to have a strong Russia because a strong, prosperous, stable Russia is, we think, in the interest of the world," she said.
Well, I'm not against nations being prosperous and stable, but the hypocrisy of Hillary Clinton selling uranium ore to the Russians and paying for a fake dossier to try and tie President Donald Trump to Russia is glaring, isn't it? And let's not forget how Moscow funneled $3 million into the Clinton Global Initiative. Nothing to see there, right? Move along.
I think it is.
Others on Twitter saw the hypocrisy as well.
"I mean how else are you going to get the money to purchase a fake dossier to be used as admissible evidence to gain a FISA warrant to leverage a federal agency for the purposes of undermining an election? That has to be tough, you know?" tweeted Joel Heyman.
https://twitter.com/JoelHeyman/status/1019694996344246272
Others encouraged sharing the tweet, which I also encourage.
https://twitter.com/realDTartari/status/1019660103027511296
Some noted the obvious hypocrisy of crooked Hillary.
https://twitter.com/B_radHilton/status/1019730103427743744
Others made a good joke, even though we know she is not confused at all here.
https://twitter.com/JVandergraf/status/1019663664633196544
One guy suggested, "Sarah sanders should show this tomorrow at press meeting along with Obama video saying he'd be more "flexible" if he got re-elected. You may need drop cloths for the mess the presses heads would make when they exploded in anger!!!!!!"
https://twitter.com/pavingstud27/status/1019703098594480128
And we know the corporate media will never bring this to the remembrance of the American people, don't we?
https://twitter.com/mynonna22/status/1019704953466642437
While Hillary apparently will try for another run at the Oval Office, I just thought I'd remind everyone that besides being a criminal, she's also a major loser.
https://twitter.com/jwilsontn/status/1019659100215480321
If the media was truly without bias the way they pontificate, they would have been playing this clip from the moment Trump took office, but we all know where there bias lies, don't we?