Sister of Bundy Ranch Standoff Defendant Wrongfully Sentenced: Todd Engel "Was Not The One In A Law Enforcement Uniform" Committing Crimes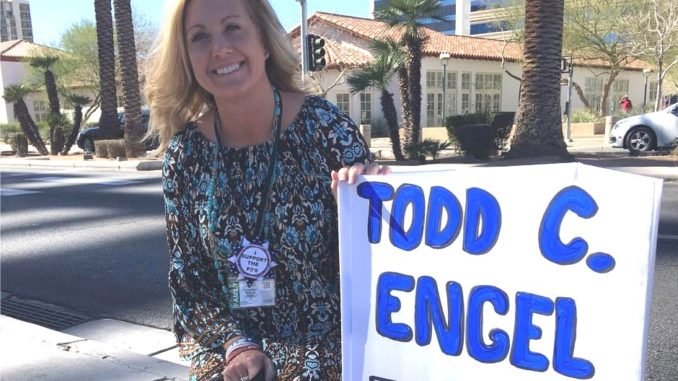 As I reported earlier, Todd Engel was sentenced to 14 years in the kangaroo court of Obama-appointed Judge Gloria Navarro, apparently for things he was not even convicted of in front of a prosecutor that broke the law and violated his rights. Navarro would not let the family of Engel speak at the trial so, his sister decided to take to Facebook to chastise Judge Navarro and call out the real criminals at the Bundy Ranch standoff in 2014.
Kelli Cooper, the sister of Todd Engel, wrote on her Facebook page on Friday, a day after her brother was sentenced to 14 years in federal prison, a stinging rebuke of Navarro's sentencing, the corruption of the prosecution and an indictment of the criminal activity of the Bureau of Land Management and the FBI.
However, she did so by pointing out that her brother was not the one wearing a law enforcement uniform while in the process of committing multiple crimes.
Judge Navarro would not let family speak yesterday so I will speak now and forever until this wrong is made right.

Todd was not the one in a law enforcement uniform throwing an unarmed, defenseless woman to the ground.

Todd was not the one in a law enforcement uniform grinding a mans face in the gravel for simply taking pictures by the side of the road.

Todd was not the one in a law enforcement uniform pointing weapons at unarmed women and children.

Todd was not the one in a law enforcement uniform making fun of the protesters physical appearances and picking out which ones they were going to kill first.

Todd was the one on the bridge begging for help from the ones in a law enforcement uniform. The same ones who testified under oath that he was "helpful."

THE UNIFORM DOES NOT MAKE THE MAN-THE MAN MAKES THE UNIFORM.
https://www.facebook.com/permalink.php?story_fbid=2061470380837178&id=100009227086273

Yeah, it is a little hard to stomach how Engel and the others were railroaded by a corrupt, lawbreaking prosecutor and a complicit judge, who failed to even mention the prosecution's crimes against Engel in her sentencing. However, Cooper and others are not going to stand by quietly over this injustice.

On July 10, a petition was created on the White House website calling for the remaining defendants of the Bunkerville standoff to be pardoned by President Trump.

The petition reads:

Eric Parker, Scott Drexler, Todd Engel, Greg Burelson, Jerry Delemus, Pete Santilli...these men stood with the Bundys against a corrupt federal agency (BLM) that was trying to strong arm a family that had cattle grazing on their property, property that the federal government wanted to take.

These gentlemen that stood at Bunkerville with the Bundys, none of whom had any previous criminal records were held without due process of the law in less than desirable living conditions. Separated from their families for standing up & defending the rights of a family & a nation that still believes The Constitution is the law of the land. God fearing, America loving Patriots across this great land of ours are asking that these men be given a full pardon by the people's president, Donald Trump.
Understand that Jerry Delemus was not even at Bundy Ranch. Yet, he was sentenced to seven years in prison. His wife has been hopeful after the dismissal of Cliven Bundy other defendants' case based on the criminal actions of the prosecution might result in her husband being released.

Pete Santilli only made a plea deal because he saw how the government was violating the rights, trying to keep evidence from coming out that would expose the malicious and nefarious intent of the government at Bundy Ranch and was facing basically a life sentence, unable to properly defend himself.

President Trump issued a pardon this week for Steven and Dwight Hammon, the Oregon ranchers that the Bundys and their supporters sought to stand alongside in 2015-2016 when the federal government wanted to imprison them again after they had served a sentence that was completely unwarranted.

One of the things we need to do is to remember these people not only took a stand for themselves and for the Bundys, they took a stand against tyrannical federal government that has usurped the Constitution's guidelines in how they are to acquire land. They have been at this for decades and now, someone was challenging the usurpation of their authority to do so.

This petition needs to be signed to force President Trump to at least acknowledge the injustice done to these men, and hopefully, issue a full pardon and get them home to their families. If you are reading this, it only takes a few seconds of your time to sign it and then click the verify email. While you are not the one behind bars or were coerced into a plea deal, you can make a difference for those who were. Do your part, leave the results up to God. Click here to sign the petition.

H/T https://redoubtnews.com/2018/07/engel-sister-speaks-sentencing/