The Intro Video for our new Tech/Blockchain related Channel || Steem giveaway + Chance to win SBD if you help us name our channel!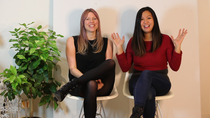 ---
Over the last 2 weeks, Sarah Louise @ultravioletmag and I (Enrica - my real name or Red, as most of you know me as) have been working closely to get our Intro Video ready for our new Tech/Blockchain related channel.
With this new channel, we really hope to be able to bridge the gap between the tech world and the general public, by showcasing the real world value of blockchain technology and exciting tech projects, and by doing so in a fun, relatable and easy to understand way. We really want to see mass adoption of blockchain technology, and believe that to do this, we need to help get the information out there in ways the general public can relate to the most!
---
There are 2 parts to our video, please watch it to understand this project we're starting!
Part 1- Our introduction
(0:00-3:14)
Just a brief intro about who we are, why we're starting this channel and what we want to do with this channel!
Part 2- Channel Name Brainstorming
(3:14-5:48)
We had some fun brainstorming some possible names for the channel using keywords like "blockchain" and "tech".
We think we've found our favourite name through making this video - unblockED - but we really want to know what YOU think and if you can think of something even better!
I know the fonts used in the video aren't great, please rest assured we will have our design and branding more fine tuned by the time we set up our new channel!
---
Steem Giveaway + Chance to win 35 SBD if we decide to use your suggestion as our name!
To enter: You have to watch our video first! And please resteem this post!
Do you have any name suggestions for us, after watching our video and getting to know what we're about?
We will be rewarding the best name ideas/suggestions with 1-10 Steem (You will be notified if so, and Steem will be transferred to your wallet after post payout). If there are any repeats, only the first person will be rewarded ;)
If we find a name suggestion, that is even better than the one we really like so far - unblockED, that person may find themselves 35 SBD richer! If not, Hopefully everyone will have had fun with this and enjoyed this little Steem giveaway!
Please note: However great/fun/hilarious the name suggestions we get are, we have the final say in what we name our channel 😉
---
If you like the sound of what we're doing here, please upvote, comment, resteem, give us any suggestions or just send us good intentions 🙂
Thank you for checking this out! Can't wait to see what you all come up with!!
Much Love from us
Sarah Louise & Enrica
---
▶️ DTube
▶️ IPFS