The results of the Euro Jackpot Contest #51 - we have winners!!!
The Euro Jackpot results are online
This did not happen for many months - nobody won by guessing the correct numbers.
But - as promised - we will have 5 winners.
Here are the numbers drawn tonight: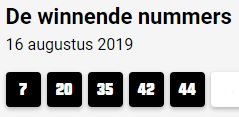 With 42 participants and 37 valid entries, we should have had about 10 winning entries statistically.
This week's winners are
I had to use the tool https://snackaholic.github.io/steemfortune/# to determine the winners this week which does not happen very often.
Here we go:
@mariela53
@feuerelfe
@fredkese
@jensvoigt
@jadams2k18

CONGRATZ!!!
If you want you can take control!!!
Give me 5 numbers between 1 and 50 before tomorrow at 10:00 AM CEST (08:00 AM UTC) and I will use these for the next contest tomorrow!
The first valid comment will be the chosen one.
That makes it about 10 hours from now to go after this post - take your chance ... take control!
Disclaimer: you can't claim any money from me if the numbers you chose are the winning numbers in the Euro Jackpot Lottery.
Actually, I'm afraid this disclaimer is unnecessary because the last 51 lotteries I only won three times a very small amount. But you never know ;)
Here you can watch the drawing on youtube
Make sure to come back in some hours
Tomorrow we are celebrating 1 year Euro Jackpot Lottery!
There will be a very special edition with a lot of SBI given away and a big steem-bounty!
I will not give up and buy a new ticket.
And do not forget: you only can win!
The resteemers of the contest will receive a vote on their comment for the bounty.
P.S.: If I forgot someone or something please let me know in the comments - I'm also only human :)
Transparency to check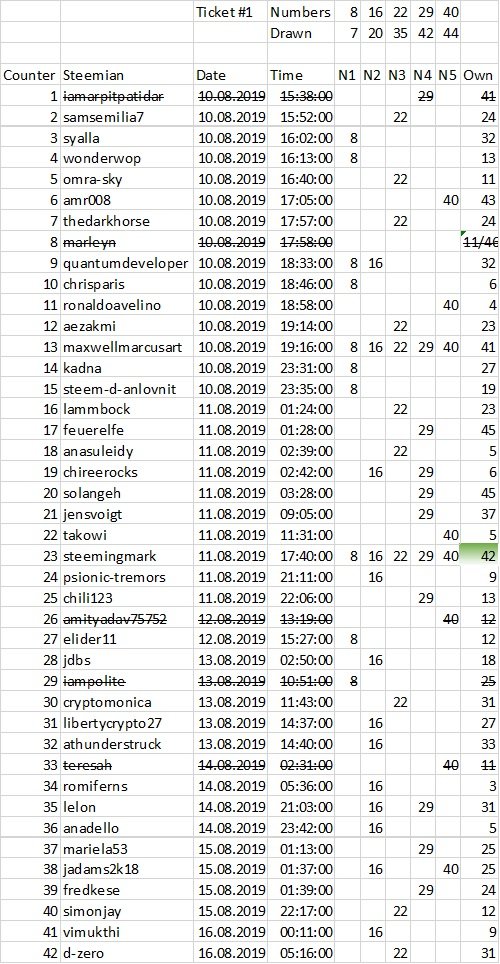 STEEM ON!!!

If you love dogs you might want to take a look at @dog-marley's stories.
If you love music you might want to take a look at @psionic-tremors' blog.

For free Dogecoins every hour click here
For free Bitcoins every 5 minutes click here
For free BTC Cash every 5 minutes click here
For free Dogecoins every 5 minutes click here
For free Litecoins every 5 minutes click here
For free Dash Coins every 5 minutes click here