Meet Blockchain.io : The Exchange of choice for thrusting the "Internet of VaLuE" for digital commodities via the blockchain
Preamble
Despite the success that blockchain technology has recorded within the first decade since its inception; questions, theories and policies still abound as to why the world is yet to witness its full potential. This is why we still see in the news headline many repetitive FUD and FOMO statements. Such as: Is Blockchain the future? , China bans cryptocurrency! and the list is endless!
Meanwhile, when the internet came around in the 50s, there were similar conspiracies around it and people also fail to recognise the oppurtunity in the technology. So until its big break in the late 80s, it was only exhibited by Arpanet as a research work : A billion dollar industry restricted to the lab for decades!. Imagine what someone have missed out during those dark years?? Have you notice the similarity in this trends?; tells us there is a conspiracy behind this technologies, maybe, just maybe, someone fears they might miss the revolution: it is obvious there is a space war between the authority and the majority, it has always being!
Although the latter won in the case of the internet, it is still early to predict where this is headed corcerning the blockchain. However the industry seems to be reshaping itself with a lot of big players emulating this revolution from all angles possible and one of those few project who is acting and talking about emulating and fostering best practices within the crypto sphere is Blockchain.io
So What is Blockchain.io And what do they stand for?
Blockchain.io is a new cryptocurrency exchange platform who seeks to enable multiple users exchange Value as quickly as possible without any third party in a fair, regulated community.
Blockchain.io seeks to leverage the pros of using different technology for day-to-day use, this means that the exchange will combine the efficiency of a low-latency full featured centralised exchange with decentralised "trustless" cross-chain settlement.
Blockchain.io is a project which stands to gain from the dearth of experience brought on by its team members amid their mega partnership with Paymium; one of the first bitcoin exchange in the world, a 7-year long running infrastructure with the capacity of hosting over 180k+ clients daily on its platform. A partnership that will ensure they share some of Paymium's core qualities of Security, Reliability and Accountability
Blockchain.io will maintain an open and transparent community for every users of the platform by way of regulating their activities through the incorporation of both local and international law; safe for blockchain technology mass adoption.
Combining the Power of two legacy technologies
One of the key concept that is being adopted by this project is to channel a new solution to the problem of security; which alongside speed of transaction are two of the main factors that can drive mass adoption of cryptocurrency and drive an economy of value.
A Decentralised settlements option offers users high-security
A decentralised protocol like the blockchain offers no single point of control which means that it is difficult for hackers to track transactions on the cryptographic curve; take into fact that the blockchain is a permissionless blockchain; which means that you dont need someone's permission to sign in and if someone tries to hack into your account as well, he doesnt get a response; like wrong login details or something making it all the more difficult to breach security of the whole network.
This ensures that users assets never leaves the secure decentralised environment of the blockchain and guarantees the security of their assets by ensuring customers keep custody of their private keys at all times
Centralised Cryptocurrency exchange option enables fast-asset trading
This is the other part of Blockchain.io exchange infrastructure; combining the decentralised settlements with a fast-paced centralised setup to ensure users place and match trade orders in real-time. A highly dedicated server infrastructure that is resilient against high volume traffic and denial of service attack(DoS); many small organisations and exchanges have petered out-of business because of such attacks on their server
Their easy-to-use trading tools will enable users to trade values conveniently in the asset of their choice.
Blockchain.io offers user the option of trading their crypto asset for another crypto asset directly which means that all users are likely to enjoy a high liquidity economy by signing on with the platform by the time it launches later this November. Watch this space!
Under the hood
So why should you drop interest in trading on a nomansland exchange like most centralised exchanges and join over 180000+ client who have chosen Blockchain.io sister company,paymium as their preffered exchange since the early days of satoshi till date... Here are some quick points to get things in perspective
Obviously as we know in cryptocurrency, the plentier, the merrier and 180k is a huge number to compete with. Like the saying, if you can't beat them, Join them! I dont mean to sound rude anyways but I guess am able to get your attention. Atleast to read about the other benefits which makes this platform unique apart from the numbers. lol!
The interesting thing about this exchange is that they are not resting their onions by deploying decentralised settlement option. This gives us a peep into the company culture as one who strives for excellence. And this comes in the form of storing 98% of its reserve in "cold storage", while most exchanges can also do this, only few makes the effort to guarantee extra security. I call this culture!
Dont be scared by the sound of the word. Its simply a support for interaction between the different technologies of cryptocurrency landscape. For instance, your Blockchain.iowallet will be able to do this two things easily
Trade between different cryptocurrency and altcoins
Trade on second layer protocols such as bitcoin lightning network and ethereum raiden without the need of an indepth knowledge of underlying technology
Ensuring that the exchange is suitable for technical and non-technical users like me. 😀😋
Developer's can also play with it to unlock more beautiful functionalities. So expect to see some modifications as the months go by. Doesnt take that long I guess! Does it?
Hosting an ICO event is not only about raising funds for a new project or an oppurtunity to make quick money for an investor. Rather it is an event to strengthen belief for the ICO holders and for investors to pick interest in a project they like.
That is why Blockchain.io is like a community because it is bringing back that long lost ideals to the crypto space by offering a thorough vetting process for ICOs to get rid of scam projects. Once all conditions are met, the community also need to vote on which coin should be listed on the platform. This holds some benefits to all participants
To ICOs
Financial backing from the exchange
Marketing of ICOs
Increased visibility for project
Interested invested
Legal backing of ICOs
To Investors
Ensure they avoid scam project

Security of investment

Weighted airdrop for token holders

Peer-to-Peer Lending System
This benefit allow users to borrow from a fund managed and maintained by the company. The transaction interest rates will be established by market forces, supply and demand.
Ensure operations are run within the framework of local and international laws guiding crypto trading
To create a rich Internet of Value around cryptocurrency by encouraging crypto-to-crypto trading on its platform
Maintain a open and transparent platform for audit and accountability
Reliable infrastructure to ensure downtime is reduced
Allow user make decisions on which coin they will love to be listed.
Careful vetting of coins before they are listed
Core Features of Blockchain.io Exchange Service Desk
Cross-chain Atomic swap protocol
Secure Storage
Token-launching services
Crypto -to-Fiat exchange
Peer-to-Peer trading
Peer-to-Peer Lending
*BCIO utility token provides users with discounted trading fees and survey participation rights for new listings and more
New token listings and token airdrops to BCIO holders
Full Benefits of using Blockchain.io Exchange
Exchanges at the center of the ''Internet of ValuE''
It is obvious that exchanges have major role to play in the cryptocurrency industry as it serves as the Gateway that connects people together to exchange value. However, it has the potential to do much more by connecting "Machine-to-Machine" in typical fashion, churning out some good advantages along the way such as Scalability, Security, and Speed
Blockchain.io has struck gold!
BCIO Token Usecase
An erc-20 token, the BCIO token constitute the native currency that is use to drive some economic activity within the exchange. Some of it utilities are outlined below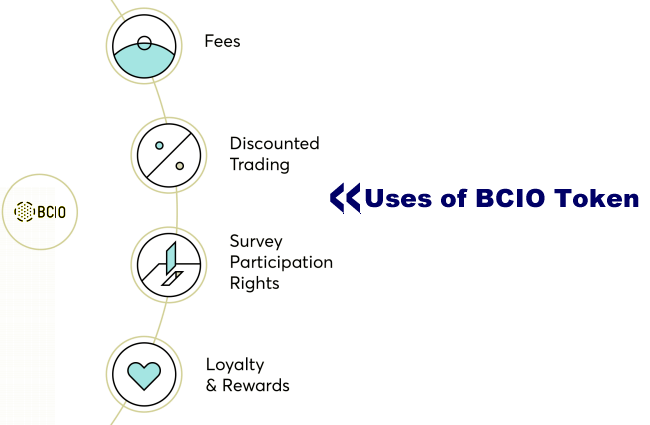 Use Case
Thiery is a cryptocurrency enthisiast who believe in the satoshi dream, so he got in early into cryptocurrency space, investing into projects he finds interesting until thunder struck during the Mt.Gox exchange meltdown where he lost all his assets on the exchange.
The incident made him lost confidence in exchanges that were coming after because most of them doesnt offer something different; armed with the fact that most ICOs are scam. An exchange like blockchain.io can relieve him of all this worries by offfering him decentralised settlements option and carefully vetted projects to invest in.
Conclusion
This has implications for an average cryptocurrency investor as he can enjoy more liquid economy because a balance of trade can be achieved easily. While these propositions looks more appealing for new entrants into the system.
Hence, mass adoption is on the horizon!
Crowdsale Ongoing
Blockchain.io is currently in the third week of their crowdsale and their crowdsale is set to finish October 25, 2018, 6:00 AM UTC. There is no softcap for the crowdsale as the exchange will be developed regardless of the total amount raised.
---
"Contribute more than 100 Euros in the crowdsale using the referral code emwinVWrVCzugXiWVP3z and earn a 5% bonus"
---
In the first 7 days of the crowdsale, $1.2M USD was raised despite the current market conditions. All unsold tokens will be burned, meaning the exchange could enter the market with an usually low market cap for a project of this stature
Tokenomics
Project Roadmap
The Team Behind the project
Partners
Feel free to follow this links to learn more
Blockchain.io Website
Blockchain.io Token Sale Page and Details
Blockchain.io Token Sale Contribution Guide
Blockchain.io Whitepaper
Blockchain.io Medium
Blockchain.io YouTube
Blockchain.io Telegram
Blockchain.io Twitter
Blockchain.io Reddit