ThrowBack Thursday Pix Vlogs Ep 1 | The Universe Got In The Way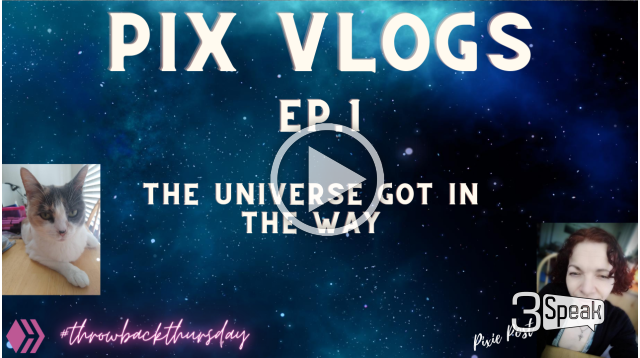 ---
#PixiePost #Vlogs #ThrowbackThursday
The longer I am on the Hive blockchain, the more amazed I become at my own self growth as well as the growth in other community members. It has been a fantastic journey so far but it isn't without some bumps along the way…
It caused to start reminscing about my early days on my YouTube channel. As my content changed over time, I looked back at when I was doing more oracle card reading videos & happened to find this FIRST episode of the Pix Vlogs. My mood in this one was pure frustration, but for some reason, I become comical when I am mad. Or so people tell me…..
So, I thought this was be a perfect video to share for #throwbackthursday. This is to give you all a laugh but also to remind you that you're not when it comes to the pitfalls of content creation. We all go through it, the struggles, the frustrations, the mental blocks. However, if we just remember that this is only temporary & just keep pushing on, we will be successful regardless. We didn't quit… ;)
Enjoy & hope you get a chuckle!
Remember, always give yourself grace & be gentle with yourself. This too shall pass! 💖
─── ・ 。゚☆: .☽ . :☆゚. ───
HIVE social blockchain where community matters https://myhive.li/agxe8
Artwork by @doze
Follow him here
https://peakd.com/@doze
Feeling stuck in your life's endeavors & not sure how to reboot?
Get unstuck with this 30 Day plan & e-book https://plus1success.com/pixiepost
Coffee, Cards & Pixie Dust podcast https://anchor.fm/pixiepost
Give this a like if you enjoy this kind of content. It lets me know what videos give YOU value. Don't forget to subscribe & hit the notification bell so you don't miss the next video.
💜 To know thyself is to know thy truth. 💜
─── ・ 。゚☆: .☽ . :☆゚. ───
Music:
Oliver - Cospe
Get a 30 Day Free Trial of Epidemic Sound https://www.epidemicsound.com/referral/cgrnmi/
A Must Have Tool To Grow Your Channel
https://www.tubebuddy.com/pixiepost
💜 This video is not sponsored - affiliate links above are products I fully believe in and use 💜
─── ・ 。゚☆: .☽ . :☆゚. ───
Connect with me on the following social media sites:
Instagram: @pixie_post_dreams (Jenn Nieto)
@timmytheangelkitty (Timmy)
Twitter: https://twitter.com/ThePixiePost
TikTok: https://www.tiktok.com/@pixiepost
My NEW Store: https://www.zazzle.com/store/pixie_po...
My Patreon Page: https://patreon.com/pixiepost
The Pixie Post - http://www.trker.com/go/96848
Pixie Post Facebook Page: http://fb.me/pixiepostwithjennnieto
Hive: https://hive.blog/@pixiepost
PeakD: https://beta.peakd.com/@pixiepost
─── ・ 。゚☆: .☽ . :☆゚. ───
---
▶️ 3Speak