November '18 New STEEM Account Report
At the beginning of every month I prepare a report containing details of new users for the previous month. I had changed to every second month for part of the year. However due to HF20 and the changes in account creation, I believe this report will be of value on a month to month basis and will be returning to producing it monthly, with additional information relating to account creation tokens.
If you missed the last report you can read it here
https://steemit.com/utopian-io/@paulag/october-18-new-steem-account-report-1541161869810
Aim of Analysis
The aim of this analysis is:
• Establish how many new users registered
• Establish what % of accounts have posts and voted and are just wallet holders.
• See who is claiming account creation tokens
• Establish if delegation is been given to accounts to they can transact. 
 Repository
https://github.com/steemit/steem
Year to Date Data

2018 Year to date has seen  0.64M new accounts registered on STEEM.  
The median new accounts per month this year is 37.6.  This is down from a median of 48.8K, last month as we have seen another substantial drop in the number of new users. With only 14,671 new account in November, this is the lowest month this year.  We can see clearly that the first quarter of the year had substantial more registrations the then next two quarters.  New registrations had been decreasing since March.
October Overview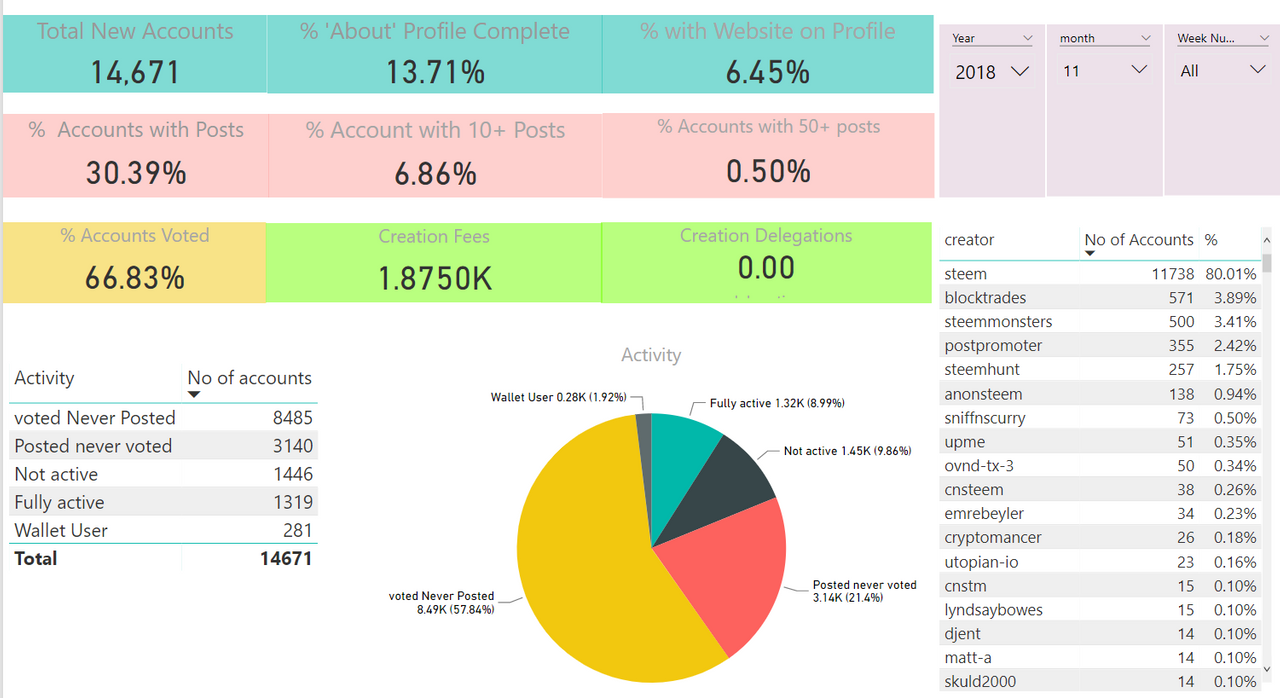 The above dashboard shows details of accounts set up in October.  Of the 15K new accounts, 13.71% have completed their about section in their profiles and 6.45% have added a link.  Completing these fields indicate a level of the quality of the user and have a correlation with retention and these values remain consistent with last month.
30% of accounts have posted once, with 6.8% posting more than 10 times and 0.5% posting more than 50 times.  Again this is consistent with last month
66.7% of accounts have voted at least once.
Looking at the activity pie we can see 'Not active' accounts make up only 9.9% of accounts.  Fully active accounts have both posted and voted.  This makes up almost 9% of accounts registered in November.  21.4% of accounts have posted but never voted and 57.8% have voted and never posted.  Finally only 1.92% of accounts are Wallet user only.
1.875K STEEM was burnt on Account creation fees and 0M vests were delegated to in the set-up process.
The table on the left of the dashboard shows who set up the accounts.
HF20 Changes
Under HF20 accounts can now be set up by either burning the STEEM and sending delegation so the accounts can transact, or they can be set up with discount account creation tokens where the fee is 0, however these accounts also seem to need delegation to transact.
95.7% of new accounts set up, were set up with the newly introduced account creation tokens.  The balance was made up of accounts set up by burning steem at 3 steem per account.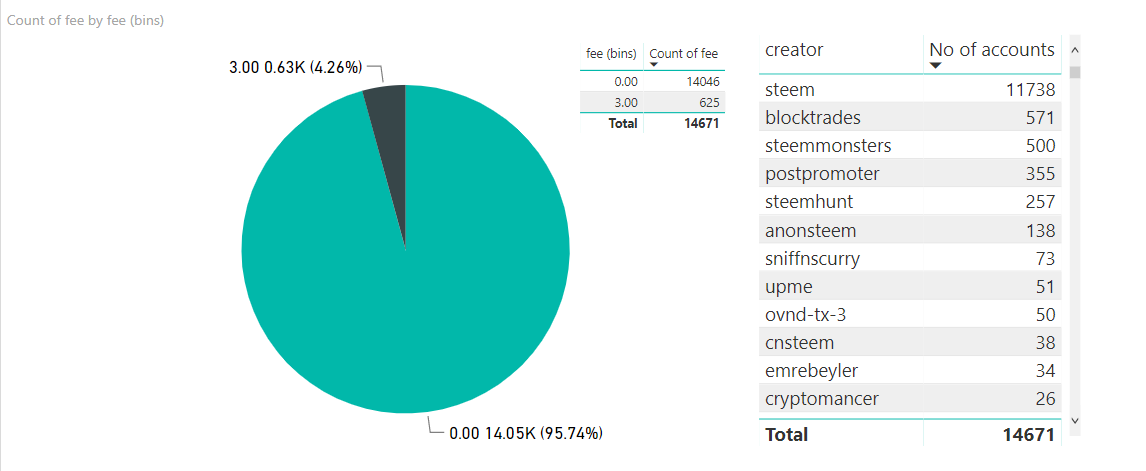 However when accounts are set up, without delegation, there resource credits and voting mana need to be boosted so they can really transact on the block.  So many new accounts have received delegation?
11,171 which is 87.5% of accounts set up in November have received delegation.
Of this 11,171 account that received delegation, almost 90% received 30K Vests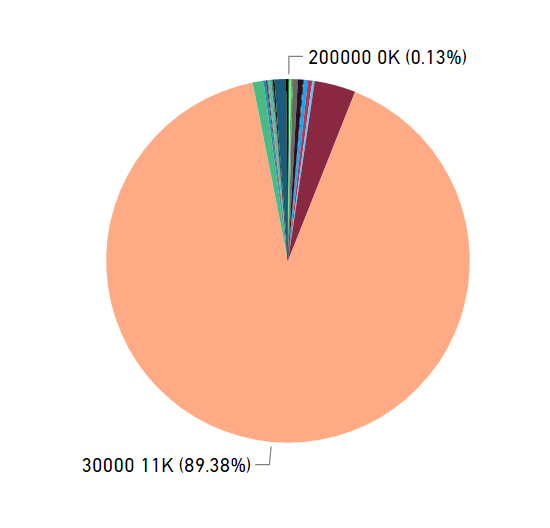 Account Creation Tokens
The introduction of account creation tokens in HF20 allows users claim the right to set up an account.  In total 60K account creation tokens were claimed in November.  Below shows who has been claiming these account creation tokens.  We can see Steemit Inc has claimed 33% of these, yet they have set up 80% of new accounts.  Last month Steemit Inc set up 87% of the new accounts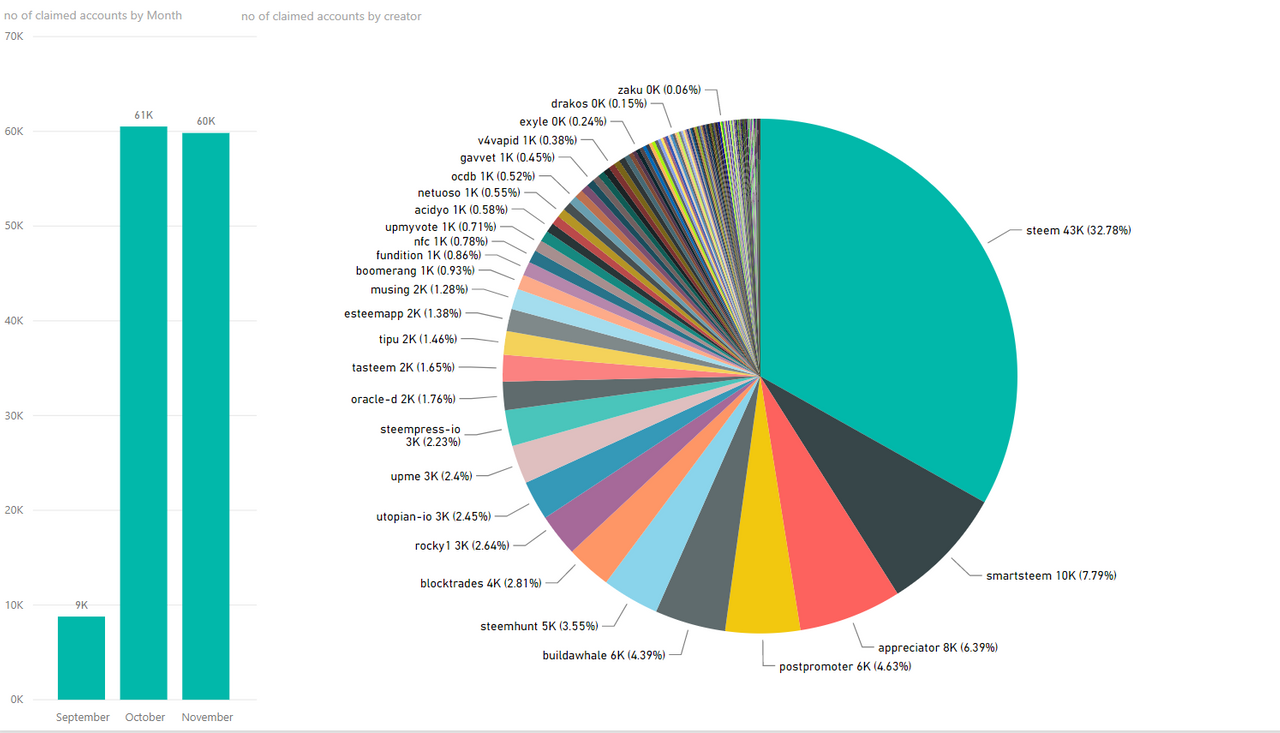 Conclusion
The number of new accounts created has been on a downtrend since April.  November had over 90% less accounts registered than January.
So far with the introduction of HF20 changes, we have not yet seen a very large shift from the account creation process being handled by Steemit inc and other sources, however @steemmonsters created almost 3.5% of all new account in November and steemit inc now only created 80%. So the change is happening, just slowly.
 It is also interesting that most accounts are receiving delegation, although small, to help them with RC's.
What is rather interesting is the activity levels.  Only 9.86% of new accounts set up in October are not active.  This value was almost 35% in September.  Last month we see an increase in the % of accounts voting only and this month remained consistent with last month.   This was 30% in September and now is over 57%.  It can only be assumed without further analysis that this increase is down to more alt accounts used for auto voting.
The Data-source and Query
As always to produce this report I connect to Steemsql (paid subscription services held and managed by @arcange ) with Power BI. The SQL query used to gather the data for this report was
Select *
FROM Accounts (NOLOCK)
where   
( created >= CONVERT(datetime,'01/01/2018')
AND created< CONVERT(datetime,'12/01/2018')
To get details of who set up each account I used the following query
Select *
FROM txAccountcreates (NOLOCK)
where   
timestamp >= CONVERT(datetime,'01/01/2018')
and to get details of accounts that used their wallets I used the following
select [from], timestamp
from TXTransfers
where   
timestamp >= CONVERT(datetime,'01/01/2018')
The query used to find out who is claiming accounts was
Select *
FROM TxAccountClaims (nolock)
Once I loaded the data into Power BI, I then carried out transformation and calculations using DAX language. 
*