TUTORIAL: HOW TO USE STEEMIT LOCATOR TO FIND NEARBY STEEMIANS
What is Steemit Locator? Well, you are going to find out exactly what it is if you hang around this writeup till the very end. I'll also show you how to use it to put your self and your blog on the world map.
To answer the question above;
"Steemit Locator map that shows locations of fellow Steemit users who chose to share it there. The hope is to better facilitate people hanging out or local meetups. Proposed by @sykochica and launched in July 10th, 2017."
~Steem-Center
For instance, If I want to go on a journey to Warri, Delta State (from anywhere in Nigeria), I could look on the Steemit Locator and see who is located there so that I can connect with them when I get to my destination.
So now that we know what "STEEMIT LOCATOR" is, how do we use it to maximize these benefits? SEE BELOW...
HOW TO USE STEEMIT LOCATOR
VISIT THE STEEMIT LOCATOR WEBSITE:
You will see the following image(which I have numbered for clarity sake)

I strongly suggest you REGISTER on the site to allow you easy access to advanced features if need be.

CLICK No. 9 to enter your email address and password to register and continue.

1- MAP
This where you create, edit, export and save your maps. This must have been where @sycochica created the "Steemit Locator" from.
When you click the "Map" icon, you see options in the image below.
You can then select the one you wish to do.

2- VIEW
You can see the options in the image below
The options with "a golden star" infront of it are for registered members ONLY.
3- ADDITIONS
This is the most important section for a steemian that wants to pin his location on Steemit Locator so that another Steemian can find him/her.
Look at the map, you will see LOCATION PINS. These tell you the location of a particular person on the world map.
No. 15 shows that there were only 69 PINS as at the time of writing this. Let's increase that; shall we?
Click No 7 (GO TO) and enter your Location eg City, State, Province, Region or Country. This will help you visualize other people around you. Eg I entered "NIGERIA" and clicked "ENTER" on my keyboard..SEE IMAGE BELOW

I ENTERED TO GO TO MAP OF NIGERIA ...See Image Below

You can see that there were just 3 markers in Nigeria (my location) before now. The funny thing is that the 3 of them are just in Southern Nigeria.
I zoomed in further by entering "Delta, Nigeria" in the GO TO BOX

---
---
Click "ADDITIONS" to reveal the pulldown options below

Click "ADD MARKER- SIMPLE" at least for beginners. When you get more experienced you can then add the ADVANCED Type. SEE IMAGE BELOW.

Fill in the appropriate parameters for the form. Eg;

Name: USE YOU YOUR NAME
ADDRESS: The vicinity of your current address
DESCRIPTION: Just add some little descriptions to help people understand you
PHOTO: choose your photo from your "gallery/files"
MARKER COLOUR: you can use whatever colour of marker you desire. I stuck with the red though.
You can decide to "PREVIEW" before you "SUBMIT". Its your choice!

Save the link generated for you to be able to edit your description later... See Image

HERE's MINE in image below

---
---
4, 5, 6- BULK EDITS, DELETIONS, PRINT/SHARE
They all work together for the different purposes as their names suggest.
BULK EDITS: Use it to edit multiple location of your at the same time

DELETIONS: Use it to delete markers, locations, files etc

PRINT/SHARE: Use this to get your map to many social sites and your website via links or print a hard copy

7- "GO TO" SEARCH BOX
Already desribed. Though its easy to use.
8- ACCESS
It just plainly states that you have to be a member to access certain features.
SO register with No. 9 for complete access
10- FULL SCREEN ICON
Click on it when you want the map to become full screen
11, 12- MAP, SATELLITE
Toggle between the Map and Satellite views with these 2 buttons.
The preview I had show throughout this document are Maps.
SEE "SATELLITE" image below.

13- AFRICAN MAP
If you noticed No. 13, unlike in most other locations where there were many pins, AFrican Continent had very few pins all of which were located in Nigeria. That's a low effort by Africans On STeemit. Hence I'm moving a motion for massive utilization of the Steemit Locator for developing the African Steemit Ecosystem (and the world at large).
So I'm using this as an avenue to reach out to my brethren to add their locations on the "STEEMIT LOCATOR". This will aid meet-up, Steemit promotions and ultimately Steem growth in the region and beyond.
14, 16- ZOOM ICON, iNFO
You use the zoom or diminish icons denoted as the + and - signs to visualize smaller area of the map or a larger area as the case may be
Info just shows you the materials you could read up about Zee Maps.
---
---
BONUS: LET'S INCREASE OUR LOCATOR MARKERS IN NIGERIA, AFRICA & BEYOND
AT the end of my exploration of the "Steemit Locator" Maps, I created additional 2 markers making a total of 71 pins...See Image

So here are a list of 3 other Nigerians On the list:
NOTE: I'll assume that these are the tech-saavy ones or the ones with information.
@DESTINYSAID: he's located at Ekrokpe, Delta State, Nigeria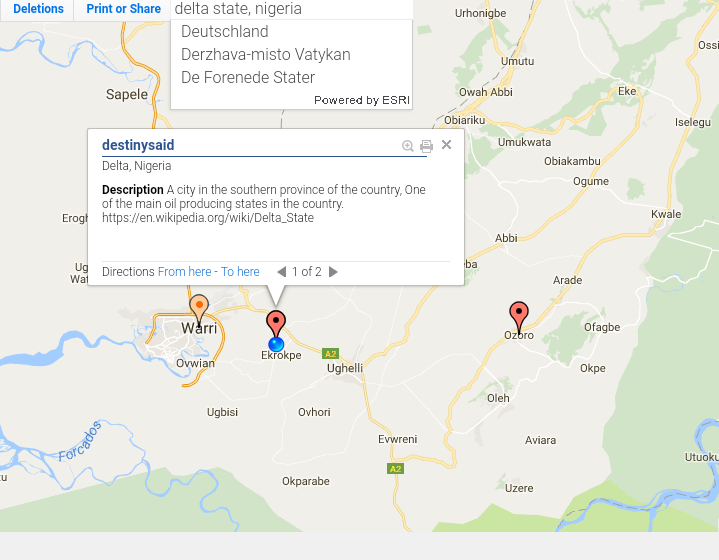 ---
@GBENGA: he's located at Ikeja, Lagos, Nigeria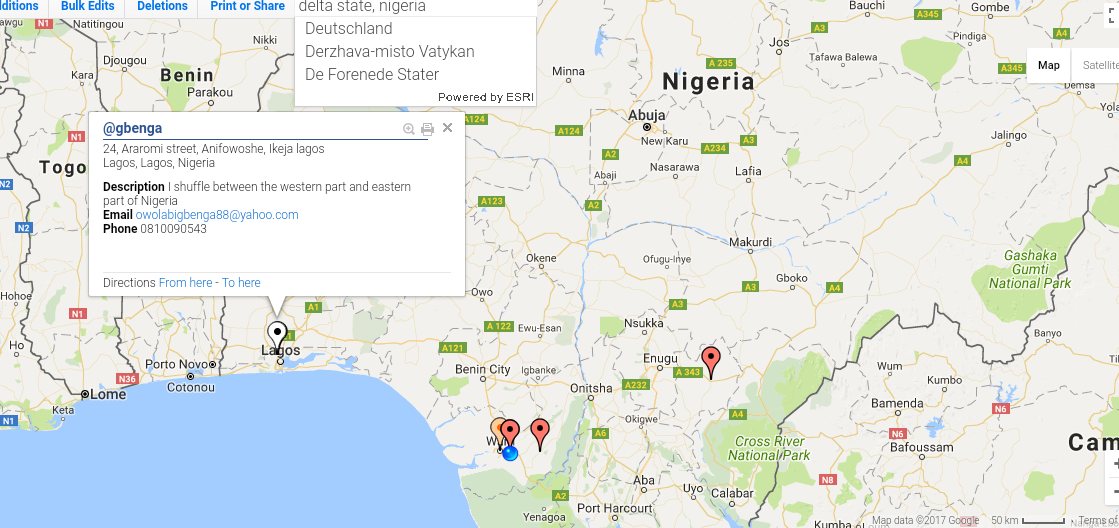 ---
@ENOLIFE: he's located at Abakaliki, Ebonyi, Nigeria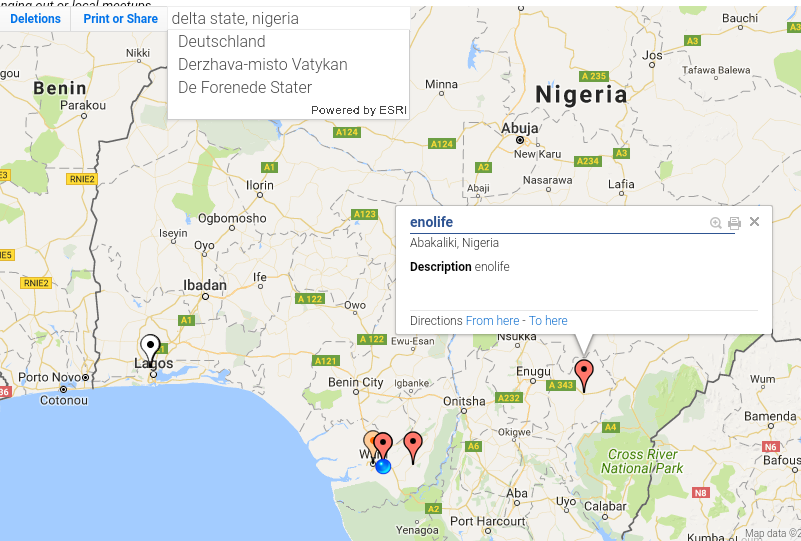 ---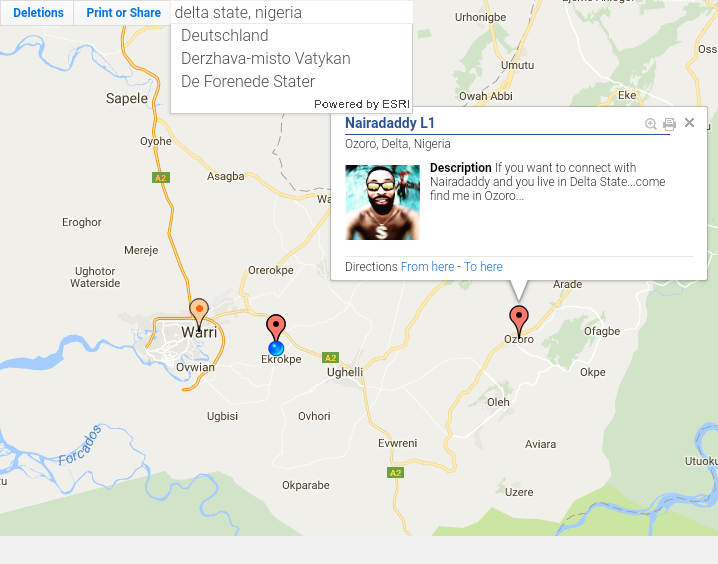 I also added a bonus location for Delta State X-Mass Meetup. Its slated to hold on the 20th of December 2017 at Warri, Delta State, Nigeria.

---
So VISIT STEEMIT LOCATOR and start add your locations today. Let's connect to each other and encourage Steemit Growth and Meetups.
Kudos to @sykochica for creating this valuable resource for STeemian..
---
I remain me, myself and eye @nairadaddy aka SteemDaddy. My aim is to leave you better than I find you everyday.
Cheers!
---
IF YOU EVER HAVE A MEDICAL PROBLEM, COME FIND ME ON...
---
Posted on Utopian.io - Rewarding Open Source Contributors
---