VID — Referral Program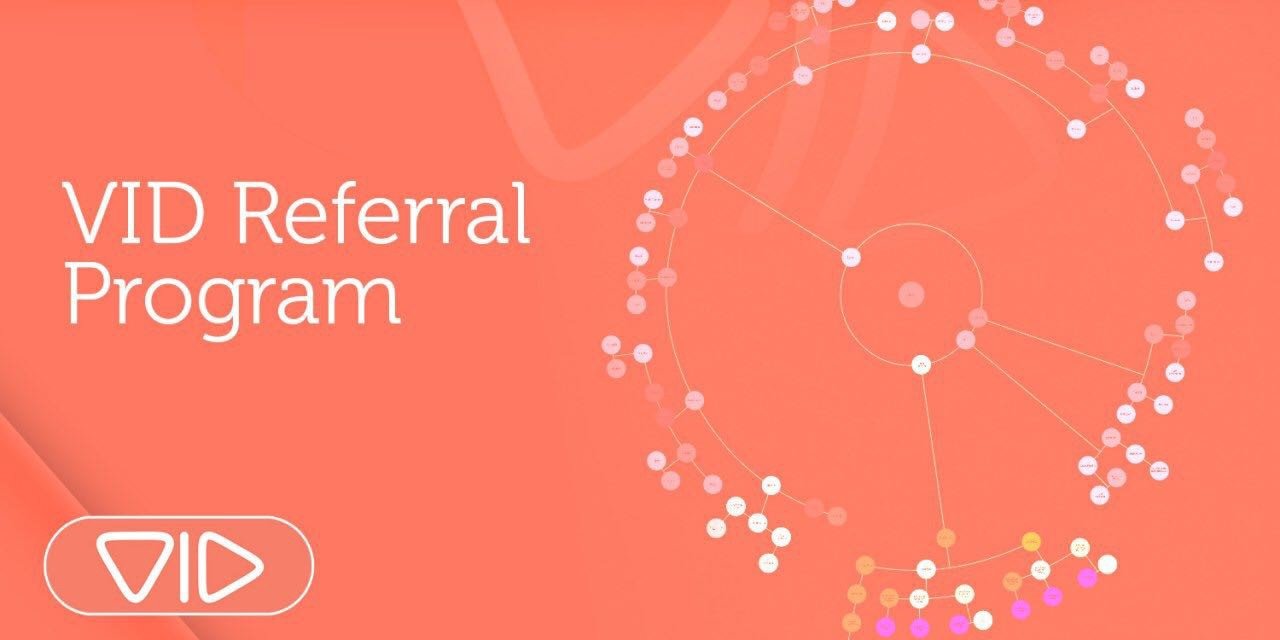 Dear VID Community,
We are excited to bring you some BIG news today. Following the success of the Ontology press release, we are launching our exclusive referral program! VID tokens are absolutely critical for anyone who wants to be part of the VID ecosystem. This program will give everyone a last-minute opportunity to get their hands on the token. As part of this program, you will be rewarded if you refer someone to join our:
Token Sale.
Affiliate program.
VID wants the token distribution to be as wide as possible, our main goal is to offer everyone a chance to be part of the memory revolution. We are launching the referral program to offer as many people as possible the opportunity to Join the VID journey.
We are also launching an affiliate program to give our community members an opportunity to build a stronger relationship with our project.
What do I have to do to take part in the referral program?
Your goal in the first week will be to refer as many people as possible to join the token sale and the affiliate program. You will be given a referral link for the pre-sale and we will also send you regular emails with exciting tasks to action. Here are some examples of the affiliate tasks:
VID Beta release email collection.
Recruit loyal affiliates globally who will assist with open API hunt.
Identify open source API's for complimentary VID applications.
Recruit affiliates who will assist with content creation and copywriting.
Please note the pre-sale referral competition will only be running for the next 5 days. The competition will close on 09/15/2019. The affiliate campaign will be an ongoing strategy.
Prizes and Bonuses
Starting on Wednesday, September 11th — for 5 days only — you have the chance to enter the draw to win tokens. For each day of the week, we will randomly choose one person from the pool to get 500$ worth of VID tokens.
SIGN UP HERE https://1milperday.com/SignIn
At the end of the week, we will choose all seven winners and reward them with the prize!
Prizes for Top Referrers
Note: Affiliate Program referrers winners will be determined later
1st Place: cash prize: $3,000 USD
2nd Place: cash prize: $2,000 USD
3rd Place: cash prize: $1,000 USD
4–10th Place: $700 USD worth of VID tokens
A minimum of $50,000 must be invested in the pre-sale over the course of the next 5 days in order for any cash prizes to be allocated.
Prizes for Referrals (For those who weren't already selected as winners for 1st-10th places)
If you bring 10+ friends to join the token sale*, you get $300 USD worth of VID tokens + chance to enter the draw for a bigger cash prize: $600 USD
If you refer 5+ friends: you get $200 USD worth of VID tokens
During the affiliate task program — part 2, we will offer additional prizes, see below. Information on this program will be provided via email once you have registered as an affiliate.
Examples of the prizes that are waiting for you in Part 2 of the program:
Southeast Asia Holiday prize
An afternoon with your favorite VID influencer
A personal Videographer for a day
Videography skills webinar
VID launch party
VID fellow — An invitation to all VID events and influencer gatherings. VID hosts a videographer and content creator conference.
A phone camera kit
Non-public VID merch
Win VID equipment package — https://www.shopmoment.com/shop $500 iPhone recording package.
Shadow the CEO for one day.
Feature in an influencer's story/post.
Final list of prizes may be changed during the program
So, there you have it! By taking part in the affiliate program, not only are you spreading the word and allowing more people to get their hands on the tokens, but you are also making sure that the wealth isn't concentrated among the select few. Plus, you are also getting handsomely rewarded for doing a good job. So, what are you waiting for? Join the program and let's get you started!
What is VID?
Vid is a privacy-focused video journal app that allows you to remember your life while getting paid to live.