UFC Fight Night 129 Predictions
Disclaimer: I'm not betting any real money on these, I'm just a MMA fan and this is my input and opinion on the following matches.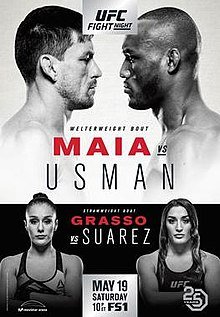 Maia vs Usman - I'm going with Maia at odds of 5.3. I see these as pretty equal fights and believe that bookies got this one messed up. Usman beats Maia on the feet and has better wrestling and Maia does have a track record of losing to wrestlers (and lost his last two to wrestlers) but I have a strong reason to believe that Maia can get it done. Not only is it widely recognized that Maia is the absolute best BJJ practisioner in UFC today, he has now had 3 training camps in row to adjust him strictly to wrestlers and the thing with BJJ is - it depends on the fight going to ground. Now, Usman being a wrestler - his gameplan will be hoping to get Maia to the ground as well. And this is where nobody wants to be with Maia, the BJJ wizard. I think the bookies got this real wrong because Usman holds an undefeated record and Maia has lost to wrestlers, I still think objectively, this is a 50/50 fight but with x5 odds this is more than a value bet.
Grazzo vs Suarez- Suarez, probably with ground game domination. Can see a submission incoming.
Cannonier vs Reyes - Reyes, thus far more impressive footage. Could obv go either way.
Rivas vs Cannetti - Extremely equal match. Can't call it.
Macedo vs Lee - I have Lee winning despite this being her UFC debut.
Luque vs Laprise - Tough one, probably fight of the night material, I'm going with Luque based on the fotoage I've seen - a true beast.
Waiting for this one - love me some MMA. Do you follow MMA? Who do you think gonna win the main bout (Usman vs Maia)?
Img source: UFC.com official poster