HARDtalk 1:7 - Politics Today: Ideal world versus Unideal. Znap7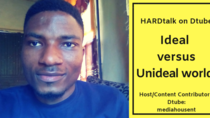 ---
On today's edition of HARDtalk on dtube platform we are going to be deliberating about the Ideal world against the Unideal world of politics. Meanwhile, if this is your first time on my channel on dtube and my show (Hardtalk).
Please kindly subscribe to my blog and Hardtalk show. It is a series/show on the dtube platform about "Politics, History and Interview"
---
Yesterday was 2019 Presidential debate in Nigeria but unfortunately, the two predominant parties in Nigeria - People's Democratic Party & All Progress Party candidates were absent for the debate. A big slap on the electorates and a show of disservice to the interest of the whole nation. Thus, the rationale behind this vlog. Watch for details!
---
Ads Corner
If you're looking forward to joining a motivating family of people and ever conscious of our blockchain, then you're on the right track. Join @nathanmars and other members of the #dtubefamily777 on the Steem Blockchain.
Also, if you're looking forward to collaborating and meeting other creators on the dtube platform, then the right place to be is @dcooperation community. You can contact me if you're from Africa and you will like to be part of #dcooperation community or @clixmoney.
Here is the link to our discord server
---
Thanks for watching,
Best regards,
Sam.
---
▶️ DTube
▶️ IPFS