The school that abused me and other children keeps deleting evidence of their crimes
When I was a kid, I was physically and sexually abused by multiple teachers at King's House School in Richmond, London. This is me at the time of the abuse, in the school uniform: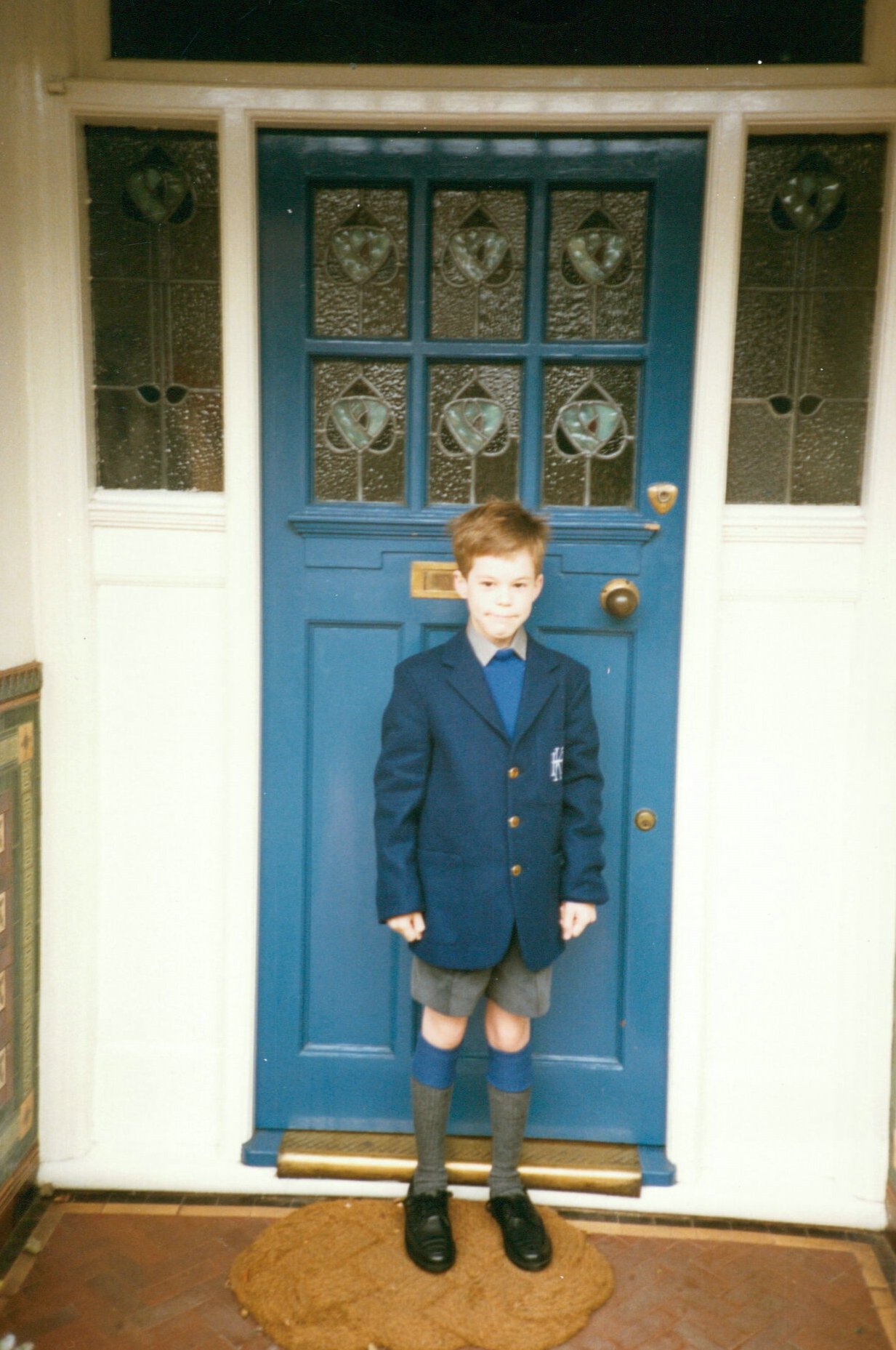 I decided I would make an effort to help other victims of institutional abuse at the school. So, I added information to King's House School's Wikipedia page.
The first piece of information I added was based on a court case where a former teacher was convicted of sexually abusing a child. Here is a screenshot of what I added to the page: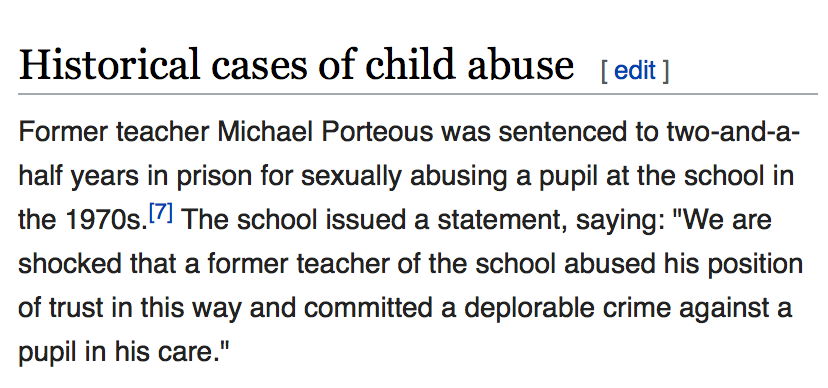 And I linked to the court case: http://www.yourlocalguardian.co.uk/news/11521942.Richmond_school_saddened_it_could_not_stop_paedophile_teacher_s__deplorable__crimes/
Soon afterwards, this was deleted by someone representing the school. Here is a screenshot of the deletion:

"Historic abuse case not particularly relevant to a broad overview of the school"? What kind of people consider the fact that teachers at a school are raping the children is not 'particularly relevant to a broad overview of the school'?
You were raped by a teacher? Well, that's not particularly relevant. What's more relevant, and should definitely stay on the page, is that the school has a 35-acre sport ground and club house.
I think we can all agree that the sports field is much more relevant to a broad overview of the school than child rape:

So, I undid the deletion and added more information on the abuse at the school. I wrote: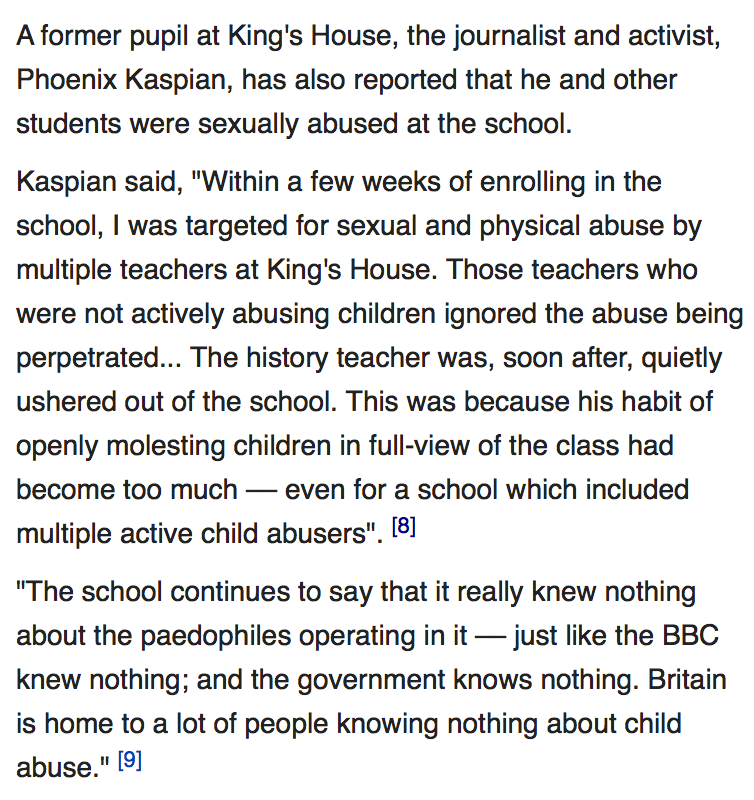 And I linked to my Steemit posts with extensive accounts of the abuse:
https://steemit.com/psychology/@matrjoschka/how-do-i-express-my-anger-at-the-school-that-abused-me
And:
https://steemit.com/introduceyourself/@matrjoschka/i-m-phoenix-i-m-an-artist-and-writer-and-a-survivor-of-childhood-abuse
But again, someone representing the school quickly deleted this:

Unverified allegations from a blog? The entire wikipedia page for King's House School is built from citations from the school's own website, and this person claims my blog is unverified? I've included extensive detail of the abuse, photographs of school reports and enough information to identify the teachers concerned. But my 'allegations' are 'unverified'?
King's House School's entire existence is unverified. Someone needs to take a serious look at the school and what it did, and is doing, to the children in it.
Why would a school delete evidence from a former survivor of its abuse if it was no longer abusing children?
I responded to the school's attempt to erase its crimes with this: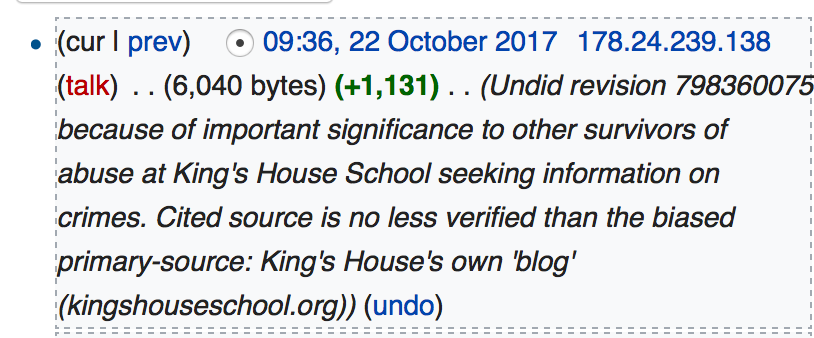 It's been interesting to watch how institutions attempt to manipulate the records of their own history, and to silence the voices of those who speak out against them. I hope that others who were abused at King's House School can share their stories and join the chorus of free-thinkers who are ready to fight for the freedom of human beings. People who are brave enough to face the past and heal the future.
Thank you Steemit.