@Ma1neEvent Curation: An Open Call to ORIGINAL CONTENT Creators... Share your blog with me!
As a curator on Steem / PAL,
it's becoming harder to sift through
the short posts to find genuine,
quality, original content & blogs...

My opinion of course...


Greetings fellow Steemians and PALs!


For those of you who may not know me, I am an active curator here within the Steem and PAL community. I have been posting on Steem since May of 2017, and I have also been a curator for various projects. I have been active curating with @MinnowSupport Project, @OCD, @Yougotsnekked, and of course, on my own.


The last year for me on Steem has been interesting for sure. I reached a point last year where I was almost ready to be done with Steem altogether. I was frustrated with the way Steem dropped the ball with Dlive, Whaleshares becoming a thing, and obviously, the price of Steem falling so hard. I was about to walk away, but I ended up staying because of all of the amazing people who are still here posting, commenting, and chatting in Discord communities.


I am excited about Steem again. I pushed past all of the negativity, and am still eager to curate great original content that is being shared here. There's only one problem...



Where are all of the original content creators??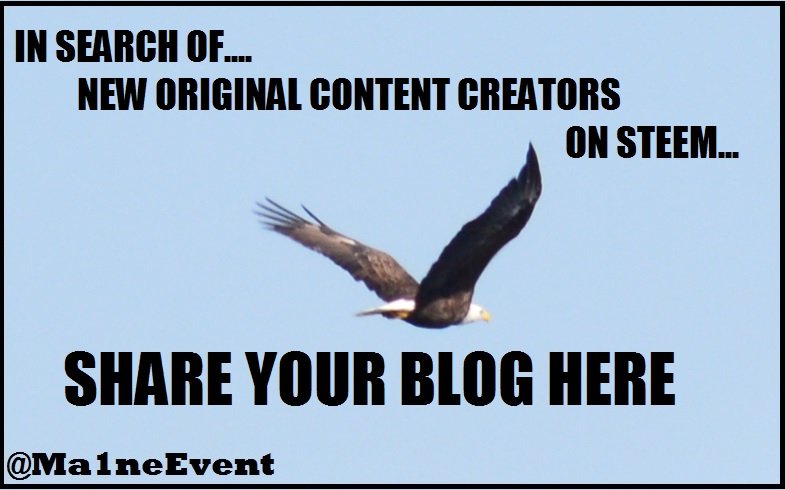 @Ma1neEvent Original Photo


The curation groups I work with have many rules and guidelines to follow. We only want to support original, quality content.


Posts that I am NOT looking to curate:
Very Short Posts with little to no original text.
Posts with only sourced photos.
Posts created autonomously through dapps that are overly posted daily
Posts that contain links to outside sourced content only
Plagiarism
Copy-Pasted or Re-posted content from non-Steem blogs
Posts I AM looking to support:

Original Posts that are shared for the first time on Steem that contain:


IntroduceYourself tagged posts - tell us more about yourself and your blog in a one time introduction post.
Original Text Blogs, more than a couple of paragraphs long.
Original Photography blogs with text to talk about them, numerous original photos included.
Original Videos with text commentary included about the video.
Original Travel blogs with original photos and text.
Original Music, with text descriptions in the post.
Original Artwork, with process photos and descriptions.


There may of course be other content ideas I am just not thinking of, but the idea here is that I am looking for some NEW original content creators to follow on Steem. All posts I am looking to curate should not be short post. Please offer at least a few paragraphs of original text.



Are you relatively new to Steem? (Joined in 2019)
Share your blog links in the comments below!



I want to see some new original content, so share 1 post of yours in the comments below with a description.


This does NOT guarantee an upvote, but I would love for you to share your best new post with me. Please ensure the post is no older than about 2 days. I will check out the posts, and leave you a feedback comment!


Show me what you got!
Share your new post with me. Tell your friends too!


I hope to find some new content creators,
so share your new post below!


Disclaimer - The "quality level" of a post is chosen at my own discretion.
It is based solely on my own opinions, which may change at any time.