Drugwars gang membership application and gang function introduction (帮会入会申请和帮会功能简介)
I built the gang yesterday.I will introduce you to the application process and the functions of the gang.
1. The joining process
1.1. Enter the gang menu
In the function menu on the left, find "gangs", the right side will show the currently established gangs, the current gang staff limit is 100 members.
终于建好了帮会,现将入会申请流程和目前帮会的功能介绍给大家:
1.入会流程
1.1.进帮会菜单
在左侧功能菜单找到"gangs",右边会显示目前已建立的帮会,目前帮会人员上限是100人。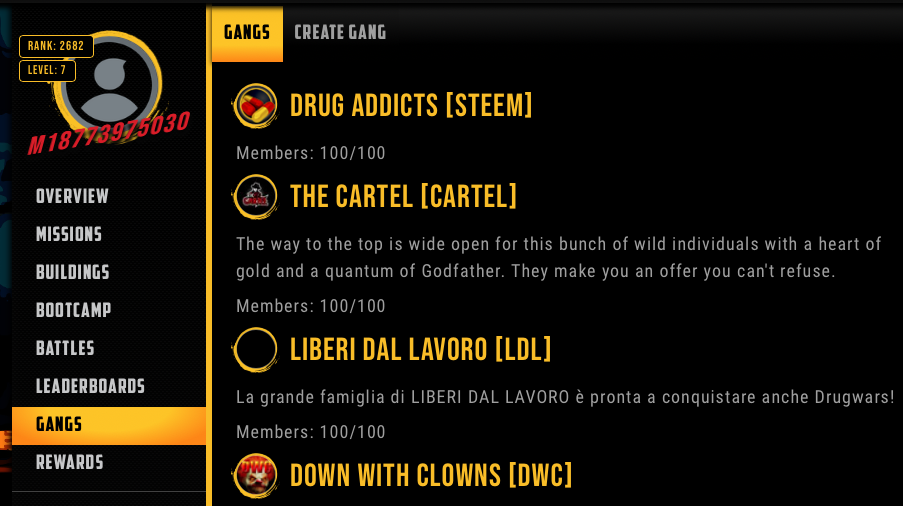 1.2. Find a target gang
Use the mouse to pull down on the right side until you find your target gang like "DRUGON".
1.2.找目标帮会
在右侧用鼠标下拉一直找,直到发现你的目标帮会比如"DRUGON".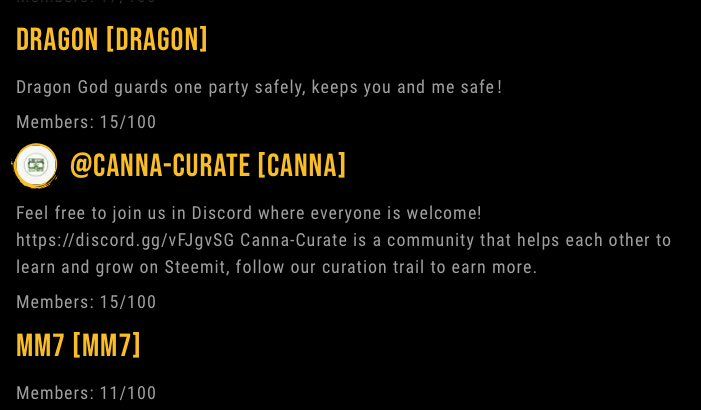 1.3. Apply for membership
Click "apply", after successful, there will be a successful application prompt in the lower left corner.
1.3.申请入会
点击"apply",成功后左下角会有成功申请提示。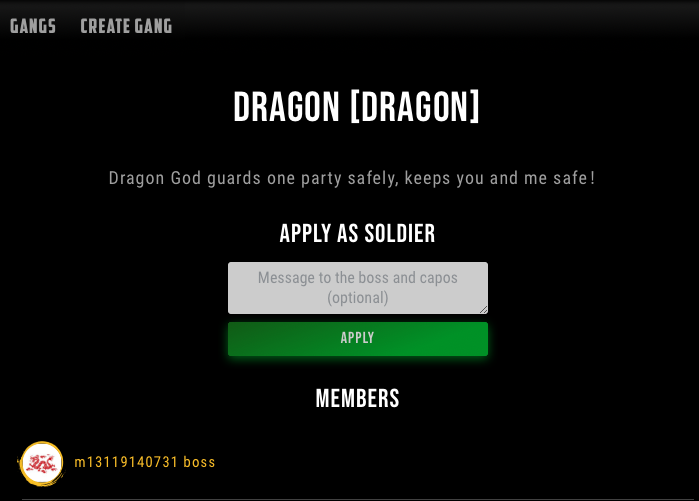 2. Introduction to the gang function
At present, the gang has some simple functions, they are gang setting and personnel management.
2.1. Gang settings
When you create a gang, fill in the name of the gang here, the gang icon and the gang promotion website, and finally the gang introduction. After this part of the content is created, it can be modified later.
2.帮会功能简介
目前帮会功能简单,只有帮会设置和人员管理两块功能。
2.1.帮会设置
创建帮会时在这里填写帮会名称,帮会图标和帮会宣传网站,最后是帮会介绍。这部分内容创建后都可以后期修改完善。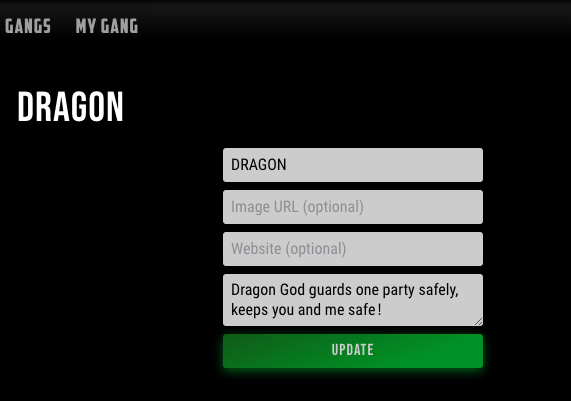 2.2. Personnel management
2.2.1. Personnel apply for approval
Click on "APPROVE" or "REJECT" to agree or reject the newcomer application.
2.2.人员管理
2.2.1.人员申请批准
点击"APPROVE"或"REJECT",同意或拒绝新人入会申请。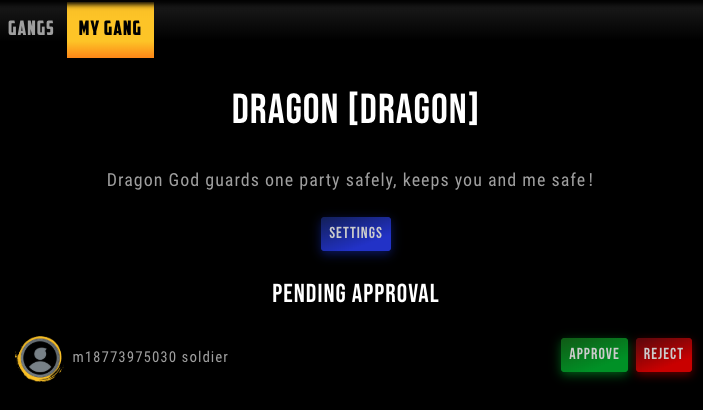 2.2.2. Member level adjustment
There are two levels of gang members, Soldiers and Captos. If you join the new member as a Soldier, you can upgrade to the Capto* (you can't downgrade if you upgrade, the Capto can accept or reject the membership application for new members)*, or you can choose to kick out the gang.
2.2.2.成员级别调整
入会新成员为战士,可以提升为队长(提升上去了就不能降级,队长也可以接受或拒绝新会员的入会申请),也可以选择踢出帮会。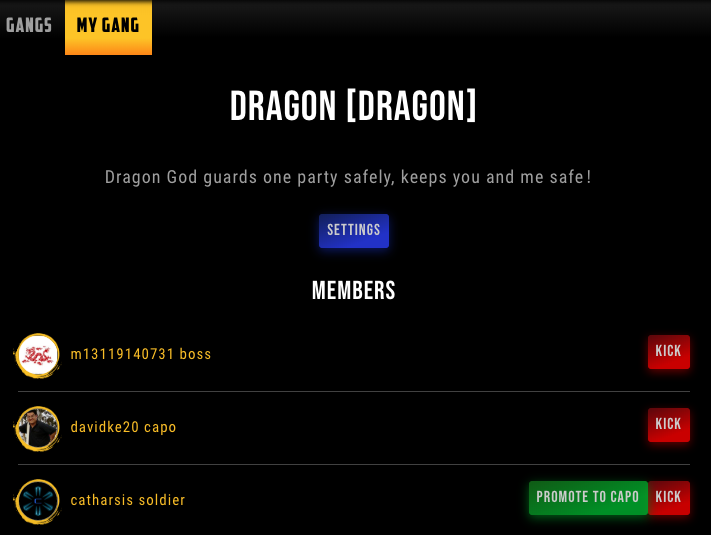 Finally, everyone is welcome to join "DRAGON", there are already a large group of brothers and sisters waiting for you!
最后欢迎大家加入"DRAGON",已经有一大帮兄弟姐妹在等你!