Aktuelles zur Berechnung von Aufgaben bei World Community Grid bei mir. - News about the calculation of tasks at World Community Grid in my place.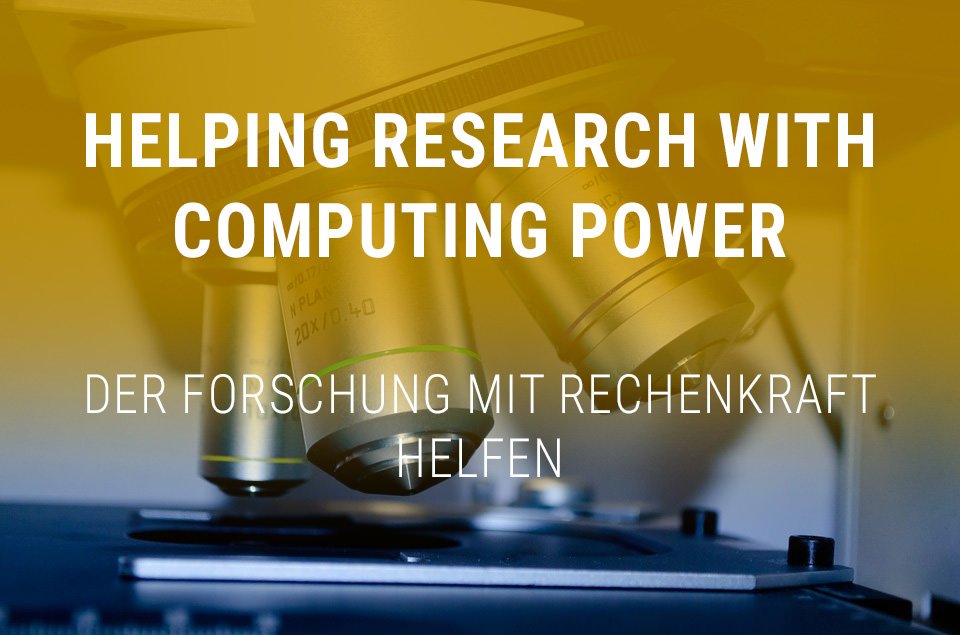 Seit einiger Zeit berechne ich ja auf einem virtuellen Server bei Digital Ocean sowie auf meinem Heimrechner für das Projekt World Community Grid. Momentan ist es so, das die Rewards die über das Byteball System ausgeschüttet werden reduziert wurden. Und mit reduziert meine ich wirklich drastisch reduziert. Wo ich letzten Monat noch für die Arbeit ca. 0,30$ am Tag bekommen habe ist bei der selben geleisteten Computerarbeit der Reward heute bei ca. 0,02$. Daher habe ich das System bei Digital-Ocean vorerst einmal abgeschaltet da sich das mittlerweile vorne und hinten nicht mehr rechnet. Ich belasse es aber dabei, das mein Heimrechner weiter Aufgaben löst und dementsprechend der Krankheitsforschung weiter hilft. Ich bin gespannt ob die Rewards aus Byteball wieder erhöht werden, denn dann geht es wieder weiter mit dem VPS.
For some time now I have been calculating on a virtual server at Digital Ocean and on my home computer for the World Community Grid project. At the moment, the rewards distributed via the Byteball system have been reduced. And by reduced I mean drastically reduced. Where last month I got about 0,30$ per day for the work, today the reward for the same computer work is about 0,02$. Therefore I switched off the system at Digital Ocean for the time being, because it doesn't pay off anymore. But I leave it that my home computer continues to solve tasks and accordingly helps the disease research further. I am curious whether the rewards from Byteball will be increased again, because then it goes on with the VPS again.
Meine Aktuellen Statistiken zum World Community Grid sehen wie folgt aus:
My current statistics for the World Community Grid are looking like this:
| Project | PointsGenerated | Results Returned | Total Run Time (y:d:h:m:s) | Badges Earned |
| --- | --- | --- | --- | --- |
| Microbiome Immunity Project | 702,917 | 1,900 | 0:121:23:13:39 | |
| Smash Childhood Cancer | 58,111 | 220 | 0:007:15:06:12 | |
| OpenZika | 334,741 | 802 | 0:040:11:33:05 | |
| [email protected] - Phase 2 | 133,771 | 536 | 0:028:13:23:28 | |
| Mapping Cancer Markers | 2,097,016 | 2,583 | 1:032:23:20:19 | |
| Outsmart Ebola Together | 738,819 | 360 | 0:076:22:36:22 | |
Gold Badge (90 days) for Microbiome Immunity Project
Bronze Badge (14 days) for OpenZika
Bronze Badge (14 days) for [email protected] - Phase 2
Emerald Badge (1 year) for Mapping Cancer Markers
Silver Badge (45 days) for Outsmart Ebola Together
Weitere Infos zum Projekt findet ihr hier: https://www.worldcommunitygrid.org/
---
Ich hoffe, das es in den nächsten Monaten mit den Byteball Rewards besser aussieht und ich die Maschinen wieder anschmeißen kann.
*I hope that the Byteball Rewards will look better in the next months and that I can start the machines again. *
Viele Grüße
@louis88