Utilities Are Overvalued But Still Attractive by Michael A. Gayed
Summary
Stocks, in general, have been losing momentum for the last several weeks, and the only segments gaining any traction are defensive areas, such as utilities, consumer staples, etc.
Among all of them, the utilities sector is undoubtedly back to new all-time highs due to a market rotation into conservative equities and retreating Treasury yields.
With investors continuing to shift to defensive positions and expectations for a future recession still alive and well, there's still a likelihood that this sector will continue to perform well.
This idea was discussed in more depth with members of my private investing community, The Lead-Lag Report. Get started today »
"Successful investing is anticipating the anticipations of others." – John Maynard Keynes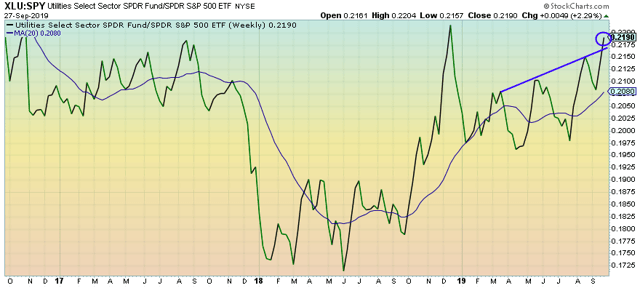 Stocks, in general, have been losing momentum for the last several weeks, and the only segments gaining any traction are defensive areas, such as utilities, consumer staples, and low beta stocks. Among all of them, the utilities sector is undoubtedly back to new all-time highs due to a market rotation into conservative equities and retreating Treasury yields. Utilities won't benefit from the current value rotation, as its P/E ratio of 21x is already expensive for the group. However, with investors continuing to shift to defensive positions and expectations for a future recession still alive and well, there's still a likelihood that this sector will continue to perform well.
What should we do to catch the momentum in the utilities sector? Here are some ETFs that you could incorporate into your portfolio.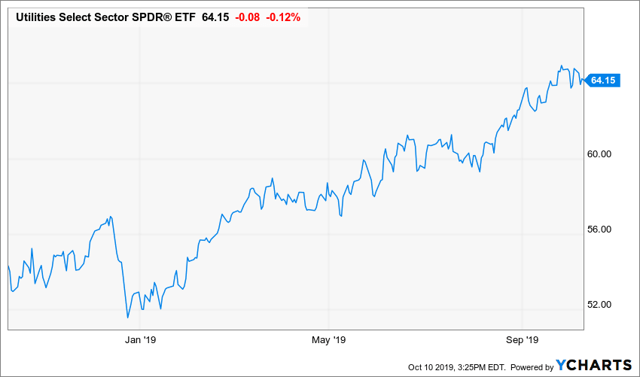 The Utilities Select Sector SPDR ETF (XLU) is one of the most popular options for any investor to gain exposure to the U.S. utilities sector. XLU tracks the performance of the Utilities Select Sector Index. The index includes securities of companies from the following industries: multi-utilities, electric utilities, independent power and renewable electricity producers, water utilities, and gas utilities. Utilities is a sector with high distribution yields as well as low volatility. Therefore, this ETF is useful to establish a low-risk equity exposure and/or to enhance the current returns generated by the equity portion of a portfolio. Like other sector-specific ETFs, XLU is effective for investors to implement a sector rotation strategy or to establish a tactical tilt towards the low beta sector of the U.S. market. Those building a long-term, buy-and-hold portfolio will likely achieve utilities exposure through broad-based equity funds (though the allocation to this sector can be relatively small).
This ETF distinguishes itself in a few ways. First, it provides one of the lowest expense ratios in the category at 0.13%. Second, it offers the best liquidity within this category and the largest AUM in the broad utilities ETFs category at ~$11 billion, making it a popular choice for investors who want to establish or liquidate a position quickly. However, it does offer a relative shallow portfolio with only 29 holdings and significant allocations to the most prominent components such as NextEra Energy (NYSE:NEE) (12.8%), Duke Energy (NYSE:DUK) (8.0%), and Dominion Energy (NYSE:D) (7.53%).
The 1-year return is 21.97%, the 3-year return is 14.41%, and the 5-year return is 11.73%, with a trailing 12-month dividend rate of 2.91%.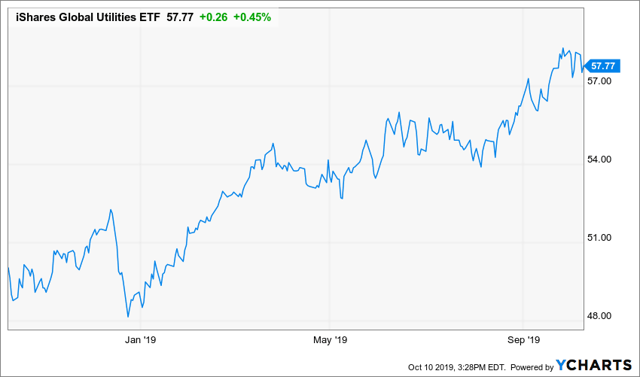 The iShares Global Utilities ETF (JXI) seeks to replicate the performance of the S&P Global Utilities Index, a benchmark that measures the performance of the global utilities sector equity market.
---
Author Bio:

This article was written by Michael A. Gayed. An author on Seeking Alpha and founder of the Lead Lag Report.
Steem Account: @leadlagreport
Twitter Account: leadlagreport
Learn more about Michael A. Gayed on Seeking Alpha
Steem Account Status: Unclaimed
Are you Michael A. Gayed (a.k.a. leadlagreport)? If so, you have a Steem account that is unclaimed with pending cryptocurrency rewards sitting in it from your content. Your account was reserved by the Steemleo team and is receiving the rewards of all posts syndicated from your content on other sites.
If you want to claim this account and the rewards that it has been collecting, please contact the Steemleo team via twitter or discord to claim the account. You can also view the rewards currently sitting in the account by visiting the wallet page for this account.
What is Steemleo Content Syndication?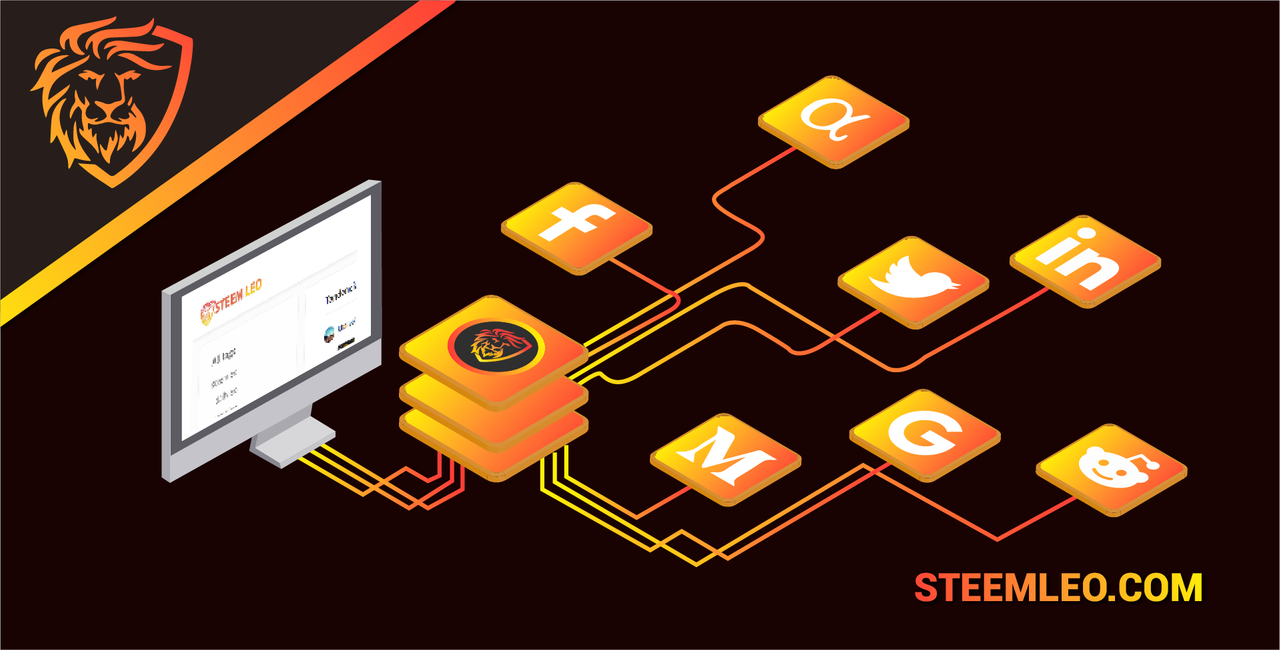 The Steemleo community is syndicating high-quality financial content from across the internet. We're also creating free Steem accounts for the authors of that content who have not yet discovered the Steem blockchain as a means to monetizing their content and we're listing those accounts as the 100% beneficiaries to all the rewards. If you want to learn more about Steemleo's content syndication strategy, click here.