Construction with KrNel: A Basic Shelf from Wood Scraps
My partner wanted a shelf in the kitchen to put some of her stuff that often ends up lying around on the table. At her job at a health food store, the owner does some carpentry int he basement. She asked him to make her a shelf or two.
Last night she was going to take the measurement of the wall to give to the owner to make some shelves, but I told her I would make some the next day.
So that's what I did today. Instead of two, I made one that was longer than she had shown me the width she expected. Maybe that's enough. I will see.
I started out with some wood scraps leftover from dismantled transportation pallets I used to make a garden planter last spring:
I used one long and thick board for the shelf. The first one that was darker was hardwood, so I moved that aside. The other two were softwood and rough.
First I cut about 1 inch that was too long to fit beside some tiles on the kitchen wall.
Then I sanded down the board so that it wouldn't give me or anyone else anymore splinters. Ouch, not fun to keep those around.
I used the 2nd scrap piece from the top in the image above for the blocks to hold up the shelf. I cut it into two 3 inch long pieces.
At first, I was going to use screws drilled in at 45 degrees angles. I drilled holes first, then tried to drill the screws into the wall. But they piece of wood was sticking out a pit, pushed from the screw going into the wall. This wasn't right. So I switched over to just using nails. Much easier.
I also pre-drilled holes for the nails. The nailing went a lot better, as the wood wasn't popping out from the wall from the nail. Screws turning into wood at that angle just wasn't working.
After getting one block up, I had to level the shelf. But, I left my level at my grandmothers when I moved to the city 3 years ago, as I didn't think I would need it. Well, I did now and few times before that! So, eye leveling had to do.
I put the shelf on the nailed in block, then put the other block at around the same height and moved it until it was level. I used my partners herbal extract bottle for a rolling device to see how level it was, hehe. All seemed good. The placement for the second block was set, and I nailed it into the wall through the drilled holes as well.
Lastly, I placed the shelf on top, drilled some holes, and then the screws. Done!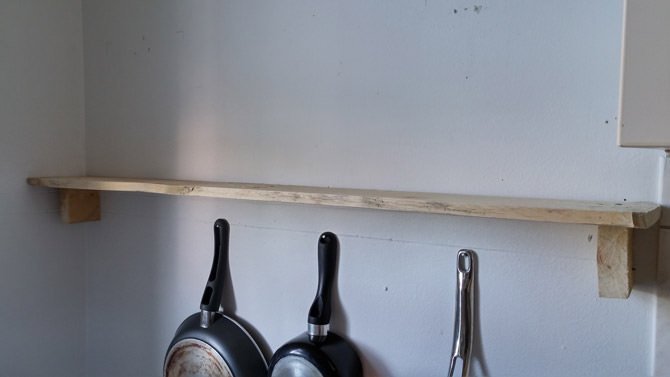 Now my partner has a nice shelf for her to put whatever she wants there, and keep the table clean from clutter. Wo0ot!
I'm happy with the result. It's very basic. Two blocks, and board, and some nails. Very easy to make and it does the job, despite lacking a "professional" appearance ;)
What do you think? Not bad right? It does what it needs to: hold things like a shelf needs to :)
---
Thank you for your time and attention. Peace.
---
If you appreciate and value the content, please consider: Upvoting, Sharing or Reblogging below.


me for more content to come!
---
My goal is to share knowledge, truth and moral understanding in order to help change the world for the better. If you appreciate and value what I do, please consider supporting me as a Steem Witness by voting for me at the bottom of the Witness page.