Click Here for Instructions Pertaining to the Acquisition of One STEEM for FREE in Order to Help Level-Up Your Faucet Payout in Anticipation of the Upcoming Steem-Roller.com v0.7.3 Release!
Excuse the ridiculiously long and needless title to this post, it was merely a means to seperate the wheat from the chaff while seeing who is paying attention and deserves a tactical gift in the form of a FREE STEEM to be used in betting to help permanently level up your upcoming 5 minute faucet payouts on Steem-Roller.com.

( a screenshot from the
If you managed to decode the title as well as opening paragraph of this post you're now eligible to receive a small token of gratitude and sponsorship towards growing your Free STEEM faucet amount. You see, in order to grow your faucet payout on the upcoming December 1st, 2019 v0.7.3 release users must have an account on Steem-Roller.com, then, with every STEEM wagered as well as each bet rolled adds an additional 0.00000001 STEEM to the amount paid out every 5 minutes by the faucet. A faucet payout of up to 1 STEEM every 5 minutes can be earned by performing lots of bets and/or wagering STEEM.
As it currently sits up until the 1st of December users can roll bets as low as 0.00000001 STEEM ( a STEEMtoshi, if you will ) as fast as their connection will allow it. Some users have reported being able to roll as fast as 15 bets per a second which is hands down the fastest gambling game in our STEEM ecosystem. After December 1st, 2019 any bets less than 0.001 STEEM will be delayed by 800ms in order to mitigate the load on the server caused by multiple users spamming "dust" bets in order to level up their faucet payouts.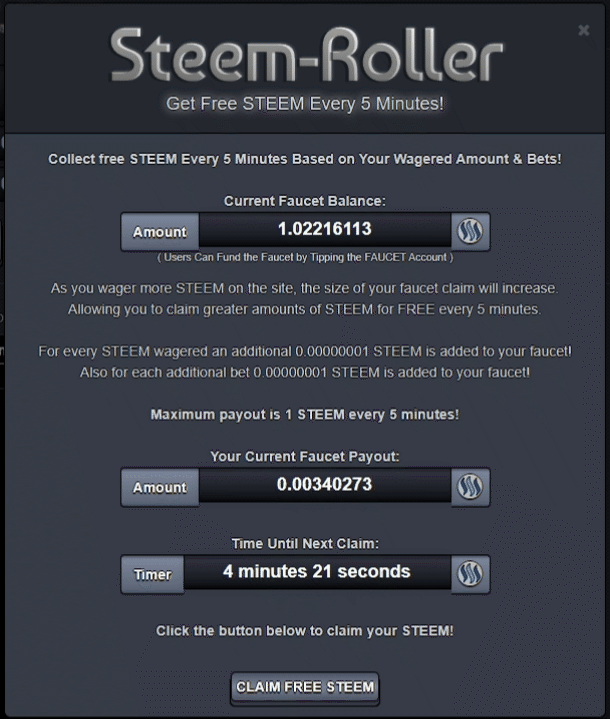 Each bet completed by a user yields an additional STEEMtoshi (0.00000001) added to the users faucet payout permanently. The same thing goes for any STEEM wagered as each STEEM bet by the user yields another STEEMtoshi that is permanently added to their faucet payout.
What this means is that instead "mining" the games' hype token in hopes of getting additional value against the house edge of the gambling services currently deploying the token mining method to attract gamblers, the faucet design on Steem-Roller.com doesn't rely on an external token market price to dictate what type of rewards players receive, their betting frequency and intensity dictate the size of compensation they can receive every 5 minutes. As a service provider that doesn't see the point of hype tokens to hook users to a casino it was decided that this way of adding extra value to rolls in order to compete with the existing hype token offering casinos would be the best way to do things. In order to promote the new upcoming v0.7.3 patch I've decided to give away up to 50 free STEEM to 50 new or existing users so they can take the remaining time before the update to level up their faucet payouts.
How to Claim the Free STEEM
Assuming you already have a Steem-Roller.com account you won't have to go register one.. However if you don't have a SR account please head over to the site and register in order to be eligible to receive the 1 STEEM in your account to be used to level up your faucet. Here are the remaining instructions:
First off, you must ReSteem this post then after that you must comment your username on SR below. Once you've done these 2 things and I check to see if you're not using multiple accounts to try to trick me I'll tip you 1 Free STEEM on SR. From there you can use the auto bet robot on the site in order to bet STEEMtoshi amounts in order to get your roll count up, and thus your faucet payout after December 1st, 2019. Remember to comment below what your SR username is and then be patient.. I'll try to go through and process all the giveaway STEEM as fast as possible.
Free STEEM Claimed so Far:
null/50

This post got zero attention and the offer has been cancelled!
Come Visit Steem-Roller.com or Steem-Roller.com Newer GUI After Resteeming and Commenting!
Attempting to claim more than 1 Free STEEM will end up publicly humiliated and banned from the site..
---


Looking for an Affordable, Secure & Reliable Server Host for Your STEEM Witness Server or Other Web Related Projects? Check out Privex.io!