An Update on the Steem-Roller.com SPS Proposal Launched 3 Days Ago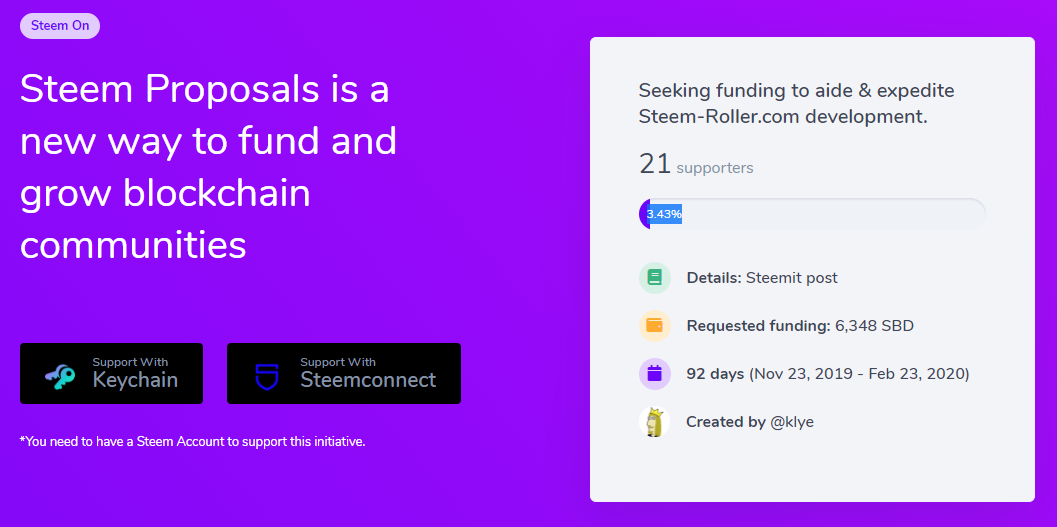 ( a screencap from steemproposals.com showing the progress made on the steem-roller.com sps proposal, click image above to visit the proposal page and vote! )
Hail all, hope all is well with you and your people. Just writing a quick post to inform people how the Steem-Roller.com development funding SPS proposal is coming along. Pleased to announce that 21 backers have put in their affirmation that they wish to support development on the site and allow a daily wage in order to help combat the poverty that has overcome life while developing the website. A new version of the site is set to come out on December 1st 2019 which will release some really cool features like a real-time profit chart for gamblers as well as a free STEEM faucet which allows users to collect a portion of STEEM up to 1 STEEM every 5 minutes. This is in order to compete ( or blow the doors off ) with the other STEEM casinos on the network which allow users to "mine" their Steem-Engine .com hype tokens, which aren't worth really anything but seems to convince gamblers that their rolling is further rewarded than it actually is.
The post featuring the proposal information can be seen by clicking the image below:

All payouts to the proposal will be sent to @steem.dao which is in charge of the SPS contracts and whatnot. While 97 STEEM users have voted on the proposal post only 21 folks actually took the time to go and vote the actual proposal itself, which sucks but is understandable, perhaps people thought a vote on the post was a vote for the proposal? The votes weigh roughly 725,000 SP but the amount needed for a proposal to pass is roughly 20,000,000 so still have a long way to go, given that only about 3.5% of the required SP vote weight has been pledged. Voting for the proposal doesn't cost a user anything other than a few moments in order to navigate the site and click the Keychain or Steemconnect vote buttons and follow the instructions there. This is a must if I'm to continue being able to develop the website and keep updating it with new features. My proposal is only set to run for 3 months with a daily pay rate of 69 STEEM. On Saturdays and Sundays the SBD paid out to my account will be sent back to @steem.dao in order to not get paid for days off, which I think is fair and should be the model anyone receiving SBD from the SPS system should follow.
If you haven't already, please consider voting for my proposal in order to help alleviate stress caused by lack of funds seen during development.
---


Looking for an Affordable, Secure & Reliable Server Host for Your STEEM Witness Server or Other Web Related Projects? Check out Privex.io!