Evolution of blockchain technology: insights from the GitHub platform. A very interesting study by Deloitte that offers key lessons on blockchain development.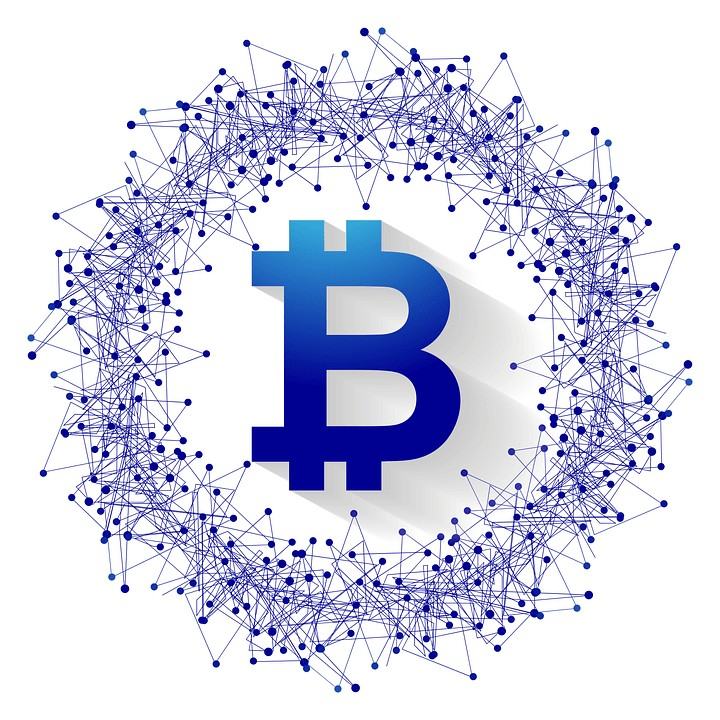 By many people, blockchain and cryptocurrency are still seen as a major failure. The sharp fall in prices in 2018 and monotonous coverage from the mainstream media will not immediately change this. Yet there are enough institutions around the world who not only judge the blockchain book by its cover. One of those firms is Deloitte. This international player in the field of financial and business services wrote an excellent article about the evolution of blockchain technology.
Based on insights from the GitHub platform, they give us a clear picture of blockchain development - how projects have grown and what's likely to come next. The research dates from the end of 2017, but in my view it's still relevant if you want to have a better understanding about the development of blockchain and its ecosystem. Some interesting graphs.
---
Blockchain technology has a solid future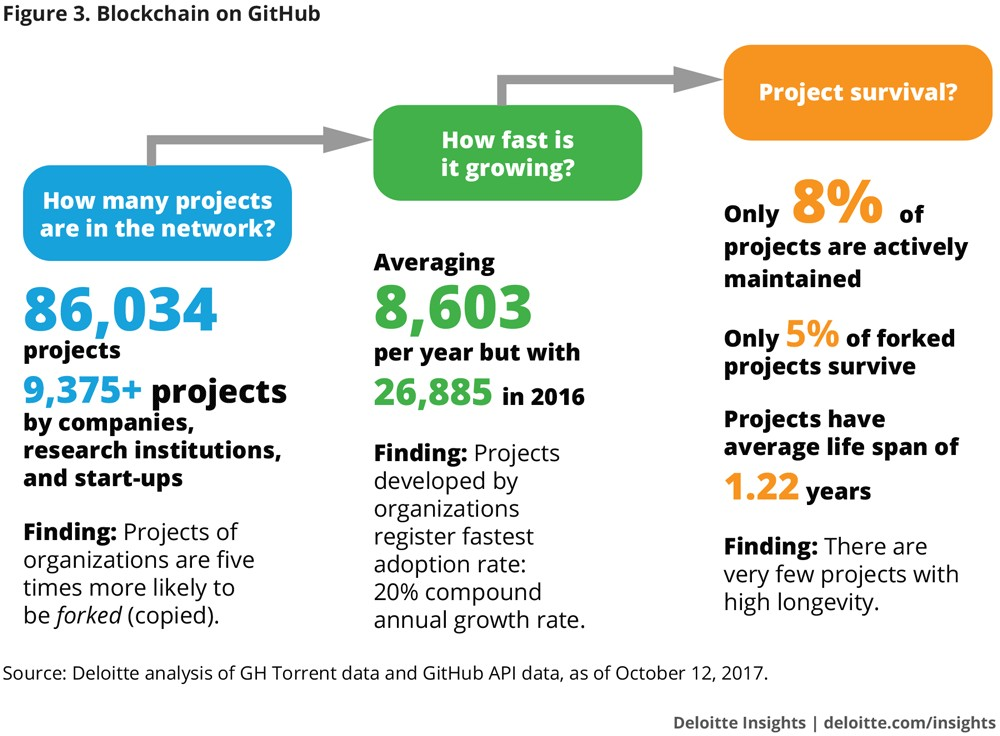 When you look at the Deloitte infographic, it seems that Blockchain is not as promising as it is often described. Only 8% of the total number of blockchain projects are actively maintained. Naturally, there are a number of question marks hanging over that percentage.
There is an apparently logical explanation for that. First and foremost: the implementation of this technology is still in its infancy. In the early years (we are talking about the period from 2010 to around 2014) the technology was viewed with the necessary suspicion. Not entirely surprising of course. People often get butterflies over major changes. They are usually received with some fear.
Secondly: the stark reality of open-source projects is that most are abandoned or do not achieve meaningful scale. Unfortunately, blockchain is not immune to this reality. What follows is an interesting part of the article.
Note that about 90 percent of projects developed on GitHub become idle, and the average life span of a project is about one year, with the highest mortality rate occurring within the first six months. Our analysis revealed 11 variables associated to a project becoming inactive. Of these variables, organizations should consider the following three in particular:
First, perhaps not surprisingly, projects developed by users tend to have shorter life spans and to be stand-alone blockchain technology applications rather than foundational libraries that enable the creation of multiple applications. We found that users were more prone to tinker, developing and prototyping ideas that often do not gain traction.
Second, is the concentration of contributions to a project. Our analysis indicates that most projects with high mortality rates are those in which one committer generated the vast majority of content, and, in fact, the median project (measured by number of committers) has only one committer (see Glossary in Appendix for definitions of types of repository participants). Often this sole, or lead, developer shifts attention to other projects or simply becomes disengaged. On the other hand, most projects that survive tend to have multiple committers with less concentration of activity attributed to one particular committer. Predictably, most organizations are structured in this latter manner.
Third, projects with higher numbers of copies (forks) of a project are more prone to survive while those with few or no copies are more prone to stall as will their copies. In fact, regarding the latter, a copy of a project also tends to have less committers and hence higher mortality rates. This is not to say that there are not highly successful projects that are the products of forks, but generally projects that are forks of projects tend to have high mortality rates due to a paucity of new committers.
---
The users are growing, but so are the organizations
It may be clear now: blockchain technology is clearly gaining ground. The figure below shows that both the number of users on Github and the organizations are on the rise. More and more existing companies are engaging in blockchain and its development.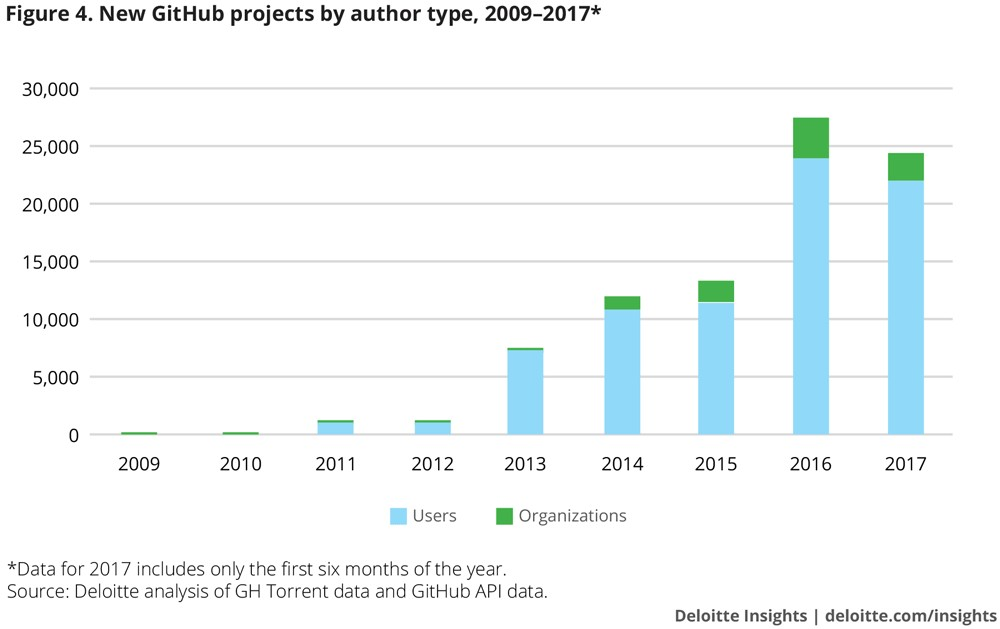 Of particular significance, some projects that organizations have developed have resulted in new platforms (such as Ethereum, Ripple, Corda, and Quorum) which some developers now use to build applications. Organization-owned projects also tend to be updated more frequently than those developed by users, and are reportedly five times more likely to be copied, implying that the blockchain community has deemed them most relevant.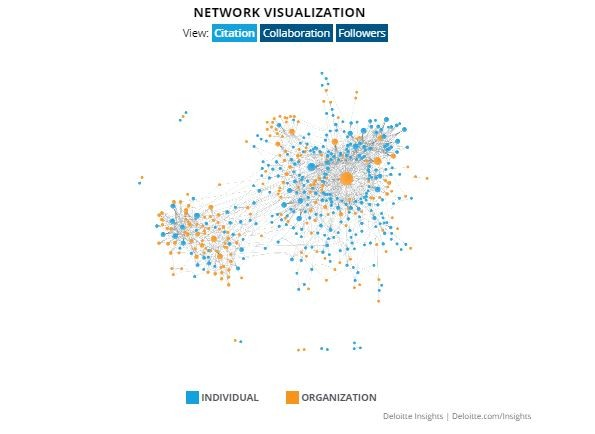 When looking at the interactive graph above, it's interesting to keep in mind that (a) the initial projects of Ethereum and Bitcoin are maintained by organizations (foundations), and (b) a vast amount of blockchain projects and applications in GitHub are actually built on top of these two projects.
In short: it doesn't matter how many projects emerge, organization-led projects are the backbone code for thousands of other projects.
In itself this is no surprise. Based on their right to exist, companies are obliged to continue to develop. They cannot ignore new, promising technology. As long as we are in the early-adopters phase, new organizations will continue to get on board.
Once resources are put into place by an organization, there is generally more incentive to ensure that the project is successful. Given that organization participants are tied to one another beyond any particular project, there is often greater accountability to one another, which also drives ongoing development.
To illustrate how much influence companies have: Out of the 20 most central projects in the blockchain space, 18 were created and maintained by organizations.
---
The community is crucial
As with all open source software, blockchain is also very dependent on the community. It's a characteristic that ensures a story with extremely strong roots. Roots that ensure acceptance and development. This would be different if only one party made decisions. When something grows within a community, it has a solid foundation of knowledge. Knowledge that comes from many fronts and from a pluralistic perspective.
In addition, it is different than when something "must" grow because a financial risk has been taken that must be covered as quickly as possible. Companies are sometimes unable to properly embrace something quickly due to weighty preconditions. A community can do this much faster and easier.
Interested in reading the full article? You can find it here.
Oh and btw, also nice to know. Most GitHub project owners live in North America or Europe, with San Francisco having the largest concentration.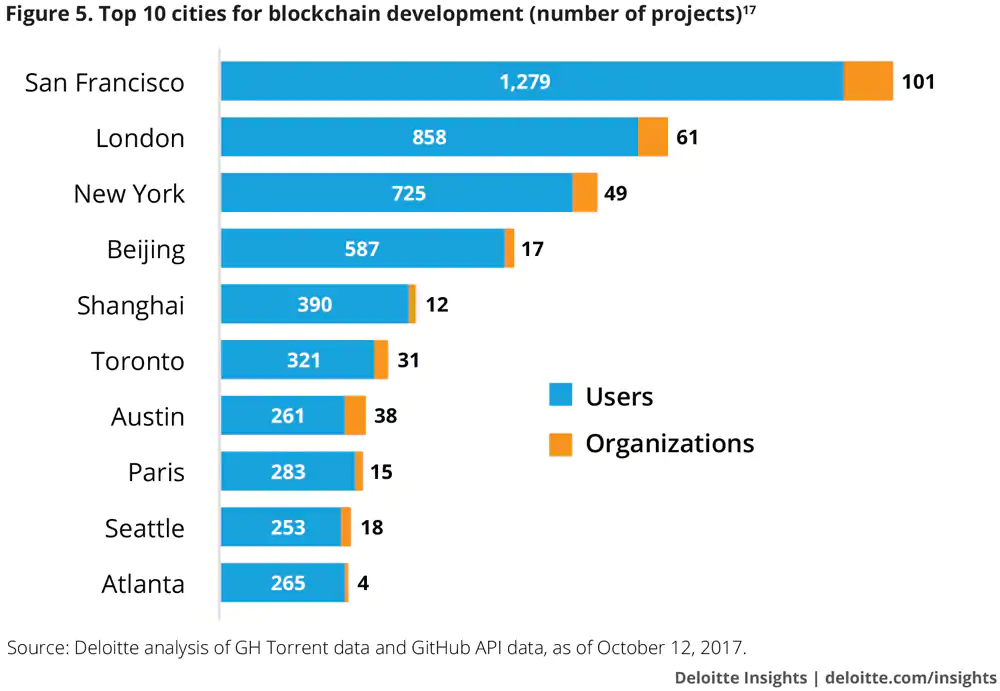 Thanks for stopping by!
---
Note: this article was first written for U°Community.