A report by Freedom House: trolls, bots and lurkers undermine democracy via the internet
keysa
63
8 months ago
Steemit
5 min read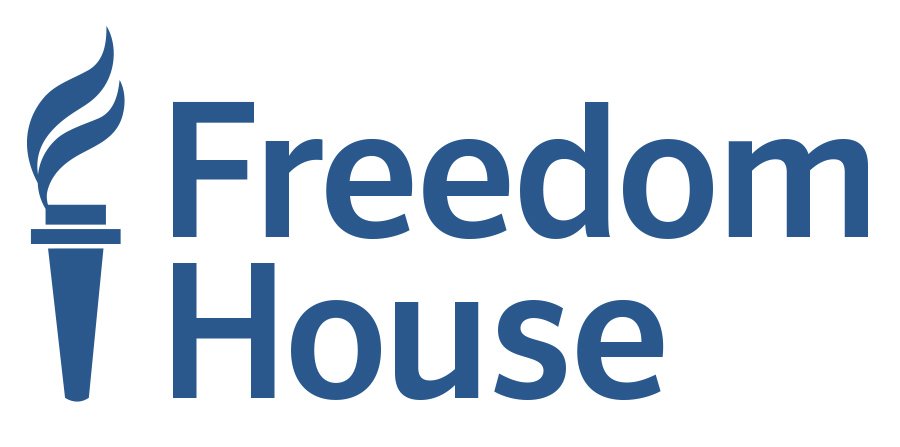 Masses of online fans, trolls, and automated bots are increasingly being used by authoritarian regimes to hinder opponents and to influence public opinion.


The report by Freedom House, a US-funded research group, confirms the fear of many online activists and sketches a bleak portrait of how the internet is putting pressure on democracies. More than half of the 3.8 billion internet users live in countries that censor the internet and use pro-government trolls to manipulate the online world, the researchers conclude.
Mike Abramowitz, president of Freedom House, warns that online propaganda and disinformation has spread in 24 countries in the run-up to elections last year. The researchers looked at the situation in 65 countries, where 87 percent of internet users are located.
Explore the map to get more details and review profiles of your country (if available).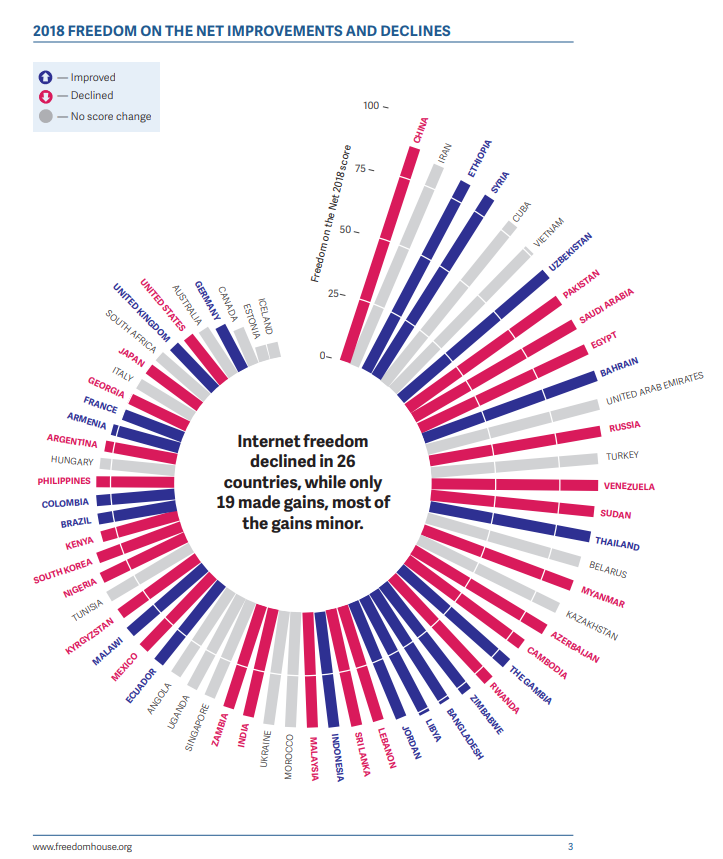 Echo chambers
With or without malign intent, the internet and social media in particular can push citizens into polarized echo chambers and pull at the social fabric of a country, fueling hostility between different communities. Over the past 12 months in Bangladesh, India, Sri Lanka, and Myanmar, false rumors and hateful propaganda that were spread online incited jarring outbreaks of violence against ethnic and religious minorities. Such rifts often serve the interests of antidemocratic forces in society, the government, or hostile foreign states, which have actively encouraged them through content manipulation.
Authoritarian governments and populists worldwide thus use human weaknesses and computer algorithms to win elections. They do not care about rules that guarantee free and fair elections.
According to the researchers, governments work with famous 'yes-men', well-known business people and semi-autonomous online mobs to spread clickbait, conspiracy theories, and misleading messages "from marginal echo chambers to the political center."
Brazil
The report puts the spotlight on Brazil, where Jair Bolsonaro won the presidential election in October 2018. This was preceded by misleading news. Anti-gay rumors and edited photos were spread through YouTube and Whatsapp by followers of the Right, the researchers say.
In Egypt, President Abdel Fattah el-Sisi's government blocked around 34,000 websites. This happened in the run-up to a referendum on whether el-Sisi could stay in power until the end of 2030. The intention was to halt the debate on that question, the report states.
Hundreds of thousands of trolls spread fake news in India to influence voters in the run-up to the April and May elections. Prime Minister Narendra Modi's NaMo app is also said to have forwarded user data to a company involved in data analysis.
US and China
Particular attention has been paid to the two largest economies in the world - the United States and China. In the US, trolls spread "disinformation" during the mid-term elections in November 2018 and during Brett Kavanaugh's confirmation process at the Supreme Court, as well as during the 2016 election campaign that brought Donald Trump to power.
The US Immigration Service is increasingly demanding access to visitors 'mobile phones and laptops. They are monitoring immigrants' social media and "operating with little supervision and transparency," the report says.
China is called the "world's worst abuser of internet freedom", a title that has been awarded to the country for four consecutive years. Some examples from the report:
Restrictions on Connectivity
Nine state-run operators maintain China's gateways to the global internet, giving authorities the ability to cut off cross-border information requests.13 All service providers must subscribe via the gateway operators overseen by the Ministry of Industry and Information Technology (MIIT).
Related article: Welcome to the Uighur Web. Amid police crackdowns and stifling censorship, one Chinese ethnic minority struggles to be heard online.
Violations of User Rights
The new cybersecurity law that came into effect in June 2017 strengthened internet companies' obligation to register users under their real names and required that information about Chinese users be stored on servers located within the country. Known dissidents received heavy penalties for their online activities in the past year, while ethnic and religious minorities continued to be heavily surveilled and persecuted for their spiritual and cultural expression or for exposing rights abuses committed against their communities.
The CCP's Central Propaganda Department, government agencies, and private companies employ hundreds of thousands or even millions of people to monitor, censor, and manipulate online content. Material on a range of issues is systematically censored, with the most censored topics in 2017 involving breaking news related to health and safety, media censorship, official wrongdoing, foreign affairs, the reputation of the party or officials, or civil society activism.
Related article: China closes more than 13,000 websites in past three years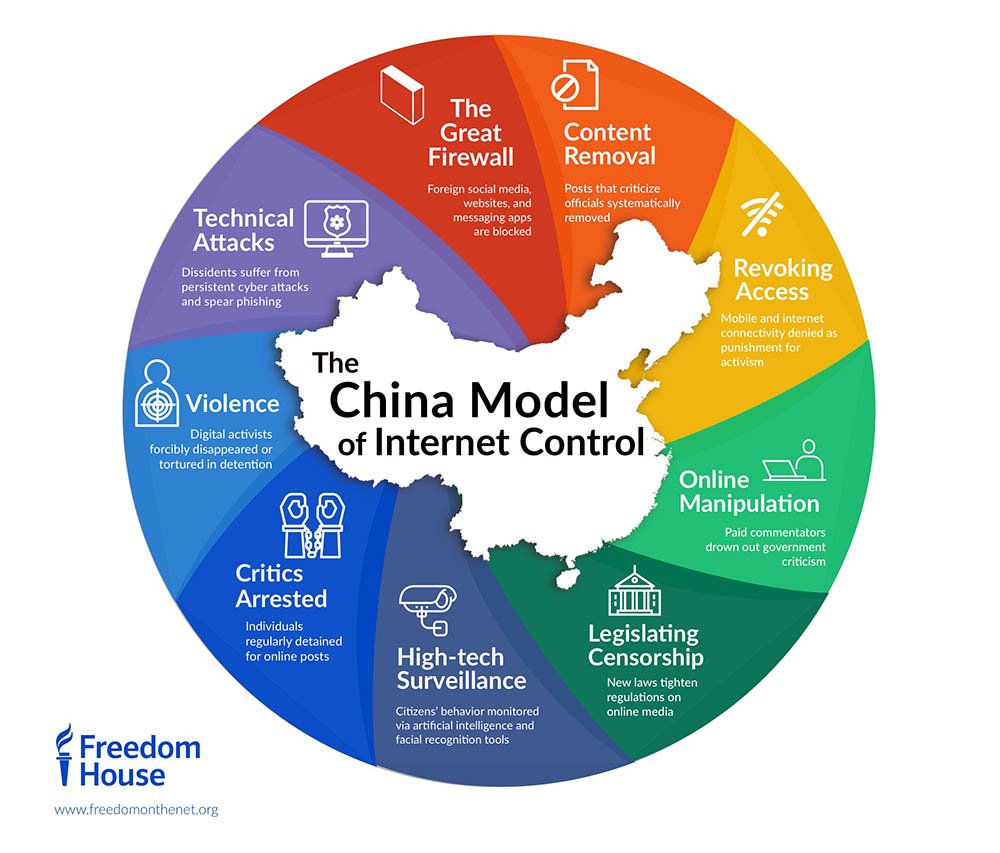 Trojan horse
In 47 countries with advanced tools to monitor the internet, internet users were arrested between June 2018 and May 2019. This happened because of posting political, social or religious messages.
"We now face a stark reality: the future of internet freedom rests on our ability to fix social media", Shabbaz says.
The United States must take the lead in rallying defenders of the open internet to fairly regulate a technology that has become a necessity for our commerce, politics, and personal lives. Strong protections for democratic freedoms are necessary to ensure that the internet does not become a Trojan horse for tyranny and oppression. The future of privacy, free expression, and democratic governance rests on the decisions we make today.