#40 zerissene ruhe. torn silence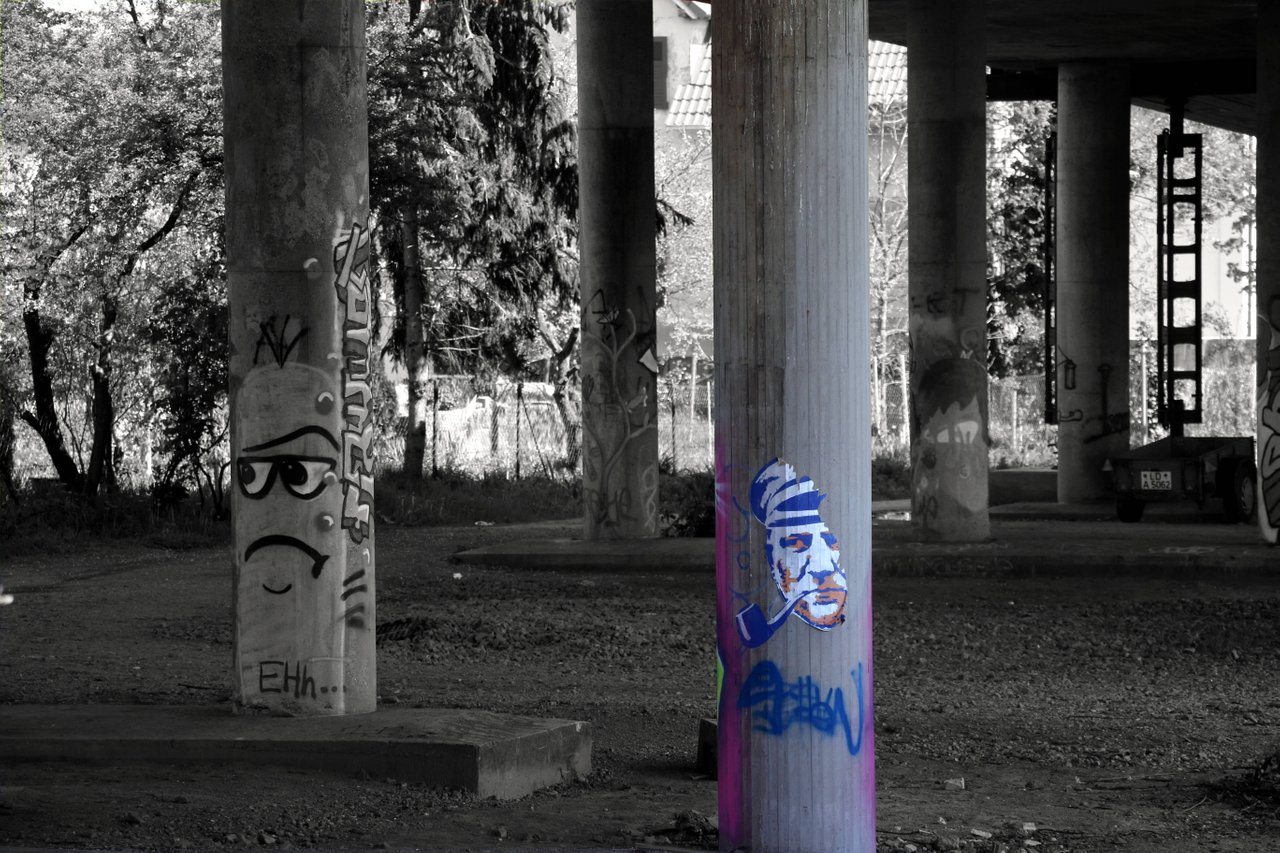 dieses bild ist in landau (in der pfalz) entstanden. lange wurde über das bauwerk diskutiert, dann die marode brücke mit betonklötzen für lastkraftwagen gesperrt, da niemand das fahrverbot für schwere fahrzeuge beachten wollte. inzwischen existieren die pfeiler des bauwerkes mit samt der bunten bilder nicht mehr.
dauerhaft besteht auf diesem erdkreis keine menschenseele und auch des menschen werke sind vergänglich. künstlerische eingriffe in den öffentlichen raum ganz besonders. neben der zerstörung durch wind und wetter, beseitigen leider viel zu oft andere menschen die bunten veränderungen. doch hier waren es schließlich baustellenfahrzeuge, die dem bunten treiben unter viel lärm ein ende bereiteten, auch wenn der käpt´n schon sehr mitgenommen aussieht.
abschließend ein paar von dem foto inspirierte zeilen ...
zerissene ruhe
viel unglaubliches lässt sich erahnen
kaum einer lässt sich warnen
pfeiler der gesellschaft, sie wanken
immer blinder werden all´die kranken
verschlossen bleibt der geist
bis die wahrheit alles niederreißt.
ach wurden wir so oft belogen
lehren hat doch niemand daraus gezogen.
immerfort brav der propaganda lauschen
bis alle in die tiefe rauschen.
hinab geht´s in den aufgerissenen rachen
schaudern bleibt - und ungläubiges erwachen.
und zerissen ist die ruh´
gnadenlos zieht sich die schlinge zu
keiner wollt´ es kommen seh´n
war das leben doch so angenehm.
nun hat es doch ein ende
unerwartet kommt die wende.
---
this picture was taken in landau (rhineland-palatinate). there was a discussion for a long time about the construction. then the dilapidated bridge was banned for trucks. but nobody observed the driving ban for heavy vehicles. after that the bridge was closed with concrete blocks for trucks. meanwhile the pillars of the bridgework with the colorful pictures do not exist anymore.
there is no soul of man on this earth circle permanently and also the works of man are transient. artistic interventions in the public space in especially. besides the destruction by wind and weather, unfortunately too often other people eliminate the colorful changes. however, here it was construction site vehicles that finally put an end to the colorful pillars under a lot of noise, even if the captain already looks very worn out.
finally a few lines inspired by the photo. the poem is written in german. that´s just a simple translation. sorry for missing rhythm and rhymes. and sorry for all grammar mistakes.
torn silence
much incredible things can be foreseen
hardly anyone can be warned
pillars of society, they waver
all the sick are getting blinder and blinder.
the spirit remains closed
until the truth tears everything down.
oh we have been lied to so often
nobody who has learned a lesson.
always listening well to the propaganda
until everyone rushes into the depths.
It goes down into the the wide opened pharynx
remains shuddering and unbelieving awaken.
and the silence is torn into pieces
mercilessly the noose pulls itself together
none wanted it to see it coming
life was so pleasant.
now it has an end after all
the turning point comes surprisedly.