SMART FUND - YOUR NUMBER ONE CRYPTOCURRENCY INVESTMENT PROVIDER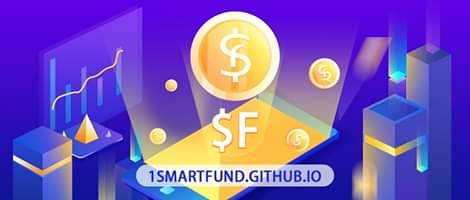 The introduction of cryptocurrencies has become a very big blessing. Since its inception in 2009, a lot of people have really benefited from this technology. Transactions are now very fast and much cheaper compared to other financial services. The blockchain technology itself has improved a lot of transactions and made life much easier. In the health, financial, education, data storage among others, blockchain technology has made transactions much faster and has removed all middle men, making people connect directly with each other. A lot of people who use cryptocurrencies have also made huge sums of money from it and have also contributed to the success of various projects.
Since then, a lot of projects have been coming up, all with the aim to solve specific problems already existing. The sad news is that, scammers have also taken this opportunity to design fake projects and run away with people's money. So it is very difficult to identify good projects these days. This has also affected project developers since they are not able to raise enough money to make their project successful. Because of the numerous number of scammers, countries have set rules to regulate the use of cryptocurrencies whiles some even ban the use of cryptocurrencies. In addition too, to select a project, an individual needs detailed information.
Most at times, the information about the project delays so much so that, the investor normally makes a wrong choice.
DAPPs are decentralized applications that are designed to use the decentralized system on lockchain technology. They make this technology more accessible and widely used. The smart investment ecosystem is designed to use Smart Fund and other DAPPs to solve these existing problems. It is a clearly decentralized system which uses voting, investing in other DAPP projects to make profit.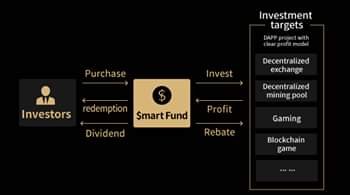 SmartFund is introducing a smart investment ecosystem which has eight specific characteristics, targeted to solve this particular problem.
Individuals on the platform can make proposals, vote and invest very simply. The whole process is decentralized and also automatic.
All the profits made are DAPP based and uses the Ethereum smart contract.
SmartFund token holders are assured of enjoying profits that with holding the coin.
Token holders can also stack their tokens to enjoy more dividends
The change in price, purchase limit as well as redemption limits are all automated processes.
Whenever an individual invites someone, the invitee enjoys discount whiles the inviter enjoys invitation incentive.
Price difference is used t monitor the arbitrage and when it disappears, money can be withdrawn with no charges.
Token holders can also vote to take part in decision making on the platform
SmartFund will provide the best investment solution. Investors can get adequate information needed to make investment decisions. They will not have to worry about which project to choose since we will recommend good projects for them to invest in.
Find out more about our project on these platforms
Website: https://1smart.fund
Facebook: https://www. Facebook.com/onesmartfund
Twitter: https://twitter.com/fund_smart
Telegram: https://t.me/onesmartfund
Medium: https://medium.com/@1smartfund
Author
My Bitcointalk profile link: https://bitcointalk.org/index.php?action=profile;u=2067551
Ethereum wallet address:
0x2Ec8f1276017884e779f62E4c45dc561da34092C