Steemit Sandwich Contest Week 89 - Blueberry Herb Breakfast Sandwich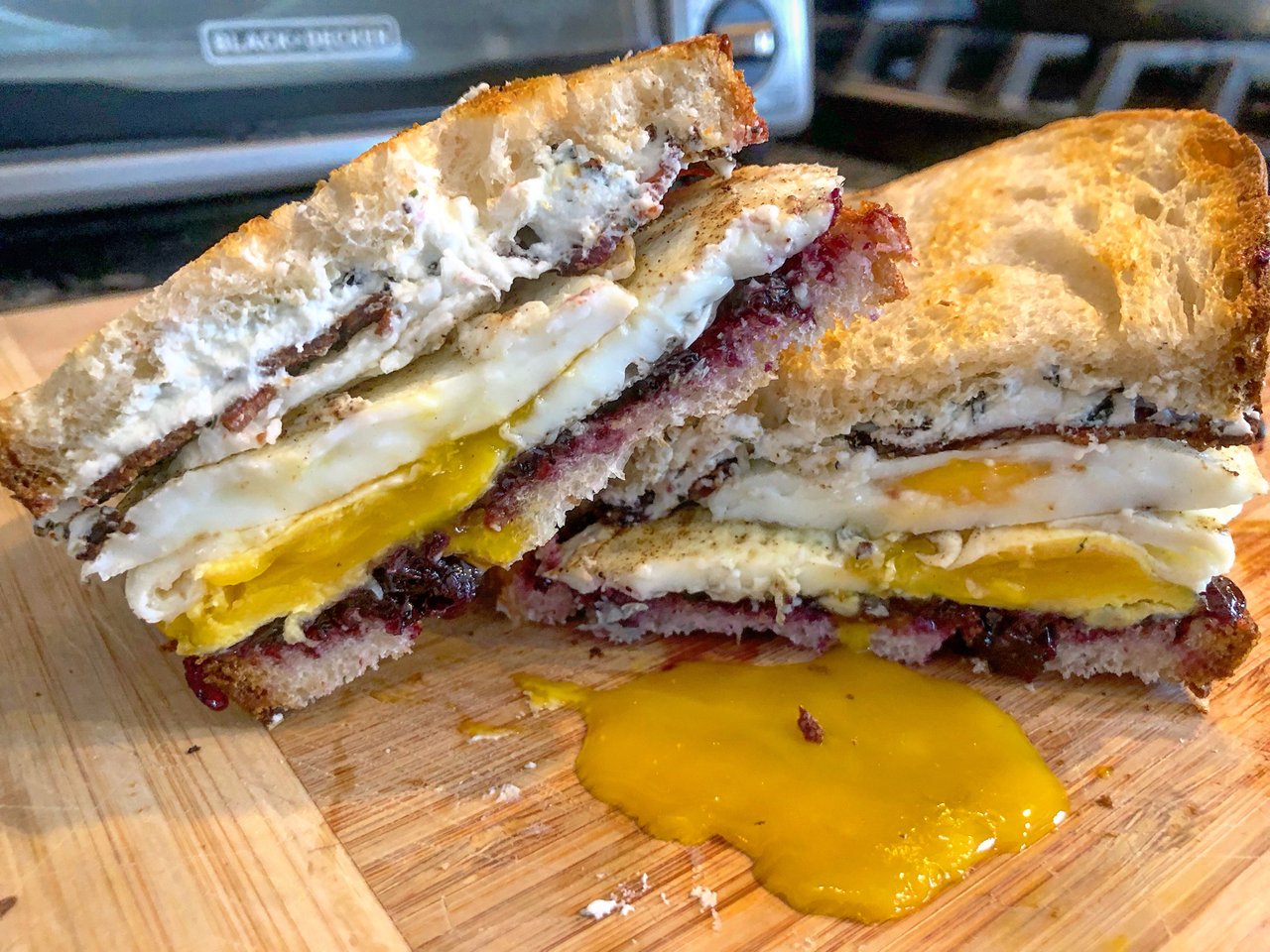 Blueberry Herb Breakfast Sandwich
Steemit Sandwich Contest - Week 80
This week I am back in the #SteemitSandiwichContest hosted by @jaybird. It has been a solid 9 weeks since I last shared a sandwich, so here we are with a great one. Today I made a "Blueberry Herb Breakfast Sandwich". It's honestly one of my greatest creations. The flavors are immense and jive wonderfully. If this was sold at a restaurant, it would definitely be a big hit. Consider this post a STEEM-patent for the recipe...
Ingredients
2 Slices of Country White Bread
2 Eggs
Herb Goat Cheese
3 Strips of Black Pepper Bacon
Blueberry Jam
Salt/Pepper

Step 1: Fry the Bacon
Fry up a few slices of bacon until nicely crisp.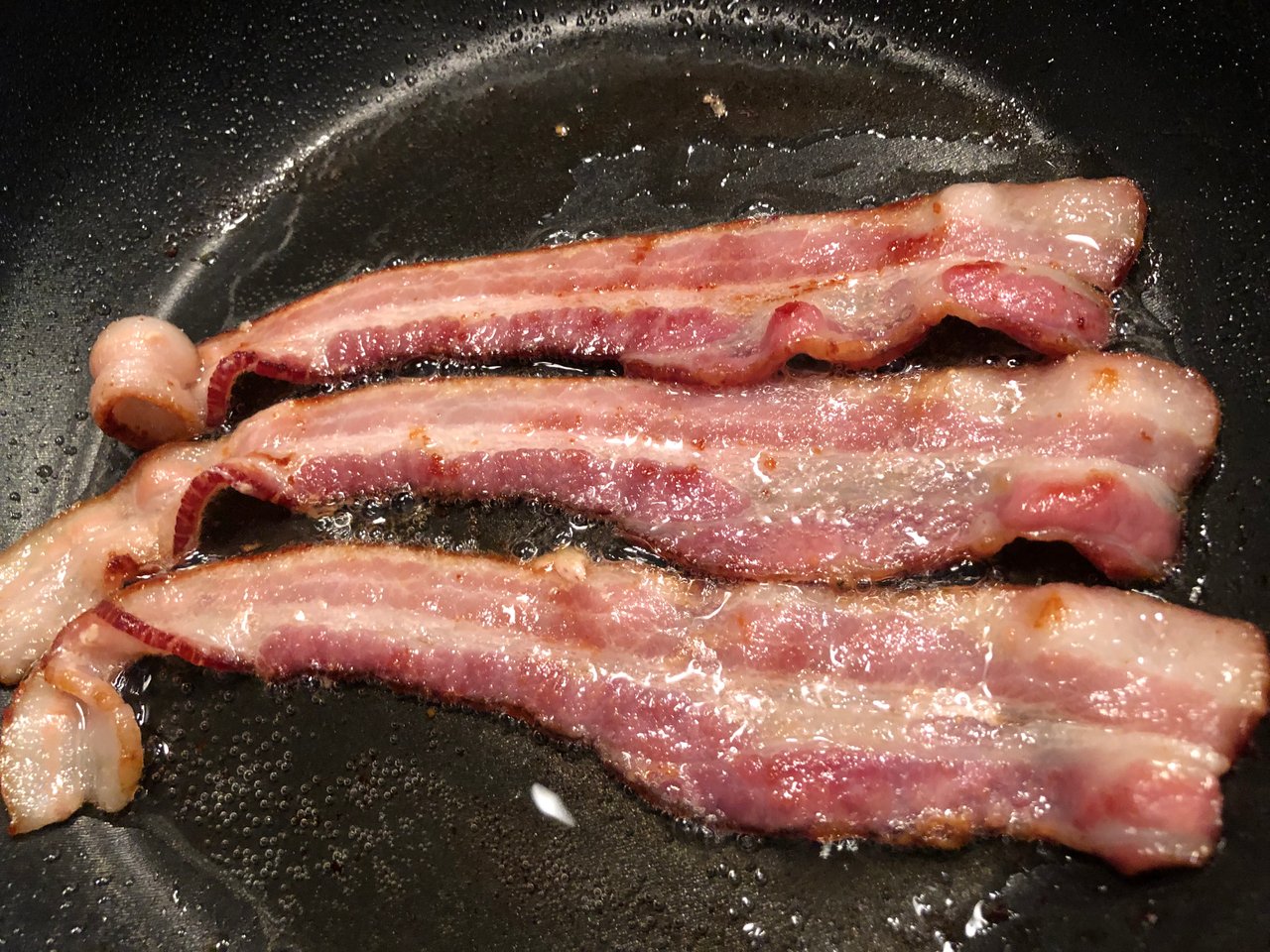 Step 2: Fry the Eggs
Fry up two eggs. I prefer my yolk nice and runny, so I make them over-easy/over-medium style. Put some sea salt and black pepper on top. Once you get the eggs on the pan, you can begin toasting the two slices of bread.

Step 3: Spread Goat Cheese
Spread some Herb Goat Cheese (from Vermont Creamery) onto one side of the toast.

Step 4: Spread the Jam
Spread some blueberry jam on the other slice of toast. Be liberal with the jam and goatcheese!

Step 5: Back in the Toaster
Place the loaded toast slices back in the toaster for a minute to warm the goat cheese and jam.

Step 6: Add the Bacon
Smoosh the bacon slices into the melted goat cheese.

Step 7: Load the Eggs
Place the eggs on the jam side.

Step 8: Top It Off
Put the two sides together and get ready for an amazing sandwich.

Step 9: Enjoy!
Dive in and enjoy this unique and tasty breakfast sandwich. From the sweet blueberry jam to the creamy, tangy herb goat cheese. This has an amazing flavor profile. The crispy and savory black pepper bacon is the perfect finish. A one of a kind meal that will leave you wanting another.

Find out more about the Steemit Sandwich Contest
Follow @jaybird for more!

Lemongrass & Ginger Sausage Sandwich
Triple Decker PBJ + Banana
Spicy Meatball Madness
Philly Cheese Steak Sliders
The Chicken Bacon Mac
Winter Meatloaf Sandwich
Triple Onion Cheeseburger
Crispy Cod & Cheese
Bacon, Egg & Cheese Crumpet
Truffle Pepper Bacon, Egg & Cheese on Rye
"The Brown Goat" Breakfast Sandwich