#174 Follow Me to the Ancient Theatre of Taormina ⛰🌅 | 爬山去看西西里的古剧场
Hey my Steem friends, how's it going? It was snowing a bit here in Belgium. I had enough of the coldness, and just booked a flight to the island of Sardinia. Woohoo~ 🎈 Hopefully it will be warmer and sunnier there. If not, I will still enjoy the pure joy of traveling in plane and exploring a new destination! 😃
Have you visited Sardinia? Tell me your experience if you have. 🙂 It reminds me of my solo travels to another island of Italy - Sisily. It was also in February. :) So today I'm sharing some views I captured in Taormina on Sisily island.
I took a local bus from Catania to Taomina to visit this well-known ancient theatre. From the town, I started to walk uphill. It was a beautiful hike. On my way, the cone of Etna volcano could be seen in distance, shrouded in fog and cloud from time to time. After passing loads of cacti and gravelstones, I reached the hilltop where the theatre spreaded before my eyes.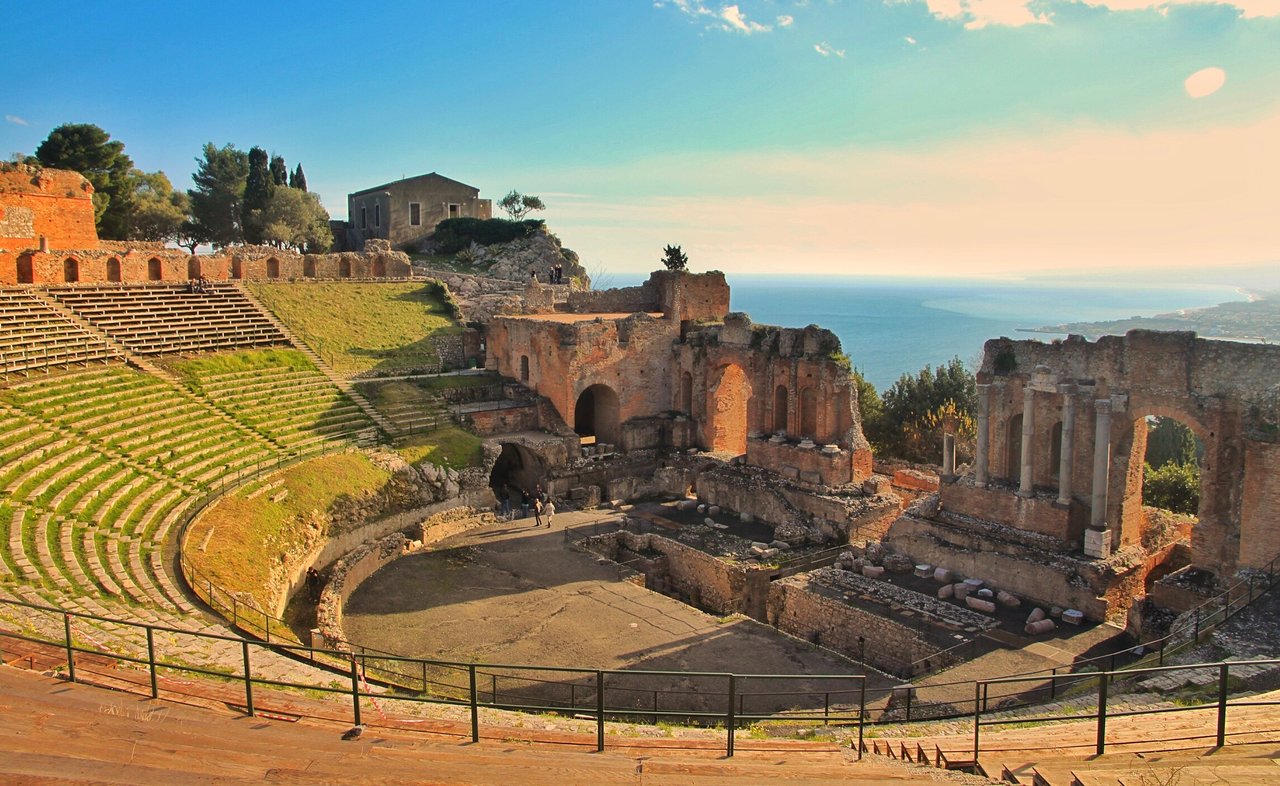 The theatre's construction was started by the Greeks around the third century BC, and later it was renovated and expanded by the Romans. This well preserved archaeological wonder is located in an amazing natural setting, with spectacular view toward the Calabrian and the Ionian coasts, and you can have a clear view of the famous peak of Etna if weather permits.
It is a place that easily brings people back to the ancient times. It was winter time, so it's pretty quiet, with around 5 visitors in total. I sat on the step half buried by green grass, facing the vast blue sea and imagining how people in the past was watching those grand shows here. Must be quite an experience, isn't it?
Later, on my way back to town, I arrived at a viewpoint at sunset, lucky me! So I got to see this splendid scene in the head image. 🤗 Hope you enjoy this view as I did!
---
大家好~ 不知你那里天气如何?比利时这里继续阴冷,今天还飘起小雪,想想去年这时候还在酷热的澳洲暴晒。。。造化弄人。。。我决定暂时逃离,下个月假期飞去个暖和点的小岛过年。一通搜索后,很快订下去意大利撒丁岛的机票。几年前的2月也是飞去了地中海的马耳他和意大利的西西里岛。今天分享的就是在西西里岛的小城陶尔米那爬山去看古剧场(第二张照片)的经历。第一张照片里是黄昏时下山途中拍的海景。
All content by @itchyfeetdonica
图文 by Donica多
---
Thank you for visiting! Please tell me what you think. Exchange makes change!
If you like my content, please support me by commenting / following / upvoting / resteeming.
感谢来访!你的关注/点赞/留言/转发就是对我最好的支持~ 下次见!

---
Here are some of my travel shots. Check out my posts on Steemit World Map, and follow me for more adventures around the globe!
下面是我的一些旅途摄影。欢迎查看我的Steemit世界地图,跟我一起环游世界~!