[ParallelPlay] AAR HoIIV: Soviet Union #7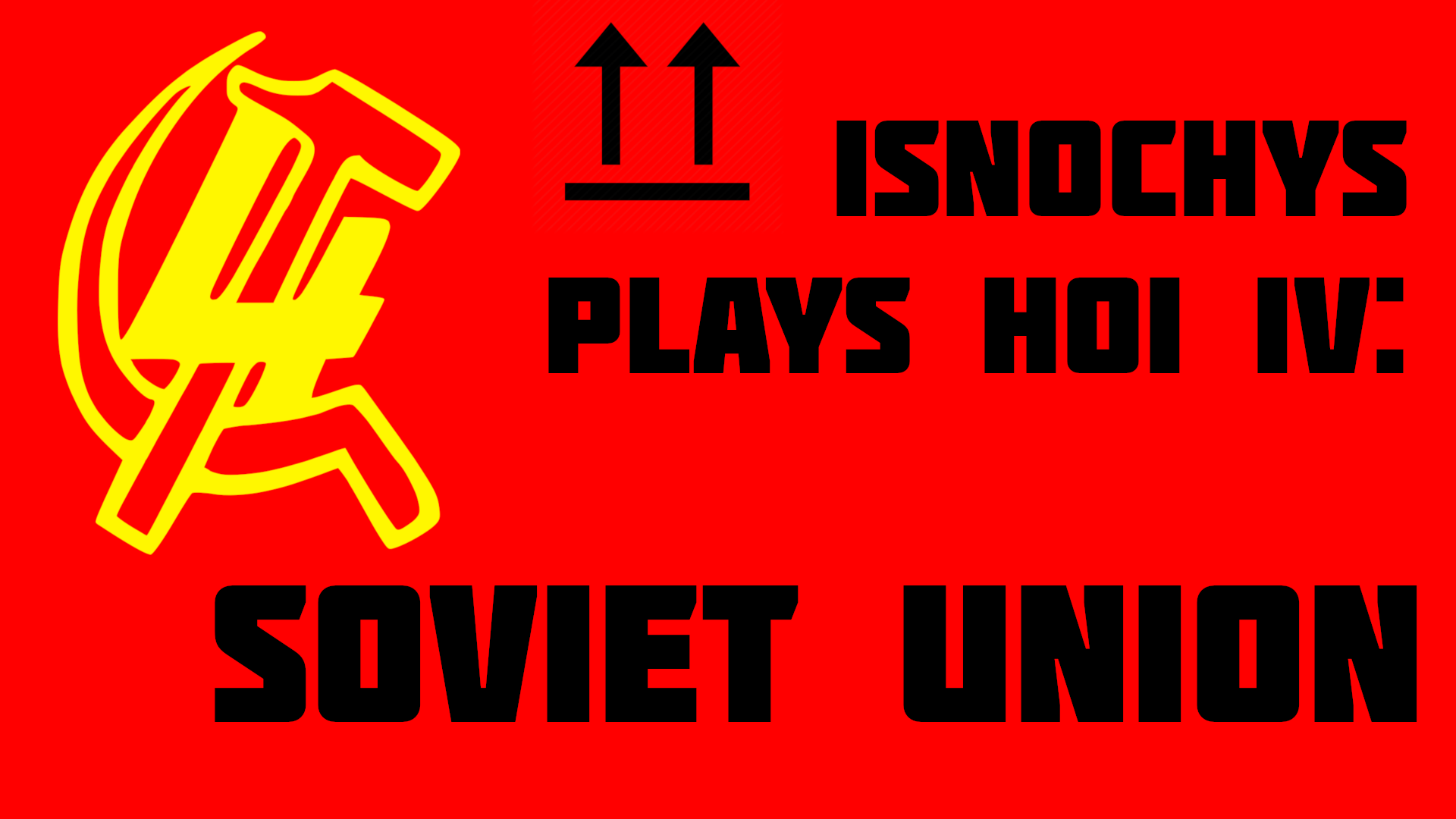 Finally!
Peace in our time episode!
The world revolution is a success.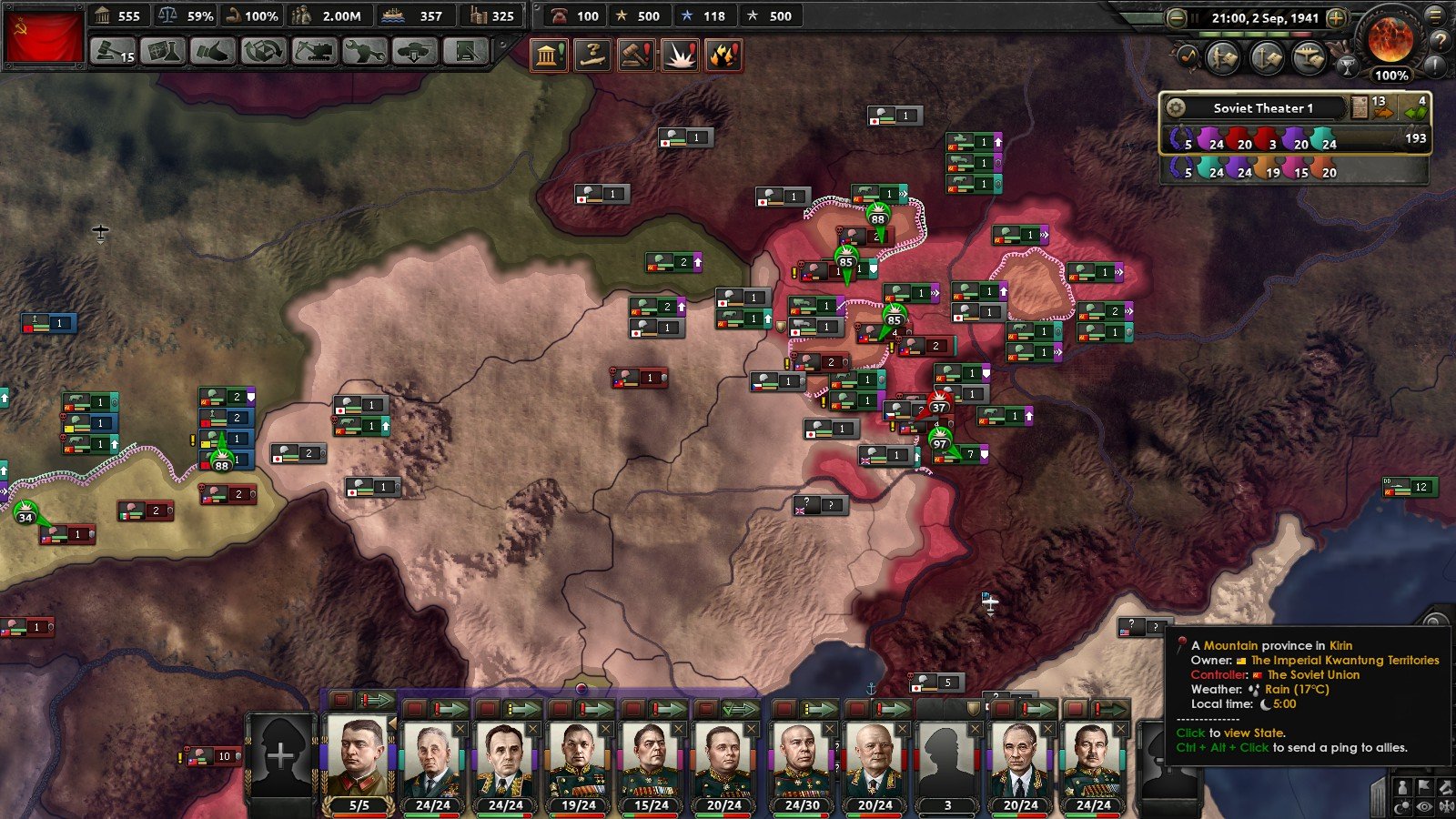 Japan took a bunch of land there, but helped a bit in crushing enemy force.
Hammer and anvil style.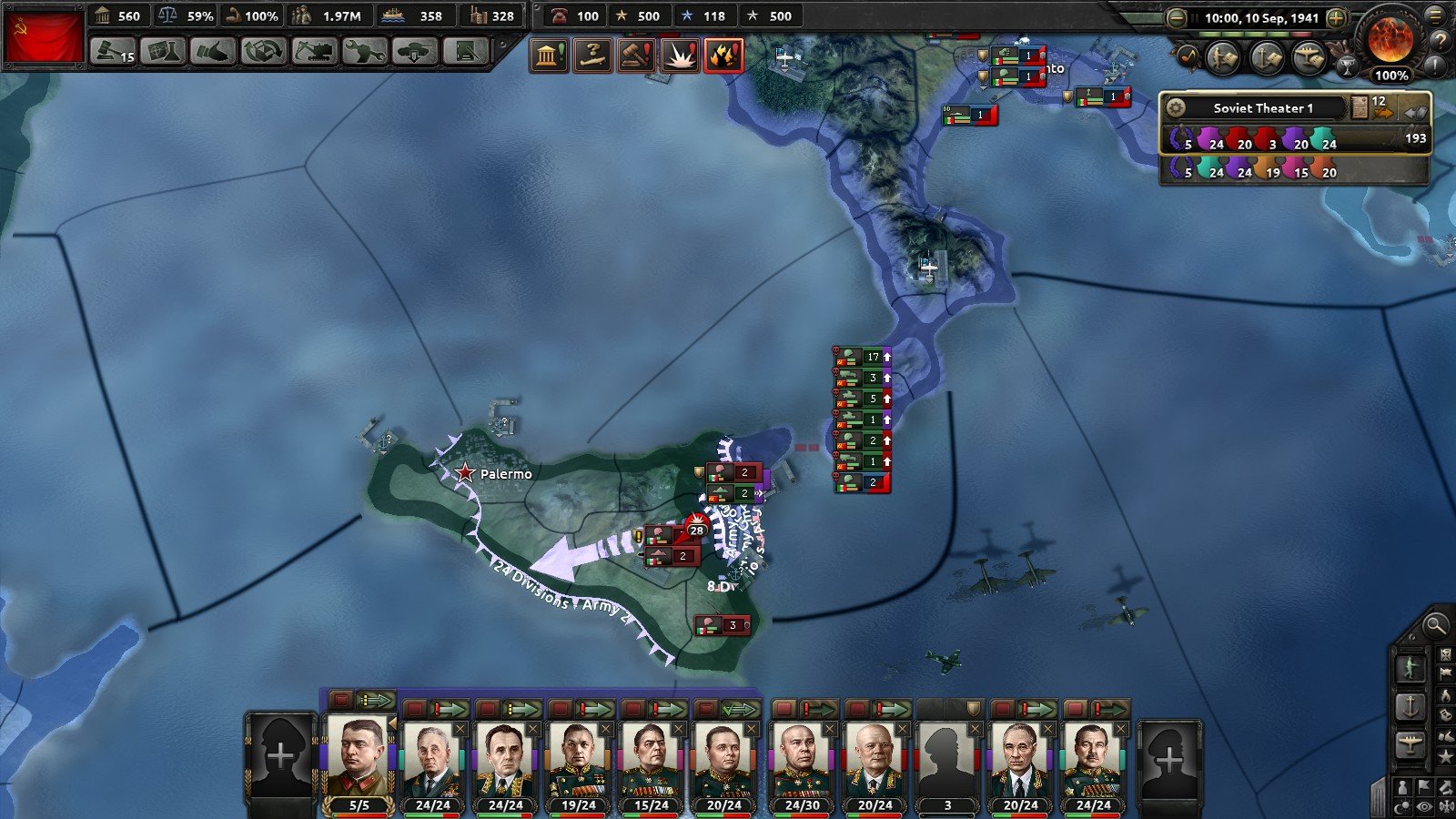 Let's have a nice foothold on the beautiful island of Sicily.
Just after that, Italy surrendered.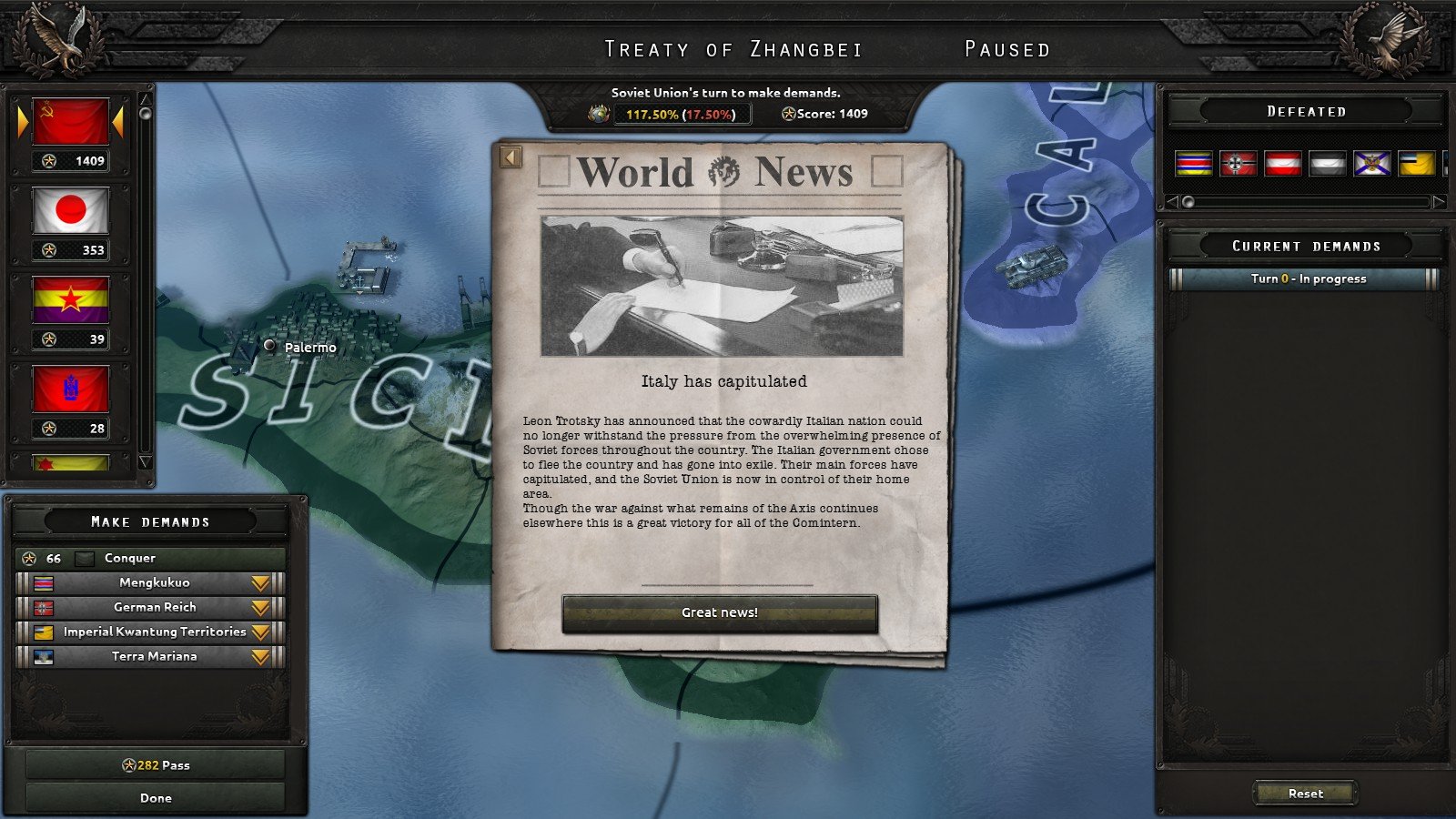 And peace talks started.
We were generous and didn't take any land.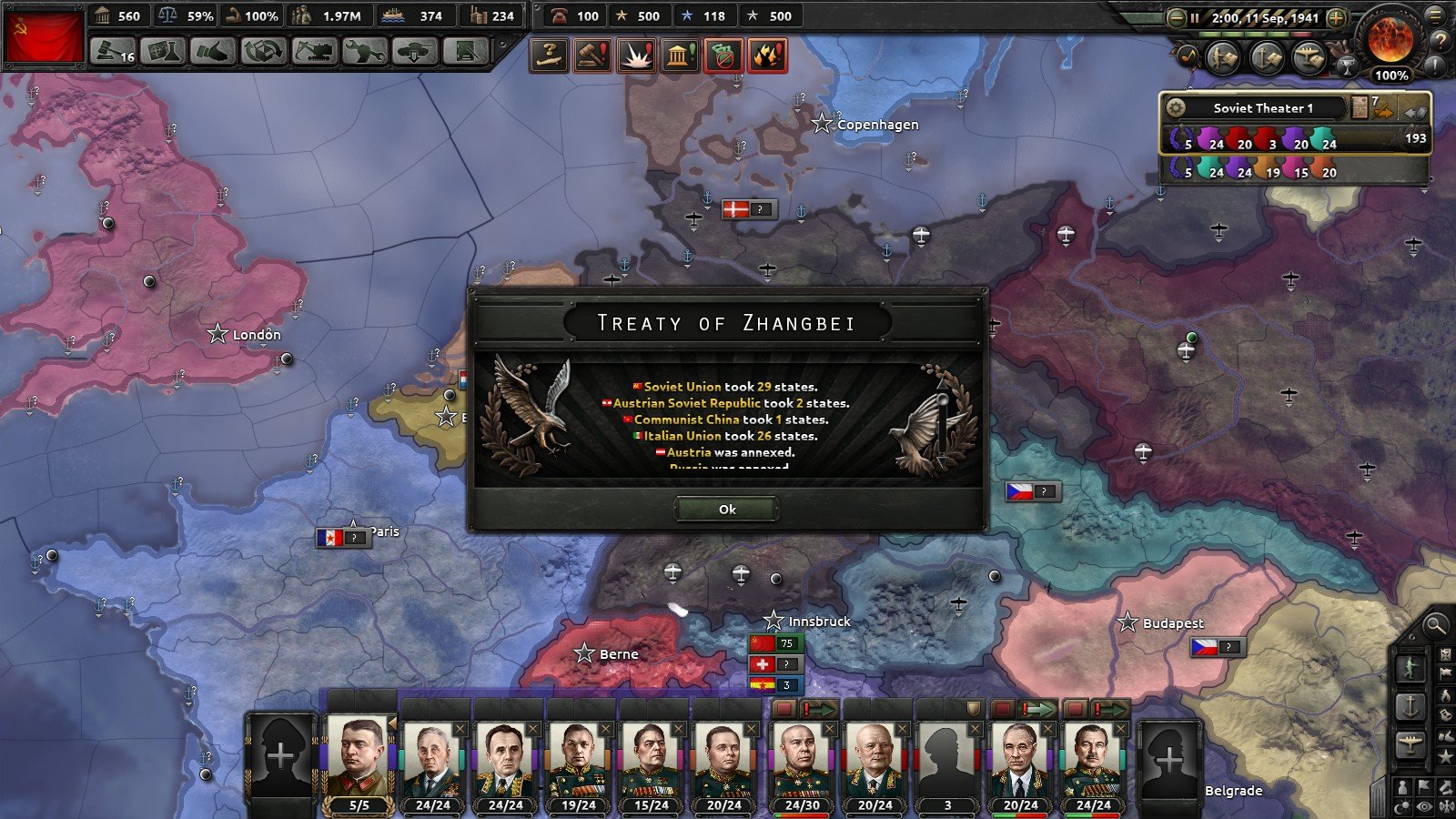 Quite the opposite!
We are embracing all our former enemies and let them be puppets of our glorious nation!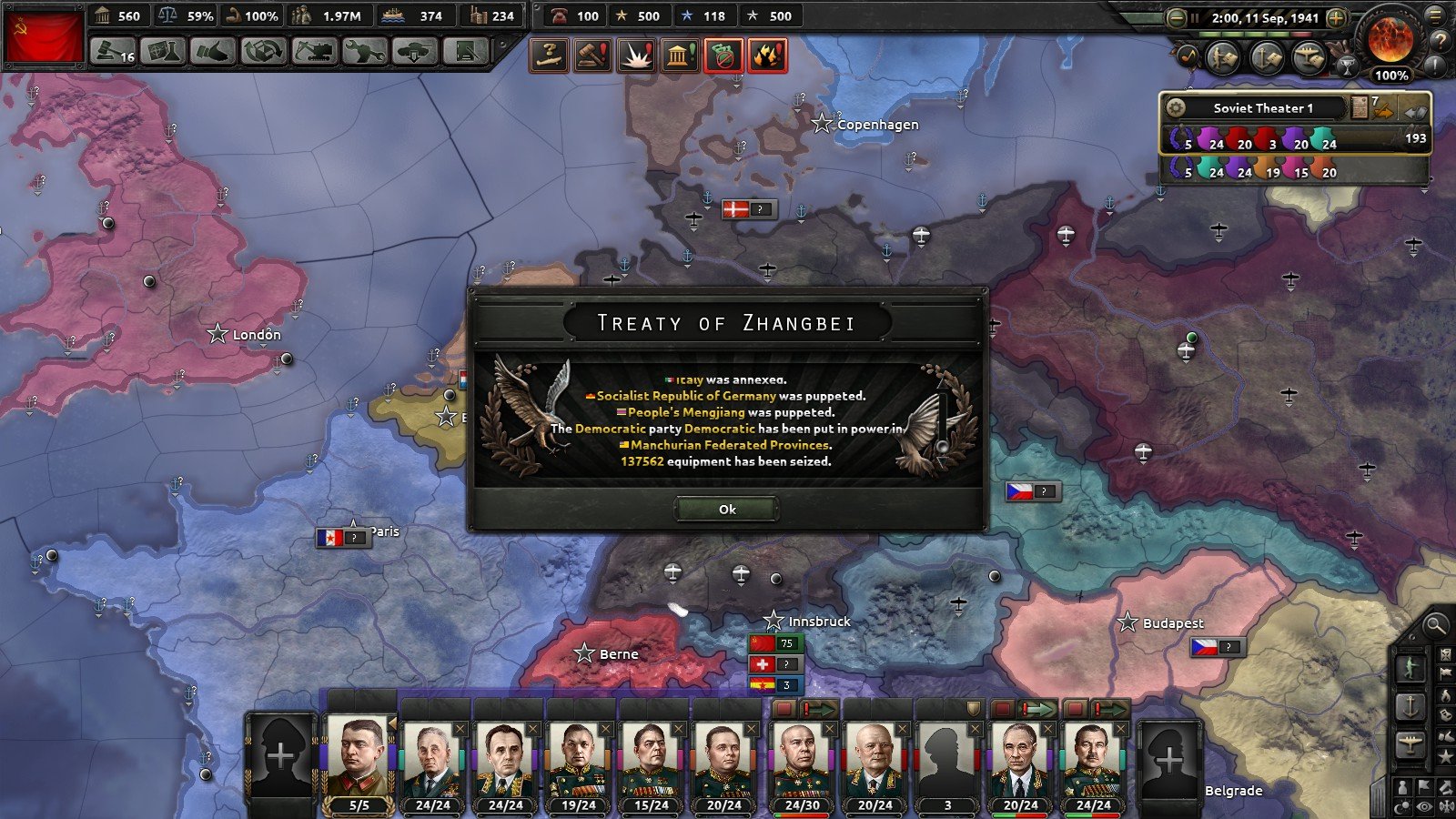 Italy is now our ally, so is Austria!
We fought well together.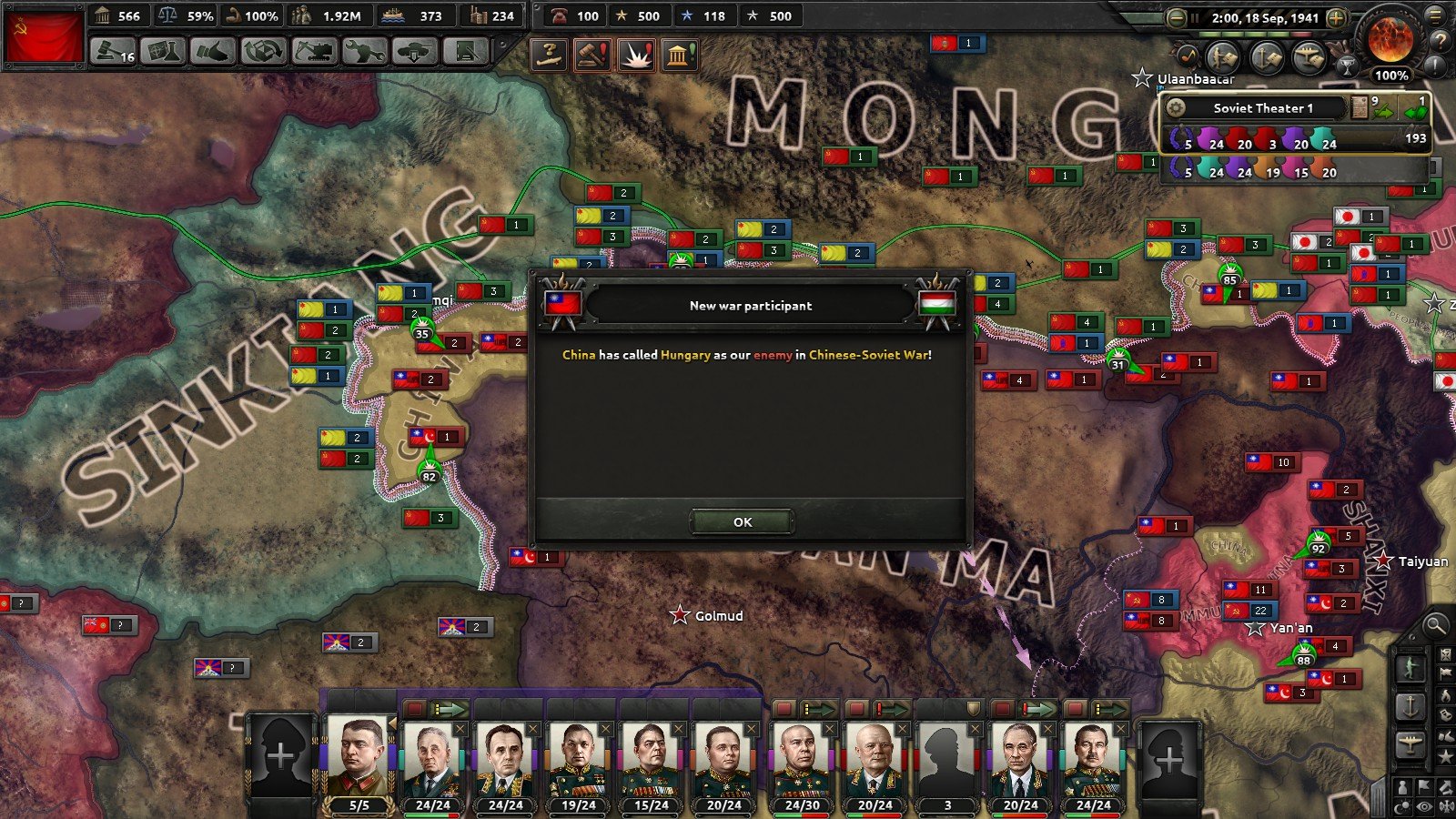 But the war never stopped in the East.
China is still holding strong.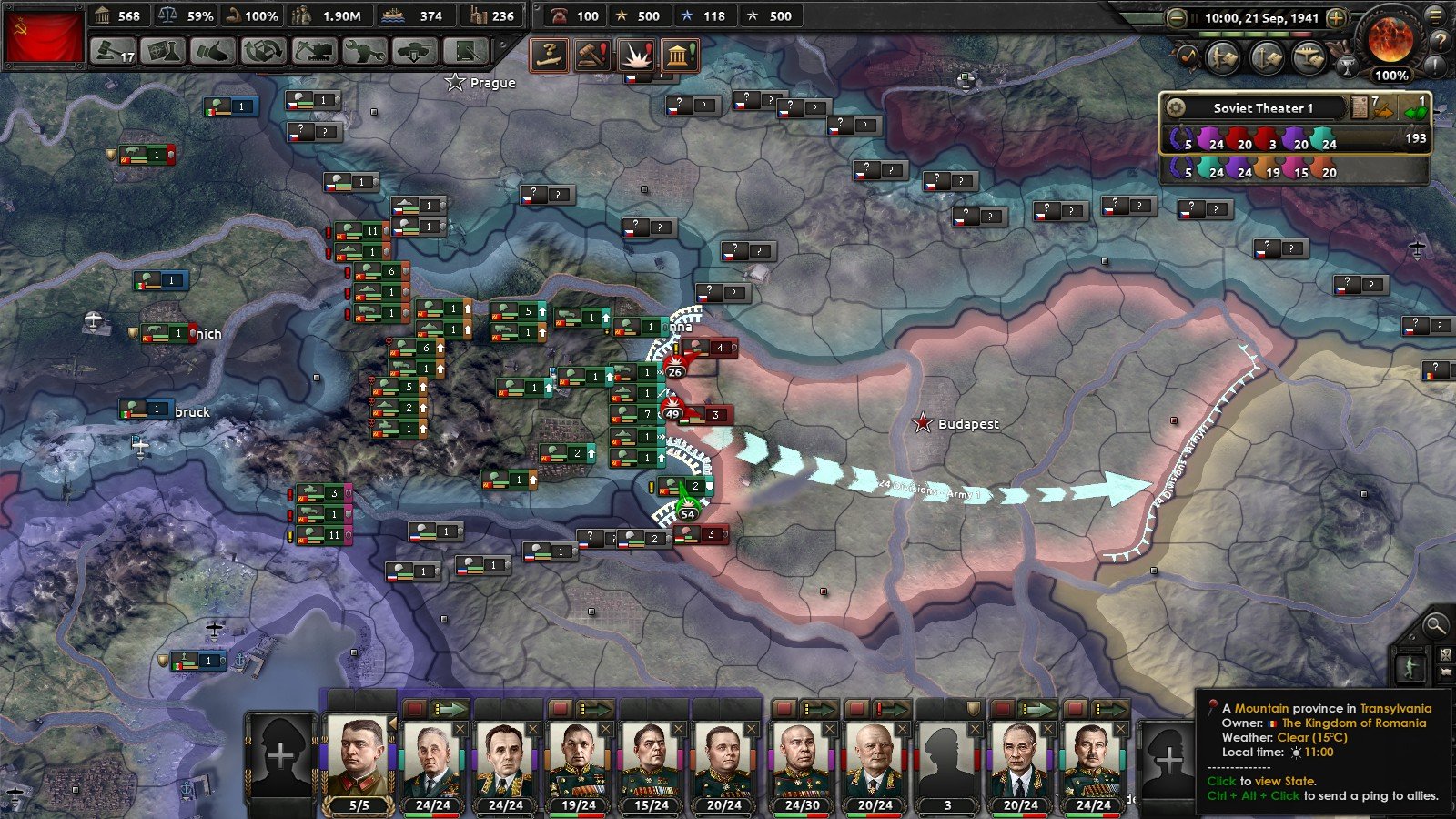 And of course Hungary didn't surrender.
Still trying to get a hold on Austria.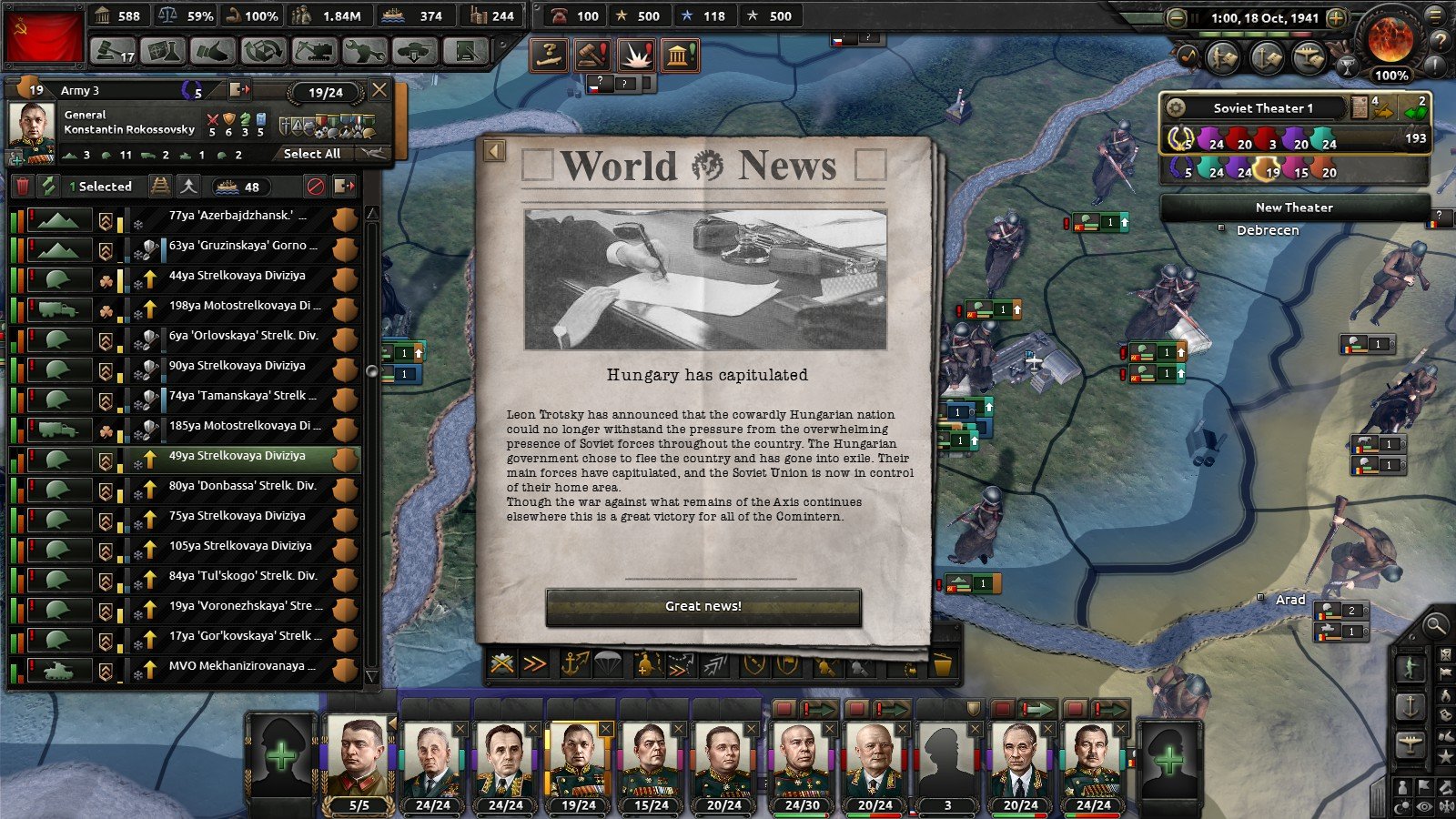 But after one month with barley a full army, we got them into peace talks.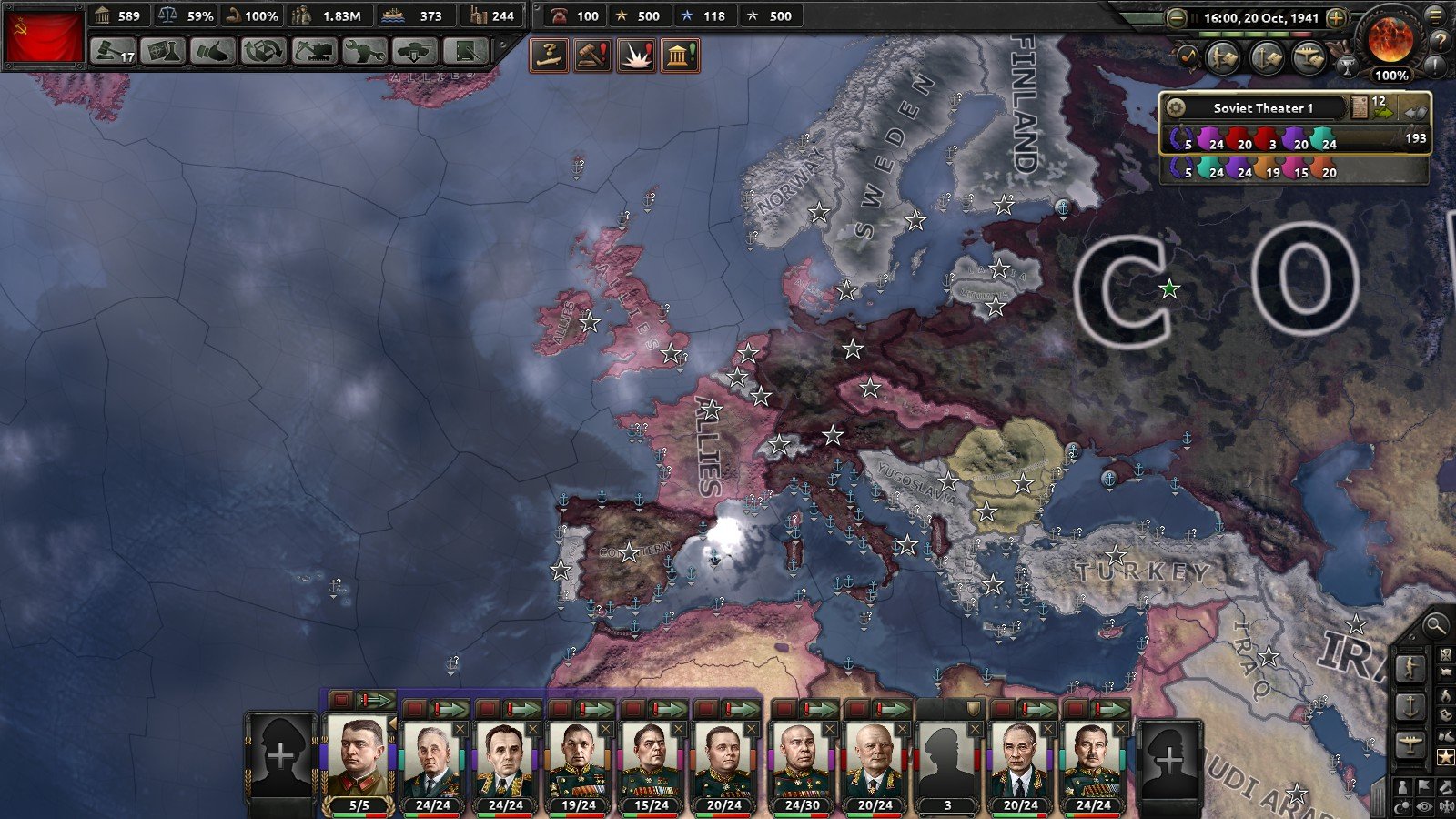 The West is quiet.
If I would continue and attack the allies, 1 army for Czechoslovakia, 3 in Spain against France, also one in Italy and one in Germany.
They wouldn't hold out long.
But of course UK with their navy is not easily defeated.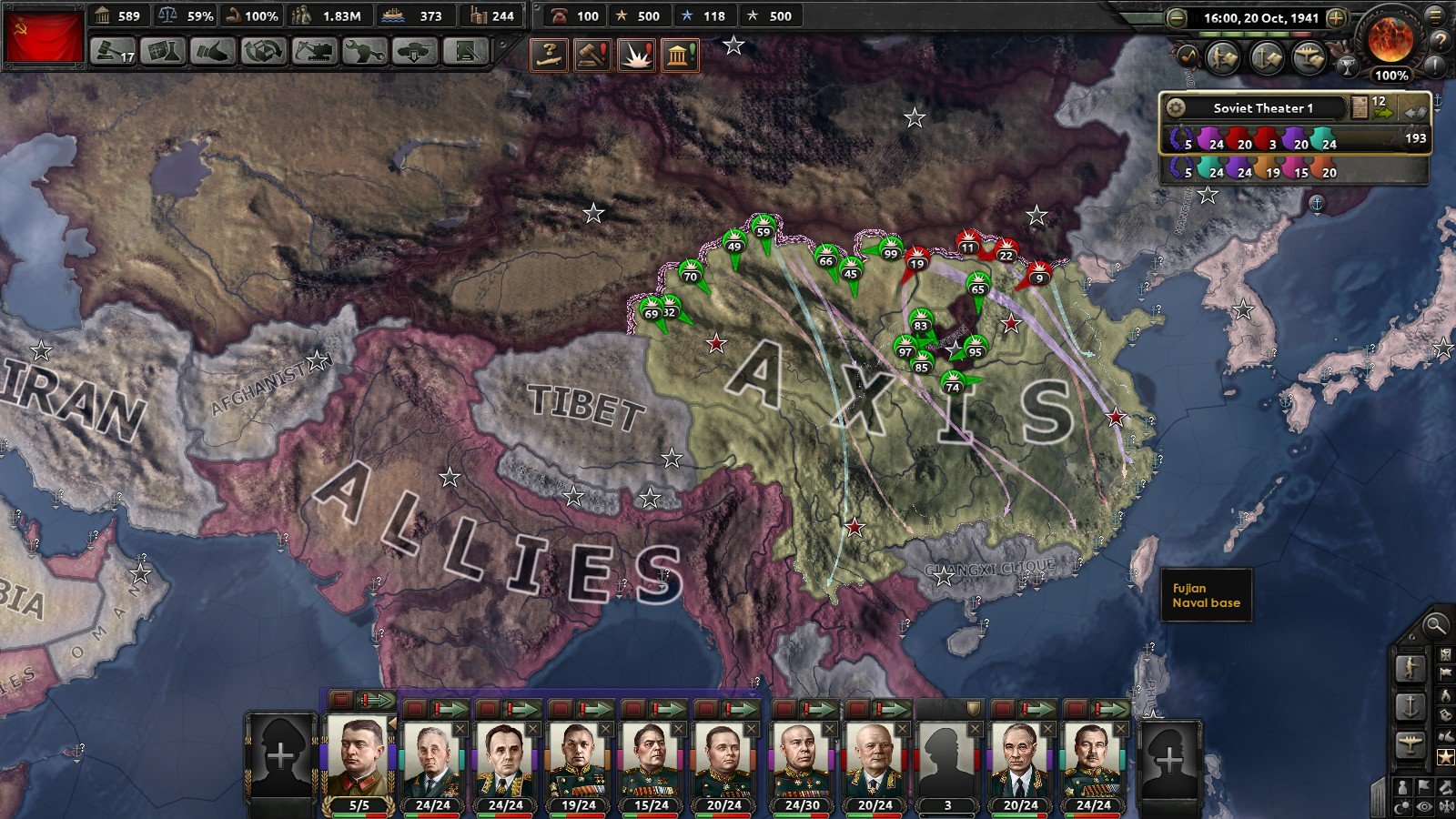 With our troops relieved in the West, we can focus on the East.Japan did not Enter the newly formed fronts here.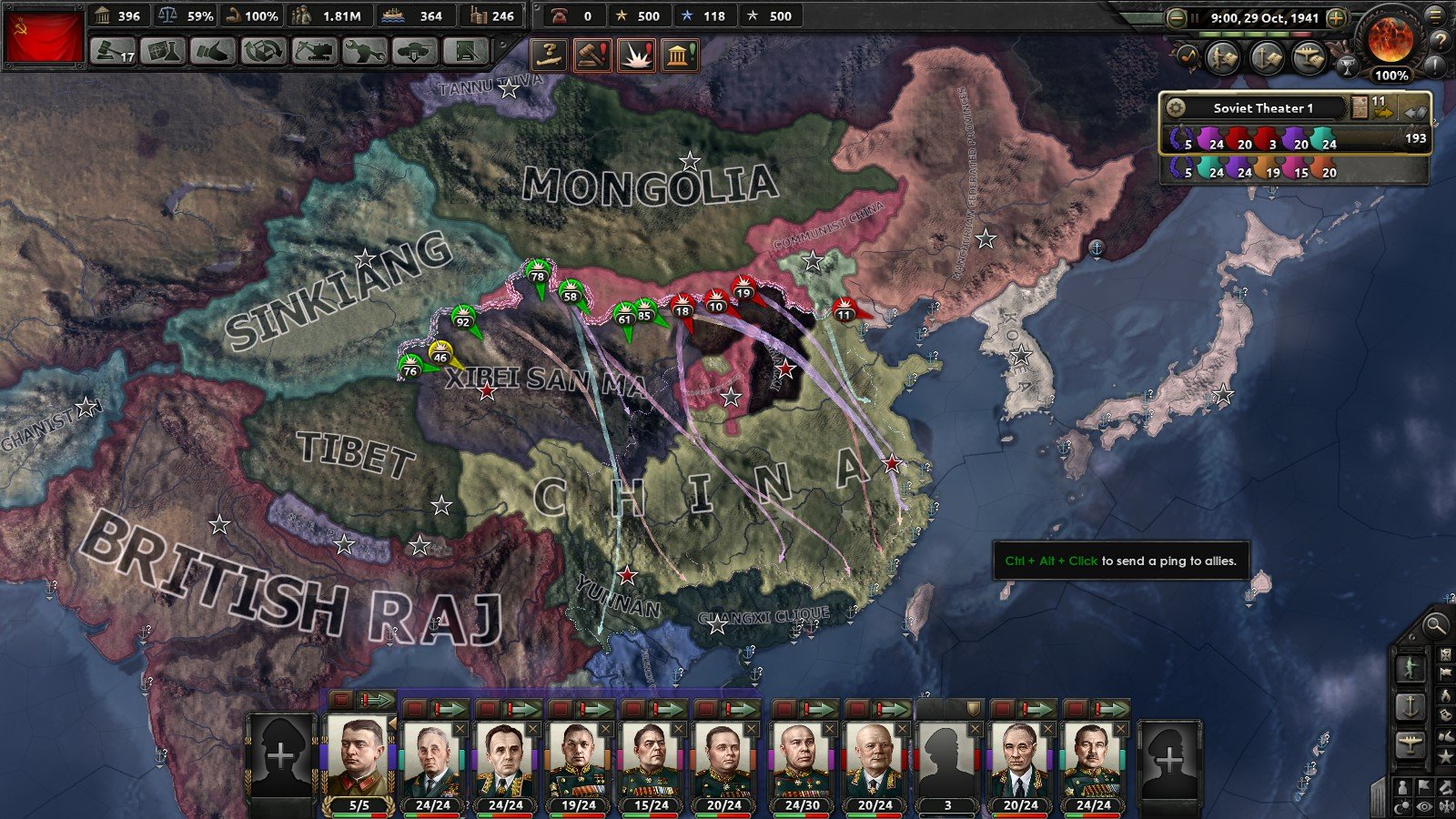 After one week, we already made some progress into China.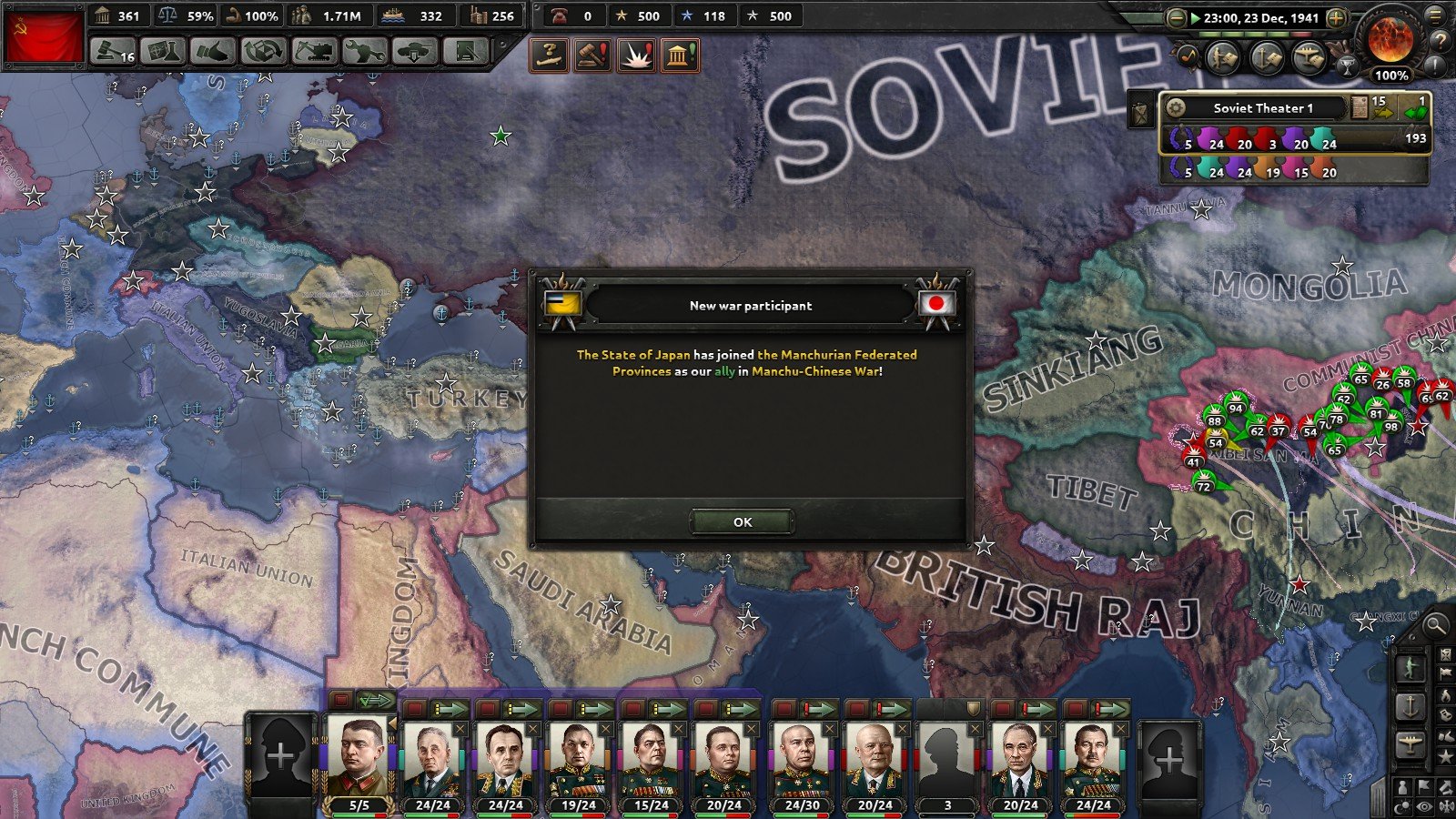 2 months later, our troops stay strong and are pushing forward step by step, Japan declared war on China again.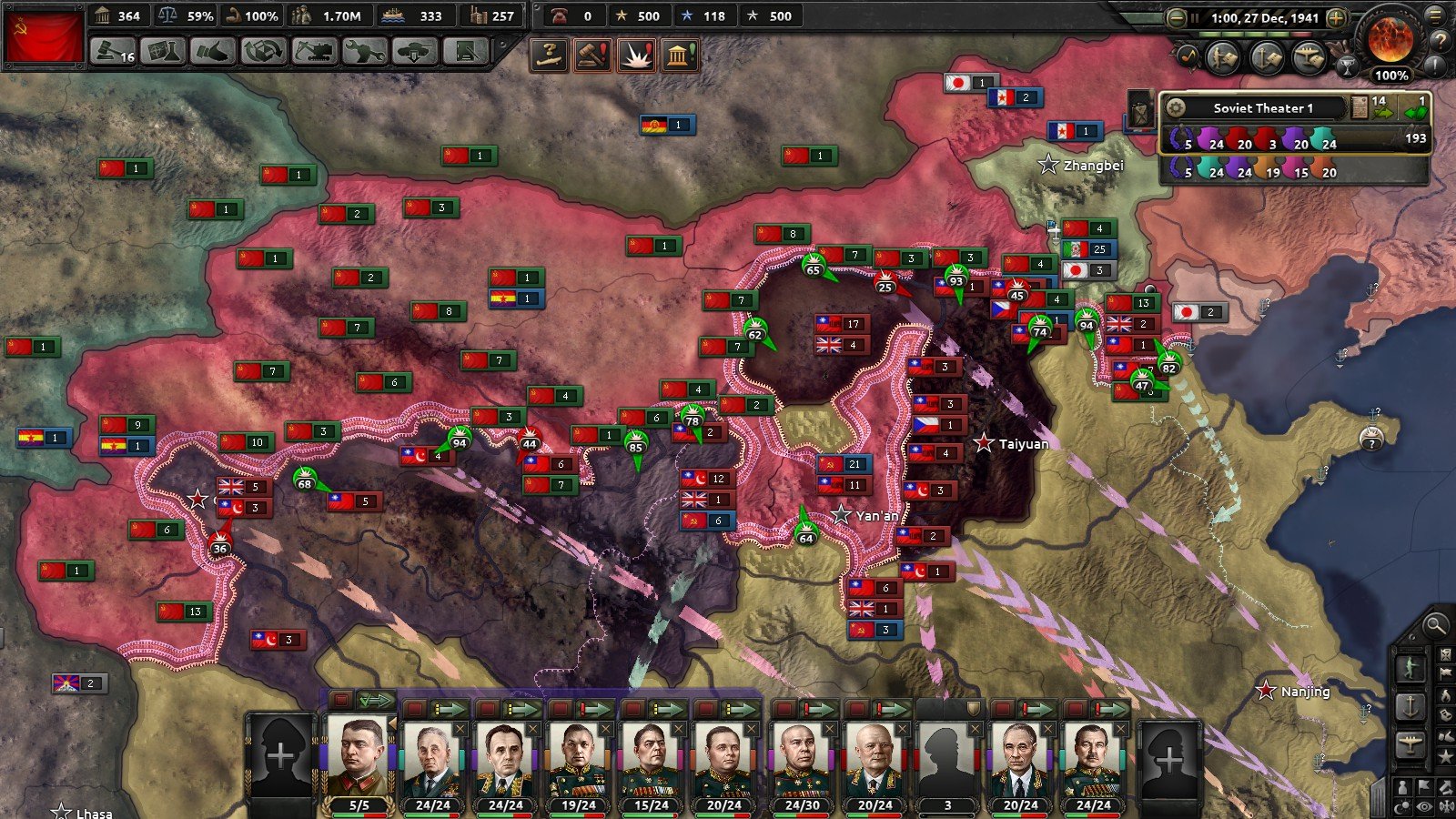 Beijing is in Communist hands and we have a small passage to our Friends and Brothers in Communist China.
That way we can push forward together!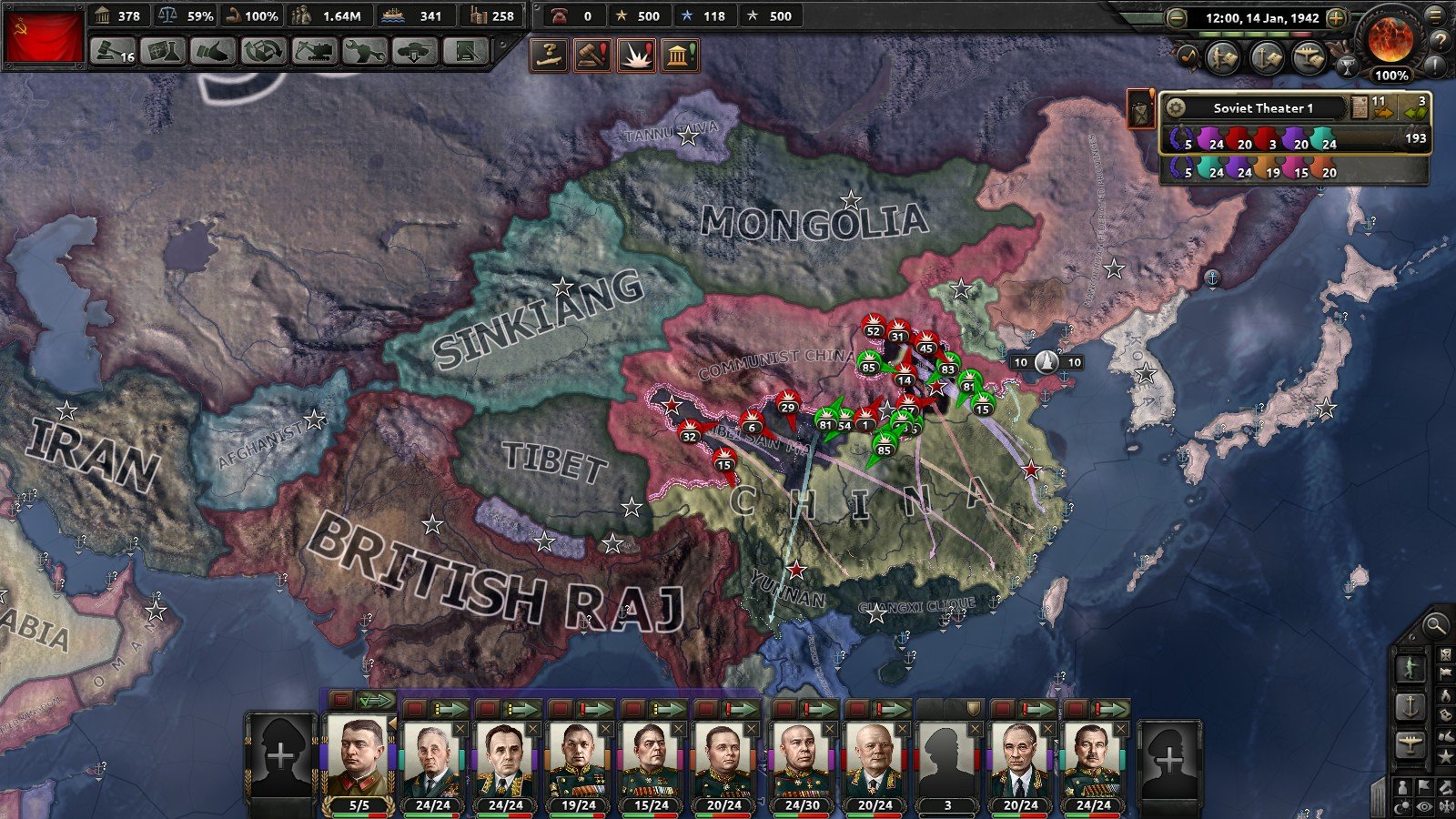 While troops from the west are still rushing in, we decided on our battle plans.
As usual, we are using the famous criss cross pattern.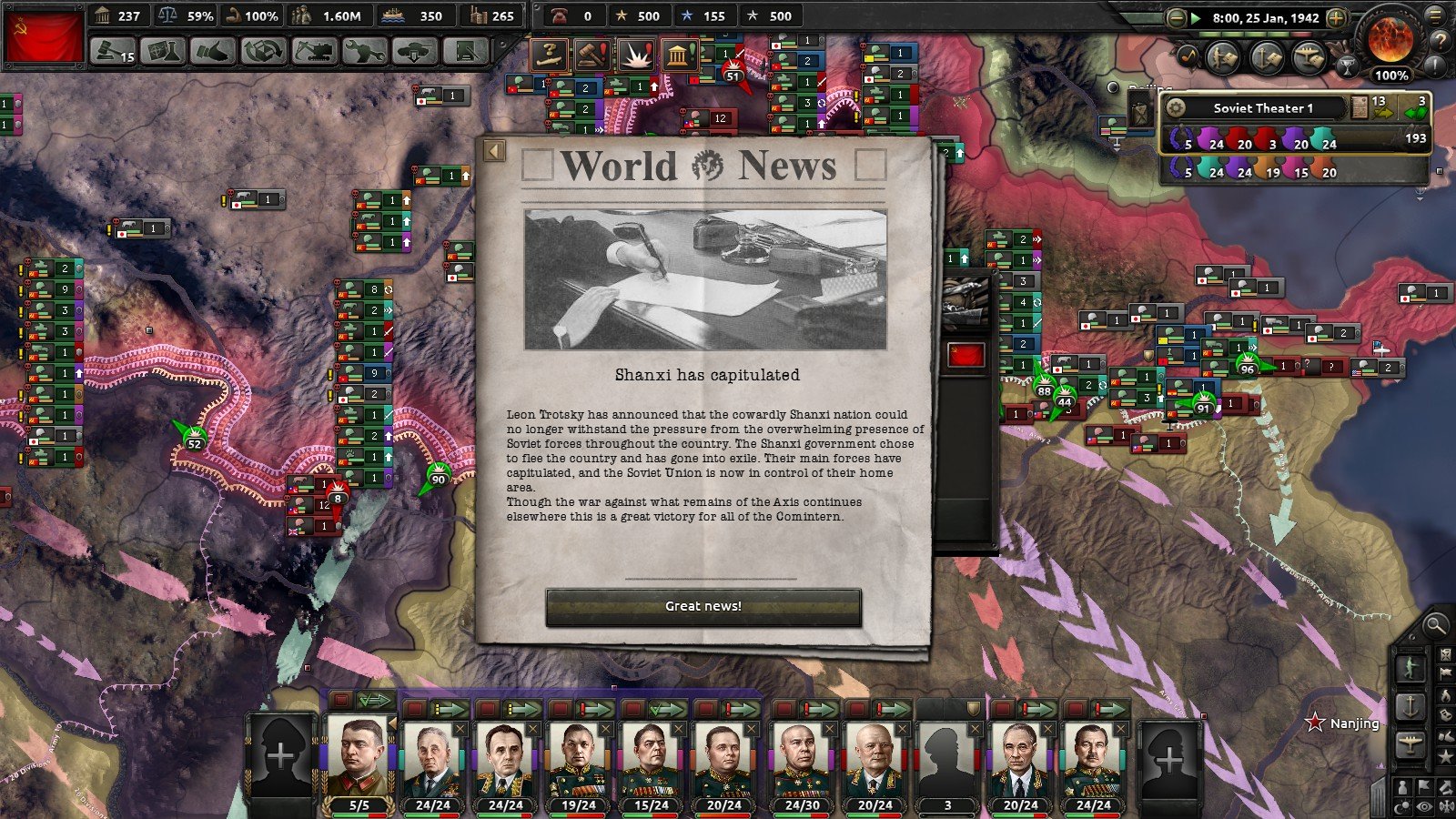 Shanxi doesn't hold onto our pressure and surrenders.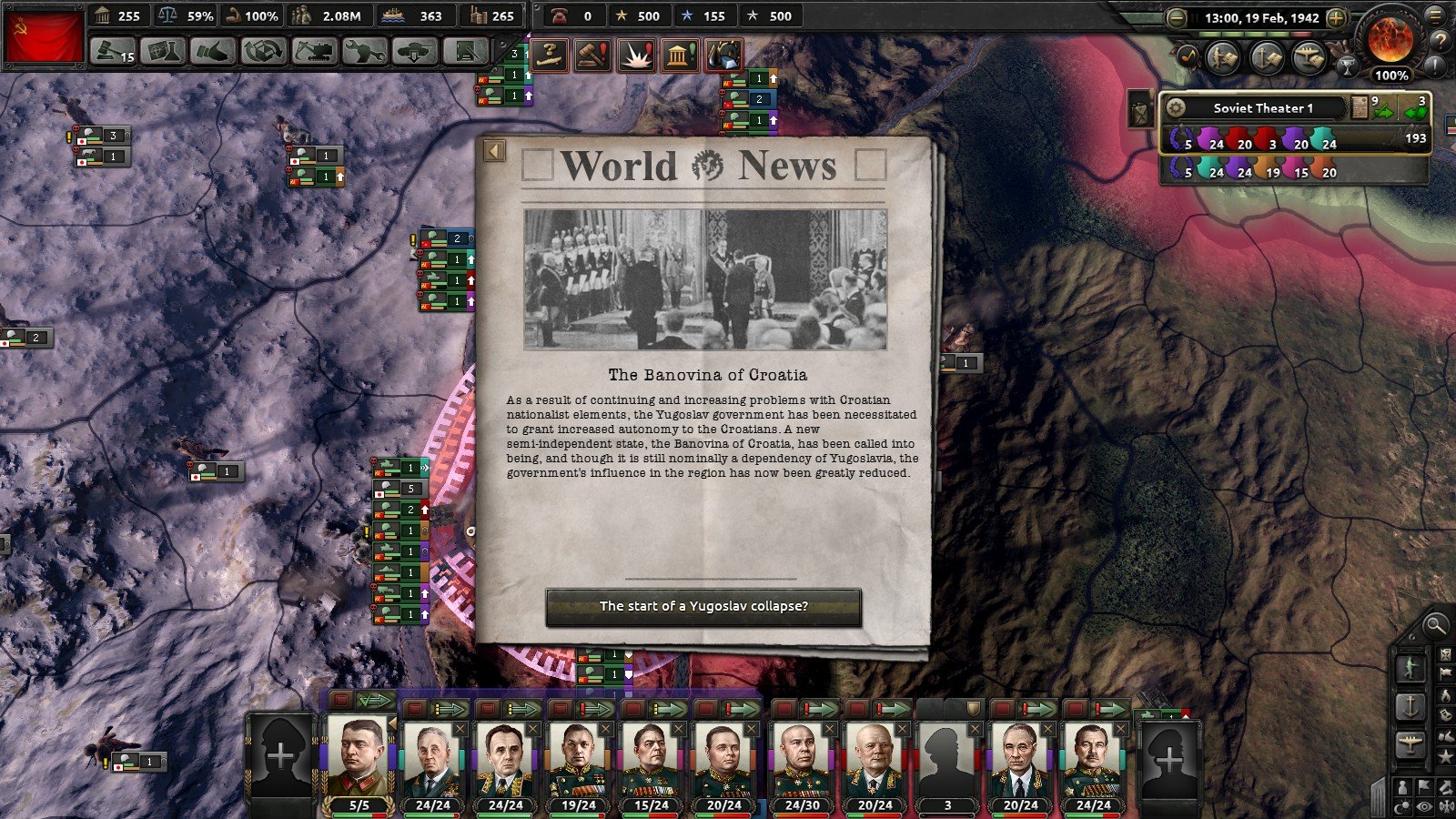 If we would still fight in the west, this would have been interesting, Yugoslavia releasing Croatia as puppet.
But right now it is of no interest.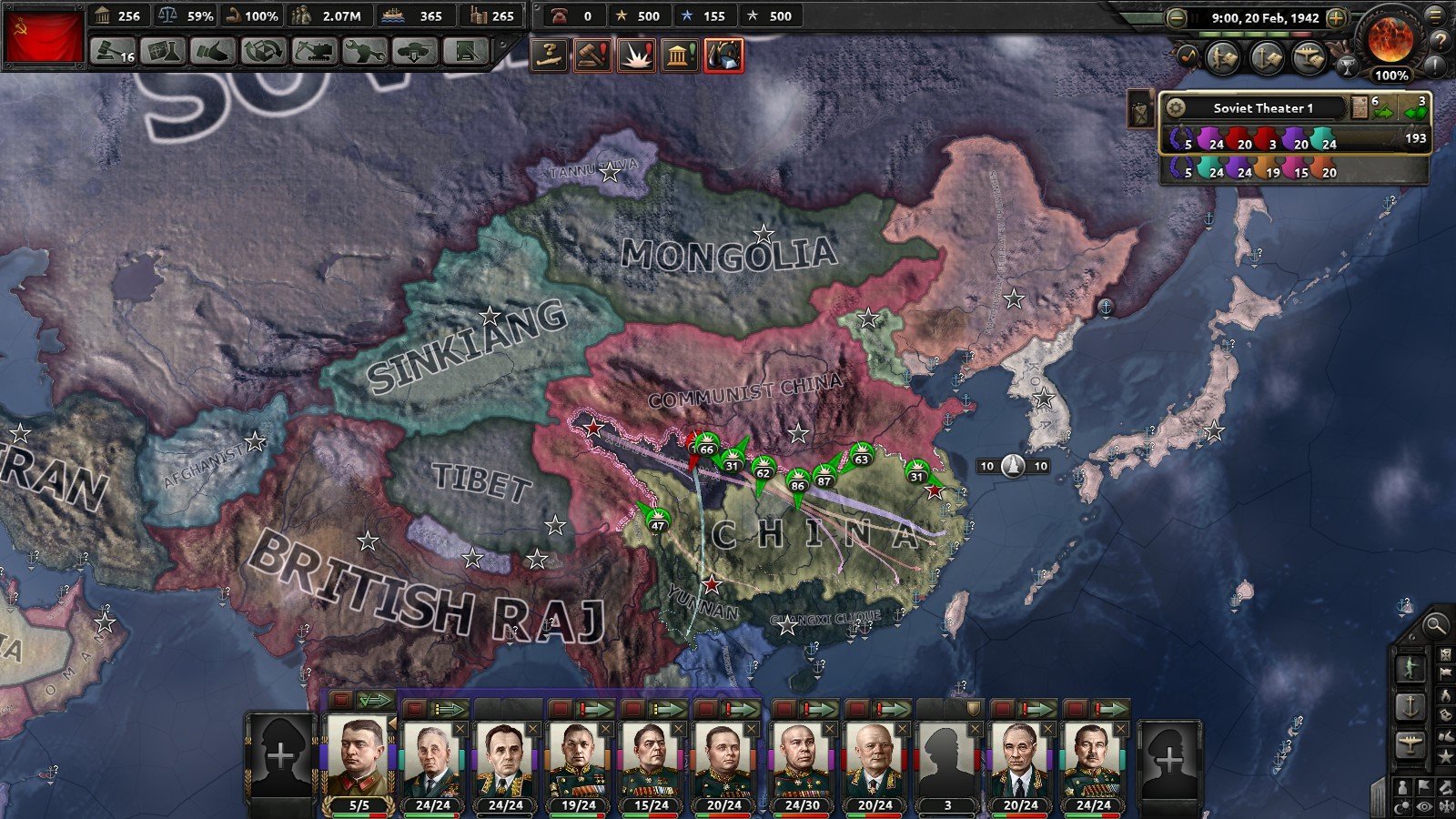 Let's have a last look onto the remaining battle fields.
It doesn't bode well for the Axis.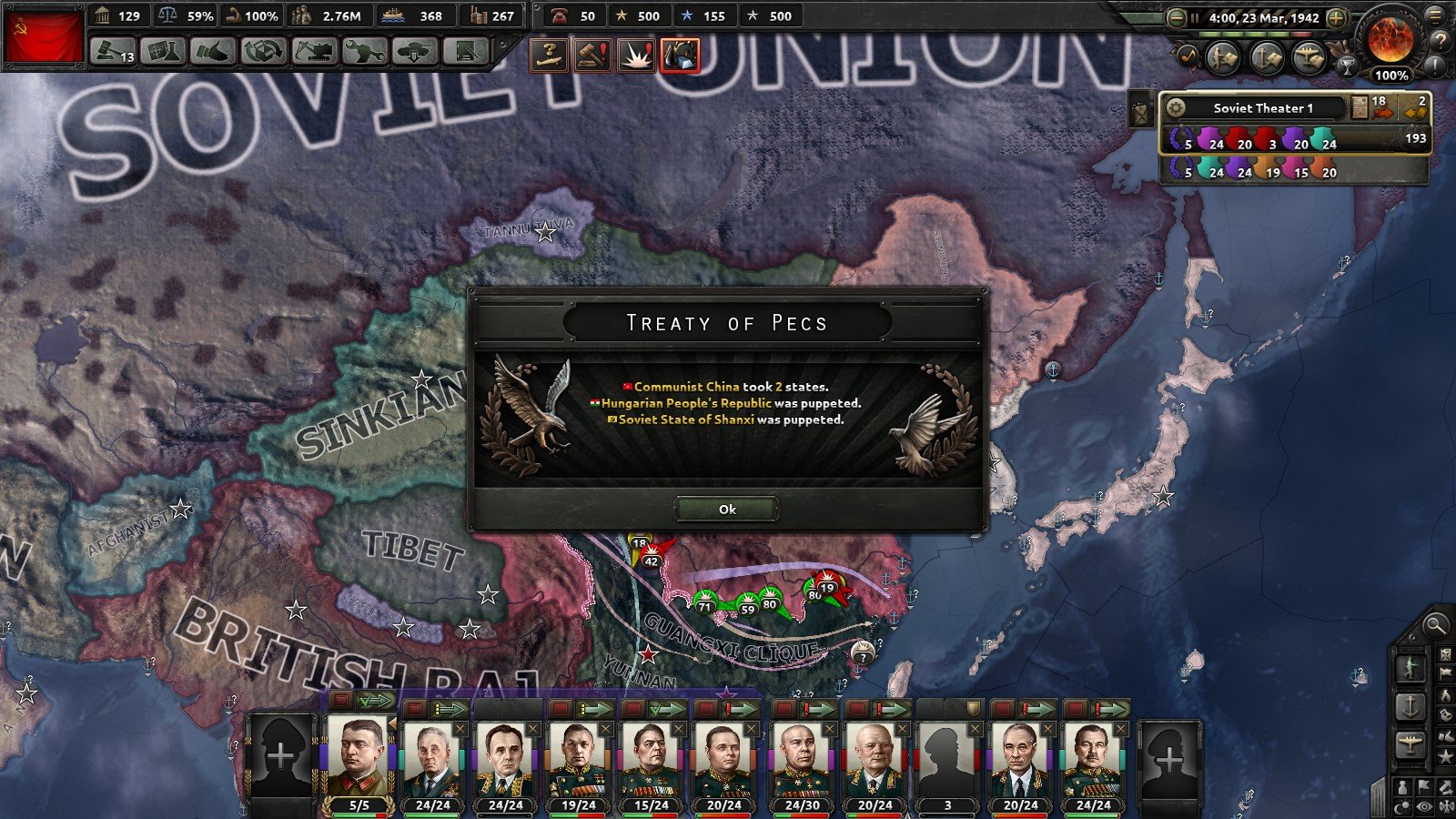 One month later the Downfall starts.
Everything will go now really quickly, so pay attention.
First Shanxi surrenders.
We puppeted them and Hungary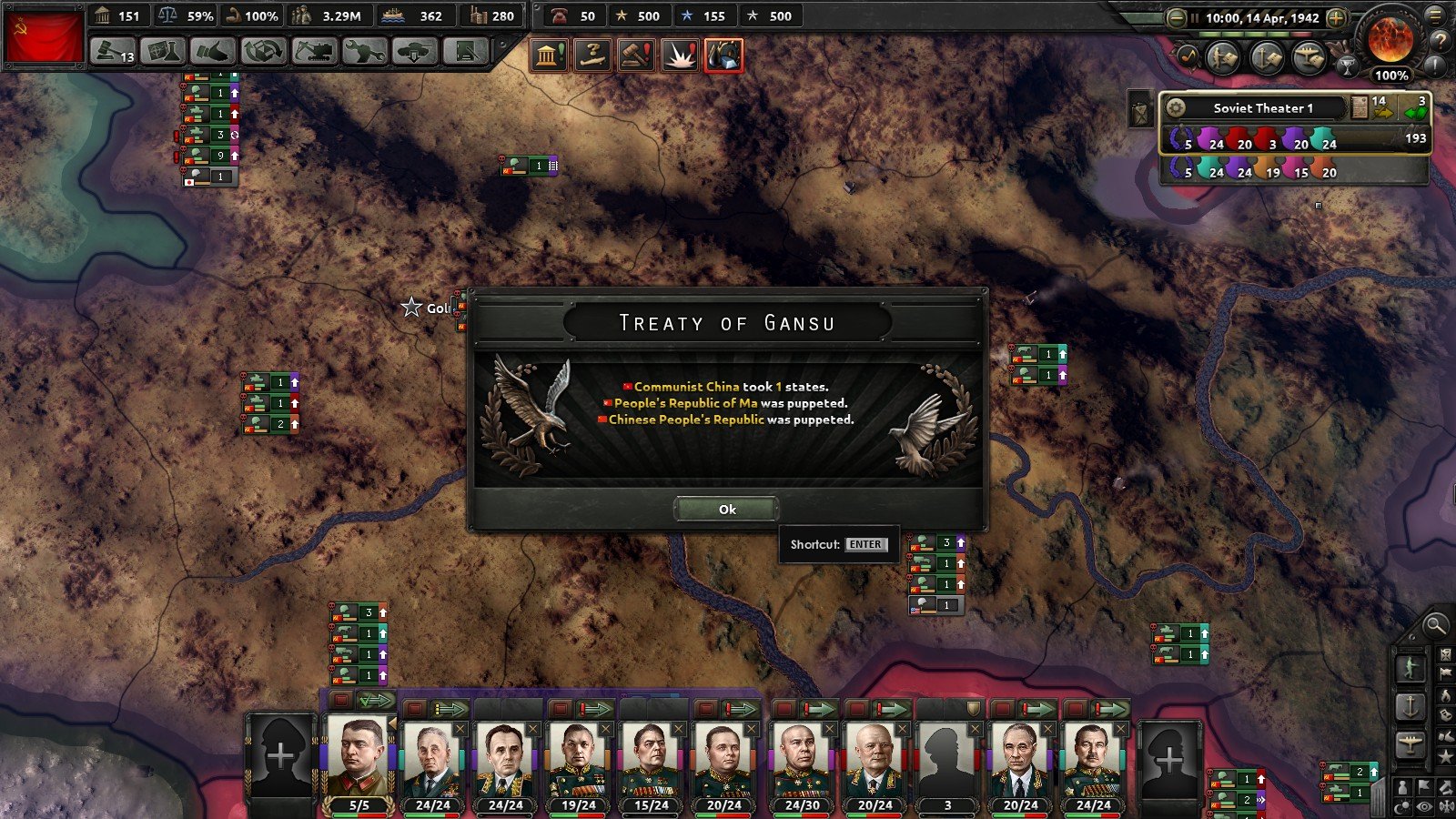 That is a big one, China.
Also from now on our puppet and offering one state to Communist China.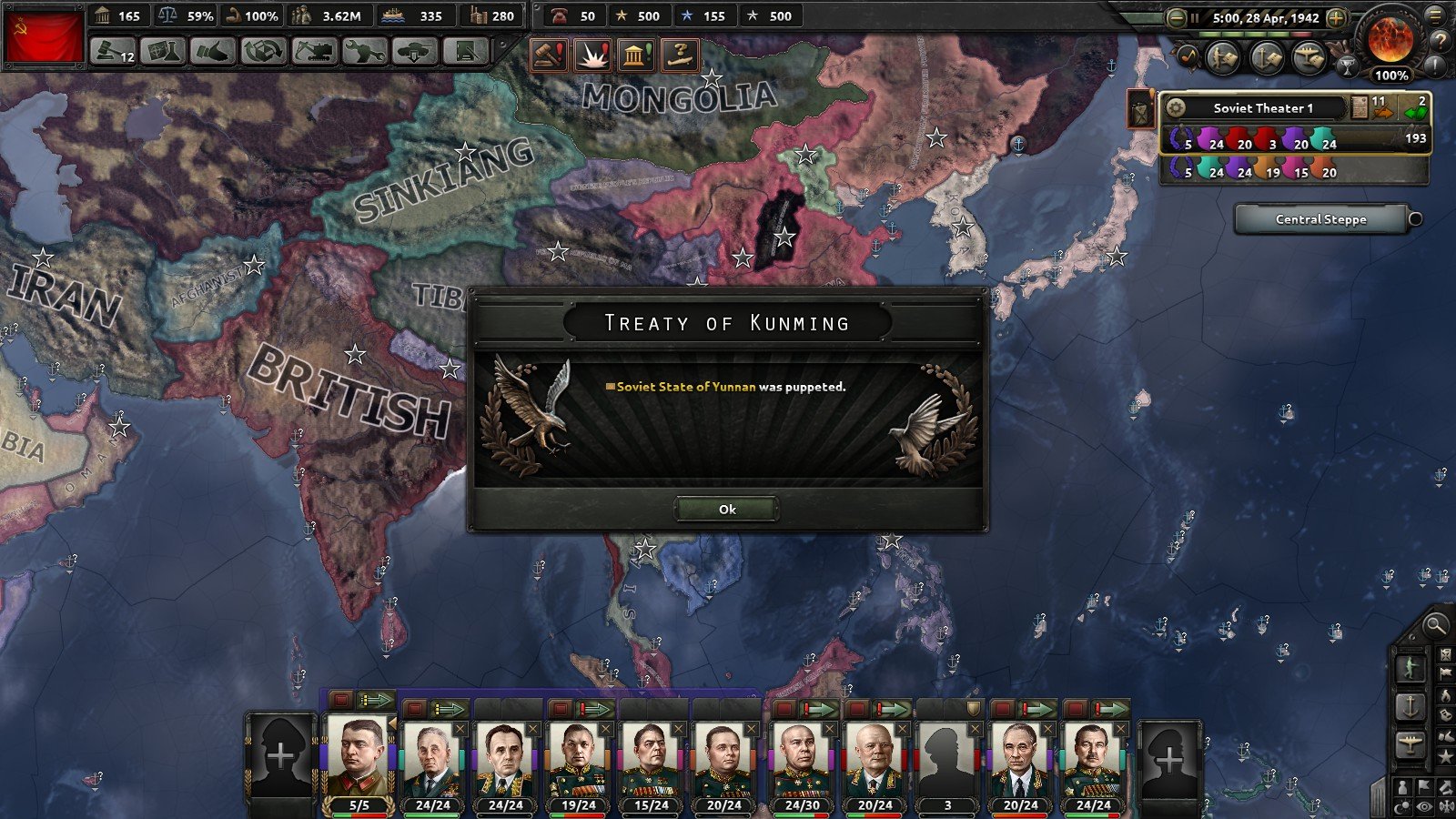 Yunnan is the next one on our list.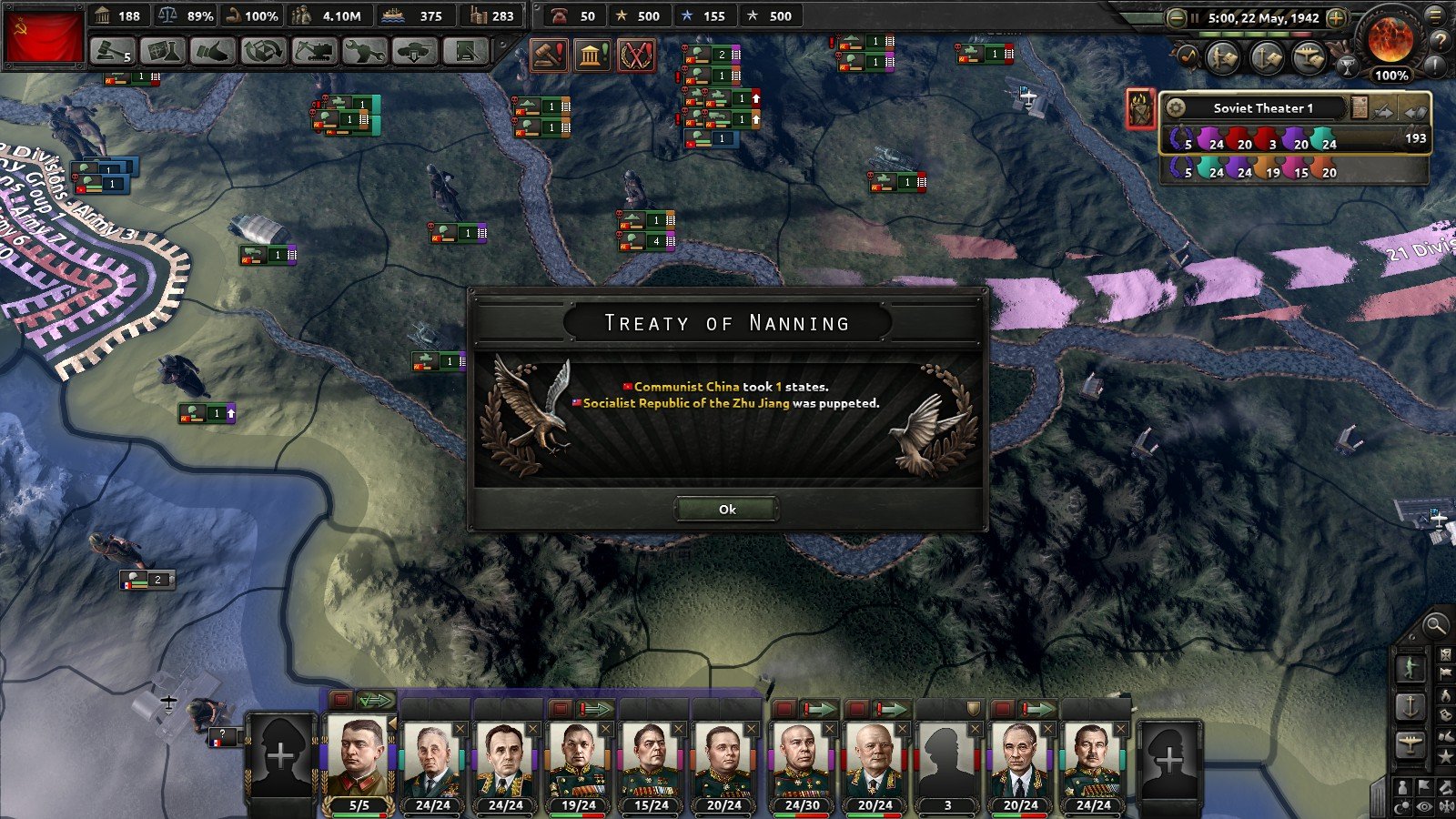 And finally Guanxi Clique.
That's all folks!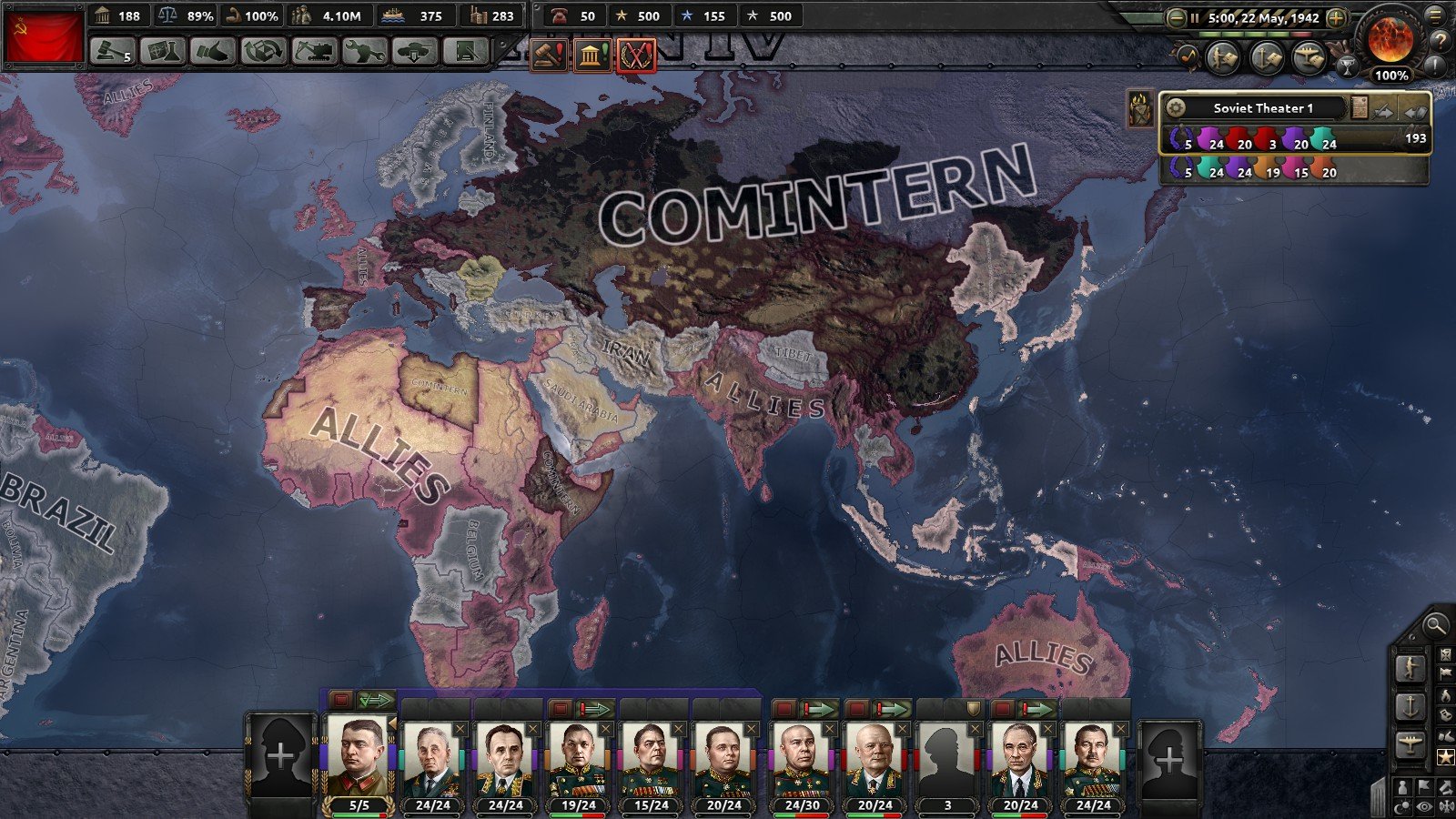 The world is now divided int the liberated peoples Communist state and the evil capitalist allies.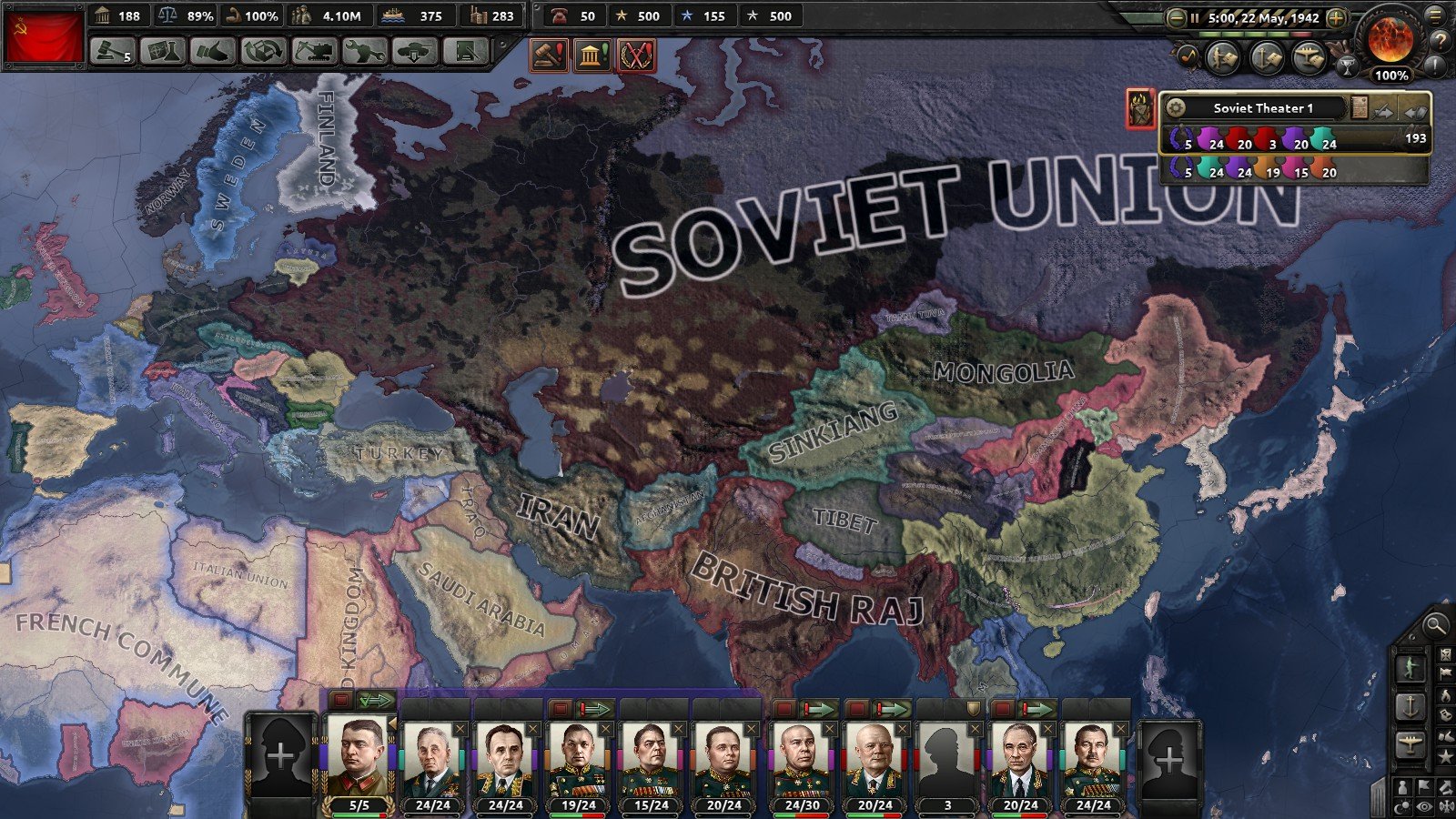 And as promised, I didn't take any further states, just puppets in real soviet style
;)
So, that's it.
@lunaticpandora didn't have that much luck, he was crushed. sadface.
I doubt I will continue this play.
I know, now would start the real clash, Capitalism vs. Communism and free the world.
But instead I will start a new one, Colour the world, Axis, Germany, on super Easy mode, just for the lolz.
And another HoI4 Parallel Play is also in the pipeline.
Stay tuned for more fun here!
My previous AAR.
Join the discord:
https://discord.gg/zuzsDAE