Amigurumi #55: Llavero de Igor
"Tener un poco de consideración, tener en cuenta a los demás, marca la diferencia. O eso dicen"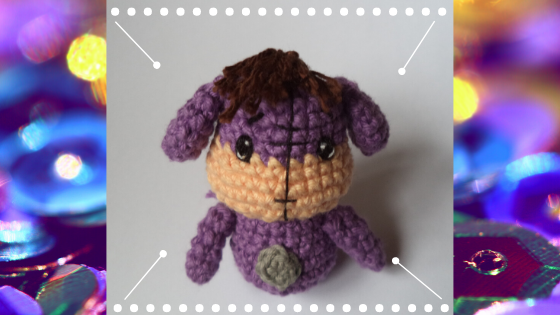 Recuerdo que allá por inicios del nuevo milenio, pasaron en señal abierta la película de Winnie the Pooh, como parte de "Los clásicos de la diversión", la pasaban cada domingo antes del horario estelar. Igor (en ese entonces no sabía su nombre y solo le decía burro) era un personaje tranquilo, lento, ingenuo y de pocas palabras (o quizá un flojo en todo sentido). De alguna manera desbordaba paz (o sería porque sus amigos lo protegían). Era cómodo ver a ese burrito tan tranquilo por allí junto a sus amigos...Eso es lo poco que recuerdo del amigo burro.
I remember that at the beginning of the new millennium, the Winnie the Pooh movie was shown as an open signal, as part of "The Fun Classics", which was shown every Sunday before prime time. Igor (at the time he didn't know his name and only called him a donkey) was a quiet, slow, naive character with few words (or maybe weak in every sense). Somehow he overflowed with peace (or it would be because his friends protected him). It was comfortable to see that quiet little donkey over there with his friends... That's how little I remember about the donkey friend.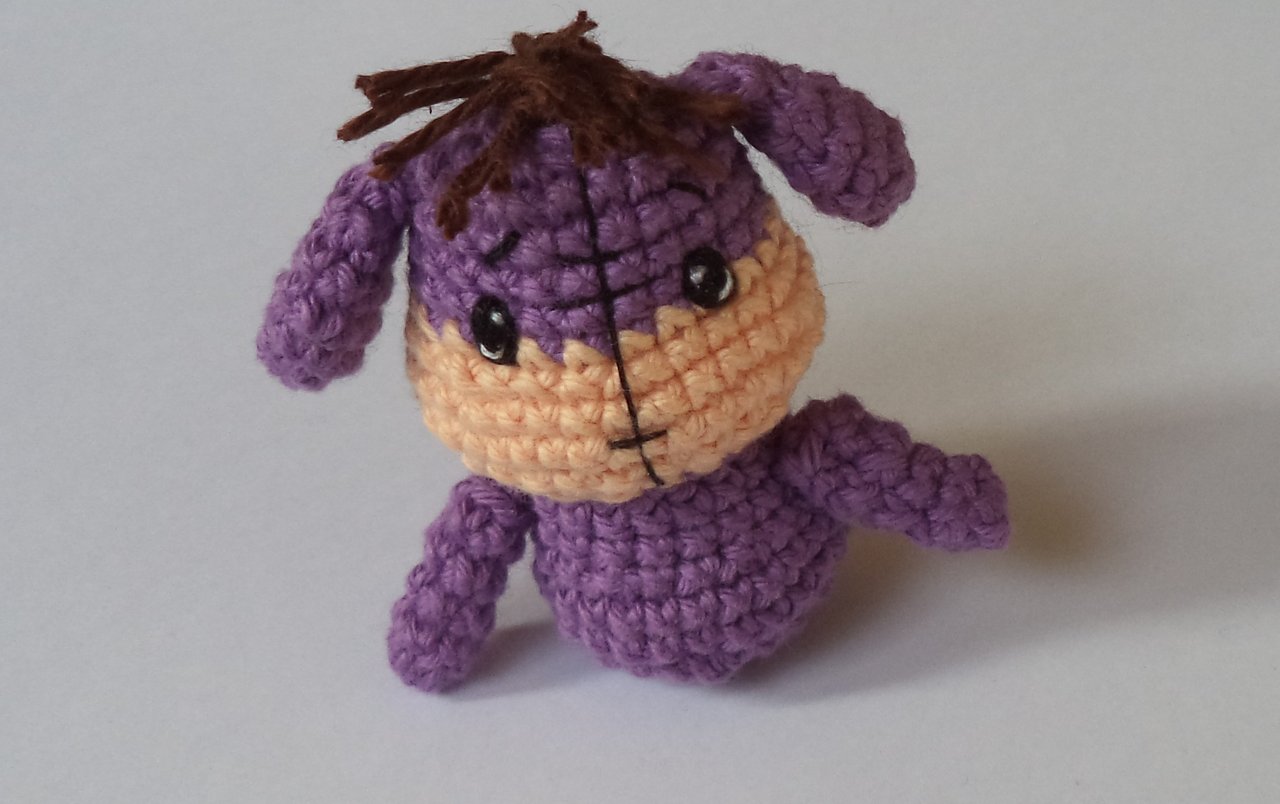 A todo esto, vuelve Igor y esta vez en versión llavero. La vez anterior fue tejido de tamaño mediano (https://steemit.com/needlework/@inici-arte/amigurumi-28-igor). Seguí el video tutorial de "Knitoys and craft" y le puse un toque personal. En general es sencillo de tejer, solo demoré en el pelito, los ojitos y en el lacito rosado de la cola.
To all this, return Igor and this time in key ring version. The previous time I knitted it medium size. I followed the video tutorial of "Knitoys and craft" and put a personal touch. In general it's easy to weave, I only took a few minutes in the hair, the eyes and the pink bow of the tail.
Vamos por los materiales:
Hilo de algodón / Cotton thread
crochet 2 milímetros
aguja punta roma / blunt point needle
napa siliconada / siliconated nappa
hilo de bordar
tijera / scissors
alfileres / pins
internet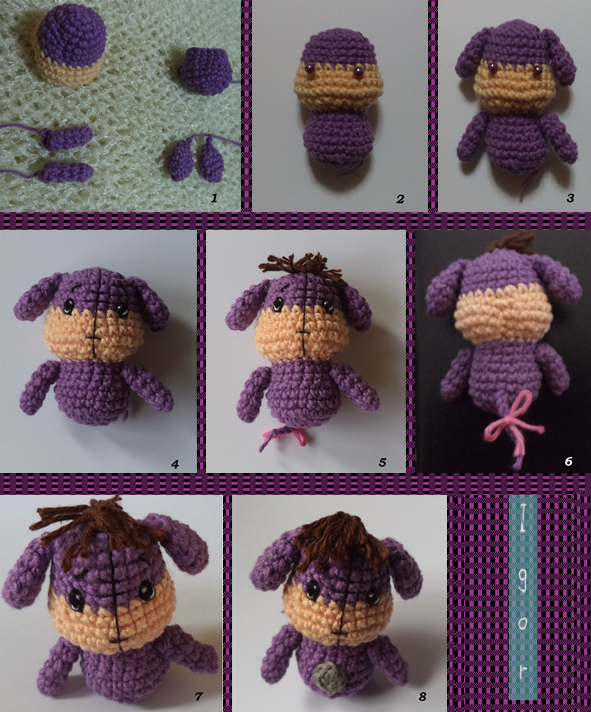 Se tejió las piezas por separado (figura 1), luego se unió la cabeza con el cuerpo (figura 2). Se colocó alfileres en los ojos para tener idea de la diagramación (figura 3). Una vez que se cosió todas las partes al cuerpo se bordó el rostro del personaje (figura 4). Al ser tan pequeño fue algo complicado la colocación del pelo (figura 5). Detalle del lazo en la cola (figura 6). Le faltaba algo al personaje y era la "pancita de burro" (figura 7 y 8).
The pieces were woven separately (figure 1), then the head was joined to the body (figure 2). Pins were placed in the eyes to get an idea of the diagram (figure 3). Once all the parts were sewn to the body, the face of the character was embroidered (figure 4). As it was so small, it was somewhat complicated to place the hair (figure 5). Detail of the ribbon in the tail (figure 6). The character was missing something and it was the "donkey's belly" (figures 7 and 8).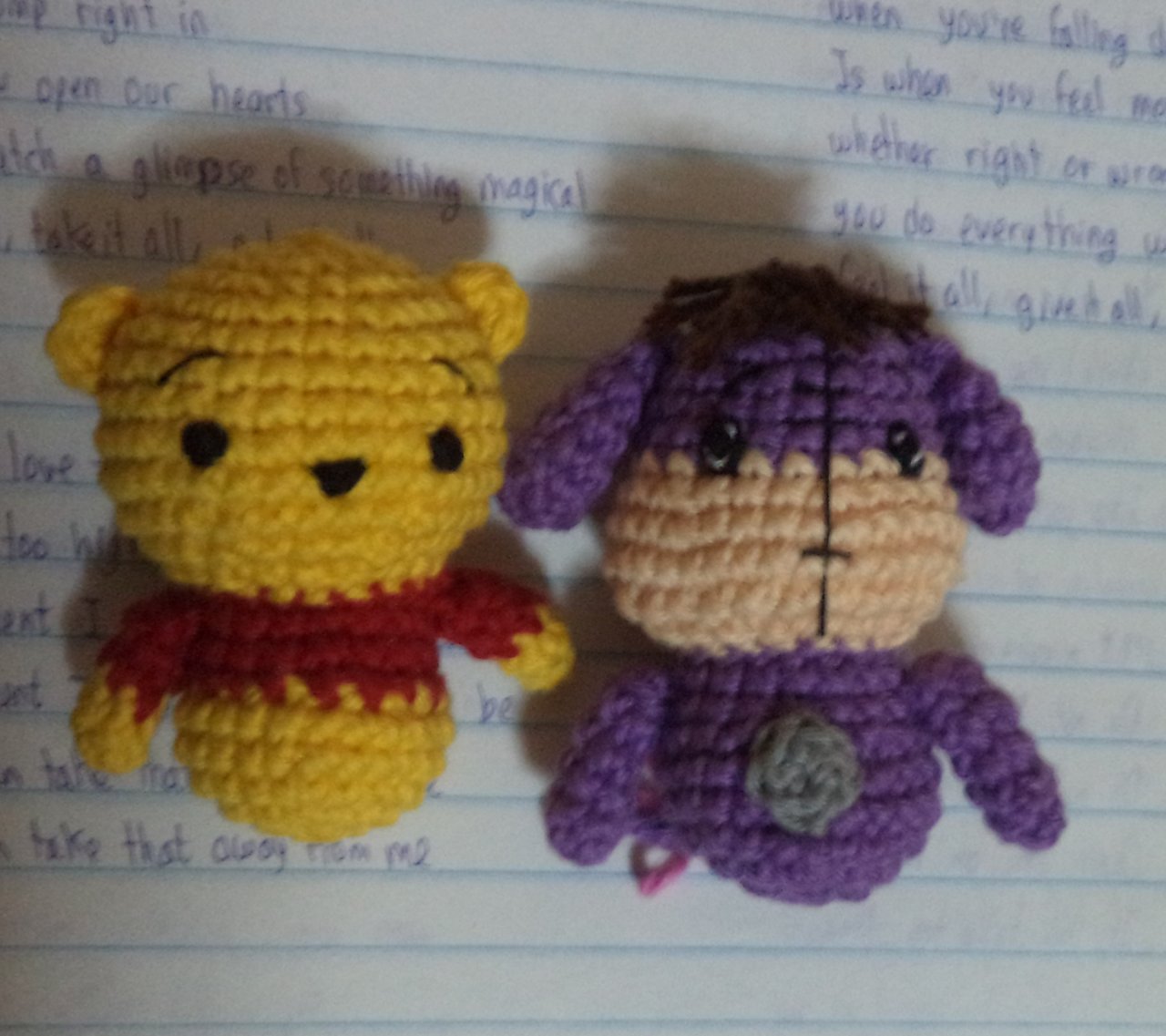 Ya vamos 2 personajes de la colección.
¡…Hasta la próxima!
See you next time!
 Dato curioso: La pancita de burro es porque en Lima-Perú el cielo es así.


►Encuéntranos en:
F,u,e,n,t,e, ,d,e, ,v,i,d,e,o,:,