Need Tab Bar icons images for app.
Details
Travel-It is an open source iOS made for Steemit travel bloggers. It shows trending posts from travel category. This app is created to help minnows who used travel niche on Steemit. This app is under development and now days i have added a tab bar. So my task request is for tab bar icons images for my app.
If you want to learn more visit our github and take a look around:
https://github.com/iamank1t/travel-it-iOS
Components
What i am requesting ?
I already gave you a brief description about my app i am developing currently. So recently i added a tab bar(which is in red rectangle in below image) in the tab which looks like this :-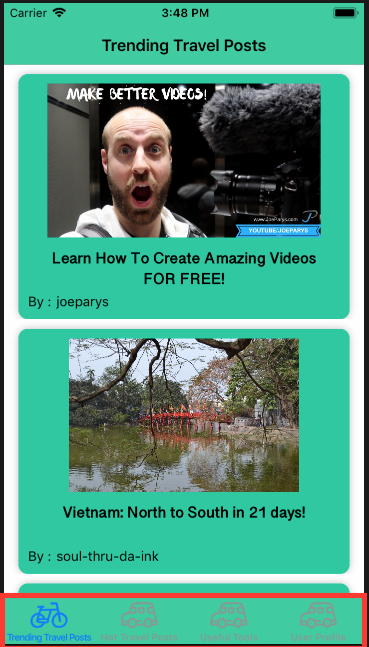 So i am requesting icon image for the above tab bar. As you see there are 4 sections in my tab bar and all every section has a icon(ignore the current icons as they were just for testing) and some text. Every section in tab bar shows following content :-
1 Section in Tab bar which is Trending Travel Posts shows trending posts from Steemit travel tag.
2 Section in Tab bar which is Hot Travel Posts shows hot posts from Steemit travel tag.
3 Section in Tab bar which is Useful Tools shows some Steemit Tools like vote worth calculator, posts payout calculator etc.
4 Section in Tab bar which is User Profile shows details about user, you may say it is user profile.
What you need to make ?
You have to make total 4 icon images for 4 tab sections of tab bar. Every section needs its image. I want every icon image is related to their section title for e.g for 'user profile' i want a icon of user or for 'useful tools' i want a icon something like icon of tools. So try to make icons like that users can get idea about section by seeing icon image.
What Size or Format i want ?
The max height of icon needs to be 25 - 28 px and the max width will vary according to the height of icon because i need icons in aspect ratio.
Keep the format of icons images in .pdf format.
Deadline
Contribution acceptance start from 2 April and stays till 3 April means that only contributions submitted between 2 April 00:00:00 and 3 April 12:00:00 (in UTC) may be considered because if i increase time frame then it will be difficult for me to choose one from too many contributions.
Communication
If you have any doubts or wanna ask me something more about the project and other issues then you can contact me on the issues page on Github, you can make a shout here on comments or on just ping me on Discord by adding me (iamankit#4227) or you can also found me on Utopian discord.
---
Posted on Utopian.io - Rewarding Open Source Contributors
---